Massive losses from Sharp and a profit warning from Sony have once again underlined the enormous difficulties facing Japan's most famous consumer electronics brands, which are beset by the same two problems – a lack of competitiveness in the TV-making industry, and the rising value of the Yen.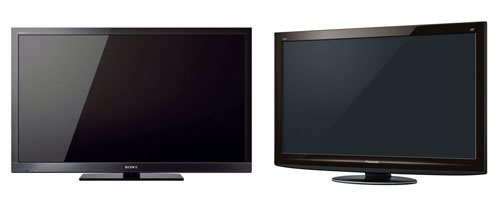 TV woes persist for Sony & Sharp as Panasonic bounce back
Sony, whose TV division lost £127 million in April-June 2011, announced this week that it had failed to pull off a promised rebound, recording a £202 million loss for the period from April-June 2012. Meanwhile, Sharp has revealed that losses in the current fiscal year are likely to be much greater than previously announced, revising its forecast from an initial £246 million loss, to a staggering £2.05 billion by March 2014.
It's not all doom and gloom however, as Panasonic, the third member of Japan's "Big Three", announced that it had managed to stem its losses and move back into the black.
Falling TV Sales Hit Home
Sony and Sharp have become the biggest victims of the global TV market's slump over the last 12 months. The two Japanese electronics giants poured millions into the development of LCD (liquid crystal display) production facilities, only to be hit by falling consumer demand and plunging prices for flat-screen TVs, leaving them unable to compete with rival firms. The two haven't been helped by the Yen's astonishing rise either – the Japanese currency has seen its value grow by almost 50% against those of its major trading partners in the last four years, which has left Sony and Sharp at a huge disadvantage in their battle against rivals from South Korea and Taiwan.
Such is the state of disarray in its television division, Sony has had to revise its forecasted profits in fiscal year 2014 from £244 million to just £163 million. The company laid much of the blame on an expected poor performance in Europe, from which it derives about 20% of its total revenues. For the first quarter of this fiscal year (April-June), Sony recorded a net loss of just over £200 million, significantly worse than its performance in the same period one year earlier, when it lost £127 million. Much of this loss was put down to company restructuring, in light of its ailing TV division's bleak performance.
Things look even grimmer for Osaka-based Sharp Corporation, which focuses more heavily on televisions than any other technology, deriving approximately 60% of its revenues from this sector. This has led to drastic measures for the company, which recently sold a 10% stake in itself to the Taiwanese firm Hon Yai for a reported £546 million, before revealing plans to shed 10% of its global workforce in the next twelve months. Sharp said that these job cuts would save the company £815 million per year, and that the measures are necessary if it is to have any future in the TV manufacturing industry.
Panasonic Fights Back
No doubt Sony and Sharp could learn a thing or two from Panasonic, which has followed up its worst-ever financial loss with a strong performance that sees it move back into profit in the first quarter of the fiscal year. The company recorded net profits of £105 million from April to June, compared to a £250 million net loss in the same period last year.
Driving Panasonic's astonishing turnaround was a massive restructuring of its beleaguered TV division – the firm bravely decided to write off millions in investments it had made in plasma display production facilities in order to stem those losses. The result is that Panasonic is once again making money from its HDTV sales, although it continues to bleed money in its display panel manufacturing arm.