So, 2014. The first year Panasonic is going plasma-less in its TV lineup since announcing back in October 2013 the shutdown of its plasma display panel (PDP) division. The first year the Japanese manufacturer will be banking 100% on its LED LCD range. Of course, Panasonic has been developing and selling LCD-based displays for some time now, but it's with plasmas that the company carved its niche – the brand "Panasonic" is almost synonymous with "plasma" among videophile circles. How will it fare against Korean behemoths Samsung and LG Electronics, not to mention fellow country rival Sony who are more established players in this market?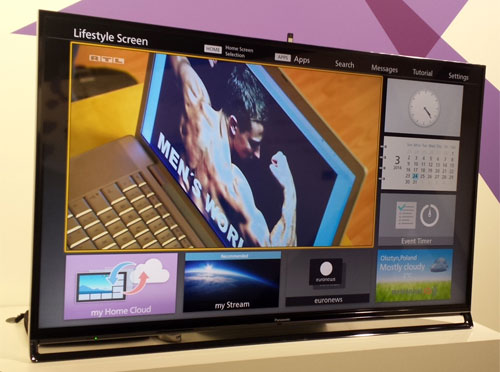 Sitting in our test room today is Panasonic's new Viera AX802 (otherwise known as AX800 in North America and Europe) series of 4K Ultra HD TVs which is available in three screen sizes: the 50-inch TX-50AX802B, the 58-inch TX-58AX802B, and the 65-inch TX-65AX802B. Mindful of the European norm where living room space is premium, we're reviewing the smallest model.
Design
Once out of the way, it's inconsequential but the Panasonic TX50AX802B ships with THE heaviest pedestal stand we've ever encountered. Never in the history of flat-screen television has so much weight been packed into so small a slab – two recessed handles are even built into the sides of the stand for lifting. The sheer weight acts as a ballast for the 4K panel which is tilted marginally backwards.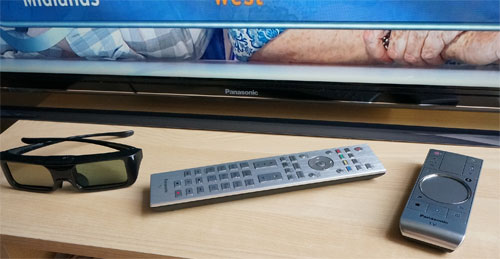 Moving onto the front, the 50AX802B looks lovely. The black bezel is impressively slim, thanks to the marvels of edge-lit LED backlight technology, and the periphery of the chassis features a shiny chrome finish. A rectangular metal bar spanning the width of the LCD screen extends beneath the bottom border, serving to support the panel's tilt.
Connections
There are four HDMI ports available on the Panasonic AX802/ AX800. Only HDMI 4 is 4K-capable, but at least it supports up to 3840×2160 resolution at 4:4:4, as does the included DisplayPort socket.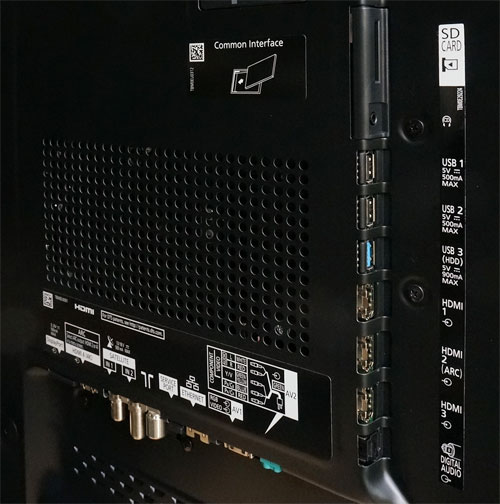 Rear: 4x HDMI, 3x USB, component, DisplayPort, aerial & satellite ins, LAN, audio outs
Calibration
Note: Our Panasonic TX-50AX802B review sample was calibrated using CalMAN 5, the industry-leading video calibration software.
Greyscale
Out of the box in [Professional] mode, the default [Colour Temperature] of "Warm2" yielded highly accurate greyscale tracking on the Panasonic AX802, with the more significant delta errors (dEs) caused by skewed gamma tracking rather than RGB imbalance. Even so, dEs measured below 2 throughout the entire luminance range (it's commonly accepted that a dE of less than 3 is not visible to the human eye in real-world viewing):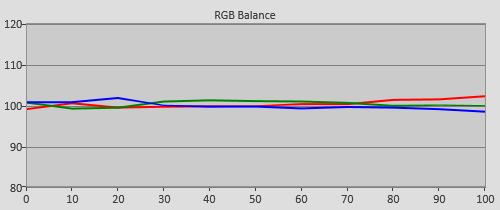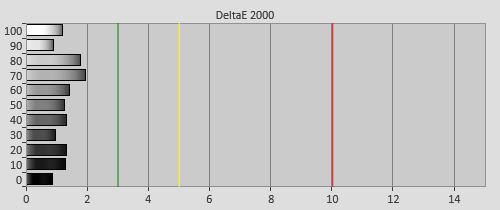 Pre-calibration RGB tracking and delta errors (dEs)
While the Viera TX-50AX802 offers both two-point and ten-point [White Balance] controls, we only needed to use the former. However, the action that actually lowered dEs the most was adjusting the 10-point [Gamma] controls: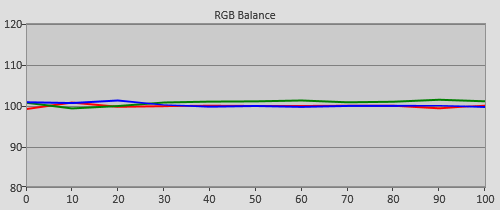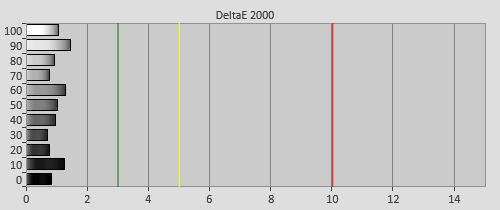 Post-calibration RGB tracking and dEs in [Professional1] mode
This ensures that greys remain neutral, preventing the image from being contaminated by any untoward tint.
Gamma
To our pleasant surprise, Panasonic have embraced 2.4 gamma in the TX50AX802B's [Professional] modes, making them the second TV maker (after Sony) to do so in their most accurate picture preset. For the uninitiated, 2.4 has been stipulated by no less an authority than the ITU (International Telecommunications Union) since 2011 as the recommended EOTF (electro-optical transfer function) for flat-screen displays used for studio mastering in a dark room, so Panasonic should be praised for adhering to the most current standard.
| | |
| --- | --- |
| | |
| Pre-calibration gamma tracking (2.5) | Post-calibration gamma tracking (2.4) |
The [THX Cinema] preset, on the other hand, still targeted 2.2 gamma, meaning that the [Professional] modes on the Panasonic AX802B are more accurate out of the box. There was some darkening at brighter luminance intervals, which was easily corrected using the onboard 10p [Gamma] system.
Colour
The Panasonic Viera TX-50AX802B comes with a very effective colour management system (CMS) that allowed us to dial in the three colour parameters (saturation, hue, luminance) for all six primary (red, green, blue) and secondary (cyan, magenta, yellow) chromaticities.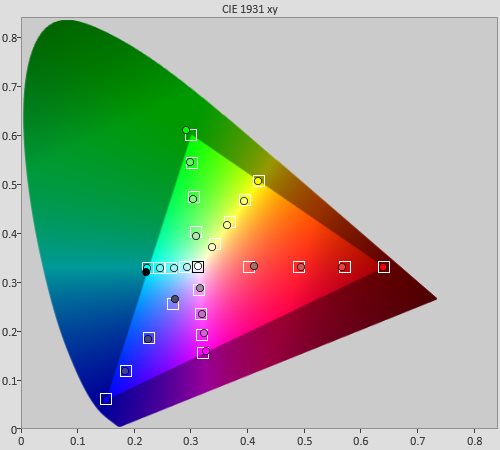 Post-calibration colour saturation tracking
The result was beautiful, with delta errors coming in under 3 across the 25%, 50%, 75% and 100% saturation points (with colour decoding taken into account):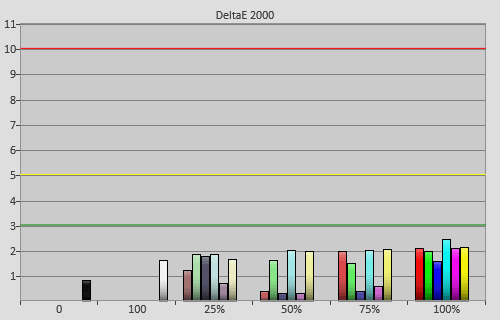 Post-calibration colour errors (<3 not appreciable to the eye)
Again, this means that there will be no perceptible colour inaccuracy when it comes to watching real-life content.
Benchmark Test Results
| | |
| --- | --- |
| Dead pixels | None (not easy to see when pixels are this tiny) |
| Screen uniformity | Some banding & dirty screen effect |
| Overscanning on HDMI | 0% with [16:9 Overscan] set to "Off" |
| Blacker than black | Passed |
| Calibrated black level (black screen) | 0.056 cd/m2 |
| Calibrated black level (ANSI checkerboard) | 0.056 cd/m2 |
| Black level retention | Stable if [Adaptive Backlight Control] off |
| Primary chromaticity | Excellent |
| Scaling | Excellent |
| Video mode deinterlacing | Effective jaggies reduction |
| Film mode deinterlacing | Passed 3:2 over 480i with [Film Cadence Mode] on |
| Viewing angle | Decent for VA LCD |
| Motion resolution | 1080 lines (or higher) with [Intelligent Frame Creation] "Mid" or "Max" |
| Digital noise reduction | Optional; effective when engaged |
| Sharpness | Defeatable edge enhancement |
| Luma/Chroma bandwidth (2D Blu-ray) | Full Luma; slight vertical chroma limitation even with [1080p Pure Direct] on |
| 1080p/24 capability | No judder in 2D or 3D |
| Input lag (high-speed camera) | 30ms compared to lag-free CRT in [Game] mode |
| Leo Bodnar input lag tester | 37ms in [Game] mode |
| Full 4:4:4 reproduction (PC) | Yes, with [Pure Direct] modes enabled |
Power Consumption
| | |
| --- | --- |
| Default [Normal] mode | 112 watts* |
| Calibrated [Professional1] mode | 113 watts |
| Standby | <1 watt |
*Note: In the out-of-the-box [Normal] mode, [Ambient Sensor] was engaged under the [Eco Navigation] submenu.
Picture Quality
Black Level & Contrast Performance
Once we pegged peak white luminance to 120 cd/m2 as per our normal review protocol, the native black level on the TX50AX802B's VA-type LCD panel measured 0.056 cd/m2 on both a full-field video black signal and a 4×4 ANSI chequerboard pattern. To the credit of Panasonic's TV engineers, the Viera AX802/ AX800 doesn't partake in any auto-dimming shenanigans when asked to display a full black screen unless [Adaptive Backlight Control] was engaged.
[Adaptive Backlight Control] activates the pseudo-local dimming technology on the TX-50AX802B, and comes in three flavours ("
Min
", "
Mid
" and "
Max
") besides "
Off
". The "
Min
" setting lowered black level on a full black screen to 0.017 cd/m
2
(ANSI black stayed the same at 0.056 cd/m
2
), but dimmed dark areas and midtones too much. As a consequence, shadow detail was obscured, and the image lost a fair bit of punch, so we dismissed it pretty quickly.
The [Adaptive Backlight Control] "Mid" and "Max" settings were much more useful. Both decreased MLL (minimum luminance level) on a full black screen to 0.007 cd/m2, although once again ANSI black remained unchanged at 0.056 cd/m2. Between the two, we preferred "Mid" which introduced less obvious near-black luminance fluctuations.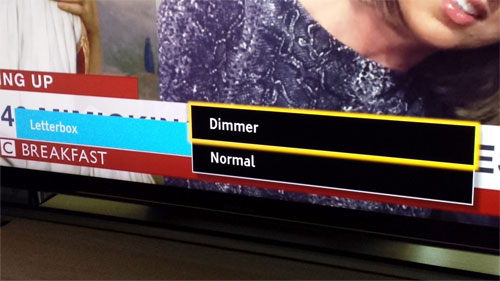 New for 2014, Panasonic now provides a [Letterbox] picture-affecting control on the Viera TX50AX802B, allowing users to darken the top and bottom letterbox bars in cinemascope films. Engaging it by selecting the "Dimmer" option roughly halved black luminance in these regions to 0.027 cd/m2 without bringing about any brightness fluctuation to the entire screen. We left it on for critical viewing.
Backlight/ Screen Uniformity
Our TX-50AX802 review unit featured very good backlight consistency: once calibrated, there's only some very, very mild backlight bleeding from the bottom right corner that's invisible when watching any content other than a full black screen in a dimly-lit environment. Being an edge-lit LED LCD television, it's inevitable that the TX-50AX802B exhibited some banding and dirty screen effect (DSE) which was most apparent on 10% and 20% full-field grey patterns. When it came to real-life material, we did spot some DSE during panning shots across a uniform background (such as in football), but we didn't think it's bothersome – we've certainly seen much worse examples.
2D
Sublime was the first word that popped to mind once we sampled our collection of reference Blu-rays on the 50in Panasonic AX802. When we reviewed Sony's new 2014 X9 last week, we declared that it's the best 4K Ultra HD television we've tested to date. Well, the TX50AX802B was right up there with the Sony in terms of picture quality, bettering the KD-55X9005B in some aspects though edged out in others.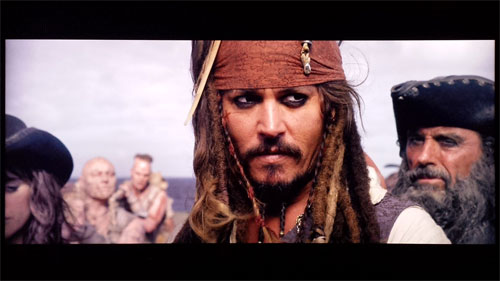 The current crop of ultra high-definition (UHD) TVs (including the Panasonic AX802/ AX800) usually have no problem delivering deep blacks (by LED LCD standards), accurate greyscale, linear 2.4 gamma and realistic colours after we apply our calibration touch, so it's the little detail instead that separates one from another.
The TX-50AX802B's major strength was its outstanding ability to hang onto its colour saturation in very dark scenes, thanks to Panasonic's "Super Chroma Drive" technology which uses a WCG (wide colour gamut) LCD panel and 3D LUT (look-up table) to compensate for undersaturated colours in locally-dimmed zones. This had the wonderful effect of making the AX802B look – dare we say it – plasma-esque, with colours appearing richly-saturated regardless of whether the on-screen image was dark or bright.
One minor side effect of such (presumably) heavy processing in darker areas was the appearance of posterization at these intensities, which was easily demonstrated using a greyscale ramp pattern. To be fair, we didn't witness much of it in real-world viewing, due to the very nature of low-light gradation that's less noticeable to our human eyes.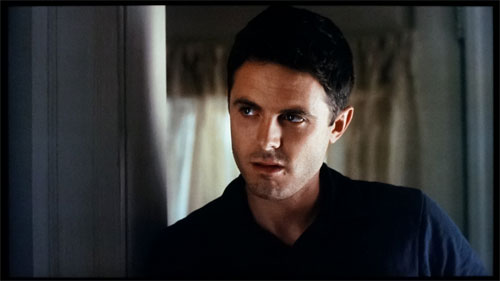 Scaling quality was high, ensuring that even standard-def programmes – as long as their bitrate was up to scratch – looked decent on the 3840×2160 screen. Panasonic also offers an option called [1080p Pixel by 4pixels] which doubles the pixels from a 1920×1080 source to fill the UHD panel instead of interpolating them. We saw no reason to enable this setting given how excellent the Viera AX802's internal upconversion was.
While Sony and Samsung have implemented black frame insertion (BFI) on their 2014 TVs, Panasonic is still relying on motion-compensated frame interpolation (MCFI) to reduce motion blur on its Viera LCDs. In Panasonic's defence, we saw no significant interpolation artefacts in real-world viewing with [Intelligent Frame Creation] engaged, and so would be happy using it for video-based content (for example live sports broadcasts) to improve motion clarity. For film-based material, the "Mid" and "Max" settings introduced soap opera effect, so we would stick with "Min" or "Off".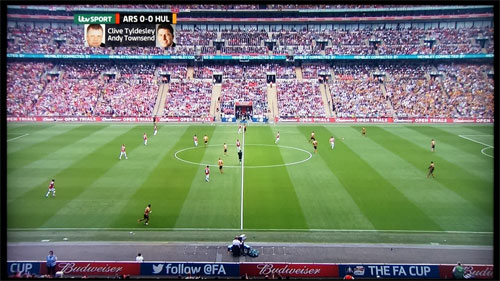 4K
One thing worth nothing is that the Panasonic TX-50AX802B currently does not support Netflix 4K streaming. This may be a deal-breaker for some viewers, considering that Netflix 4K is pretty much the only game in town as far as native UHD content is concerned, even if there's only one drama series (House of Cards Season 2) available to watch in glorious 4K at this time of writing (Breaking Bad is scheduled to get the Ultra HD treatment next month).
Update 29 May 2014: Panasonic UK's TV product manager Craig Cunningham has confirmed to us that the Viera AX802 series will not have Netflix 4K support despite the presence of inbuilt HEVC decoder. It's a hardware issue which is not addressable by firmware update.
Update 18 November 2014: In a stunning U-turn, Panasonic has now enabled Netflix 4K streaming on the Panasonic AX802/ AX800 range via a software update.
3D
If anything, the aforementioned "Super Chroma Drive" technology developed by Panasonic benefited tri-dimensional content more than 2D, helping the Viera AX802 preserve colour fidelity despite the darkening effects of the active-shutter glasses. As a result, the TV produced some of the most vibrant and well-saturated colours we've ever seen on an active 3D system.
We verified that TX50AX802 resolved full HD 3D resolution (and possibly higher) without any high-frequency rolloff using our own test pattern, which means that its extra-dimensional images will look slightly sharper and more detailed than those put out by the Sony X9005B. However, the Panasonic evinced more crosstalk at certain stereoscopic depth, though the ghost images were quite faint and so relatively easy to tune out.
Like all Panasonic 3DTVs we've tested, the TX50AX802B handled 50fps (e.g. Sky 3D), 60fps and 24fps (such as 3D Blu-ray movies) 3-D content correctly without introducing judder irrespective of whether it's film- or video-based. This is something that Samsung can learn from… if it even cares about 3D.
Console/ PC Gaming
The Panasonic AX802/ AX800 is a gamer's dream, boasting not only the lowest input lag among the 2014 batch of 4K TVs (our Leo Bodnar tester registered a reading of 37ms with [Game Mode] enabled), but also full 4:4:4 chroma reproduction up to 3840×2160 resolution at 60Hz either through the DisplayPort or HDMI 4 input.

Another praiseworthy feature that Panasonic has introduced since last year is designating [Game Mode] as an on/off setting which can be applied to every picture preset, rather than segregating it as a separate picture mode which is typically not calibration-friendly. Accurate images and suitably fast gaming responsiveness are both possible simultaneously on the TX-50AX802.
Even without engaging [Game Mode], input lag in calibrated [Professional1] mode was 59ms as measured using Leo Bodnar's device, which is significantly lower than the 100ms+ figures posted by other brands' non-[Game] modes.
Conclusion
The Panasonic TX-50AX802B is a beautifully-engineered piece of display that's capable of producing absolutely gorgeous images. If last year's Viera WT600 puts Panasonic on the map as a serious LCD TV maker for video enthusiasts, then the AX802/ AX800 proves that the company can hang with the big boys Samsung and Sony and then some.
Of course, plasma TVs – especially the final generation from Panasonic themselves – still win in terms of black level, viewing angles, screen uniformity and outright picture quality despite a lower screen resolution, but the TX50AX802B was as close as we've seen any LED LCD approached plasma's supremely cinematic image quality. Particularly impressive was the AX802B's ability to saturate colours in low-APL scenes and also in 3D, thanks to Panasonic's Studio Master Drive technology.
The TX50AX802B's only glaring weakness is one on the specs sheet – the Ultra HD TV does not offer Netflix 4K streaming at this point in time. While this omission may put off some buyers, it doesn't stop the 50″ AX802/ AX800 from being one of the best LED televisions we've reviewed thus far, 4K or not. We'll know more when we put it up (albeit in 65-inch guise) against Sony's and Samsung's UHD TVs, as well an LG curved OLED and a Panasonic ZT plasma in a comparison event at the end of this month.