We miss Panasonic plasmas, especially after the results of our recent TV comparison event. But there's no point crying over spilt milk: the Japanese manufacturer isn't going to reverse its decision to exit the PDP (plasma display panel) market, and its television future is exclusively LED LCD, at least for the time being. When we reviewed the Panasonic Viera AX802 4K Ultra HD series some four weeks ago, we declared it one of the best LED TVs we've tested. Now it's the turn of a more modest proposition to go through grilling.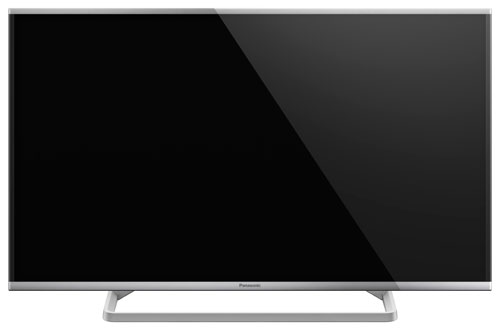 The Panasonic AS640 is a model that's exclusive to Currys and PC World in the UK, coming in three screen sizes: the 40-inch TX-40AS640B (which we're reviewing today), the 48-inch TX-48AS640B and the 55-inch TX-55AS640B. Features include direct LED backlighting, dual core processor, active-shutter glasses (ASG) 3D technology, inbuilt WiFi connectivity, and Freetime catch-up TV service.
Design
Differing from yet another run-of-the-mill, industrial-looking design characteristic of Panasonic flat-screen tellies of yesteryears, there's an attractive two-tone theme going on with the Viera TX-40AS640. The top and bottom borders of the bezel carry a brushed metallic silver finish, whereas the sides are polished black. Being a direct-lit LED TV, the chassis is obviously chunkier than most edge LED TVs on the market, but we're not one to complain if it contributes to better picture and sound quality.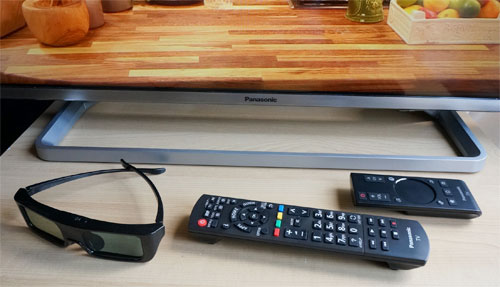 The LCD panel sits on a low-profile stand with an open-frame, rectangular base. Build quality reflects the affordable price point.
Connections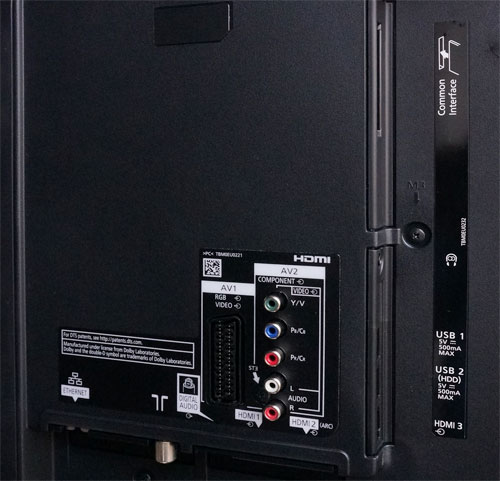 Rear: 3x HDMI, 2x USB, component, RGB Scart, Freeview HD aerial, LAN & audio outs
Calibration
Note: We calibrated our Panasonic TX40AS640B review sample in [True Cinema] mode (the most accurate out-of-the-box preset) using CalMAN 5.3, the industry-leading video calibration software.
Greyscale
In [True Cinema] mode, the default [Colour Temperature] of "Warm2" yielded decent greyscale tracking, though red channel was deficient throughout: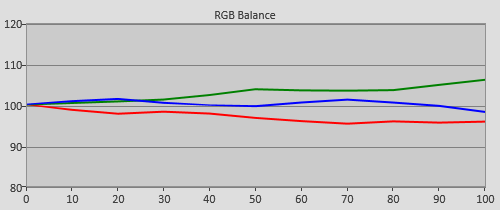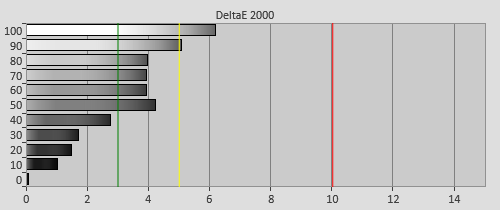 Pre-calibration RGB tracking and delta errors (dEs)
The 40in Viera AS640 offers both 2-point [White Balance] controls and a more precise 10-point system. We used the former to bring RGB balance in the ballpark of D65, then utilised the latter to flatten out any kinks in the tracking: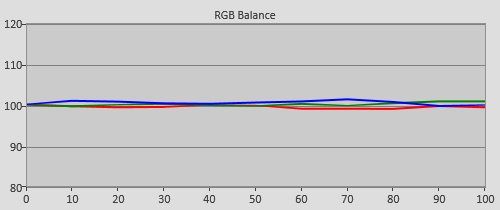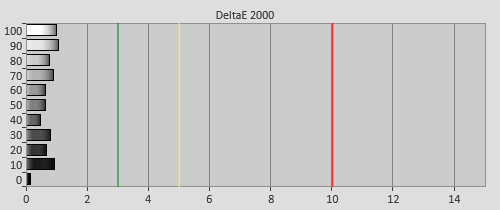 Post-calibration RGB tracking and dEs in [True Cinema] mode
After calibration, delta errors (dEs) dropped below 2 (the commonly acceptable dE cutoff before inaccuracies become visible to the human eye is 3) across the entire luminance range, ensuring tint-free images be them dark or bright.
Gamma
In our review of the Panasonic AX802 4K Ultra HD TV, we praised the company for embracing 2.4 gamma which has been decreed by no less an authority than the International Telecommunications Union (ITU) as its recommended electro-optical transfer function (EOTF) for flat-panel HDTVs used in a dark room for studio mastering.
| | |
| --- | --- |
| | |
| Pre-calibration gamma tracking (2.41) | Post-calibration gamma tracking (2.4) |
We're pleased to report that this standard-conforming practice has also dripped down to this year's midrange Vieras such as the TX40AS640 whose [Gamma] in [True Cinema] mode defaulted to "2.4". And when measured, overall gamma tracked fairly close to 2.4 too, contributing to a contrast-rich picture with realistic tonal transition from black to white.
Colour
We're not sure if any ingredient of Panasonic's "Super Chroma Drive" technology so beautifully implemented on the high-end AX802/ AX800 is present on step-down models, but colours were outstandingly accurate on the AS640 even before calibration. While the TX-40AS640B's colour management system (CMS) allows for adjustment of all six primary (red, green, blue) and secondary (cyan, magenta, yellow) colours, we only needed to tweak blue to achieve the following results: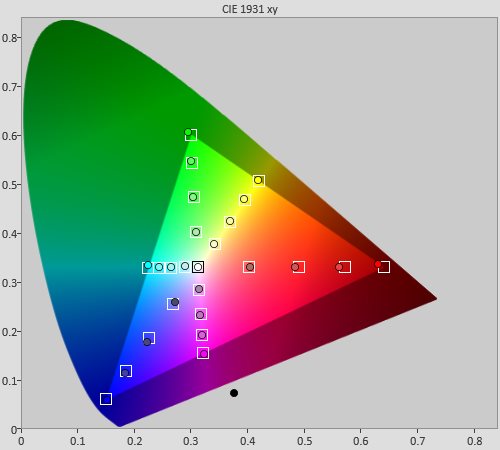 Post-calibration colour saturation tracking
Delta errors (dEs) were below the humanly perceptible threshold of 3 across all the measured saturation tracking points, which means colours should look supremely authentic in real-world viewing.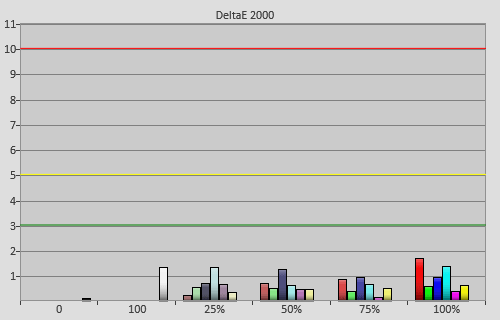 Post-calibration colour errors (<3 not appreciable to the eye)
Benchmark Test Results
| | |
| --- | --- |
| Dead pixels | None |
| Screen uniformity | Fantastic for an LED LCD TV |
| Overscanning on HDMI | 0% with [16:9 Overscan] set to "Off" |
| Blacker than black | Passed |
| Calibrated black level (black screen) | LEDs shut off |
| Calibrated black level (4×4 ANSI) | 0.048 cd/m2 |
| Black level retention | Auto-dimming with full black screen |
| Primary chromaticity | Very good |
| Scaling | Very good |
| Video mode deinterlacing | Effective jaggies reduction |
| Film mode deinterlacing | Passed 3:2/480i & 2:2/576i with [Film Cadence Mode] on |
| Viewing angle | Decent for VA LCD |
| Motion resolution | 800 with [Intelligent Frame Creation] engaged; 300 otherwise |
| Digital noise reduction | Optional; effective when engaged |
| Sharpness | Defeatable edge enhancement |
| Luma/Chroma bandwidth (2D Blu-ray) | Full Luma; chroma vertically softened |
| 1080p/24 capability | No judder in 2D or 3D |
| Leo Bodnar input lag tester | 59ms in [Game] mode |
| Full 4:4:4 reproduction (PC) | [1080p Pure Direct] improved chroma resolution, but not fully |
Power Consumption
| | |
| --- | --- |
| Default [Normal] mode | 36 watts* |
| Calibrated [True Cinema] mode | 41 watts |
| Standby | <1 watt |
*Note: [Ambient Sensor] was enabled by default in the out-of-the-box [Normal] mode.
Picture Quality
The Panasonic TX-40AS640's VA-type LCD panel produced a deep shade of blacks by LED LCD standards: native black level measured 0.048 cd/m2 on a 4×4 ANSI chequerboard pattern with peak white pegged at 120 cd/m2. Backlight and screen uniformity on our review unit was fantastic – we're sure the direct LED backlighting system played a major role in this. We witnessed some VA black trailing and overdrive errors which fortunately were pretty much invisible in non-game photorealistic content.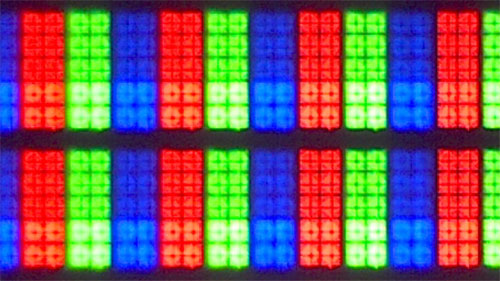 Subpixel structure indicating VA matrix
Whereas [Adaptive Backlight Control] on the Viera TX-50AX802B 4K TV comes in three strengths ("Min", "Mid" and "Max"), the same option on the TX40AS640B is merely an on/off toggle, which is hardly surprising given that the Panasonic AS640B is only equipped with frame dimming and not pseudo-local dimming. As a consequence, engaging [Adaptive Backlight Control] would cause the whole panel including brighter elements on screen to dim down when the frame dimming kicked in, leading to excessively darkened midtones and skewed gamma tracking. Since the AS640's black-level response was good enough natively, we saw no reason to use [Adaptive Backlight Control] at all.
Although we really liked last year's Panasonic TX-L42E6B which we called the best LCD-based display we've seen from the company at that time (it's since been surpassed by the Viera WT600 and more recently the AX800/ AX802), we did lament the E6's low motion resolution and lack of 3D capabilities. Well, both complaints are no longer valid on the TX40AS640.
Motion-wise, the 40AS640 is blessed with Panasonic's motion-compensated frame interpolation (MFCI) technology in the form of [Intelligent Frame Creation], boosting motion resolution (as determined via the horizontally scrolling lines pattern in Chapter 31 of the FPD Benchmark Software test disc) to 800 from the baseline LCD level of 300. We preferred the "Min" setting which introduced the least interpolation artefacts and soap opera effect to 24fps material.
We did spot a small anomaly during the numerous World Cup live football broadcasts we watched late into the evenings. With [Intelligent Frame Creation] disabled, we saw some microstutter (panning shots appeared mildly jerky/ unsmooth) with 50Hz video content through the internal Freeview HD tuner and also an external Sky+HD box. We think it might have something to do with the Freetime integration – summoning the user menu worsened the stutter as the menus slid in. In any case, the jerkiness was fairly subtle (hence "microstutter"), and was easily cleared up by engaging [Intelligent Frame Creation].
3D is of the active flavour on the Panasonic TX-40AS640B which ships with two pairs of active-shutter glasses (ASG) included. Using our own custom-authored 3D resolution test pattern, we established that the 40″ AS640 couldn't resolve full HD 3D resolution, a not-so-desirable trend that's increasingly common among active 3D displays in recent times. The TV was essentially throwing away half the vertical resolution in the third dimension, resulting in visible line twitter and jaggies – even the characters in the on-screen menu appeared jagged in 3-D mode.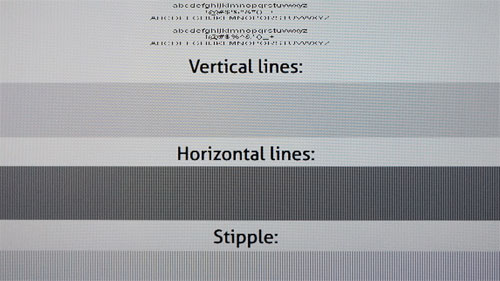 Of course, given the apathy among the general public towards 3D, not to mention the popularity of passive 3D technology despite similar limitations in resolution, we don't think half-res 3D would put many potential buyers off the TX-40AS640. There wasn't much crosstalk, and where present the ghost images were quite faint, making them easier to ignore. As we've come to expect from Panasonic, the Viera AS640 handled all types of tri-dimensional content – 50p, 60p or 24p; film or video – flawlessly without exhibiting any judder.

For playing video games, the TX40AS640B wasn't as responsive as the Samsung UE40H6400, let alone the super-low-lag Sony Bravias. Our Leo Bodnar input lag tester returned a figure of 59ms with [Game Mode] activated, rising to 92ms outside [Game Mode]. Enabling [Intelligent Frame Creation] added 8ms (half a frame) to the lag time.
Verdict
The Panasonic TX-40AS640 is a lovely television that delivers lush and absorbing images, thanks to deep blacks, outstanding uniformity, natural colours, 2.4 gamma and high-quality video processing. Some minor 50Hz motion instability (which can be eradicated by enabling [Intelligent Frame Creation]), lower-res 3D and higher input lag don't stop the TX-40AS640B from being a bit of a bargain, especially when it's available to buy for £500 at this time of publication.
Ironically, being the highest-ranked model in Panasonic's 2014 full HD 1080p Viera TV lineup to feature VA LCD panel, the AS640 may actually outperform step-up models like the AS740 and AS802 series (both IPS) in terms of picture quality. In the coming months we'll try to review one of them to see if this is true.