With Panasonic's upcoming Viera AX900 and prototype 4K curved OLED TV having grabbed all the headlines at the IFA 2014 trade show in Berlin last month, you could be forgiven for overlooking the fact that the Japanese manufacturer has also launched an entry-level Ultra HD television range in the shape of the AX630 series. Three screen sizes are available: the 40-inch Panasonic TX40AX630B, the 48-inch TX48AX630B and the 55-inch TX55AX630B. Mindful of the average living room size in Britain, we're reviewing the smallest version.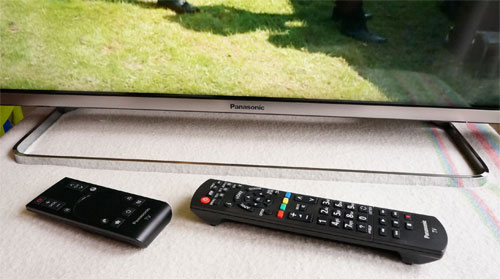 Compared with the step-up Viera AX800/AX802 series, the Panasonic AX630 lacks integrated HEVC decoder, precluding Netflix 4K streaming right from the off unless an external solution becomes available in the future. The TV is 3D-capable, but doesn't ship with any active-shutter 3D glasses. Otherwise, HDMI 2.0 and HDCP 2.2 standards are specced in, allowing for display of 4K@60hz/50hz content and future ultra high-definition (UHD) copy-protected material such as 4K Blu-ray respectively.
Design
Like it or not, we're going to lump the Panasonic TX-40AX630 under an unofficial moniker of "Series 6", since its two-tone styling is the same as that seen on the 1080p Viera AS640 and AS650. The top and bottom edge of the bezel are finished in tasteful brushed metallic silver, whereas the left and right borders provide a beautiful contrast in gloss black. Inspected from the sides, the set is thicker than your average LED LCD television, suggesting direct-lit LED backlighting.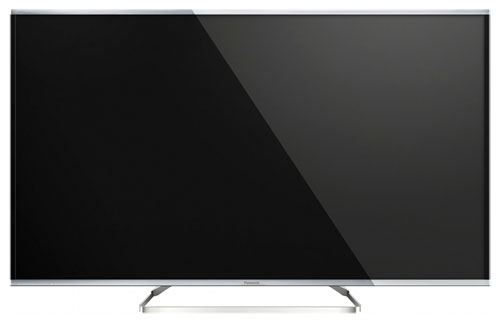 A low-profile, open-frame stand with a base that sports a gleaming chrome finish completes the ensemble. Build quality is fair when the affordable price point (for a 4KTV) is taken into account.
Connections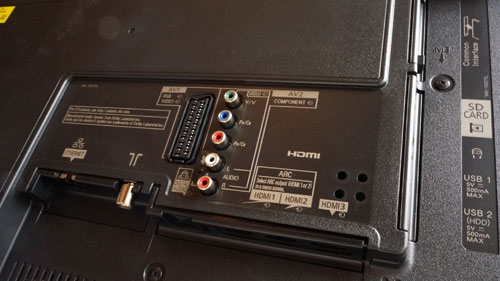 Rear: 3x HDMI, 2x USB, component, RGB Scart, Freeview HD, LAN, SD card & audio outs
Calibration
Armed with a Klein K10-A meter, DVDO's AVLab TPG 4K signal generator, and CalMAN 5.3 video calibration software from SpectraCal, we set about calibrating our TX-40AX630B review sample in [True Cinema] mode, the most accurate out-of-the-box picture preset.
Thanks to the onboard calibration controls that are clearly designed by engineers who fully understand what proper calibration entails, we aligned greyscale to D65, gamma to 2.4, and colour points to Rec.709 standard in no time at all.
Greyscale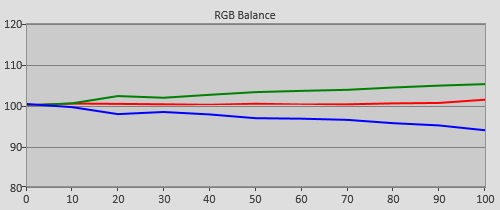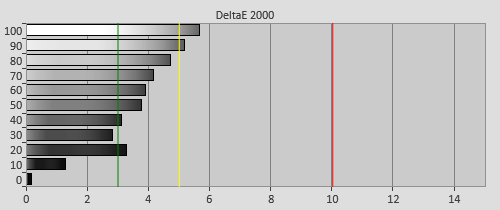 Pre-calibration RGB tracking and delta errors (dEs)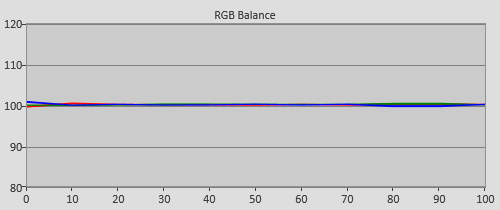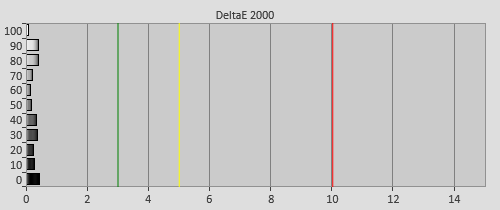 Post-calibration RGB tracking and dEs in [True Cinema] mode
Gamma
| | |
| --- | --- |
| | |
| Pre-calibration gamma tracking (2.35) | Post-calibration gamma tracking (2.39) |
Colour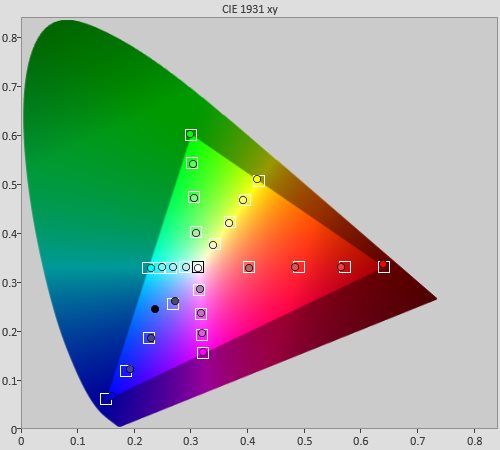 Post-calibration colour saturation tracking
Post-calibration colour errors (<3 not appreciable to the eye)
Benchmark Test Results
| | |
| --- | --- |
| Dead pixels | None (difficult to spot with such minuscule pixels) |
| Screen uniformity | Very good for an LED LCD TV |
| Overscanning on HDMI | 0% with [16:9 Overscan] set to "Off" |
| Blacker than black | Passed |
| Calibrated black level (black screen) | LEDs dim down |
| Calibrated black level (4×4 ANSI) | 0.044 cd/m2 |
| Black level retention | Auto-dimming on full black screen |
| Primary chromaticity | Very good |
| Scaling | Very good |
| Video mode deinterlacing | Effective jaggies reduction |
| Film mode deinterlacing | Passed 3:2/480i & 2:2/576i with [Film Cadence Mode] on |
| Viewing angle | Narrower than expected even for VA LCD panel |
| Motion resolution | 1080 lines (or higher) with [Intelligent Frame Creation] on |
| Digital noise reduction | Optional; effective when engaged |
| Sharpness | Defeatable edge enhancement |
| Luma/Chroma bandwidth (2D Blu-ray) | Full luma; chroma vertically softened |
| 1080p/24 capability | No judder in 2D or 3D |
| Leo Bodnar input lag tester | 63ms in [Game] mode |
| Full 4:4:4 reproduction (PC) | Yes for 4K; not fully for HD signal due to internal scaling |
Power Consumption
| | |
| --- | --- |
| Default [Normal] mode | 52 watts* |
| Calibrated [True Cinema] mode | 58 watts |
| Standby | <1 watt |
*Note: [Ambient Sensor] was enabled by default in [Normal] mode out of the box, which explains why energy usage was lower before calibration than after.
Picture Quality
The Panasonic TX40AX630 generated a deep shade of blacks by LED LCD standards, clocking a calibrated black level of 0.044 cd/m2 on a 4×4 ANSI chequerboard pattern once we pegged peak white to 120 cd/m2. The [Adaptive Backlight Control] option implemented on the 40in AX630 amounts to frame dimming (i.e. the whole screen including brighter elements will be darkened when the dimming kicks in) rather than the more advanced pseudo-local dimming found on the higher-end AX802 series. The Viera TX40AX630B's native black level was good enough owing to the onboard VA-type LCD panel, so we didn't see any need to engage the imprecise [Adaptive Backlight Control].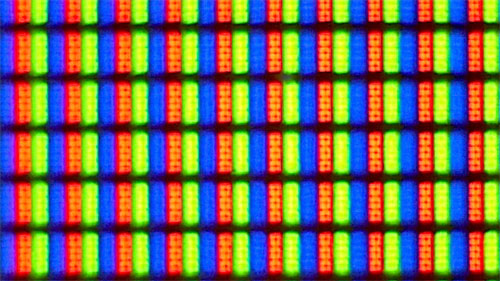 Subpixel structure indicating VA matrix
Perhaps helped in large part by the direct LED configuration, backlight and screen uniformity was as good as we've witnessed on any LCD-based display. Viewing angles on our review unit were slightly disappointing though, coming in narrower than what we would expect from a VA LCD panel: contrast and colours would desaturate fairly quickly once we went beyond 20° off-axis both vertically and horizontally.
However, if you have the luxury of sitting directly in front of a calibrated Panasonic TX-40AX630B, you'll be rewarded with a rich, lush image underpinned by velvety blacks and gorgeously accurate colours which hang onto their saturation even in darker sequences – an excellent and unique trait that has marked this year's Panasonic LED TVs (even midrange ones). Of course, whether or not the UHDTV's 4K resolution is perceptible from normal viewing distance is even more debatable at this screen size, especially given the lack of native 4K content.
Unlike most budget 4K televisions from other brands, the Panasonic TX-40AX630 is equipped with motion-compensated frame interpolation (MFCI) technology in the form of [Intelligent Frame Creation]. As judged using the horizontally scrolling lines pattern in Chapter 31 of the FPD Benchmark Software test disc, activating [IFC] – even at its least aggressive "Min" setting – improved motion resolution to 1080 lines (and possibly higher) from the LCD baseline of 300. We saw some VA black trailing as the lines scrolled past, but fortunately none in most real-world photorealistic content we watched.
Just like on the full HD Panasonic AS640 and AS650, we observed micro-stuttering on the 40AX630B when we watched some off-air 50Hz content (Match of The Day from the internal Freeview HD tuner), although engaging [Intelligent Frame Creation] attenuated this issue to a negligible level. European AX630s are spared (thanks to Polish ISF calibrator Maciej Koper for confirmation), so we still believe that this 50Hz judder is caused by implementation of Freetime which is specific to UK models.
As mentioned before, Panasonic has decided not to include any 3D glasses with the AX630 series, so we whipped out a pair of 3D3 active-shutter glasses – our current favourite third-party 3D eyewear due to its ability to maintain a reasonably bright image despite the shuttering lenses – to assess the television's extra-dimensional performance. It's gloriously full-res, displaying none of the jagged edges and horizontal scanlines that plague passive (ok 1080p) 3D sets.
Again, the TX40AX630B's aptitude for preserving well-saturated colours in low-light scenes was evident in the third dimension, countering the darkening effects of shuttering lenses to produce some of the most vibrant colours we've come across on an active 3DTV. Some crosstalk was present, but the double ghost images were quite faint and did not detract from our enjoyment. Like all Panasonic 3-D TVs we've tested to date, the Viera 40AX630 did not exhibit any judder with 24Hz, 60Hz and 50Hz (here's a hint for a possible solution to the 50Hz judder in 2D, Panasonic engineers?) material, be them film- or video-based.

The TX40AX630 continues an unhealthy trend of relatively high input lag among Panasonic's 6 Series televisions, recording a figure of 63ms in [Game] mode when measured using Leo Bodnar's device.
Conclusion
As much as we loved its image quality, the Panasonic TX-40AX630B feels like an opportunity missed. The picture delivered by the Viera AX630 was comfortably the most impressive among the budget 4K models from the "Big Four" UK TV makers: deeper blacks than Sony's X85 and LG's UB850V which are both IPS-based; and higher motion clarity than Samsung's HU6900 that lacks any usable motion-enhancing technology. The fact that it can be calibrated to reference levels for greyscale, gamma and colours helped a great deal too.
But the absence of built-in HEVC decoding (and hence Netflix 4K) means that the TX40AX630's advantage is no longer as clear-cut. To our eyes, a well-mastered 1080p Blu-ray will give Netflix 4K a good run for its money and then some, but the average 4K TV buyer will want native 4K content – regardless of how heavily compressed it is, as long as it's perceived to be 4K – RIGHT HERE AND NOW. Selling an Ultra HD television without internal Netflix 4K support is like selling a Smart TV without inbuilt WiFi connectivity: you can make it work, but it's an inconvenience, and will put potential buyers off.
Which begs the question, is it worth paying a premium for four times the pixel resolution over the full HD 1080p TX-40AS640? Unless you choose to sit very close to the TV, unfortunately we think the AS640 represents better value for money especially at this screen size. Now, had Panasonic included Netflix 4K support on the TX40AX630B, that would give consumers a compelling reason to plump for the 4K set. An opportunity missed indeed…