When we reviewed Panasonic's TX-40AS640 LED LCD TV some three months ago, we were impressed by its picture quality. However, that midrange model is exclusively sold by Currys and PC World in the UK, whereas the Viera TX-42AS650B that we're testing today commands more widespread availability through various British retailers like Amazon, John Lewis and Richer Sounds. Besides this 42-incher, there are four other screen sizes: the 47-inch Panasonic TX-47AS650B, the 50-inch TX-50AS650B, the 55-inch TX-55AS650B and the 60-inch TX-60AS650B.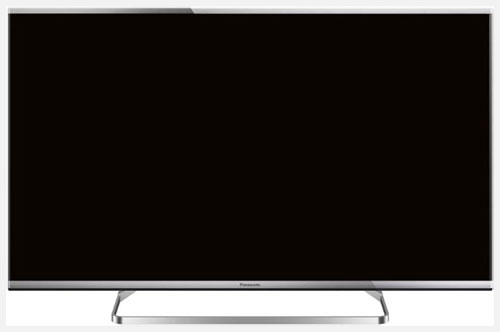 Fundamental differences between the Panasonic AS650 and AS640 include IPS LCD panel for the former (except the 50in version) versus VA-type for the latter; and passive vs active 3D. Like the Viera AS640, the AS650 features direct LED backlight technology, motion-compensated frame interpolation (MCFI), dual-core processing engine, not to mention various smart TV functionalities such as my Stream recommendation service, my Home Screen internet-connected portal, TV Anywhere remote streaming capability, integrated wireless connectivity, and built-in Freetime catch-up TV service powered by Freesat's EPG.
Design
The two-tone theme on the Panasonic TX42AS650 is similar to that found on the TX40AS640B, with a brushed metallic silver finish along the top and bottom borders of the bezel, and glossy black along the sides.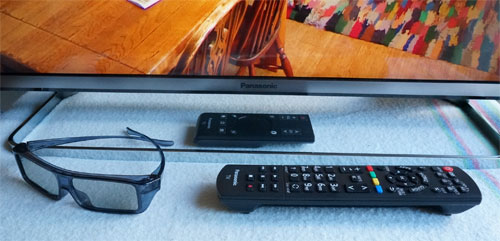 The only cosmetic differentiation is that the AS650's rectangular open-frame stand is finished in gleaming chrome, while the AS640's is matte silver. Build quality is acceptable considering the price point.
Connections
Rear: 3x HDMI, 2x USB, component, RGB Scart, Freeview HD aerial, LAN & audio outs
Calibration
Note: The most accurate out-of-the-box picture preset on our Panasonic TX42AS650B review sample was [True Cinema] which we used as our platform for calibration using SpectraCal's CalMAN 5.3 software.
Greyscale
The default [Colour Temperature] of "Warm2" in [True Cinema] mode produced greys that had too much green and too little blue: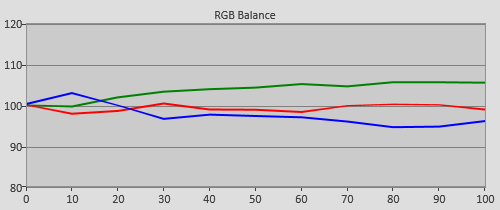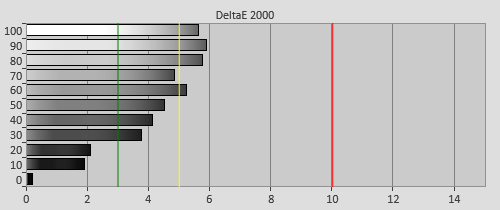 Pre-calibration RGB tracking and delta errors (dEs)
Fortunately, the TX-42AS650 is blessed with not only a two-point [White Balance] system, but also 10-point WB controls. We used the former to calibrate greyscale to D65, and – just for the sake of it – took advantage of the latter to truly iron out any kinks in the RGB balance: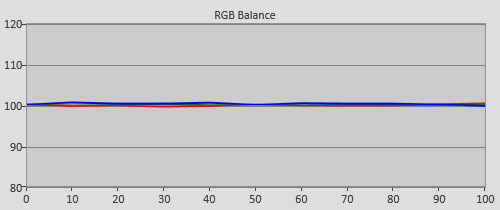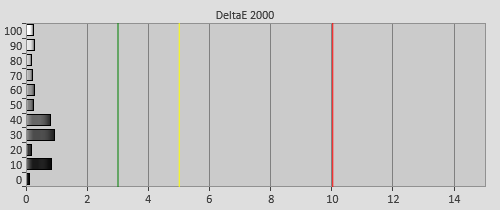 Post-calibration RGB tracking and dEs in [True Cinema] mode
The result was spectacular, with delta errors (dEs) never exceeding 1 (the perceptible dE threshold for the human eye is commonly accepted to be 3) across the entire luminance range, ensuring tint-free images regardless of whether the content was dark or bright.
Gamma
Panasonic has been targeting 2.4 gamma in the most videophile-friendly picture preset on its 2014 television models, and this praiseworthy trend continues on the Viera TX42AS650B. For those who are unaware, 2.4 has replaced the more conventional 2.2 as the recommended EOTF (electro-optical transfer function) endorsed by the ITU (International Telecommunications Union) for a flat-panel HDTV used for studio mastering in a dark room.
| | |
| --- | --- |
| | |
| Pre-calibration gamma tracking (2.41) | Post-calibration gamma tracking (2.37) |
Normally, on an IPS-type LCD panel which features lower dynamic range, we would revert to 2.2 gamma to avoid muddying the already compromised shadow detail. However, since our 42in AS650's black level measured deeper than your typical IPS LCD, we decided to stick to 2.4 for a rich, filmic look.
Colour
As was the case on the Panasonic AS640 and the 4K AX802 televisions, we measured stunningly accurate colours from the TX42AS650 without even needing to access the onboard colour management system (CMS):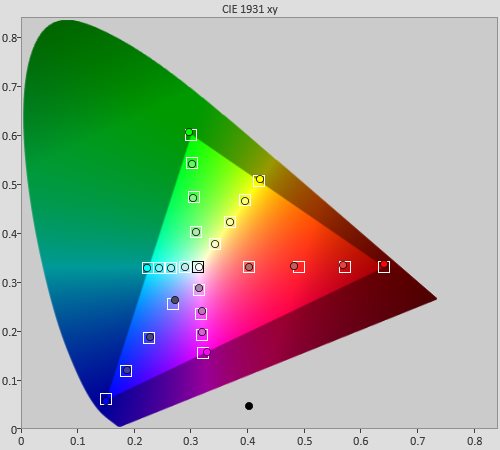 Post-calibration colour saturation tracking
After greyscale calibration, all the measured saturation tracking points for the six primary (red, green, blue) and secondary (cyan, magenta, yellow) chromaticities fell into place, lowering delta errors (decoding taken into account) to below the humanly visible cutoff of 3.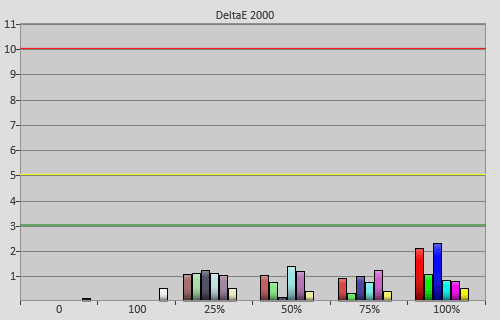 Post-calibration colour errors (<3 not appreciable to the eye)
We're not sure if this is due to Panasonic's "Super Chroma Drive" technology (originally found on the AX800/ AX802 4K Ultra HD TV) dripping down to step-down models, or something new that has been implemented across the board, but either way, we absolutely love the supremely impressive colour accuracy on the Japanese manufacturer's 2014 LED LCD displays.
Benchmark Test Results
| | |
| --- | --- |
| Dead pixels | None |
| Screen uniformity | Mild banding & DSE on low-tone grey screen |
| Overscanning on HDMI | 0% with [16:9 Overscan] set to "Off" |
| Blacker than black | Passed |
| Calibrated black level (black screen) | LEDs shut off |
| Calibrated black level (4×4 ANSI) | 0.115 cd/m2 |
| Black level retention | Auto-dimming with full black screen |
| Primary chromaticity | Very good |
| Scaling | Very good |
| Video mode deinterlacing | Effective jaggies reduction |
| Film mode deinterlacing | Passed 3:2/480i & 2:2/576i with [Film Cadence Mode] on |
| Viewing angle | Blacks brighten off-axis |
| Motion resolution | 1080 with [Intelligent Frame Creation] on; 300 off |
| Digital noise reduction | Optional; effective when engaged |
| Sharpness | Defeatable edge enhancement |
| Luma/Chroma bandwidth (2D Blu-ray) | Full Luma; chroma vertically softened |
| 1080p/24 capability | No judder in 2D or 3D |
| Leo Bodnar input lag tester | 59ms in [Game] mode |
| Full 4:4:4 reproduction (PC) | [1080p Pure Direct] partially improved chroma resolution |
Power Consumption
| | |
| --- | --- |
| Default [Normal] mode | 35 watts |
| Calibrated [True Cinema] mode | 32 watts |
| Standby | <1 watt |
Picture Quality
Saddled with an IPS LCD panel, the Panasonic TX-42AS650B unfortunately couldn't overcome the constraints of compressed dynamic range, but at least its black level measured slightly deeper than your run-of-the-mill IPS-based LED LCDs. With peak white pegged at 120 cd/m2, native black level came in at 0.115 cd/m2 on a 4×4 ANSI chequerboard test pattern, which is darker than the circa-0.15 cd/m2 we usually see on IPS TV panels.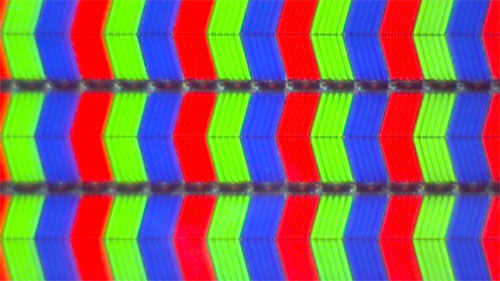 Subpixel structure indicating IPS matrix from LG Display
The Viera TX42AS650 is equipped with frame dimming (i.e. the backlight dimming will apply to the entire screen rather than more precise zones) which is activated through the [Adaptive Backlight Control] option in the picture menus. From our testing, the AS650's frame dimming took place mostly during low-APL scenes – it had little to no effect on brighter sequences. If you'd like deeper black levels (0.037 cd/m2 on full-field video black with auto-dimming defeated) during dark scenes at the expense of shadow detail, you can certainly enable [Adaptive Backlight Control], but we decided to leave it off since near-black detail already came across as indistinct to our eyes on the TX42AS650B owing to its onboard IPS panel.
Colours looked wonderfully realistic on the TX-42AS650 after calibration, but the 50Hz microstutter issue which we first spotted on the TX-40AS640B reared its ugly head here again. For the uninitiated, this is a problem where panning shots from 50Hz video sources (for example off-air live football broadcast) would display with a sort of 50Hz-to-60Hz judder, which is alleviated to some extent by engaging [Intelligent Frame Creation]. Curiously, this issue has only been reported on British but not European models, which made us suspect that it had something to do with the implementation of Freetime catch-up EPG service.
But for the typical shortcomings of passive 3D (visible dark horizontal scanlines; halved vertical resolution leading to jagged edges and softened tri-dimensional images), the Panasonic TX42AS650B served up a mesmerising 3-D performance. With the polarized glasses donned, the picture was bright, flicker-free, and most importantly richly-saturated even during very dark scenes. Crosstalk was faint and negligible unless you veer beyond 15° vertically from eye level – this happens on every LED LCD with film-type patterned retarder (FPR) polarized 3D technology. As with all Panasonic 3D TVs we've reviewed to date, the Viera AS650 handled 24Hz, 50Hz & 60Hz extra-dimensional sources natively without any judder.

Like the AS640, the Panasonic 42AS650 returned an input lag figure of 59ms in [Game] mode using our Leo Bodnar tester, which may put off hardcore gamers demanding a super-responsive display for playing twitch-reflex video games.
Verdict
We've not been able to fully recommend any of this year's IPS-based LED televisions, and unfortunately the Panasonic TX-42AS650B suffers the same fate. Although the TV could be calibrated to within an inch of its life, and its video processing was superb (except for the 50Hz microstutter issue), its less-than-impressive black level and muddied shadow detail meant that it's more suited for bright-room duties than watching movies in a darkened cinematic environment.
2014 has been a terrible year when it comes to IPS screens, not only because of the incredibly strong performance from the VA camp (improved uniformity and perhaps viewing angles), but also that the often-peddled "wide viewing angle" strength of IPS LCD panels didn't really hold true this year: while colours hung onto their hue and saturation, blacks simply brightened significantly even slightly off-axis. Let's hope Panasonic's forthcoming AX900/ AX902 that's blessed with 128-zone full-array local dimming (FALD) will fare better…