As Panasonic shapes up to tackle its second plasma-less year, the Japanese manufacturer is focusing on a theme of recreating the director's intent (hey, that's right up our alley!) with its 2015 lineup of Viera 4K Ultra HD TVs. The mid-tier CX700 we're testing today features a native UHD (ultra high-definition) resolution of 3840×2160, Studio Master Drive processing, 800Hz BMR (Backlight Motion Rate), quad-core processor, HDMI 2.0, HDCP 2.2, inbuilt HEVC and VP9 decoder, not to mention a new Smart TV portal based on Firefox OS.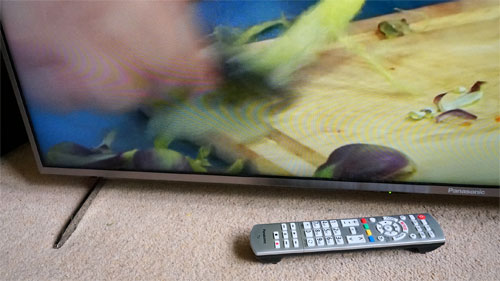 Four screen sizes are sold in the UK exclusively through the Currys/ PC World channel: the 40-inch Panasonic TX-40CX700B, 50-inch TX-50CX700B, 55-inch TX-55CX700B and 65-inch TX-65CX700B. We're reviewing the 50-incher which retails for just under a grand.
Design
The TX50CX700's semi-gloss LCD screen is framed by a slim, brushed metallic grey bezel which contributes to an attractive appearance. Our only complaint was the fixed position of the supporting silver feet near both ends of the TV: unlike last year's Sony X9B and W95 Bravias, the feet cannot be fitted to an alternative slot inwards, so unless you have an AV rack that spans almost the whole width of the panel, you'll have to go the wall-mounting route.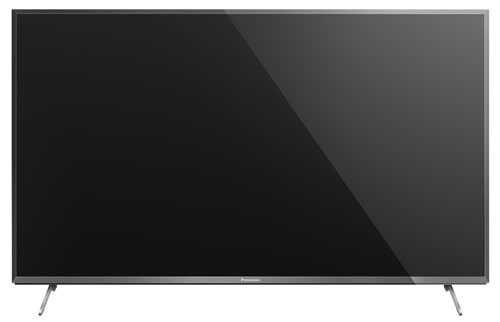 Build quality is solid: there's no hint of cheap, creaky plastics; while the wide base and low centre of gravity preclude excessive wobbling. Note that the CX700B British model only comes with a traditional zapper but not a secondary Smart remote.
Connections
The provision of 3 HDMI inputs is not overly generous (once HDMI2 is used for ARC, you're left with only two ports), but at least all three are blessed with HDMI 2.0 and HDCP 2.2 compliance.
Calibration
Out of the box, the most accurate picture preset on our Panasonic TX50CX700B review unit was [True Cinema] which we also used as our platform for calibration with a profiled Klein K10-A meter, DVDO's AVLab test pattern generator and CalMAN Ultimate software.
Although we did miss the DDC (direct display control) function available on higher-end Panasonics, the calibration controls on the Viera CX700 worked a treat, allowing us to obtain reference-level greyscale and colours. Particularly impressive was the television's colour accuracy: we don't know what secret sauce the company's been using (ok, it's an inbuilt 8000-point 3D LUT, nevertheless it's still magic), but since last year Panasonic Vieras have consistently delivered the most realistic hues among all 4K TV brands.
Greyscale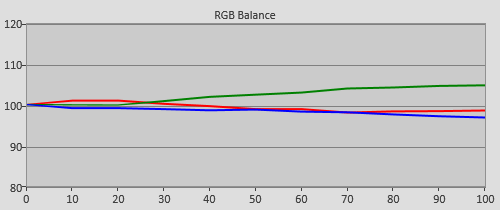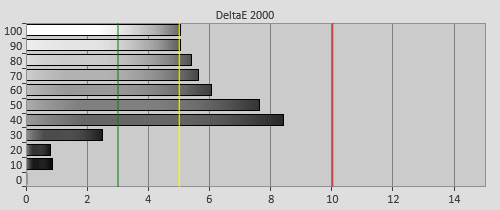 Pre-calibration RGB tracking and delta errors (dEs)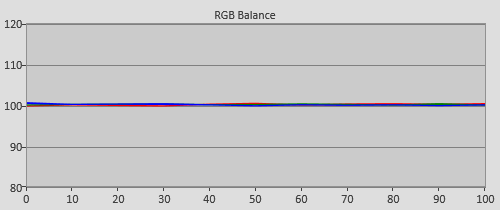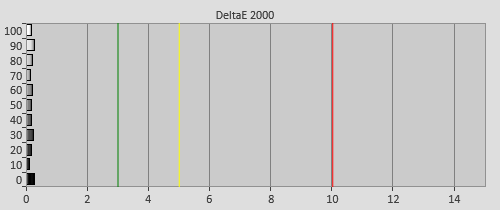 Post-calibration RGB tracking and dEs in [True Cinema] mode
Gamma
| | |
| --- | --- |
| | |
| Pre-calibration gamma tracking (2.1) | Post-calibration gamma tracking (2.39) |
Colour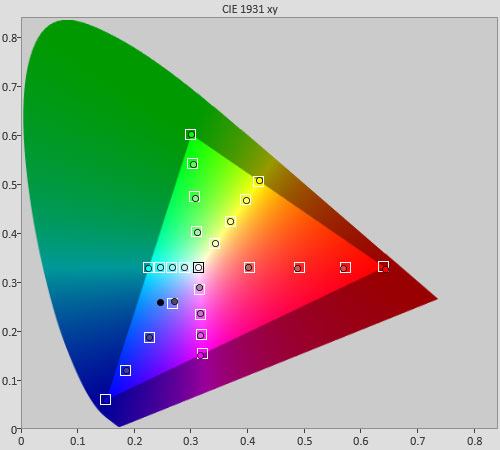 Post-calibration colour saturation tracking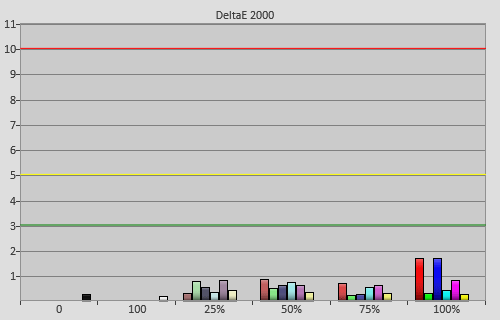 Post-calibration colour errors (<3 not appreciable to the eye)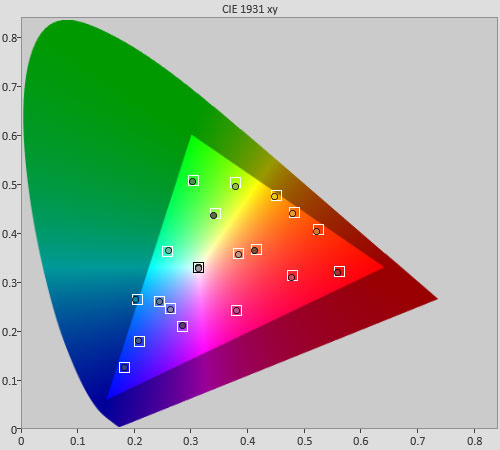 Post-calibration Colour Checker Classic test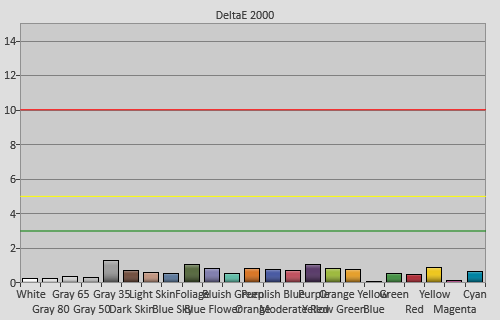 Post-calibration Colour Checker Classic errors (<3 not appreciable to the eye)
Benchmark Test Results
| | |
| --- | --- |
| Stuck pixels | 2 (impossible to spot from normal viewing distance) |
| Screen uniformity | Very good for an edge-lit LED LCD TV |
| Overscanning on HDMI | 0% with [16:9 Overscan] set to "Off" |
| Blacker than black | Passed |
| Calibrated black level (black screen) | 0.004 cd/m2 if [Adaptive Backlight Control] enabled |
| Calibrated black level (4×4 ANSI) | 0.028 cd/m2 |
| Black level retention | Stable |
| Primary chromaticity | Very good |
| Scaling | Good |
| Video mode deinterlacing | Effective jaggies reduction |
| Film mode deinterlacing | Passed 3:2 & 2:2 in SD & HD if [Film Cadence Mode] on |
| Viewing angle | Decent for VA LCD panel |
| Motion resolution | 600 lines with [IFC] engaged; 300 otherwise |
| Digital noise reduction | Optional; effective when engaged |
| Sharpness | Defeatable edge enhancement |
| Luma/Chroma bandwidth (2D Blu-ray) | Full luma; chroma horizontally blurred |
| 1080p/24 capability | No judder in 2D; mild judder in 3D |
| Measured panel refresh rate | 120Hz |
| Measured DCI-P3 coverage | 88% |
| Leo Bodnar input lag tester | 38ms if [Intelligent Frame Creation] "Off" |
| Full 4:4:4 reproduction (PC) | Yes for 3840×2160@60Hz |
Power Consumption
| | |
| --- | --- |
| Default [Normal] mode | 63 watts* |
| Calibrated [True Cinema] mode | 57 watts |
| Standby | <1 watt |
*Note: Out of the box, [Ambient Sensor] was switched on by default in the [Normal] picture preset.
Picture Quality
Black Level & Contrast
The VA-type LCD panel on the Panasonic TX-50CX700B yielded the deepest native black level we've recorded from an Ultra HD 4K TV to date. After pegging peak white to our usual target of 120 cd/m2, blacks came in at 0.028 cd/m2 on both a full-black screen (unlike most LED LCDs, our sample did not partake in any auto-dimming shenanigans, bravo!) and a 4×4 ANSI chequerboard pattern.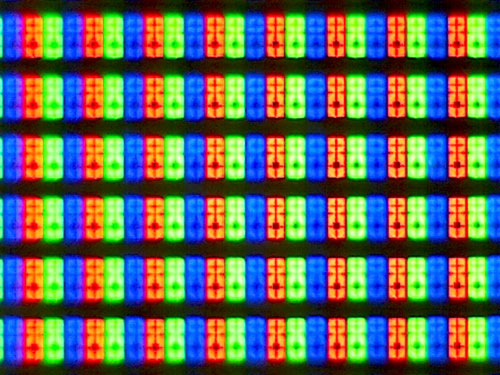 Subpixel structure indicating VA matrix
The CX700 is equipped with some form of pseudo-local dimming which is controlled through the [Adaptive Backlight Control] option. Using our self-authored test video containing a small box crawling horizontally then vertically across a black screen, we worked out that eight vertical columns (each spanning the entire height of the panel) of separately dimmable zones were implemented.
All three active [Adaptive Backlight Control] settings of "Min", "Mid" and "Max" lowered black level on a full-raster black pattern to the same result of 0.004 cd/m2, but modified peak white (which was originally calibrated to 120 cd/m2) on a windowed pattern to 121 cd/m2, 118 cd/m2 and 89 cd/m2 respectively. As you can expect, enabling [Adaptive Backlight Control] distorted gamma tracking depending on what's shown on screen.
Backlight/ Screen Uniformity
Despite its edge-lit LED configuration, the Viera TX-50CX700's backlight consistency was pretty darn good: we didn't observe any clouding or corner bleed in a dark room within the display's [True Cinema] picture preset even before calibration. We didn't spot any banding or dirty screen effect (DSE) in panning shots either, although there's a touch of darkening around the borders of the screen, which was most apparent on tonally uniform bright scenes.
Motion
While the Panasonic TX50CX700B is specced to have a BMR (Backlight Motion Rate) of 800Hz, in reality the television's motion processing wasn't fantastic. Engaging [Intelligent Frame Creation] – even at the highest setting of "Max" – merely doubled motion resolution (as determined via the horizontally scrolling lines in Chapter 31 of the FPD Benchmark Software Blu-ray disc) to 600 lines from the LCD baseline of 300.
To put this in perspective, most rival midrange and high-end 4K TVs from Samsung and Sony (as well as last year's Panasonic Vieras) generally have no problem achieving motion resolution of 900 lines or higher with the help of motion-compensated frame interpolation (MCFI) or black frame insertion (BFI). What this means is that when there's movement on screen, the CX700B's detail and clarity will degrade to a greater degree than other 4K televisions.
Our preferred [Intelligent Frame Creation] setting on the 50CX700 is "Min". Even though [IFC] "Mid" didn't manifest significant interpolation artefacts, it started introducing noticeable soap opera effect (SOE) to 24p films. Needless to say, [IFC] "Max" resulted in an unacceptable amount of motion glitches and SOE.
HD
Once we sat down and watched some high-def material on the 50in CX700, we were blown away by just how realistic everything looked, a testament to the supremely accurate greyscale and colours attained through calibration. Within the TV's sweet zone (it's a VA-type LCD after all, though its viewing angles were not the narrowest we've seen), not a single shade or hue came across as out of place throughout our review period. This authenticity was underpinned by some of the sultriest blacks we've witnessed on an LCD-based display without calling upon the help of local dimming.
We're not sold on the 50CX700B's local dimming system which is activated via the [Adaptive Backlight Control] setting. On the one hand, it can improve blacks even more in low-light scenes, but because there are only 8 vertical columns of independently dimmable zones, blooming (the whole vertical strip would light up) is not uncommon due to lack of precision. The higher [Adaptive Backlight Control] intensities of "Mid" and "Max" also skewed gamma out of kilter depending on the APL (Average Picture Level). In the end, we decided to leave it off, but if you wish to use [Adaptive Backlight Control] to deepen low-APL blacks, don't go beyond the lowest setting of "Min".
Football season is almost over, but we checked out other live sports broadcast, and are extremely pleased to report that the weird 50Hz micro-stutter bug found on many 2014 Viera televisions was not present on the TX-50CX700. As fleshed out by our motion resolution test, moving objects and panning shots did not look as crisp as the best 4K TVs.
4K
Native Ultra HD content (including Better Call Saul on Netflix 4K) oozed detail, subtlety and realism on the Panasonic TX50CX700, though we couldn't help but notice slightly more motion blur than competing midrange UHD televisions when we sampled a 4K@60Hz football clip from the 2014 World Cup in Brazil.
Using our DVDO AVLab TPG 4K signal generator, we verified that the TX-50CX700B fully resolved all 3840 vertical and 2160 horizontal single-pixel lines at 24fps, 25fps, 30fps, 50fps and 60fps. With [4K Pure Direct] engaged, we also achieved full 4:4:4 chroma sampling at 3840×2160@60fps over HDMI from a Geforce GTX 970 graphics card inside a gaming PC.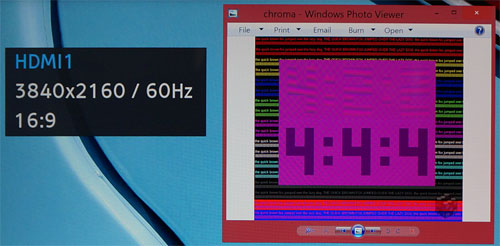 This year we've started measuring the percentage of DCI-P3 gamut coverage on 4KTV models, what with wide colour gamut (WCG) being a key parameter in the next phase of ultra high-definition (UHD) evolution. With [Colour Gamut] set to "Native", the 50" CX700 reached 88% of DCI-P3 standard according to our calculations, which is close enough to Panasonic's claimed figure of 90% (made possible by the Japanese TV maker's newly developed Wide Colour Phosphor LED backlight).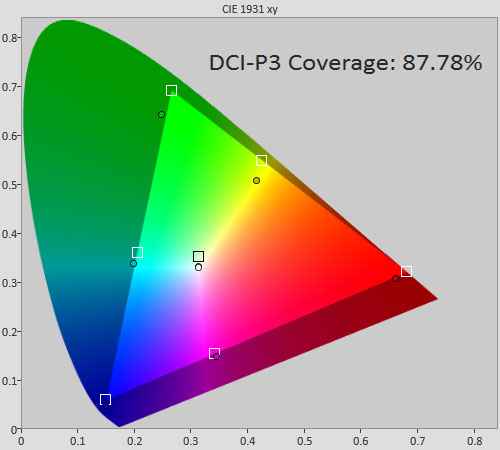 [Colour Gamut] "Native" with reference to DCI-P3 colour space standard
3D
The Viera CX700 doesn't ship with any 3D glasses, and perhaps for good reason. Using our custom-authored 3D resolution test pattern, we discovered that the TX50CX700B didn't deliver full HD 3D resolution: the horizontal alternating black and white single-pixel lines simply merged into a solid grey block, suggesting a loss in vertical resolution.
This translated into a soft tri-dimensional picture exhibiting visible jagged edges when we paired the 3DTV with some compatible active-shutter glasses (Samsung SSG-5100GB) we had lying around. There's some crosstalk (though not overly distracting), as well as mild judder with 24Hz and 50Hz 3-D material, which could be smoothed to an extent by setting [24p Smooth Film]/ [Intelligent Film Creation] to "Min".
Gaming
As long as [Intelligent Frame Creation] was disabled, gaming responsiveness was good enough as it was on the Panasonic TX-50CX700, with our Leo Bodnar tester returning an input lag number of 38ms which is relatively low for a 4K Ultra HD TV.

Because [Game Mode] deactivated certain useful processing including the [Pure Direct] modes which is necessary for 4:4:4 chroma reproduction (may be important for PC gamers), yet did not cut down input lag any further, we didn't see any need to engage it. Just make sure [Intelligent Frame Creation] is switched off – enabling it bumped up input lag to 51ms.
Conclusion
The Panasonic TX-50CX700B does many things right, which is all the more remarkable given its sub-£1000 price tag. It's capable of breathtakingly accurate colour rendition, and its native black level was the lowest we've measured on a 4K TV thus far without enlisting the help of local dimming.
Even though its motion clarity – while serviceable – and 3D performance fell short of what we've come to expect from a 2015 UHD television, the CX700's overall picture quality and keen price were more than enough to earn the display a spot in our list of recommended TVs.