Back at CES 2014 in January, Panasonic unveiled a 4K LED LCD prototype which the company claimed could match (or even surpass, depending on who you spoke to) plasma's picture quality, even daring to pit the display side-by-side against a Viera ZT60 – the best plasma Panasonic has ever produced – in a dark-room demo. As time passed, more and more details surfaced about the technologies behind this plasma-like LED TV which was eventually given a model number of AX900 (or AX902 in the UK): IPS LCD panel, direct-lit LED backlighting, 128-zone full-array local dimming (FALD), passive 3D capabilities, and a proprietary Studio Master Drive innovation that enhances shadow detail and colour saturation in low-light scenes.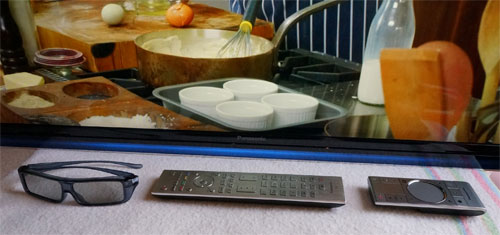 10 months on, and just one year after the Japanese manufacturer announced its exit from the plasma television market, the final product is sitting pretty in our test room, awaiting us to put Panasonic's bold claims under scrutiny. We're reviewing the 55in TX-55AX902B which retails at £3,499 – pricier than any other 55-incher on the market at this time of writing. Two other screen sizes are available, namely the 65-inch Panasonic TX-65AX902B and the 85-inch TX-85X942B priced at £4,999 and £12,999 respectively. In case you're wondering, the 85-incher has been assigned a slightly different model number because of some changes in underlying specifications to VA-type LCD panel, 32-zone FALD and active 3D.
Design
The Panasonic TX-55AX902 shares similar design characteristics to its step-down sibling, the Viera AX802/ AX800. A chunky stand – so heavy it even has recessed handles built in – acts as a ballast for the screen to lean backwards at a slight angle. Together with a glossy black bezel that's impressively thin especially for a direct LED television with FALD, this gives rise to a distinct, monolithic appearance that wouldn't look out of place in the most elegant of living rooms.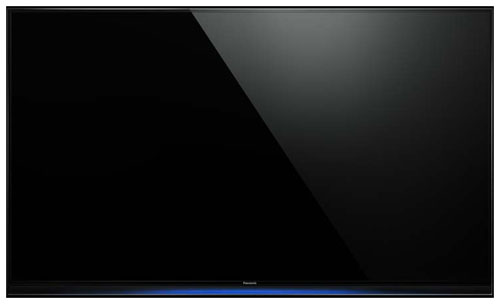 Unique to the Panasonic AX902/ AX900 is the presence of a calming blue glow from the bottom border of the panel, which can be switched off from the user menu. Although four fans can be found at the back of the panel, they spin at relatively low rpm, and collectively do not generate much fan noise. It's certainly softer than that heard on Panasonic's ZT/ VT plasma panels or Samsung's 7 and 8 Series UHD TVs, and is in any case easily masked by normal TV volume.
The TV ships with a swanky normal remote (by far our favourite in 2014 due to its brushed metallic silver finish, gratifying tactile feedback, tasteful backlighting, and – don't laugh – the inclusion of a [3D] button), a smaller smart remote allowing for touch and voice control, as well as two pairs of polarized 3D glasses.
Connections
All four HDMI ports on the Panasonic TX55AX902B support HDMI 2.0 (18Gbps, 4:4:4) and HDCP 2.2, an upgrade from the AX800 whose only HDMI input 4 is specced to this level. The onboard DisplayPort connection is version 1.2a rather than the recently announced 1.3, but given that no other TV maker even bother putting DisplayPort on their ultra high-definition (UHD) televisions, it's not something we'd hold against Panasonic.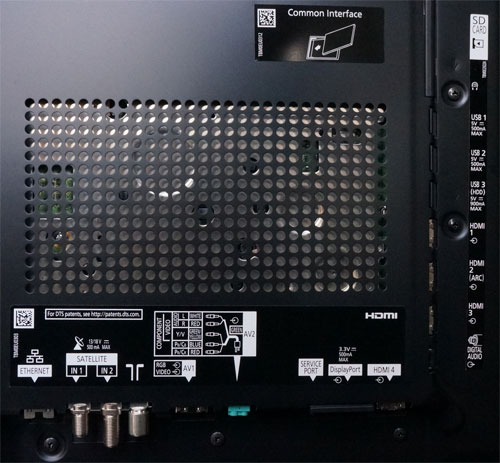 Rear: 4x HDMI, 3x USB, component, DisplayPort, aerial & satellite ins, LAN, audio outs
Calibration
Panasonic has updated its TV remote application, allowing for an even better second-screen calibration experience. We really liked this functionality when it was first introduced in 2013, mainly because it bypassed the need to summon picture menus on the television screen which can throw off measurements on certain displays, notably plasmas that are affected by ABL (Automatic Brightness Limiter). However, a couple of shortcomings prevented us from carrying an iPad everywhere to calibrate Panasonic plasma TVs in the field.
First, any adjustments made using the app (then known as VIERA Remote app) would only be applied to the "Custom [Viewing Mode] instead of the more accurate "Professional" modes which not only had most of the superfluous picture processing turned off by default, but also featured flatter gamma tracking out of the box. Also, the adjustments had to be operated by way of touch-based sliders, which presented a problem especially on smaller devices like an iPad Mini or an iPhone when finer controls were required.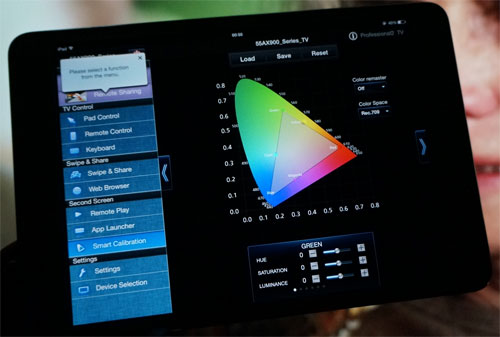 Responding to enthusiast feedback as always, Panasonic has addressed these two issues with the latest version of its app (named TV Remote 2 on iOS and Android). Adjustments made via the application can now be saved in the [Professional] modes (which an ISF-certified calibrator can relabel as [isf Day] and [isf Night] for daytime and critical viewing respectively) in addition to [Custom] mode. Furthermore, the slider controls are now bookended by [+] and [-] buttons, allowing the settings to be adjusted incrementally with precision.
While we've previously mentioned the usefulness of such a remote calibration app on plasma displays, the same applies to a full-array local-dimming (FALD) LED LCD TV like the Panasonic AX902/ AX900 too. Inasmuch as possible, measurements taken off FALD sets should be done without the user menu – even something seemingly as innocuous as a slider bar – being displayed on screen, which can alter APL (Average Picture Level) and on-screen luminance depending on the dimming algorithm.
With this in mind, we proceed to calibrate our Viera TX-55AX902B review sample using the Panasonic TV Remote 2 app, as well as our trusty profiled Klein K10-A meter, DVDO AVLab TPG 4K signal generator and CalMAN 5.3 video calibration software, with read times extended to accommodate the dimming-related luminance fluctuations.
Greyscale
The default [Colour Temperature] setting of "Warm2" in the [Professional] modes produced red-tinted greys, which became progressively worse as the image got brighter: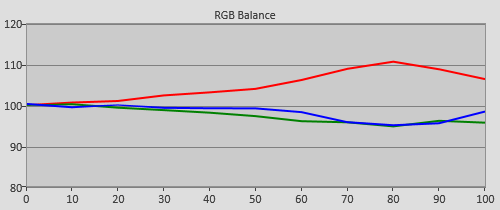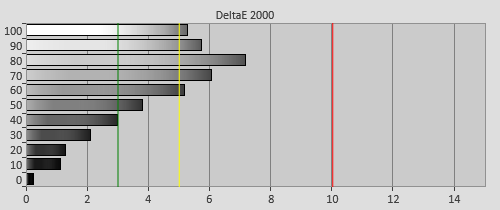 Pre-calibration RGB tracking and delta errors (dEs)
It's nothing that couldn't be sorted out by the extensive calibration controls Panasonic provided. We first used the TX55AX902B's 2-point [White Balance] controls to bring greyscale closer to D65, then its onboard 10-point WB system to finetune at each 10% video signal: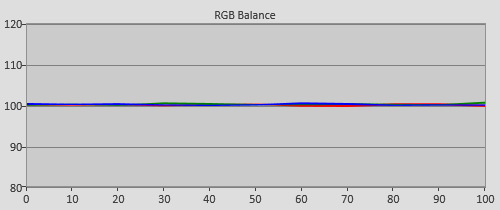 Post-calibration RGB tracking and dEs in [Professional] mode
The result was excellent, with delta errors (dEs) reduced to below 1 across the entire luminance range. Since a dE of 3 is commonly accepted as the threshold below which inaccuracies won't be visible to the human eyes, this means the on-screen picture should be free of any untoward tinting.
Gamma
The Panasonic AX900/ AX902 is the world's first consumer-grade flat-panel television to incorporate BT.1886 gamma function which modifies a base 2.4 gamma curve according to the black (and white) level of the display, the idea being that it would provide a clearer rise out of black and prevent clipping of shadow detail on low-contrast displays, not to mention facilitate a more consistent presentation of the same video signal on different displays with varying brightness/ contrast characteristics.
In practice, we found that although calibrating to BT.1886 does improve shadow detailing, it robs the on-screen image of the rich, filmic look afforded by 2.4 gamma, since even a black level of 0.003 cd/m2 (for example as measured on Panasonic's now-discontinued VT/ ZT plasmas) would curtail top-end gamma to 2.37 according to the BT.1886 gamma formula. It is for this reason that we still routinely calibrate to 2.4 gamma in our reviews and in the field, while taking care to manually align low-end gamma to 2.1/ 2.2 (to bring out shadow detail) if sufficient controls are available on the display, such as a 10- or even 20-point white balance/ gamma system.
| | |
| --- | --- |
| | |
| Pre-calibration gamma tracking (2.25) | Post-calibration gamma tracking (2.4) |
Regardless of our preference, Panasonic does offer enough controls for users to calibrate to either BT.1886 or any other gamma value. New to the Viera TX-55AX902, "BT.1886" is now listed as an option within the [Gamma] submenu, and is the default setting for [Professional2] (or [isf Night]) mode. Out of interest, we calibrated [Professional1] mode to 2.4 gamma, and [Professional2] to BT.1886 gamma (Panasonic's TV engineers supplied a list of best practices for this purpose), with the intention of comparing them in real-world material.
Colour
Although the Panasonic TX-55AX902B features 3D LUTs (look-up tables) with 8000 registry points to reproduce accurate colours in dark scenes, all the processing happens under the hood, because as far as calibration is concerned, the TV's 3-axis (hue, saturation and luminance) colour management system (CMS) for the six primary (red, green, blue) and secondary (cyan, magenta, yellow) colours is exactly the same as that found on Panasonic's other ISFccc-ready TVs.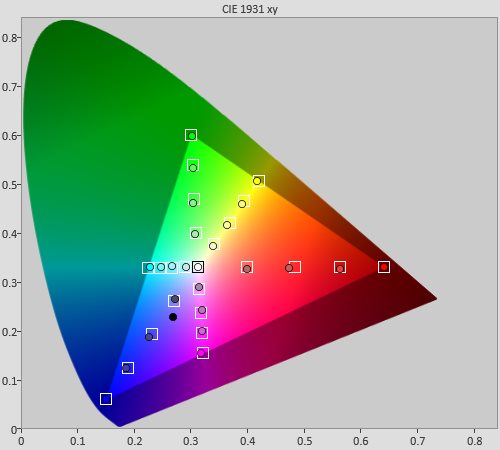 Post-calibration colour saturation tracking
The well-designed CMS allowed us to bring the TX55AX902's colours to spec, with all the measured saturation tracking points exhibiting no visible errors in real-life content.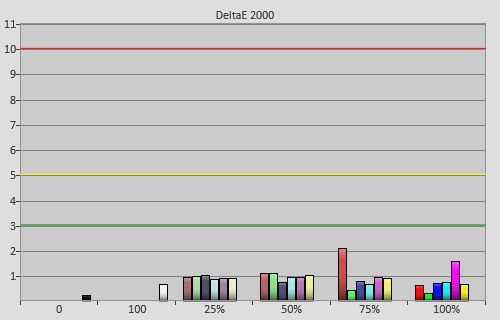 Post-calibration colour errors (<3 not appreciable to the eye)
Benchmark Test Results
| | |
| --- | --- |
| Dead pixels | None (difficult to see when pixels are so small) |
| Screen uniformity | Fantastic – dare we say plasma-esque |
| Overscanning on HDMI | 0% with [16:9 Overscan] set to "Off" |
| Blacker than black | Passed |
| Calibrated black level (black screen) | LEDs dim down |
| Calibrated black level (4×4 ANSI) | 0.13 cd/m2 (not representative) |
| Black level retention | Stable if [Adaptive Backlight Control] off |
| Primary chromaticity | Excellent |
| Scaling | Excellent |
| Video mode deinterlacing | Effective jaggies reduction |
| Film mode deinterlacing | Passed 3:2 over 480i with [Film Cadence Mode] on |
| Viewing angle | As good as we've seen on an LCD-based TV |
| Motion resolution | 1080 lines (or higher) with [Intelligent Frame Creation] on |
| Digital noise reduction | Optional; effective when engaged |
| Sharpness | Defeatable edge enhancement |
| Luma/Chroma bandwidth (2D Blu-ray) | Full Luma; chroma vertically softened |
| 1080p/24 capability | Mild judder in 2D; no judder in 3D |
| Leo Bodnar input lag tester | 87ms in [Game] mode |
| Full 4:4:4 reproduction (PC) | Yes, with [Pure Direct] modes engaged |
Power Consumption
| | |
| --- | --- |
| Default [Normal] mode | 118 watts* |
| Calibrated [Professional2] mode | 119 watts |
| Standby | <1 watt |
*Note: [Ambient Sensor] was enabled by default in the out-of-the-box [Normal] mode.
Picture Quality
Black Level & Contrast Performance
To be honest, we were more than a bit concerned when we learnt that the Panasonic AX900/ AX902 would be using IPS-type LCD panel which doesn't have the best reputation for delivering deep blacks, despite the fact that the TV would be kitted out with full-array local dimming (FALD) technology. Fortunately, our worries proved unfounded, and the lovely shade of blacks put out by the Viera TX55AX902B in addition to the wide viewing angles more than vindicated Panasonic's decision to stick with IPS.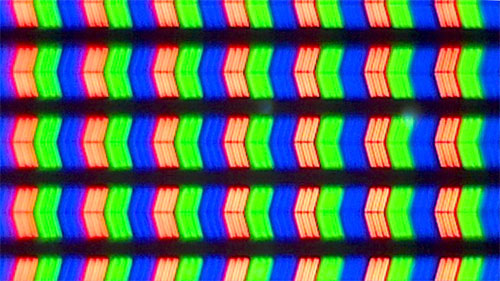 Subpixel structure indicating S-IPS matrix from LG Display
"Lovely shade of blacks?" we hear you ask. "But the measured black level on a 4×4 ANSI chequerboard pattern is a rather uninspiring 0.13 cd/m2!"
True, but this is one case where ANSI contrast measurements did not accurately reflect what happened with real-world content. When designing the local dimming algorithm, Panasonic's engineers had to make strategic choices about when to switch the independently dimmable zones on and off to best cater for a wide range of on-screen images while keeping blooming/ haloing to a manageable level. As it turned out, a 4×4 (and 3×3, for that matter) ANSI chequerboard pattern was one of the few instances when FALD did not kick in (not to its full potential anyway).
The 55AX902's FALD system is activated through the [Adaptive Backlight Control] option which comes in three strengths besides "Off": "Min", "Mid" and "Max". After extensive testing with numerous low-APL scenes, we concluded that [Adaptive Backlight Control] "Min" was the best setting to substantially improve black-level performance without introducing excessive artefacts. The more aggressive "Mid" and "Max" settings incurred more visible blooming (since the discrepancy between the dimmed and undimmed zones was greater) and shadow detail loss.
For you number junkies reading this, the [Adaptive Backlight Control] settings of "Off", "Min", "Mid" and "Max" yielded black level measurements of 0.13 cd/m2, 0.017 cd/m2, 0.007 cd/m2 and 0.007 cd/m2 respectively on a full-field video black screen (peak white was pegged at 120 cd/m2).
An attribute to note about the TX-55AX902B's FALD system is that the transition between the dimmed and non-dimmed state takes place in a gradual manner (similar to a fade-in/ fade-out effect), which is not a bad thing in our books because it makes any fluctuation in brightness less perceptible. However, this does lead to a couple of interesting phenomenons.
First, when we quickly cycled through some test patterns, we observed a "ripple" effect as the dimming spread from one zone to another. Also, because an illuminated zone would take a few seconds to gradually fade away when it needed to be switched off, this caused an effect not unlike image retention on plasmas (hey, maybe that's what Panasonic engineers were shooting for!), which was most obvious when white text disappeared from a black background (for example during end credits). To be fair, neither bothered us in real-life viewing.
Screen & Backlight Uniformity
The combination of direct LED configuration and full-array local dimming did wonders for the TX55AX902's backlight uniformity: we saw no hint of corner bleeding, clouding or banding on our review sample. The notorious dirty screen effect (DSE) which normally affects even the best of LCDs was absent here – the Panasonic AX902 was truly plasma-like in terms of screen uniformity.
If we peered hard enough at an evenly toned image (such as full-field grey) for a while, we could probably make out the slightest hint of small, rectangular outlines suggestive of the dimming zones. In real-world viewing though, it's a total non-issue.
Motion
Engaging [Intelligent Frame Creation] even at its lowest setting of "Min" boosted motion resolution to 1080 (and possibly higher) from the LCD baseline of 300 (as determined via the horizontally scrolling lines pattern in Chapter 31 of the FPD Benchmark Software disc). The inherent motion cleanliness of IPS panel showed up well here, devoid of any black trailing/ smearing commonly seen on VA-type LCD panels, although we did spot some faint double ghost images in specialised test patterns, which suggests some sort of backlight scanning process going on. All in all, the Panasonic AX902B produced some of the nicest motion we've seen from an LED LCD display.
2D
Any fears that the Panasonic TX55AX902B would fall at the first hurdle of black-level response (the Achilles' heel of IPS LCD panel) were immediately dispelled once we sampled some Blu-ray movies. Belying the ANSI contrast measurement (for the reason explained above), blacks – aided by the full-array local-dimming technology – looked convincingly deep even in the most challenging of low-light scenes, never descending into the milky greys typical of IPS panels, unless, of course, you choose to disable [Adaptive Backlight Control] (but why would you when you've forked out so much for this defining feature of the AX902/ AX900?).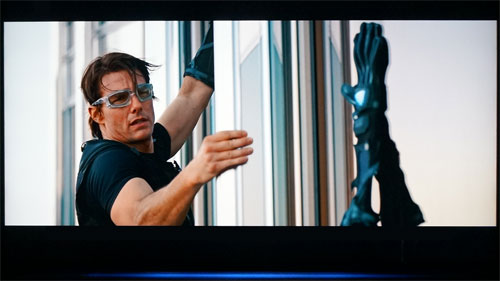 With [Adaptive Backlight Control] set to "Min", the FALD system worked seamlessly to darken black level where it's needed in a subtle fashion (i.e. without obvious luminance fluctuations), while making sure that shadow detail wasn't crushed (though more on this later). Look hard enough and you'd see the occasional blooming (circumferential halos around bright objects overlaying dark backdrops, which is caused by the size of the dimming zone being larger than the pixels responsible for illuminating said objects), but it was never distracting to our eyes.
It's a testament to the brilliance of the local dimming algorithm devised by Panasonic's engineers that the AX902's FALD system just went about doing its thing without drawing attention to itself. Heck, most of the time it didn't even feel like we were watching an IPS panel as far as black level was concerned.
Why "most of the time" though? Therein lay one of the weaker points of the Panasonic AX902B. Despite the superb local dimming system, the low native contrast (around 1000:1) and limited dynamic range of the underlying IPS LCD panel meant that shadow detail wasn't presented as clearly as a screen with greater dynamic range would have done. Now we understand why the company opted to implement BT.1886 gamma on the AX900/ AX902 – to extract more near-black detail than what was possible from an uncompensated power law gamma formula.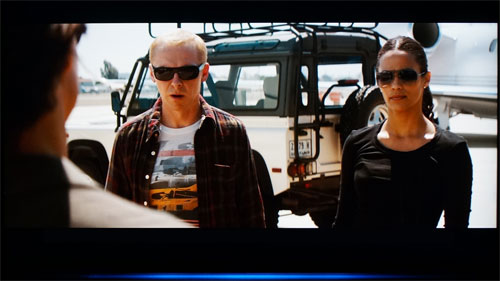 With the help of Panasonic's BT.1886 initiative and "Black Gradation Drive" technology, the Viera TX-55AX902 managed to resolve more detail in shadowed areas than all other IPS-based LED LCD TVs we've tested to date. Nevertheless, it's still a touch behind the best plasmas and VA LCDs in this department.
Putting this minor issue aside, it's mostly good news on the picture quality front. Colours looked gorgeously accurate even in dark scenes, no doubt boosted by the Japanese brand's "Super Chroma Drive" technology that uses 3D lookup tables at multiple brightness intervals to maintain faithful colour reproduction. Skin tones and green foliage came to life with the sort of effortless realism rarely seen on LCD-based televisions.
We ran our TX-55AX902B review unit side-by-side against a calibrated Panasonic TX-P60ZT65B plasma, and were pleasantly surprised to find the AX902's colour and gamma characteristics matching up very well with the ZT65's. In fact, the similarities were so great that we struggled to tell the two displays apart in all but the darkest scenes (where the ZT triumphed owing to deeper blacks and superior shadow detailing).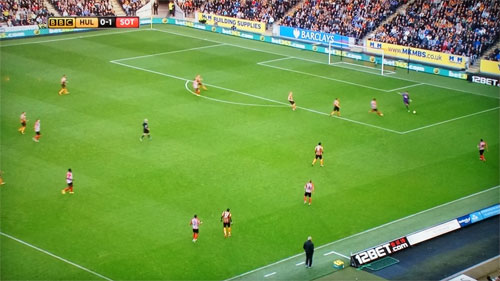 Another aspect where the Panasonic AX902 mirrored the ZT was its blemishless screen uniformity – we cannot overstate the profound impact this has on one's viewing experience. On our Panasonic TX55AX902 sample, panning shots across a uniformly toned background (e.g. a football field) were as clean as they come, and darker scenes weren't blighted by patches of uneven backlighting. The wide viewing angles granted by IPS LCD panel were a boon too: there's little in the way of contrast loss and colour shifts that characterise VA LCD panels every time you stand up, sit off-axis or even too close (the left and right edges of low-grade VA screens may appear brighter than the centre, a.k.a. pillaring). Add 4K resolution to the mix, and the result was a lucid, utterly compelling "look out of window" effect that – prior to the arrival of the Viera AX902 – we've only seen on plasma and OLED televisions.
To our slight disappointment, the lowest [24p Smooth Film] setting of "Min" didn't smooth out the mild 24fps judder exhibited by the TX55AX902B, though it's a lot less noticeable at normal sitting distances. The higher settings of "Mid" and "Max" did so, but introduced undesirable soap opera effect. [Letterbox] "Dimmer" did nothing to darken letterboxed areas once [Adaptive Backlight Control] was engaged, so we left it at its default off position of "Normal".
4K
This was actually the first time we've laid eyes on streamed Netflix 4K content on a Panasonic television (regular readers will be aware of the Netflix 4K snafu surrounding the step-down Viera AX802, which fortunately will be resolved soon following a software update).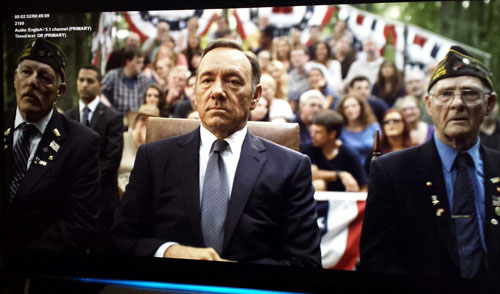 And how stunning did it look, even though we've seen these footages many times before on UHD TVs from other brands. Bags of detail and texture were on show, providing a crisp yet never unnatural sense of immersion. Whilst Panasonic's Smart TV platform limited us to only the [Dynamic] and [Normal] picture modes initially, once Netflix's videos started playing we were able to select the [Professional] modes to apply our calibrated settings, and inject an extra dose of authenticity to proceedings.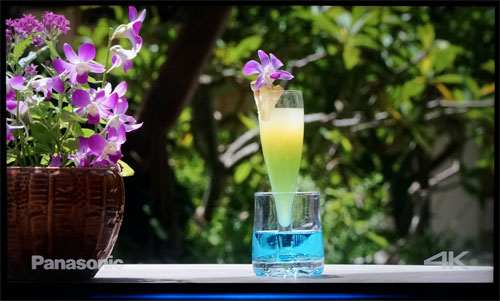 The Panasonic AX902B fully resolved all 3840 vertical and 2160 horizontal single-pixel lines at 24Hz, 25Hz, 30Hz, 50Hz and 60Hz from a DVDO AVLab 4K signal generator. No roll-off or discolouration was seen at 4:4:4, indicating full HDMI 2.0 bandwidth. Feeding 2160p signals to the 55AX902B would disable (and grey out) the [16:9 Overscan] option, causing 3840×2160 material to automatically undergo 1:1 pixel mapping (yay!), but 4096×2160 (DCI 4K) videos to be downscaled.
3D
Using our own custom-authored test pattern, we verified that the Panasonic Viera 55AX902 successfully delivered full HD 3D resolution, unlike certain other 4K Ultra HD TVs with passive 3D we've encountered over the past 12 months. Theoretically, this should result in a first-rate extra-dimensional viewing experience, what with passive 3D's known strengths of bright and flicker-free 3-D images.
In practice though, unfortunately the Panasonic TX-55AX902B was let down by its film-type patterned retarder (FPR) 3D LCD panel sourced from LG Display. From a normal viewing distance, we witnessed a significant amount of crosstalk near the bottom of the screen, even after we took great care to watch the TV at eye level. If we slouched and positioned our head below eye level, the crosstalk would shift from the bottom to the top of the screen instead. We found that the best way to minimise crosstalk was to sit farther away than customary (which is counter-intuitive for a UHD display).
We have experienced this exact same issue on other 2014 sub-65″ 4K TVs made by LG, which has been blamed on a new filter that reduces the vertical viewing angles even more at smaller screen sizes (since the polarizing lines have to be packed to a denser degree). Perhaps the 65in Panasonic TX-65AX902B will fare better in this regard.
Just like every Panasonic 3D television we've reviewed so far, the AX902B did not exhibit any judder in the third dimension regardless of whether the 3-D source material was 24Hz, 50Hz, 60Hz, video- or film-based. This makes the mild telecine judder we saw with 1080p/24 2D content all the more puzzling.
Gaming
Competitive gamers, look away now – the Panasonic TX55AX902B is not for you. Even with [Game Mode] engaged, input lag came in at a sluggish 87ms according to our Leo Bodnar device.

Once we exited [Game] mode, input lag jumped to an eye-watering 205ms – the highest ever recorded on HDTVTest. It seems that the intensive processing required to drive the AX902's full-array local dimming system has taken its toll on gaming responsiveness.
Conclusion
Panasonic set out to build an LED LCD TV that performs like plasma, and in many ways the company has succeeded with its flagship AX902B series. Mention plasma and most video enthusiasts will immediately think of its formidable blacks, but occasionally people forget that PDP's other strengths include screen uniformity, viewing angles and motion quality that so endeared us to this now-defunct display technology.
And it's in these areas – if not outright black level – that the Panasonic TX-55AX902B stamped its mark. The set's breathtakingly accurate colours, near-perfect screen uniformity, wide viewing angles and impressive motion clarity combined to deliver an overall picture that looked as plasma-esque as we've seen on an LCD-based television.
Of course, sceptics will ask, why bother spending so much on an LED LCD display when plasmas and OLED TVs share similar advantages, and have superior black level to boot?
The reality is that the curtain has fallen on plasma display panel (PDP) technology, with Panasonic, Samsung and LG Electronics all having shuttered production within the span of twelve months. Meanwhile, LG – the only major OLED TV player in town – is still facing delays in bringing its 4K curved OLED model to market. At this time of publication, no other LED television comes closer to emulating plasma's alluring image quality than the Panasonic AX902/ AX900.