Following on from the Panasonic CX700 4K Ultra HD television we tested earlier this month, today we're taking a look at the step-up CX802 (marketed as CX800 elsewhere in Europe) which is designated as the company's top-ranked flat-screen TV for 2015, at least until unconfirmed plans to launch higher-end models materialise at IFA later in September. Fans of curved TVs can also look forward to the corresponding Viera CR852/ CR850 series that should arrive pretty soon.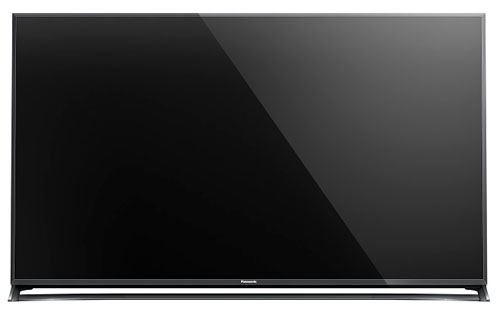 In the UK, the Panasonic CX802 range is available in four screen sizes, namely the 40-inch TX-40CX802B, the 50-inch TX-50CX802B, the 55-inch TX-55CX802B (which is the subject of today's review), and the 65-inch TX-65CX802B. There exist some differences in LED lamp arrangements and local dimming capabilities between the smaller and larger sizes, so please be wary of extrapolating our picture quality findings across the entire lineup.
In keeping with the next phase of UHD (ultra high-definition) evolution, the Panasonic TX-55CX802 not only features a native screen resolution of 3840×2160, but is also scheduled to receive a firmware upgrade in the near future to add support for high dynamic range (HDR) content, though it remains to be seen whether it's limited to streaming from Netflix 4K/ Amazon Prime Instant Video, or can be extended to Ultra HD Blu-ray via a HDMI 2.0a update.
Other specifications include 4K Studio Master processing, a BMR (Backlight Motion Rate) rating of 1600Hz, quad-core processor, ISF and THX certification, HDMI 2.0 and HDCP 2.2 compatibility, built-in HEVC and VP9 decoding, as well as the firm's a new Firefox-based Smart TV platform.
Design
With a slim gunmetal grey bezel framing the semi-glossy LCD panel, the Panasonic TX55CX802B exudes an air of understated elegance which should please most owners. The only thing to watch out for is the supporting stand which not only spans the entire width of the screen, but also curves backwards in a manner not dissimilar to the arc stand seen on Samsung's F8000 LED televisions back in 2013, pretty much demanding an AV rack that's both deep (at least 25 centimetres) and wide enough (1.24 metre) unless you go the wall-mount route.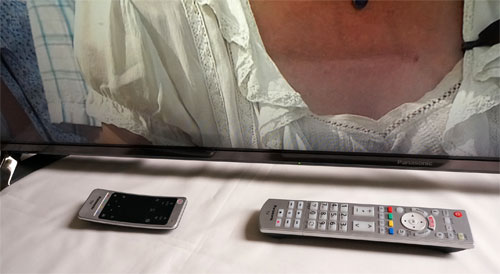 Its direct LED placement means that the chassis of the 55in CX802/ CX800 isn't as streamlined as edge-lit rivals, but since we don't watch TV from the sides, we're not one to complain. A bendy Smart remote is supplied in addition to a more traditional-looking wand featuring a silver front fascia and backlit buttons.
Connections
The provision of only three HDMI ports (albeit all equipped with HDMI 2.0 and HDCP 2.2 spec) on such a high-end model, not to mention the removal of DisplayPort compared with 2014's AX802 and AX902, may disappoint some potential buyers. Panasonic continues to be the only major TV brand to include an SD card slot on their displays.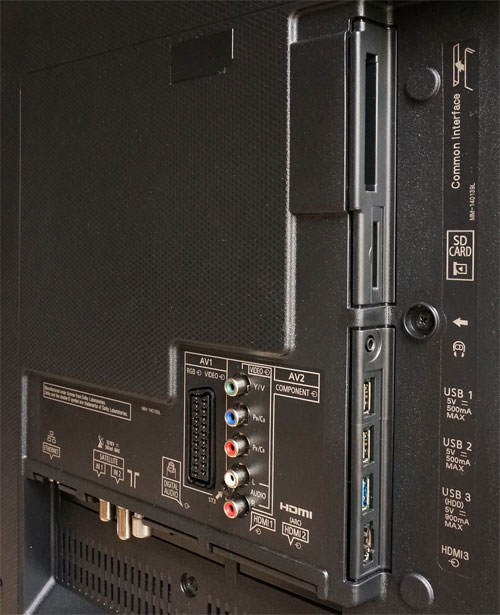 3xHDMI, 3xUSB, comp, SCART, aerial+satellite tuners, LAN, CI & SD slots, audio outs
Calibration
Out of the box, the most accurate picture preset on our Panasonic TX-55CX802B review unit was [THX Cinema]. However, because gamma in [THX Cinema] mode tracked closer to 2.2 with no easy way to correct it to the 2.4 standard, we calibrated the Viera UHD (ultra high-definition) TV in its [Professional] mode which provided such controls.
Gear used to calibrate the 55″ CX802 included a profiled Klein K10-A meter, a DVDO AVLab test pattern generator, and CalMAN video calibration software. The television's comprehensive suite of 10-point white balance and gamma controls plus 3-axis CMS (colour management system) allowed us to dial in greyscale and colours to supremely accurate levels.
In fact, we'd go so far as to say that no other TV we've reviewed this year could beat a properly calibrated Viera TX-55CX802 in terms of colour accuracy, as you can judge for yourself from the CalMAN charts below (particularly the saturation sweep and colour checker ones).
Greyscale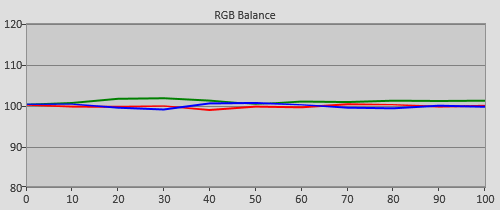 Pre-calibration [THX Cinema] RGB tracking and delta errors (dEs)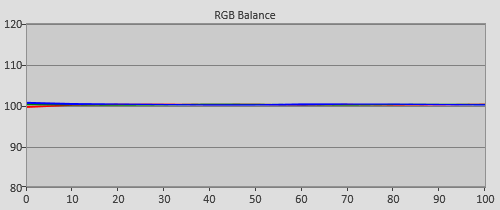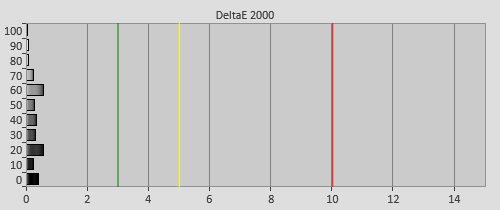 Post-calibration RGB tracking and dEs in [Professional] mode
Gamma
| | |
| --- | --- |
| | |
| Pre-calibration gamma tracking (2.21) | Post-calibration gamma tracking (2.38) |
Colour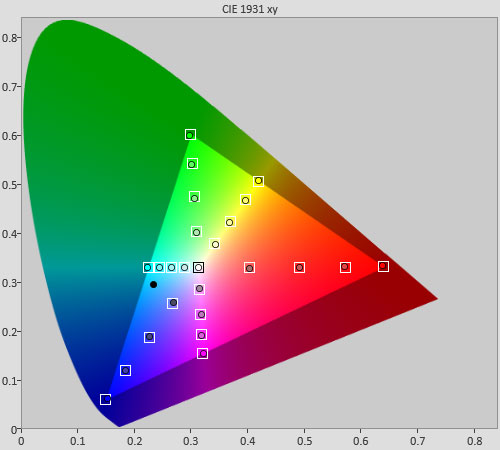 Post-calibration colour saturation tracking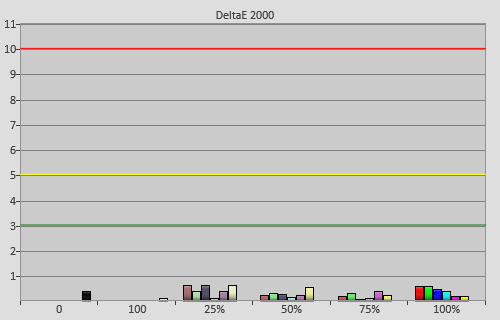 Post-calibration colour errors (<3 not appreciable to the eye)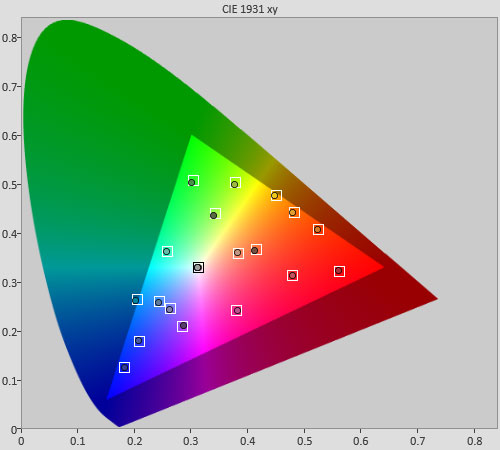 Post-calibration Colour Checker Classic test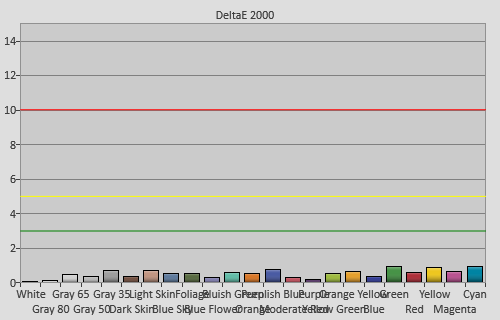 Post-calibration Colour Checker Classic errors (<3 not appreciable to the eye)
Benchmark Test Results
| | |
| --- | --- |
| Dead pixels | None |
| Screen uniformity | Very good for an LED LCD TV |
| Overscanning on HDMI | 0% with [16:9 Overscan] set to "Off" |
| Blacker than black | Passed |
| Calibrated black level (black screen) | 0.002 to 0.007 cd/m2 if [Adaptive Backlight Control] enabled |
| Calibrated black level (4×4 ANSI) | 0.042 cd/m2 |
| Black level retention | Stable |
| Primary chromaticity | Excellent |
| Scaling | Good |
| Video mode deinterlacing | Effective jaggies reduction |
| Film mode deinterlacing | Passed 3:2 & 2:2 in SD & HD if [Film Cadence Mode] on |
| Viewing angle | Average for a VA LCD panel |
| Motion resolution | 1080 lines with [IFC] "Mid" or "Max"; 600 "Min"; 300 "Off" |
| Digital noise reduction | Optional; effective when engaged |
| Sharpness | Defeatable edge enhancement |
| Luma/Chroma bandwidth (2D Blu-ray) | Full luma; chroma slightly blurred vertically even with [1080p Pure Direct] on |
| 1080p/24 capability | No judder in 2D; mild judder in 3D |
| Measured panel refresh rate | 120Hz |
| Measured DCI-P3 coverage | 81% |
| Leo Bodnar input lag tester | 40ms if [Intelligent Frame Creation] "Off" |
| Full 4:4:4 reproduction (PC) | Yes for 3840×2160@60Hz |
Power Consumption
| | |
| --- | --- |
| Default [Normal] mode | 75 watts* |
| Calibrated [Professional] mode | 73 watts |
| Standby | <1 watt |
*Note: [Ambient Sensor] was engaged by default in the [Normal] picture mode out of the box.
Picture Quality
Black Level & Contrast
The TX55CX802B's measured black level came in at 0.042 cd/m2 natively (i.e. without the help of local dimming) with peak white pegged at our usual target of 120 cd/m2 for critical viewing in a dimly-lit room. While this figure is slightly higher than that we extracted from the TX-50CX700B (difference may be caused by 50-inch vs 55-inch panel), it's still deep by LED LCD standards. Unlike most other TV brands, the 2015 Panasonic Vieras that we've tested don't dim down/ shut off their LEDs when asked to display full-screen black.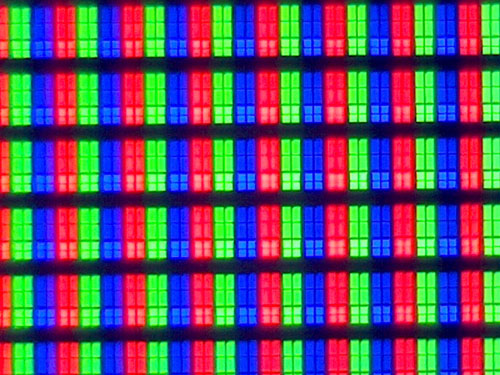 Closeup of RGB subpixels indicating VA LCD matrix
We proceeded to investigate the local dimming function – activated through the [Adaptive Backlight Control] option in the user menu – on the CX802B. Aided by our custom-authored pattern showing a small white box crawling horizontally and then vertically against a black background across the borders of the screen, we counted only 18 dimmable zones (9 rows x 2 columns) on the TV. Although there's no doubt that the 55CX802B's LED backlight is of the direct-lit variant, we're not entirely sure if the set even qualifies as FALD (full-array local dimming) given the meagre number of zones.
Rather than improving matters significantly, Panasonic's dimming algorithm also left a lot to be desired. For example, a full-screen black scene with only a small white box on the top-left corner would result in the entire width of the first row lighting up, instead of only the left-side column, which in theory should be programmatically possible since the zone was physically present and could be controlled independently. In fact, that's what happened when we replaced the white box with a Blu-ray player pause icon on the top-left corner, suggesting there may be some sort of APL (Average Picture Level) detection at play too.
All three [Adaptive Backlight Control] intensities of "Min", "Mid" and "Max" didn't deepen ANSI blacks beyond 0.042 cd/m2, but lowered black-level measurements on full-field black to 0.007, 0.004 and 0.002 cd/m2 respectively. The higher settings also dimmed the whites, thus skewing gamma and preventing any sizeable gain in contrast. To summarise, the Panasonic Viera TX-55CX802B's native black level was good, but we've seen edge-lit LED TVs with better pseudo-local dimming than what's implemented on this display.
With both [Backlight] and [Contrast] cranked up to maximum, the 55CX802 yielded a light output of 427 cd/m2 on both a full-field and a windowed peak white pattern. While this isn't the brightest we've measured, there's a possibility it could be driven higher by the appropriate HDR metadata when standards are finalised.
Backlight/ Screen Uniformity
Helped by its direct LED configuration, the Panasonic TX55CX802 didn't exhibit any noticeable clouding or corner bleed even when scrutinised in total darkness once we calibrated the set, though blacks would brighten considerably off-axis given the restricted viewing angles of the VA-type LCD panel used. Overall screen uniformity was good: we didn't spot any major DSE (dirty screen effect) to complain about when we checked using various shades of full-field grey and also football programmes.
Motion
We previously criticised the low-ish motion resolution on the Panasonic CX700, and the step-up CX800/ CX802 did bring some improvement. The television could reach a motion resolution of 1080 lines (as determined via the horizontally scrolling pattern in Chapter 31 of the FPD Benchmark Software Blu-ray disc), but only with [Intelligent Frame Creation] set to "Mid" or "Max". Because either of these settings caused 24p film to look like unnaturally smooth, cheaply-shot video, it's advisable to use them only for fast-paced video-based content such as live sports broadcasts.
Indeed, when watching the FIFA Women's World Cup 2015 in Canada on the TX-55CX802B , [IFC] "Mid" added further solidity and sharpness especially to panning shots compared with "Min" or "Off". In terms of objective measurement, [IFC] "Min" doubled the motion resolution to 600 lines from the vanilla LCD baseline of 300. Regular HDTVTest readers may recall that [Intelligent Frame Creation] "Min" was sufficient to produce 1080-line motion resolution on last year's AX802/ AX800 and AX902/ AX900, representing a better set-and-forget setting that substantially reduced motion blur without introducing overt soap opera effect (SOE).
4K
With [4K Pure Direct] engaged, the Viera TX55CX802B fully reproduced 4:4:4 chroma at 4K@60Hz through any of its HDMI 2.0 ports from a Geforce GTX 970 graphics card installed in a Chillblast gaming computer. Full luma detail was also passed at 3840×2160 resolution for 24Hz, 30Hz, 50Hz and 60Hz timings from a DVDO AVLab TPG 4K signal generator.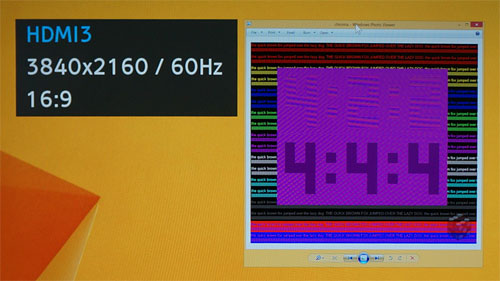 Strangely, although it's been said to be capable of hitting 98% DCI colours, our TX-55CX802B review sample could achieve no more than 81% of the DCI-P3 standard, which is even lower than the coverage provided by its step-down TX-50CX700B cousin. We experimented with various settings, including using [Dynamic] mode, increasing the [Colour] value and enabling [Vivid Colour] (which just forces the [Colour Gamut] to "Native" as far as we could tell) to try and expand the gamut but to no avail.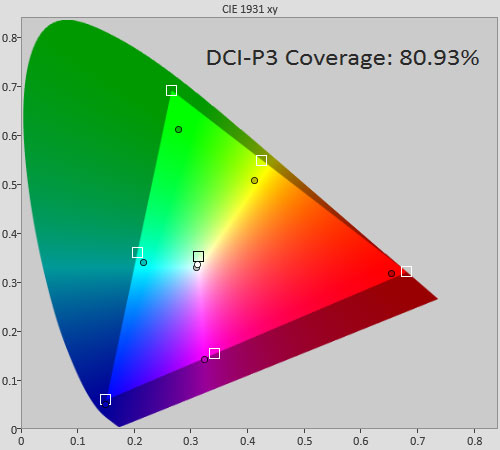 3D
Our custom-authored test pattern confirmed that the 55in CX802B successfully delivered full HD 3D resolution – an upgrade over the step-down 50in Viera CX700B which merged the alternating black and white horizontal single-pixel lines into a grey smudge. Whether this improvement in tri-dimensional resolution is due to the screen size or model range remains unclear until we can get our hands on either a 50″ CX802 or 55″ CX700.
The TV presumably handles 3-D at 60Hz internally, because 24Hz and 50Hz extra-dimensional material exhibited noticeable judder which could only be smoothed by bumping [24p Smooth Film] or [Intelligent Frame Creation] up to "Min" or "Max". Unfortunately this in turn introduced the dreaded soap opera effect to films, so 3D movie lovers are stuck between a rock and a hard place.
The Panasonic TX-55CX802 doesn't ship with any 3D glasses, but when we tried out some compatible active-shutter ones on the 3DTV, crosstalk was faint and not distracting.
Gaming
Like the step-down Viera CX700, the Panasonic TX-55CX802B didn't really need its [Game Mode] enabled to obtain the quickest response for playing games. As long as [Intelligent Frame Creation] was disabled, our Leo Bodnar input lag tester returned a figure of 40ms which is relatively low by 4K TV standards.

Since [Game Mode] isn't really necessary, the Panasonic CX802/ CX800 is one of the rare UHD (ultra high-definition) TVs that can provide both satisfactory responsiveness and 4:4:4 chroma reproduction for gaming at 4K@60Hz (you'll need to enable the [4K Pure Direct] mode). Engaging [IFC] in any of its three intensities increased input lag to 56ms.
Conclusion
The Panasonic TX-55CX802B improves upon the TX-50CX700 in two areas: 1080 lines of motion resolution is now attainable (boosting the clarity of moving images); and resolution in the third dimension is full HD 3D. Nevertheless, compared with last year's outgoing Viera AX802/ AX800, we couldn't help but feel that some cutbacks have been made: omission of DisplayPort and a fourth HDMI input; presence of judder with 24Hz and 50Hz 3D material; and a blurrier [Intelligent Frame Creation] "Min" setting. On the upside, the CX802/ CX800's native black level was slightly lower, and there's always the promise of forthcoming HDR update.
Looking further afield, if the CX802 is indeed the nominated spearhead of Panasonic's 2015 Viera TV campaign (at least for the moment), then the TX-55CX802 will be going up against the Samsung UE55JS9000 (the South Korean manufacturer's top-of-the-line JS9500 series is not available in 55 inches) and the recently reviewed Sony KD-55X9305C. The Panasonic comfortably delivered the most accurate colours, and its upscaling of HD and SD content was right up there with Samsung's. The TX55CX802B's native black level was also deeper than the other two, but once local dimming was taken into account, the Viera television was edged out in low-APL scenes when it came to overall contrast performance owing to low zone count and questionable dimming algorithm.
Of course, price is firmly stacked in the Panasonic CX802B's favour, which undercuts the Samsung JS9000 and Sony X93C by at least a few hundred pounds. The TX-55CX802B represents good value for money then: sit within the TV's sweet spot, and you'll be rewarded with deep blacks, gorgeously realistic colour rendition that's easily the most accurate on the market, and high-quality video processing.