Panasonic's 2016 TV lineup to date is made up exclusively of LED LCDs, spearheaded by the flagship Viera DX902 (otherwise marketed as the DX900 in other parts of Europe). While there are other Panasonic 4K TVs that support HDR (high dynamic range) playback, the DX9 is the only model to feature 10-bit panel, 512-zone full-array local dimming (FALD), and Ultra HD Premium certification from the UHD Alliance.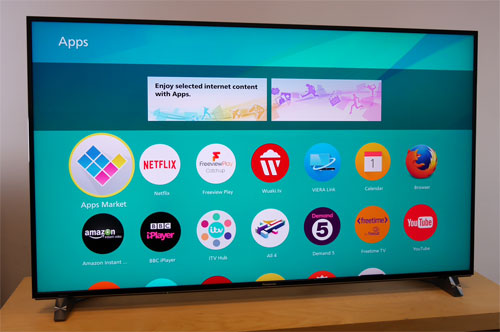 Two screen sizes are available, namely the 58-inch Panasonic TX-58DX902B (which we're reviewing today) and the 65-inch TX-65DX902B. A UHD (ultra high-definition) resolution of 3840×2160, wide colour gamut, HDMI 2.0 ports and HDCP 2.2 compatibility are all on board, but what sets the DX902B apart from many other HDR-capable TVs in the UK is its full-array local dimming (FALD) direct-lit LED backlighting boasting 512 separately dimmable zones, the highest number on record for a consumer TV (matching Toshiba's ZL1 CEVO display in 2011).
Design
The Panasonic TX58DX902B's styling carries some throwbacks to the company's industrial roots. To accommodate its direct LED backlight, the glossy black bezel and the chassis itself are thicker than most televisions you'll see on the market currently, but if this brings about an improvement in image quality then you won't find us complaining.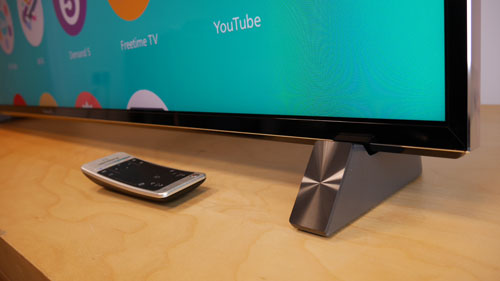 The reflective panel is tilted slightly backwards, and sits on an arc stand whose square "starburst effect" feet peeks out from the front at both ends of the screen. The shape of the stand means you'll need an AV rack that spans almost the entire width of the 58DX902B if you're not going to wall-mount the display. The power cable is hardwired into the television and cannot be detached.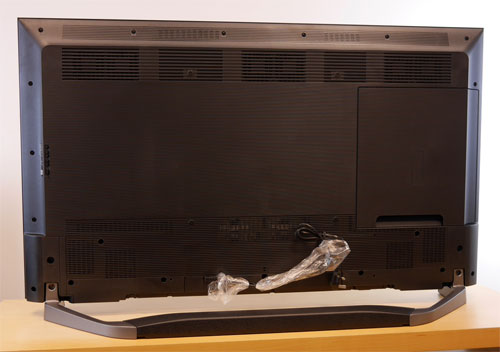 Powering 512 LED dimming zones (especially for HDR) produces substantial heat, which is why Panasonic has installed no less than 6 cooling fans behind the TX-58DX902 near the top of the chassis. The large fan blades spin relatively slowly, so collectively the fans only generate a quiet whir. Whether you'll hear fan noise during quieter passages of movies depends on your environment acoustics and individual sensitivity, but it didn't bother us throughout our review period.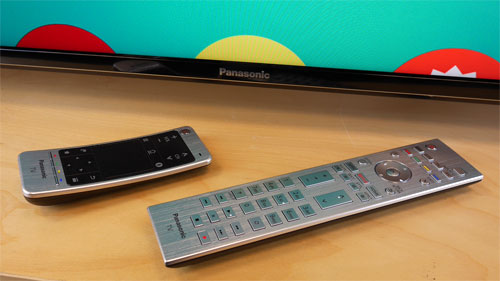 The Panasonic DX902/ DX900 ships with two remote controls: a curved touchpad controller and a more traditional wand sporting a brushed silver front finish, backlit buttons, superb tactile feedback and weighty feel. We're really fond of the latter.
Connections
Panasonic has supplied a detachable panel to cover the connections for a cleaner look, though no outlet has been provided for the side inputs so you'd have to take off the cover before you can plug in a USB stick. Using a Murideo Six-G test device, we verified that all four HDMI ports on the Viera TX-58DX902B passed 3840×2160@60Hz resolution with HDCP 2.2.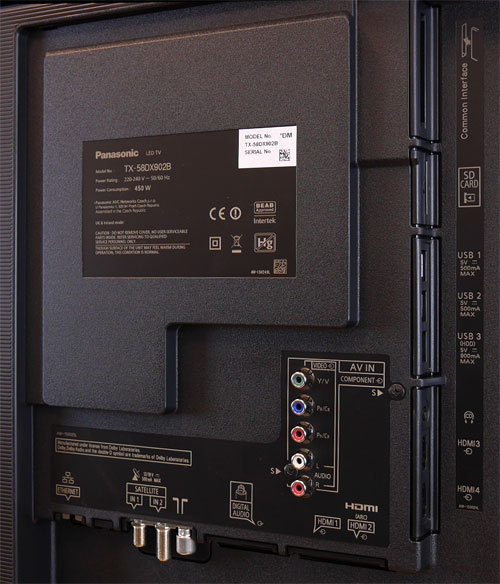 Operation
Wading through the user menu, we spotted the addition of several new options that have been necessitated by the HDR era. The [Picture] > [Option Settings] submenu now offers control over [HDMI EOTF Type] and [HDMI Colorimetry Type]. Both can be left on "Auto" which worked well from our tests, but the former setting can also be used to force HDR mode by selecting "ST.2084". Interestingly, [HDMI Colorimetry Type] caters for "Rec.2020" but not DCI-P3, which is of course technically correct since DCI is not even specified in the 4K Ultra HD Blu-ray standard or HDR10 media profile.
| | |
| --- | --- |
| | |
| [HDMI EOTF] & [HDMI Colorimetry] | [HDMI HDR Setting] |
There are two other important options in the [Setup] submenu that need to be set correctly before you can enjoy the best experience from UHD Blu-rays. For starters, you'll have to turn on [HDMI HDR Setting] for that particular HDMI port before a 4K Blu-ray player will even recognise the 58DX902B as HDR-capable and transmit the HDR metadata. Then, you may need to toggle [HDMI Auto Setting] between "Mode1" and "Mode2" to a) establish HDMI handshake to obtain picture and sound; and b) eliminate posterization from an Ultra HD Blu-ray disc spinner.
It's far from being plug-and-play, but these are still the early days of UHD BD and HDR, and on the Viera DX902 Panasonic has provided a greater number of precise controls than any other TV brand to finetune your 4K HDR experience, underlining the company's commitment towards the enthusiast market.
Calibration
We calibrated our Panasonic TX58DX902B retail unit using a profiled Klein K10-A meter, a Murideo Fresco 6-G signal generator, and SpectraCal's CalMAN Ultimate software. As is the case with Viera TVs we've tested over the past two years, the DX902B's comprehensive array of well-implemented calibration controls allowed us to achieve stunningly accurate greyscale and colours that are unmatched by any other non-Panasonic domestic display.
Greyscale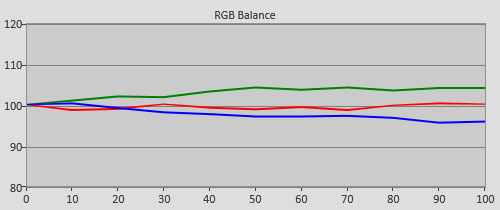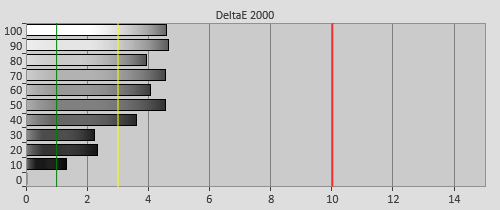 Pre-calibration [Professional] RGB tracking and delta errors (dEs)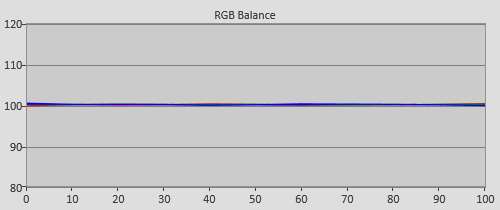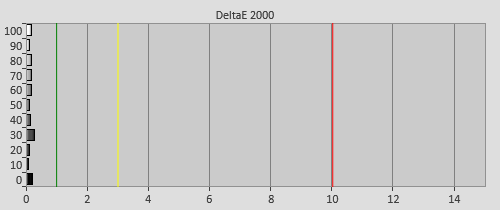 Post-calibration RGB tracking and dEs in [Professional] mode
Gamma
| | |
| --- | --- |
| | |
| Pre-calibration gamma tracking (2.4) | Post-calibration gamma tracking (2.41) |
Colour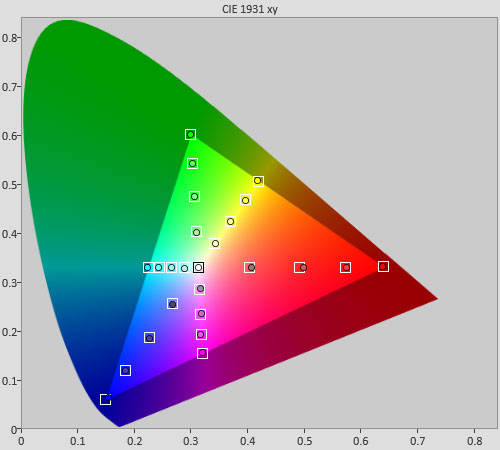 Post-calibration colour saturation tracking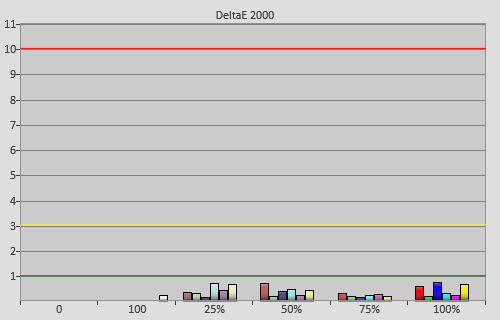 Post-calibration colour errors (<3 not appreciable to the eye)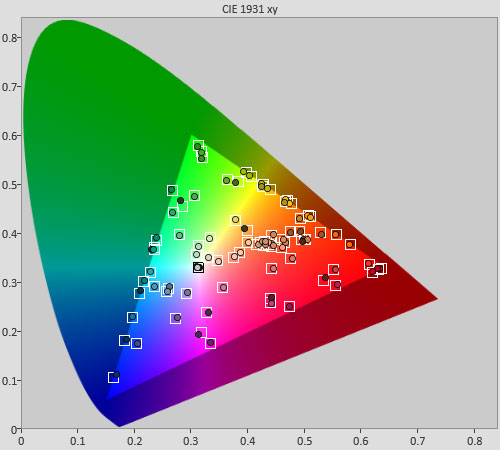 Post-calibration Colour Checker SG test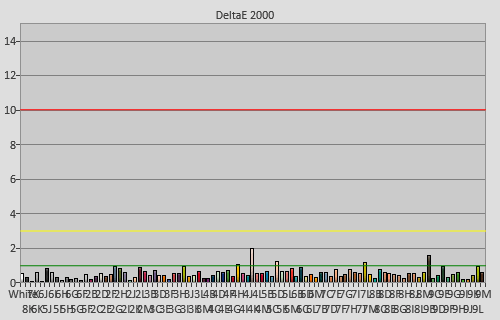 Post-calibration Colour Checker SG errors (<3 not appreciable to the eye)
Benchmark Test Results
| | |
| --- | --- |
| Dead pixels | None |
| Screen uniformity | Very good; two faint thin vertical bands |
| Overscanning on HDMI | 0% with [16:9 Overscan] set to "Off" |
| Blacker than black | Passed |
| Calibrated black level (black screen) | LEDs shut off |
| Calibrated black level (4×4 ANSI) | 0.023 cd/m2 |
| Black level retention | Some fluctuation from local dimming |
| Primary chromaticity | Excellent |
| Scaling | Good |
| Video mode deinterlacing | Effective jaggies reduction |
| Film mode deinterlacing | Passed 3:2 & 2:2 in SD & HD if [Film Cadence Mode] on |
| Viewing angle (cone) | 46° |
| Motion resolution | 1080 lines with [IFC] "Custom"; 300 "Off" |
| Digital noise reduction | Optional; effective when engaged |
| Sharpness | Defeatable edge enhancement |
| Luma/Chroma bandwidth (2D Blu-ray) | Full luma; chroma slightly blurred vertically even with [1080p Pure Direct] on |
| 1080p/24 capability | No judder in 2D; judder in 3D |
| 2160p/24 capability | No judder |
| Measured panel refresh rate | 120Hz |
| Measured peak brightness | 1310 cd/m2 |
| Measured DCI-P3 coverage | 98% |
| Leo Bodnar input lag tester | 38ms with [Game Mode] enabled |
| Full 4:4:4 reproduction (PC) | Yes for 1920×1080 & 3840×2160@60Hz |
Power Consumption
| | |
| --- | --- |
| Default [Normal] mode | 170 watts* |
| Calibrated [Professional] mode | 99 watts |
| HDR mode | 364 watts |
| Standby | <1 watt |
Picture Quality
Black Level & Contrast
The Panasonic TX58DX902 uses a Super MVA (SMVA) LCD panel from Innolux, which yielded an impressively deep (for an LED LCD) native black level (i.e. without the help of local dimming) of 0.03 cd/m2 on a full-field black and a 4×4 ANSI chequerboard pattern once peak white was pegged to our usual dark-room target of 120 cd/m2.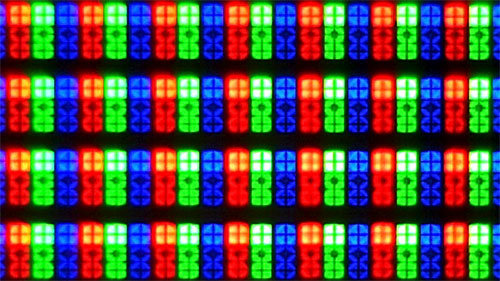 Macro photo of subpixel layout indicating VA-type LCD matrix
Of course, you'd be insane not to engage local dimming via the [Adaptive Backlight Control] option after shelling out a premium for the Panasonic DX900's FALD (full-array local dimming) technology. Three intensities are available, namely "Min", "Mid" and "Max" which progressively lowered ANSI black measurements to 0.023 cd/m2, 0.017 cd/m2 and 0.005 cd/m2 respectively. On a full-field video black pattern punctuated by a pause icon from our OPPO Blu-ray player at the top left corner, our probe returned a reading of 0 cd/m2 with [Adaptive Backlight Control] enabled, since the TV was able to specifically shut down the LEDs in the area being measured, thanks to the sheer number of independently dimmable zones.
Talking of which, using our custom-authored test pattern of a small white box crawling horizontally then vertically against a black background along the borders of the screen, we observed 32 columns and 16 rows lighting up, totalling 512 dimming zones. We were highly impressed by how well-controlled the blooming/ haloing was, even though we intentionally cranked up the [Backlight] and watched off-axis during the zone counting process. Panasonic's application of a "Honeycomb" filter to produce homogenous backlight diffusion and reduce light leakage seemed to be paying dividends.
Backlight & Screen Uniformity
Helped by its direct LED configuration and effective local dimming, black uniformity on the Viera TX-58DX902B was excellent – we witnessed no clouding or corner bleeding whatsoever in a dimly-lit room.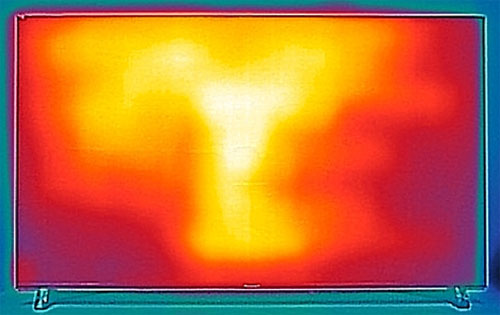 Thermal scan confirming direct-lit LED placement
Grey uniformity was very good too on the whole except for two faint thin vertical bands roughly one quarter into the screen from both sides, which appeared more pronounced in HDR due to brighter backlight driving. The symmetrical positions of the bands did make us wonder if they're introduced through the manufacturing process. In day-to-day use though, we only caught sight of the right-sided banding occasionally during panning shots across an evenly toned backdrop. Dirty screen effect (DSE) was virtually non-existent on our randomly plucked retail sample.
Motion
New for 2016, Panasonic has added an [Intelligent Frame Creation] "Custom" option with separate [Blur Reduction] and [Film Smooth] adjustments, bringing the Viera DX900 into line with what's been available on LG and Samsung sets for some time. Also fresh is a [Clear Motion] setting that essentially activates backlight strobing, which doesn't increase motion resolution on its own but causes a slight luminance drop, double ghost images, and possibly DLP-like rainbow effect for sensitive viewers due to increased refresh of red phosphor decay.
Motion resolution (as calculated via the horizontally scrolling lines in Chapter 31 of the FPD Benchmark Software Blu-ray test disc) for [IFC] "Min", "Mid" and "Max" all topped out at 650 lines. As expected, going up the [Intelligent Frame Creation] intensity ladder progressively worsened the soap opera effect (SOE) and interpolation artefacts. The only way to obtain 1080 motion resolution without incurring SOE on the Panasonic TX58DX902B was through certain permutations in the [IFC] "Custom" submenu.
| | |
| --- | --- |
| | |
| [Intelligent Frame Creation] off | Optimised [IFC] "Custom" |
Starting this year, we'll be carrying out motion pursuit camera test (as described by the wonderful BlurBuster website) on selected displays we review to better represent the blurring we perceive as our eyes track movement on screen. The left photo above showed a substantial amount of blur with [Intelligent Frame Creation] disabled, which improved (right photo) once [IFC] settings were optimised.
Viewing Angle
Innolux's VA panels are known to have fairly limited viewing angles, and the one on the Panasonic 58DX902 suffered from significant luminance drop-off and colour shift at 23° off-centre, thus giving us a viewing cone of 46°. Seating position is therefore critical, or else the TV's outstanding contrast and masterful colour rendition will all be in vain.
4K HDR
The 58in Panasonic DX902 surpassed Ultra HD Premium's peak brightness requirement of 1000 cd/m2 effortlessly, coming in at 1310 cd/m2 on UHDA's stipulated window sizes. And unlike the Samsung 55KS9000 and Sony 65XD93 which could only deliver their peak brightness in short bursts, the 58DX902B managed to sustain it above 1000 nits for a much longer period (we gave up tracking after two minutes). Full-field peak white measured 883 cd/m2, again the highest we've recorded so far.
According to the methodology embraced by the UHD Alliance (UHDA) for Ultra HD Premium accreditation, our TX-58DX902B retail unit reached 98% of the DCI-P3 colour gamut standard, the widest we've measured from a direct-view display to date.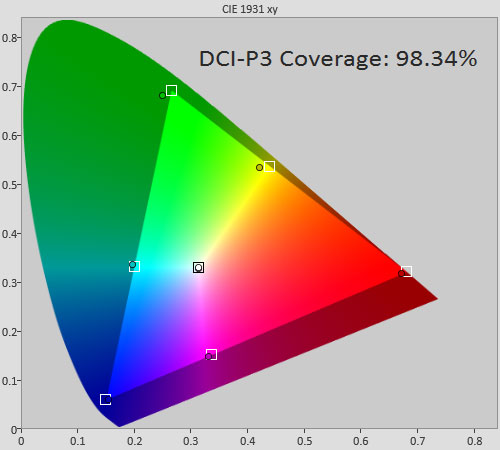 In HDR mode, all the picture presets remain available, but the [White Balance] and [Colour Management] settings are shared between SDR (standard dynamic range) and HDR within the same preset, which means you'll have to calibrate for regular 1080p Blu-ray discs using one preset, and 4K UHD Blu-rays in another. Here are the results of our HDR calibration: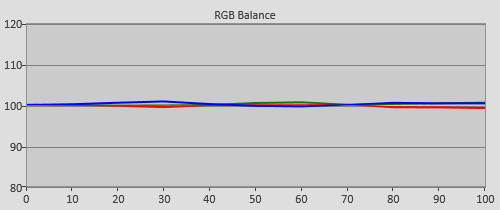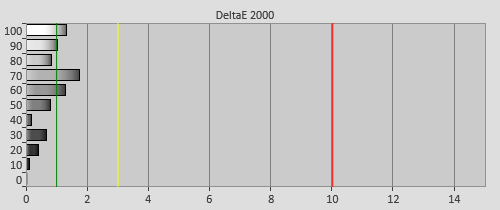 Post-calibration RGB tracking and dEs in HDR [Professional] mode
Post-cal PQ EOTF (electro-optical transfer function) in HDR [Professional] mode
Although the 10-point [White Balance] and [Gamma] controls were misaligned and therefore unusable in HDR mode, we still managed to attain accurate greyscale and PQ (perceptual quantizer) EOTF tracking after calibration owing to the DX902B's high peak brightness and first-rate tone mapping.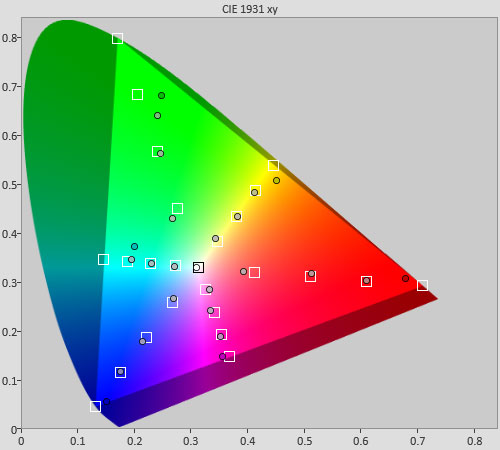 Post-cal sat tracking with [Colour Gamut] "Rec.2020" with reference to BT.2020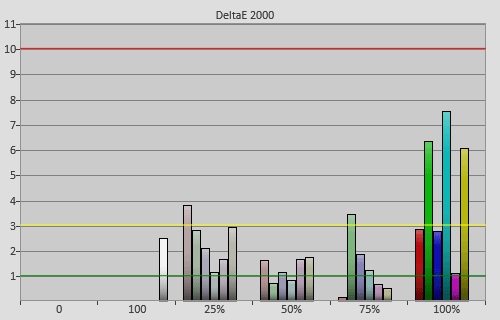 Colour errors (<3 not appreciable to the eye) after HDR calibration
The Panasonic TX-58DX902 came closer than any other television we've reviewed to tracking Rec.2020's colour saturation coordinates, although the outer points have to be sacrificed because like all consumer-grade displays on the market, the Viera DX900/ DX902 cannot fulfil the entire Rec.2020 gamut.
With measurements and calibration out of the way, we played a few 4K Blu-rays, and were suitably impressed with the TX-58DX902B's HDR performance. Regardless of what we stated about the Average Picture Level (APL) not being drastically different between 1080p Blu-ray and Ultra HD BD, the latter format clearly exhibited greater dynamism, not to mention more shadow and highlight detail without clipping.
Thanks to the DX902B's high peak brightness potential which could be delivered in a fairly localised manner, specular highlights (such as reflections off the solar panels and space helmets in The Martian) shone with breathtaking realism without washing out the entire image. Flesh tones and blue skies looked natural enough, though just like what we saw on other HDR TVs we've tested thus far, we're not 100% satisfied with the presentation of red hues in The Martian and Mad Max: Fury Road, which , of course, might be caused by the 4K Blu-ray player or discs rather than the display. We're still investigating.
In HDR mode, we found the local dimming algorithm on the TX58DX902B to be overly aggressive in certain low-APL scenes even with [Adaptive Backlight Control] set to "Min". For example, in a shot of the night sky during the opening sequence of The Martian", we could see several patches of darkening against other zones that's brighter – mimicking a "reverse clouding" effect. To be fair, we played the same footage on a Panasonic ZT (in SDR, sob sob) which showed that the scene indeed contained darker and brighter areas within the source, only that the plasma displayed it with smoother transitions instead of the jarring difference seen on the Viera DX9. Perhaps only a self-emitting display such as OLED can do this scene justice in HDR.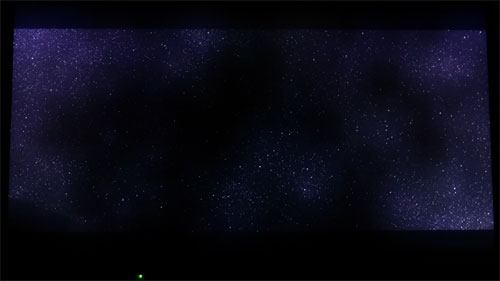 The Martian (timecode 00:00:52) on the 58″ DX902 with [ABC] "Min"
As long as we sat directly in front of the TV and used specific [Adaptive Backlight Control] settings, haloing/ bloom was minor and generally didn't annoy us in HDR mode. A higher [ABC] value may also be needed to darken the top and bottom letterbox bars, but at the expense of obscuring shadow detail and lowering the APL even further.
We noticed several occurrences of black smearing where dark colours left trails when moving across a lighter background, which we attributed to the slower pixel response time of the Innolux VA LCD panel implemented on the Viera TX58DX902. Letting the TV warm up sufficiently or lowering backlight might ameliorate the phenomenon somewhat – in any case we didn't think it was a deal-breaker since we only saw it a handful of times.
3D
The active-shutter glasses (ASG) 3D on the Panasonic DX902 was full HD 3D and could go impressively bright owing to the TV's high luminance reserve, but was let down by two problems. The first was excessive crosstalk at certain depths – the double image ghosting made things very fatiguing to watch after a while. You can enable [3D Adjustment] and tweak the effect, but all it does is to shift the crosstalk to a different layer (front or back).
The second issue was the 60Hz-centric refresh rate in 3-D mode, which meant that 24Hz (3D Blu-ray) and 50Hz extra-dimensional material would be rendered with some judder during slow panning shots. In fact, the Viera 58DX902B's 3D flaws were so similar to those we observed on the Sony XD93 that we wondered if both companies sourced their tri-dimensional processing tech from the same vendor. The Panasonic could go much brighter though, which is always a plus for 3D.
If despite these shortcomings you'd still like to watch 3D on the Viera DX902B, you have to buy compatible active-shutter glasses separately because the TV doesn't ship with any.
Gaming
The Panasonic TX-58DX902B wasn't quite the most responsive display on the market for playing video games (that title belongs to Samsung this year), but it should be good enough for most users. Our Leo Bodnar tester returned an input lag of 38ms with [Game Mode] engaged.

Outside [Game Mode], lag times didn't increase by much as long as [Intelligent Frame Creation] was not enabled. Even then, turning on [IFC] merely added 12ms to the input lag.
Video Review
Conclusion
A beautifully-engineered product, the Panasonic 58DX902B lays claim to being the best LED LCD TV so far in terms of picture quality – the company's meticulous attention to detail for faithful reproduction of moving images certainly hasn't gone unnoticed. It features the highest number of local dimming zones for a consumer-grade television, unrivalled colour accuracy for HD content once calibrated (although you'd have to sit straight on), and as impressive a HDR presentation as can be extracted from a transmissive display.
That's not to say the DX900/ DX902 is without its blemishes. Viewing angles are narrow even by the standards of VA-type LCDs, and some viewers may find the cold-start instances of dark colour smearing irksome (though it didn't bother us). Both issues can be traced to the Innolux SMVA LCD panel used; perhaps Panasonic's engineers should consider applying their video processing expertise to a superior VA LCD panel from another supplier, or – even better – an OLED panel.
3D is pretty much a write-off due to excessive crosstalk and 60Hz-locked refresh rate, although seeing as manufacturers like Samsung and Philips aren't even including 3D capability on their 2016 models, we won't hold it against Panasonic. The TX58DX902B is also as energy-guzzling a television as we've reviewed in recent years on a watt-per-square-inch basis, but we consider it a worthwhile price to pay for its phenomenal image quality – high power consumption certainly hadn't stopped us endorsing plasmas back in their heyday.
On the whole, the Panasonic DX902/ DX900 is an exceptional 4K HDR TV whose picture quality is likely to rank among the best we'll see all year. The only upcoming displays which can possibly match or surpass its performance are the LG OLEDs, Samsung KS9500 or Sony XD94, but all of them are going to be more expensive at launch, making the Panasonic TX-58DX902B an irresistible choice for prospective buyers who want first-rate image fidelity without paying silly money.
Note: If you're interested in buying this TV, please support us by considering making your purchase from our advertising partner Crampton & Moore Leeds – call 0113 244 6607 and ask for David, quoting HDTVTest for competitive prices and first-rate service.