2015 marks the first year Panasonic is entering the curved TV arena, following in the footsteps of LG, Samsung and Sony who have released curvy displays as early as 2013. The Japanese brand's curved television debut is spearheaded by the Viera CR852 series (otherwise marketed as CR850 outside the United Kingdom) which is available in 55-inch (TX-55CR852B) and 65-inch (TX-65CR852B) sizes. Today, we're reviewing the larger version.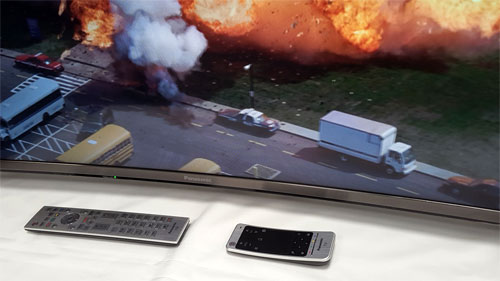 Specifications include an ultra high-definition (UHD) screen resolution of 3840×2160, 8-bit LCD panel with 10-bit driving, direct-lit LED backlighting, Wide Colour Phosphor gamut, 4K Pro video processing system, and the firm's new Firefox-based Smart TV platform. Support for HDR (high dynamic range) material will also arrive after a firmware update in the future when standards have been ratified.
Design
The Viera 65CR852B is the range-topping model within Panasonic's maiden bendy telly lineup, and boy does it look gorgeous. The concave panel is surrounded by a slim bezel that's finished in attractive gunmetal grey, with only a pair of supporting feet peeking out from either end at the bottom of the screen, lending an air of classy minimalism to the whole ensemble.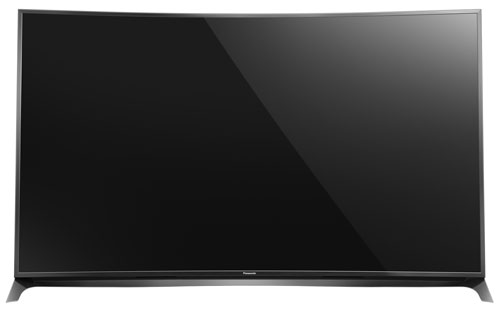 Note that because the stand arcs backwards across the entire width of the screen, you'll need a sufficiently deep and wide AV furniture on which to place the TV, or it'll topple forward. The panel is also tilted back slightly in the same vein as last year's Panasonic AX802 and AX902, which may intensify any geometrical distortion brought about by the curve. Build quality is substantially solid, as you'd expect from a high-end Panasonic display.
Calibration
Curiously, our Panasonic TX65CR852B review unit does not come with the [THX Cinema] and [THX Bright Room] picture presets found on the TX55CX802B – one wonders if the curvature has cost the Viera CR852/ CR850 its THX certification?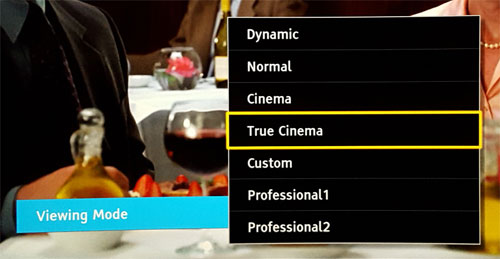 Nevertheless, the television could still be calibrated to highly accurate levels in its [Professional] modes, although colour accuracy didn't quite scale the heights of the CX802 or even the CX700, again possibly dragged down by the Samsung curved panel employed.
Equipment used to calibrate our TX-65CR852B test unit included a profiled Klein K10-A meter, DVDO's AVLab TPG signal generator, and SpectraCal's CalMAN Ultimate software version 5.5.2.
Greyscale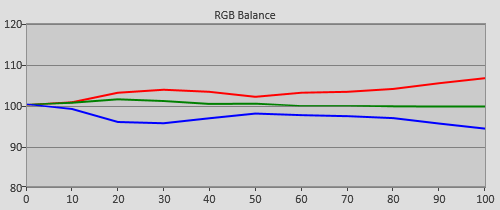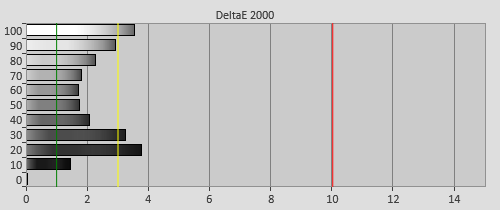 Pre-calibration [True Cinema] RGB tracking and delta errors (dEs)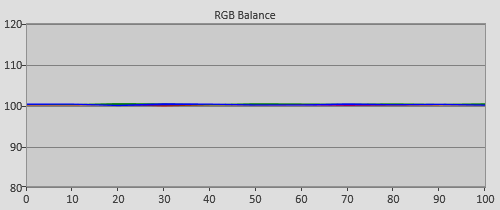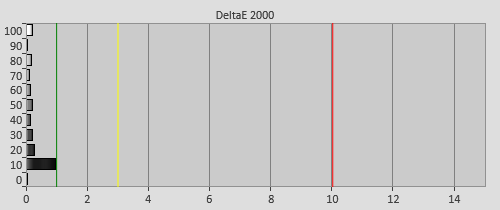 Post-calibration RGB tracking and dEs in [Professional] mode
Gamma
| | |
| --- | --- |
| | |
| Pre-calibration gamma tracking (2.57) | Post-calibration gamma tracking (2.38) |
Colour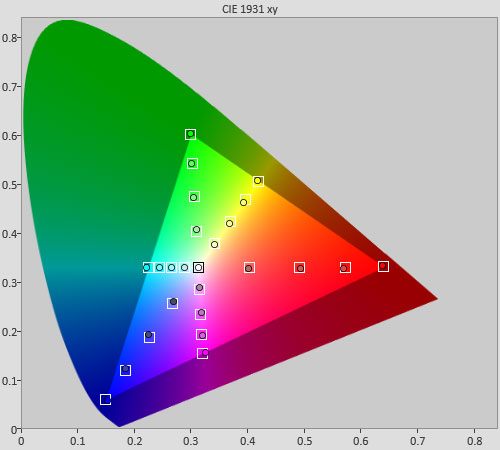 Post-calibration colour saturation tracking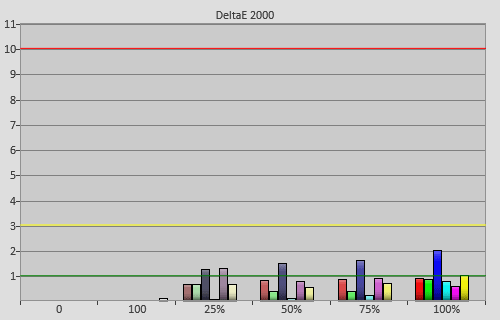 Post-calibration colour errors (<3 not appreciable to the eye)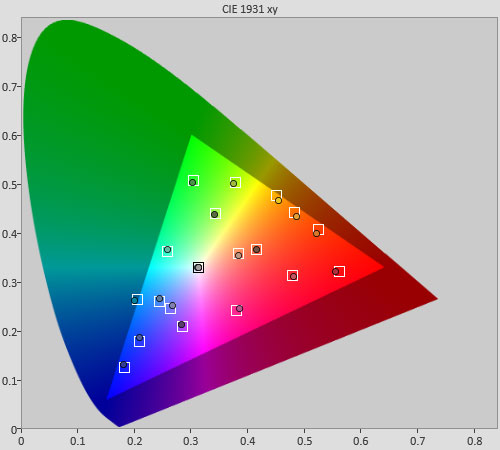 Post-calibration Colour Checker Classic test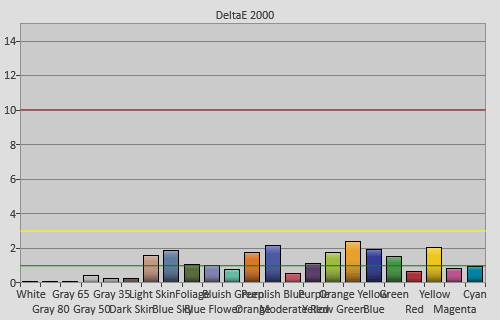 Post-calibration Colour Checker Classic errors (<3 not appreciable to the eye)
Benchmark Test Results
| | |
| --- | --- |
| Dead pixels | None |
| Screen uniformity | Some clouding; reducible by [Adaptive Backlight Control] "Max" |
| Overscanning on HDMI | 0% with [16:9 Overscan] set to "Off" |
| Blacker than black | Passed |
| Calibrated black level (black screen) | 0.0025 to 0.009 cd/m2 if [Adaptive Backlight Control] enabled |
| Calibrated black level (4×4 ANSI) | 0.05 cd/m2 |
| Black level retention | Stable |
| Primary chromaticity | Excellent |
| Scaling | Good |
| Video mode deinterlacing | Effective jaggies reduction |
| Film mode deinterlacing | Passed 3:2/480i+1080i & 2:2/1080i if [Film Cadence Mode] on |
| Viewing angle | Decent for a VA LCD panel |
| Motion resolution | 750 lines with [IFC] "Mid" or "Max"; 600 "Min"; 300 "Off" |
| Digital noise reduction | Optional; effective when engaged |
| Sharpness | Defeatable edge enhancement |
| Luma/Chroma bandwidth (2D Blu-ray) | Full luma; chroma slightly blurred vertically even with [1080p Pure Direct] on |
| 1080p/24 capability | No judder in 2D; mild judder in 3D |
| Measured panel refresh rate | 120Hz |
| Measured DCI-P3 coverage | 84% |
| Leo Bodnar input lag tester | 47ms if [Intelligent Frame Creation] "Off" |
| Full 4:4:4 reproduction (PC) | Yes for 3840×2160@60Hz |
Power Consumption
| | |
| --- | --- |
| Default [Normal] mode | 144 watts* |
| Calibrated [Professional] mode | 91 watts |
| Standby | <1 watt |
*Note: Out of the box, [Ambient Sensor] was switched on by default in the [Normal] picture preset.

Picture Quality
Black Level & Contrast
As verified via the subpixel structure from a macro shot, the Panasonic TX-65CR852B uses a curved PVA LCD panel supplied by Samsung. It comes as no surprise then that the CR852's native contrast performance was nearly identical to Samsung's 2015 65in curved UHD televisions, with measured black level (local dimming disabled) coming in at 0.05 cd/m2 on both a full-black screen and a 4×4 ANSI chequerboard pattern once peak white was pegged to our normal target of 120 cd/m2.
Subpixel layout indicating VA LCD matrix
The Viera TX65CR852B features some form of local dimming which can be activated through the [Adaptive Backlight Control] option in the picture menu, but the number of dimming zones is paltry given the screen size. Using our self-authored test pattern asking a small white box to crawl horizontally and then vertically along the edges of the screen against a black background, we counted only 16 dimmable zones (8 columns x 2 rows). While the TV employs direct LED backlighting, to call it full-array local dimming (FALD) would probably be stretching the truth.
The Panasonic CR852B's disappointing zone count was not helped by the onboard dimming algorithm which wasn't as effective as those seen on Samsung and Sony sets, a frustration we've described in our review of its flat-panel counterpart, the Viera CX802/ CX800. [Adaptive Backlight Control] "Max" was the only setting which utilised the dimming zones and improved black-level response to any noticeable degree in real-life content, but it's so aggressive that whites were dimmed and gamma was skewed too, making it unsuitable for critical viewing.
With all three active [Adaptive Backlight Control] values, ANSI blacks stayed the same at 0.05 cd/m2, although "Min", "Mid" and "Max" progressively lowered the measurements obtained from full-field video black to 0.009 cd/m2, 0.005 cd/m2 and 0.0025 cd/m2 respectively.
Brightness-wise, our Panasonic TX-65CR852B review sample managed to hit 487 nits in [Dynamic] mode, and a more modest 355 nits in [Professional] mode with [Backlight] and [Contrast] cranked up to maximum. We'd imagine that this peak luminance figure may go higher with the appropriate HDR (high dynamic range) metadata flag.
Backlight/ Screen Uniformity
Our review unit suffered from several small patches of clouding mainly in the corners of the screen, which could rear their ugly heads during dark scenes viewed in a dimly-lit environment. This backlight unevenness could be attenuated to negligible levels by setting [Adaptive Backlight Control] to "Max", but then we ran into the aforementioned issues of gamma distortion and muted whites.
On the upside, grey uniformity was decent with no major banding observed, which is impressive considering the stress the LCD panel has to go through to attain a curve. We didn't spot any significant dirty screen effect (DSE) during panning shots across a tonally uniform backdrop, such as in live football broadcasts.
Motion
The Viera TX-65CR852's highest attainable motion clarity lay somewhere between its flat CX802 cousin and the step-down CX700. With [Intelligent Frame Creation] set to "Mid" or "Max", motion resolution (as determined via the horizontally scrolling lines in Chapter 31 of the FPD Benchmark Software test disc) reached 750 lines, but this introduced unmistakable soap opera effect (SOE) to 24fps movies, so we advise using them only for video-based material, and not when watching films.
With [Intelligent Frame Creation] disabled, motion resolution measured 300 lines, which is what's expected from an LCD panel unassisted by motion-enhancing technologies. [IFC] "Min" doubled this figure to 600 lines.
HD
We spun a few of our reference Blu-ray discs from an OPPO BD player, and were largely happy with how the Panasonic CR852B handled things. Mid-bright and bright scenes looked stellar, underpinned by supremely accurate greyscale, natural colours, and high-quality HD-to-UHD scaling. 1080p/24 video signal was handled smoothly, with no evidence of judder or forced interpolation.
It's during predominantly dark sequences that things took a turn for the worse. While a native black level of 0.05 cd/m2 was still respectable, there existed several spots of backlight inconsistency which couldn't be fully dialled out using the [Backlight] control without making the picture overly dim.
Panasonic's ineffectual local dimming algorithm didn't help either: [Adaptive Backlight Control] "Mid" and "Max" did not produce much discernible improvement in black-level depth in real-world content save for a full-black screen. Exasperated, we actually went ahead and calibrated our TX65CR852 review sample with [Adaptive Backlight Control] set to "Max" in [Professional2] mode, in addition to the [Professional1] settings we achieved in our initial calibration.
Toggling between the two calibrated presets on paused stills, it's easy to see why [Adaptive Backlight Control] "Max" is a no-go. Yes, blacks were inkier, but because whites were darkened too (peak white on a 2% window actually dropped to 41 cd/m2 from our originally calibrated value of 120 cd/m2), there's actually no gain in intra-frame contrast.
Furthermore, owing to undefeatable gamma skewing in [Adaptive Backlight Control] "Max", [Professional2] came across substantially flatter – as if life was sucked out of the image – than the rich and contrasty result provided by circa-2.4 gamma in [Professional1] mode. Not only did colours look drab and muted (therefore undoing all the accuracy goodness of the CR850's inbuilt 3D LUT) in all but super-low APL scenes, brighter elements on screen also took on a strange purply-red cast if [ABC] was set to "Max".
In other words, as a consequence of the dimming behaviour of [Adaptive Backlight Control] "Max", even if we'd successfully got greyscale and gamma to track flatly during calibration, it'd only be applicable to that particular APL (Average Picture Level) signal, and wouldn't be wholly transferable to screen.
4K
Panasonic's Ultra HD TVs have always been to reproduce 4:4:4 chroma at 3840×2160@60Hz, and this desirable trait (at least for 4K PC users) continues with the CR850/ CR852, judging from the 4:4:4 test pattern fed from a Geforce GTX 970 graphics card inside a Chillblast gaming computer over HDMI to the TX-65CR852B. [4K Pure Direct] needed to be enabled for 4:4:4 though, or else 4:2:2 chroma subsampling would ensue.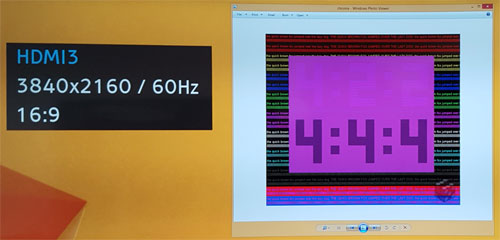 We proceeded to measure the coverage of the TX65CR852's native gamut against the DCI-P3 standard, and arrived at a maximum figure of 84% after experimenting with various picture-affecting controls including [Dynamic] mode, [Colour], [Colour Gamut] and [Vivid Colour].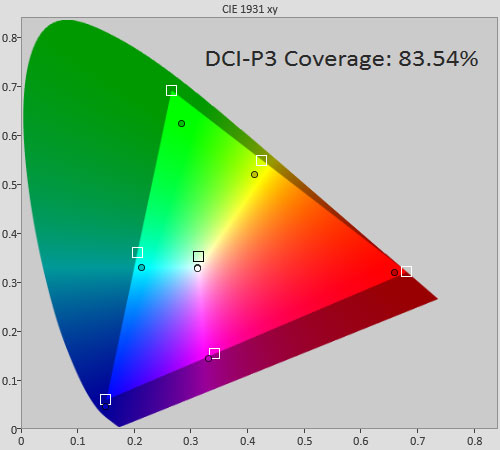 While this number is not as high as the 98% DCI specified by Panasonic, the company's engineers have clarified that their measurement method is different from ours, thus accounting for the discrepancy.
3D
Like most 3DTVs these days, the Viera TX65CR852B doesn't ship with any 3D glasses, which may disappoint whatever few fans of the format left. It's not that big a loss though, because the Panasonic CR852's extra-dimensional performance was mediocre.
Whilst the panel delivered full HD 3D resolution (confirmed using our own custom-authored test pattern), it manifested visible judder with 24Hz and 50Hz material in the third dimension. To eliminate the judder, [Intelligent Frame Creation] or [24p Smooth Film] had to be set to "Mid" or "Max", but of course either caused movies to look unnaturally smooth, a la a cheaply-shot video.
Crosstalk was surprisingly prevalent at certain background depth – the floating lanterns in chapter 8 of Tangled 3D became a sea of blurriness. We swapped between a pair of Samsung SSG-5100GB and 3D3's excellent active-shutter glasses just in case one or the other was incompatible with the Panasonic CR852, but got the same crosstalk-laden result. Engaging [3D Adjustment] and moving the slider would just shift the double ghost images to a deeper or shallower level.
Gaming
As was the case with other 2015 Panasonic Vieras we've reviewed to date, [Game Mode] was largely superfluous on the TX-65CR852B in that it didn't lower input lag any further than the 47ms obtained sans [Game Mode] as long as [Intelligent Frame Creation] wasn't enabled.

Engaging [IFC] increased lag time by one frame to 64ms.
Conclusion
The Viera TX-65CR852 is a commendable first effort from Panasonic as the Japanese manufacturer forays into the realm of curved TVs, delivering realistic colours, strong video processing, and full 4:4:4 chroma reproduction even at 60Hz UHD resolution.
However, by keeping the same level of specifications as the flat-screen CX802, Panasonic has unwittingly given us the perfect opportunity to find out the true cost of embracing the curve. Compared with the TX-55CX802B, the TX-65CR852B exhibited shallower native black level, a greater degree of backlight unevenness, marginally less accurate colours, and slightly blurrier motion. And unlike competing curved displays from Samsung and Sony, Panasonic's usable local dimming settings were not as effective in masking the first two issues.
Of course, much of it is down to the curved LCD panel used, but the Panasonic CR852 truly drives home the point that when all else is equal, a flat-screen TV is superior in various aspects of image quality that has nothing to do with the curvature itself. By contrast, Samsung's strategy to reserve all the company's best picture-enhancing technologies exclusively for curved models appears to be not only smart, it's downright necessary.