Panasonic today officially announced its entry into the nascent OLED TV market by unveiling the company's upcoming Viera TX-65CZ950 display at the IFA 2015 consumer electronics trade show in Berlin. Available in a single screen size of 65 inches from October (2015), the Panasonic TX-65CZ952B (UK model) will feature a curved panel, 4K UHD (ultra high-definition) resolution, a specially-tuned version of the Japanese brand's 4K Studio Master Processor, as well as THX certification.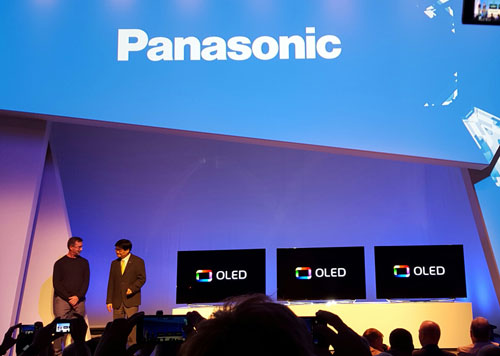 The move by the ex-plasma innovator is a sorely-needed shot in the arm both to the fledgling display technology and to the consumer television landscape in general. Panasonic exited the plasma display panel (PDP) business in late 2013, with South Korean rivals Samsung and LG quickly following suit, leaving a consumer TV arena filled almost exclusively with ubiquitous but lower quality LCD technology. The TX-65CZ950 will be the first Panasonic TV to feature self-emitting pixels, without the need for a backlight, since the VT and ZT plasmas released in 2013.
Panasonic issued press releases detailing its proprietary video processing which powers the new OLED display. This makes marketing sense, because it's common knowledge that LG Display is currently the only producer of OLED panels in anything larger than miniature (phone and tablet level) sizes, and Panasonic therefore will be keen to address and correct the possible misconception that the panel alone is responsible for the image quality of the television. Indeed, in its statement, Panasonic reminds readers that the screen technology is only one part of the puzzle, and that "getting the most from OLED means driving it with advanced picture processing capable of unlocking its full potential".
Panasonic's TX65CZ950 press release frankly reads like a checklist of what's wrong with the current OLED TV offering, which, of course, is 100% LG. Accordingly, it makes for interesting reading: aside from the fact that biting the hand that feeds them is a daring move, it explains how the Japanese TV maker is addressing the problems that we found with the current attempts at OLED televisions. While those produce an excellent (and unbeatable) minimum luminance level with their zero blacks, we've found that LG's OLED TVs do not produce good dark-scene quality, a point which we feel has been lost in many evaluations.
Firstly, the press release outlines Panasonic's commitment to image fidelity by stressing that accuracy is the company's goal. To market that point, they've teamed up with Hollywood colourist Mike Sowa, known for his work on Oblivion and Insurgent amongst others.
To start with, Panasonic promises comprehensive look-up table (LUT) technology on the Viera CZ950, which will be used both to compensate for any panel inaccuracies (all panels have them) and to square the circle of adapting the OLED panel's native wide colour gamut to correctly display existing Rec.709 content. LG's own video processing doesn't do a good job of this, with hue errors, most visibly with cyan, appearing during dark scenes (ironically enough, reproduction of dark scenes has long been the selling point of OLED). On top of that, attempting to use advanced controls on LG OLEDs to calibrate greyscale and gamma exacerbates contouring/ banding errors on the display. Although Panasonic's PR announcement doesn't specifically mention those, we would hope that this issue is specific to LG's video processing and not a problem with the panel.
More interesting still is a feature called "Absolute Black Gradation Drive". Panasonic mentions that the zero black capability of OLED "has actually been a challenge for OLED TV makers, since the shift from complete blackness to just above black is a very difficult gradation step to render". Indeed, this echoes the findings of our own tests. As well as featuring colour errors during dark scenes, the LG OLED TVs often exhibit indistinct shadow details. Panasonic then mentions that its "experience with plasma technology has enabled it to solve the issue on the TX-65CZ950, resulting in unprecedentedly beautiful and precise detailing even in the very darkest picture areas". This makes sense, given that the OLEDs we've assessed have exhibited a similar, but more extreme version of the characteristic of PDPs where the colour and greyscale would shift slightly depending on the brightness of the scene being shown on screen.
Additionally, the press release subtly addresses screen uniformity, by using a quote from Eric Gemmer, who is responsible for testing displays for certification at THX. Gemmer says that the collaboration between Panasonic and the San Francisco AV quality advocate is "a television capable of creating bright objects with excellent white uniformity". However, our main concern is with the quality of the uniformity during dark scenes, something that isn't addressed in the release. Depending on the average picture level (APL) of the scene being viewed, the uniformity displayed on the current LG OLEDs ranges from very good to very poor, with a rapid falloff of light at the extreme sides of the panel which can even change shape and position during image motion.
We'll have to wait and see if Panasonic's panel driving method has solved or at least reduced the low-light uniformity problems exhibited by LG's OLED TV offerings, but the fact that the CZ950 is THX-Certified is heartening. None of LG's recent OLEDs have been able to make this claim. We don't know if that's because they simply weren't submitted, or if they were submitted and rejected due to uniformity problems.
There's also no mention of motion resolution, the importance of which Panasonic hammered home during the plasma days. LG's implementation of its own OLED panels results in motion quality that's only slightly better than LCD, with the low base motion resolution measurement of 300 lines being attributable to these displays' use of sample and hold driving (impulse-type displays like CRT and PDP – now both in the rear-view mirror – could achieve far higher numbers, albeit with some residual noisy motion artefacts in the case of the latter). As with LCD, workarounds are needed to raise the motion resolution, which can introduce other artefacts.
Samsung sidestepped this inherent limitation in its sole 2013 OLED model by implementing a dark frame insertion mode, which is similar in principle to the backlight blinking implemented on some current LCD displays. Meanwhile, in their professional OLED studio monitors, Sony uses a vertical "scanning" feature (captured by a YouTube user with a slow-motion camera) which produces a lively image that produces high clarity during motion – something we would love to see on a Panasonic OLED. LG OLED televisions have never included either of these features, instead only featuring LCD-like motion interpolation. This may simply be because the company doesn't see the need for it, or perhaps because the panel is somehow incapable of anything better.
Also promised is HDR compatibility, and hopefully with the launch of Ultra HD Blu-ray later this year, we'll begin to see some killer content using this new technology that isn't tied to one manufacturer's TVs. Although many times brighter than plasma displays, it's almost impossible that OLED TVs, at least this year, will be able to reach the maximum peak brightness of 1000 cd/m2 that Samsung's and quite possibly Sony's LED LCD implementation can offer. Recently, LG mentioned that its OLED HDR solution (so, presumably this also means Panasonic's too) will operate at a lower peak brightness, while reminding people that its zero black level should make up for the limitation. Just how bright they can get is something we'll find out when we get our hands on one.
Panasonic's return to the emissive display market is excellent news. The fact that the corporation has addressed – at least on paper – almost all of the very same issues that have disappointed us with the OLED TVs currently on the market leaves us optimistic. Not only this, but we hope that another company's participation in OLED will be enough to reignite the interest of others in this promising display technology – the more competition, the better for the consumer. As of the time of writing, there has been no adequate replacement for Panasonic's last-generation plasmas. With today's launch of the TX-65CZ952B, there is now hope that Panasonic themselves may provide it.
Source: Panasonic press releases on 4K Pro and TX65CZ950 OLED TV