When we reviewed the 58-inch Panasonic TX-58DX902B some four months ago, we had no hesitation in giving it our "Highly Recommended – Best in Class" award. However, more high-end screens from other brands have hit the market since, so does the Viera DX902/ DX900 still have what it takes to mix with the elite? We've spent the past month or so with a Panasonic TX-65DX902B 4K UHD (ultra high-definition) TV… let's see how it performed.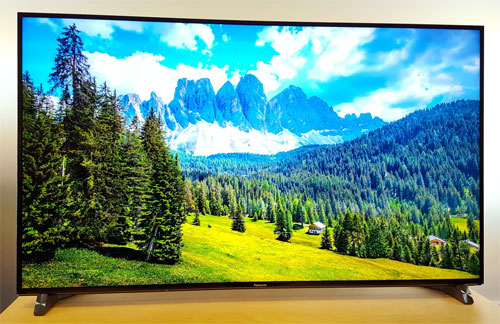 Note: The design, user menu, connection inputs and remote controls on the 65-inch Panasonic DX902 is the same as those found on the smaller 58DX902, so please refer to our April review if you need more detail or a refresher.
Strengths
Unrivalled Colour Accuracy
Greyscale and colours on the Panasonic TX65DX902B could be calibrated to stunningly accurate levels, thanks to skilfully-engineered calibration controls. Here were the results using a profiled Klein K10-A, a Murideo Fresco Six-G signal generator and SpectraCal's CalMAN Ultimate software: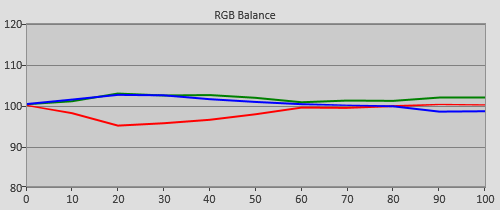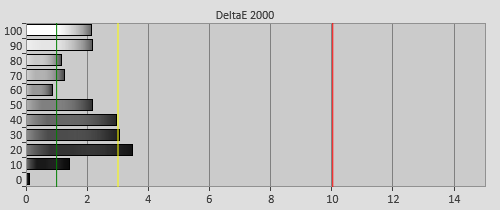 Pre-calibration [Professional] RGB tracking and delta errors (dEs)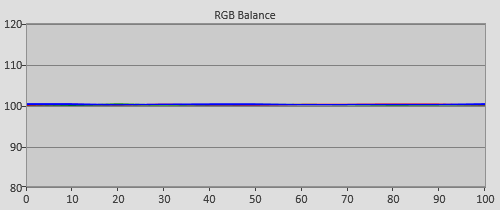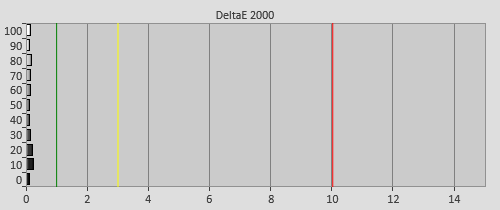 Post-calibration RGB tracking and dEs in [Professional] mode
| | |
| --- | --- |
| | |
| Pre-calibration gamma tracking (2.41) | Post-calibration gamma tracking (2.4) |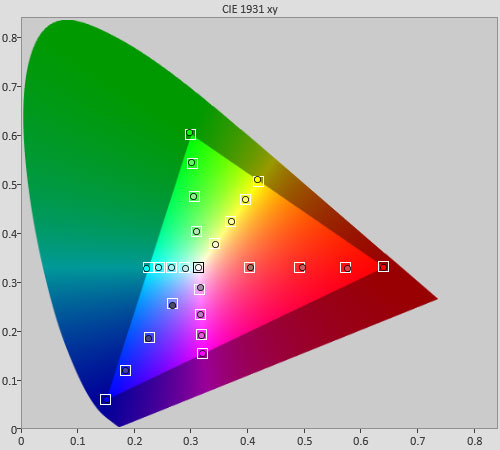 Post-calibration colour saturation tracking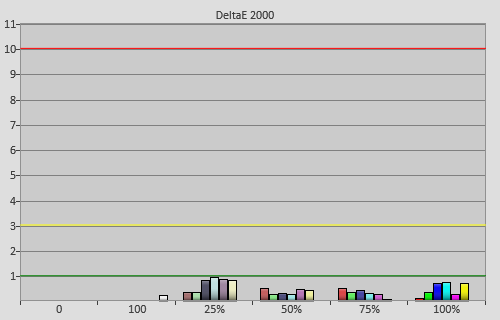 Post-calibration colour errors (<3 not appreciable to the eye)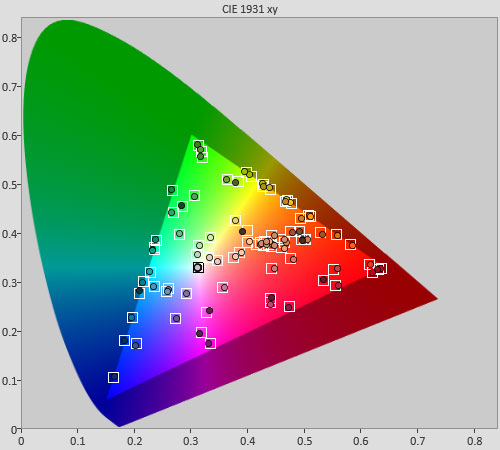 Post-calibration Colour Checker SG test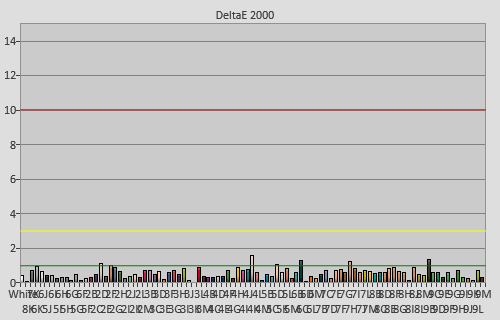 Post-calibration Colour Checker SG errors (<3 not appreciable to the eye)
As you can see from the graph above, none of the 140 measured colour patches in the Colour Checker SG chart exhibited errors that are visible to the human eye in real-life content, which is a testament to the Viera DX900's remarkable colour fidelity. Bravo Panasonic!
The 4KTV's colour excellence continued in HDR mode too. Because the [White Balance], [Colour Management] and [Gamma] settings are shared between SDR and HDR modes within the same picture preset, we used the TX-65DX902B's [True Cinema] preset for HDR calibration, and obtained the most accurate greyscale and colours we've seen from any HDR television thus far: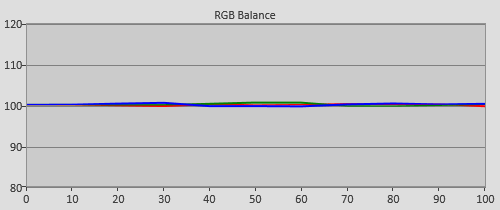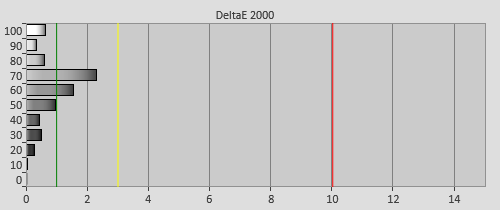 Post-calibration RGB tracking and dEs in HDR [True Cinema] mode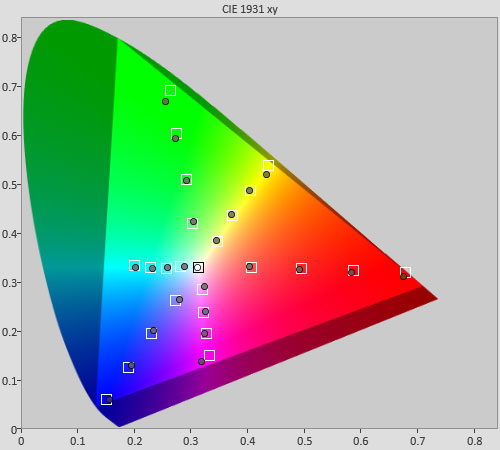 Post-calibration saturation tracking with reference to DCI-P3 inside Rec.2020 container
Deep Black Level
The Innolux VA-type LCD panel on the Panasonic 65DX902B yielded a native black level (i.e. sans local dimming) measurement of 0.025 cd/m2 on both full-field black and 4×4 ANSI chequerboard patterns once peak white was pegged to our normal dark-room target of 120 cd/m2. This is the deepest native blacks we've recorded from any 4K Ultra HD LED LCD to date.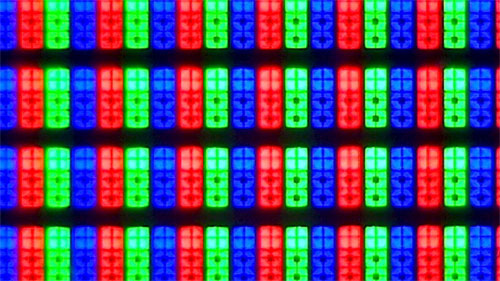 Macro photo of subpixel configuration indicating VA-type LCD matrix
The Panasonic DX900/ DX902 boasts the highest number of full-array local dimming (FALD) zones on the market at this time of writing, at least until the arrival of Sony's mouthwatering ZD9 series. Using our self-authored pattern containing a small white box crawling horizontally and the vertically along the edges of a black background, we counted 32 vertical columns and 16 horizontal rows, giving a total of 512 independently dimmable zones.
HDR Peak Brightness & PQ EOTF Tracking
Measured on window sizes specified by the UHD Alliance (UHDA) for Ultra HD Premium certification, our Panasonic TX-65DX902B review sample reached a searing peak brightness of 1250 cd/m2, allowing bright specular highlights on 1000-nit HDR-mastered material to be properly expressed without clipping or compression. Peak luminance on full-screen white came in at a still-outstanding 885 cd/m2 in HDR mode.
We didn't give Panasonic engineers enough credit in this regard when we tested the 58in version, but the Viera DX902B tracked the PQ (perceptual quantisation) EOTF (electro-optical transfer function) in SMPTE's ST.2084 standard with impressive accuracy up to the TV's peak brightness limit:
One area where the Panasonic TX65DX902B was edged out by Samsung's UE65KS9500 was in the presentation of 4K Blu-rays that are mastered to 4000 nits. For example, as Peter arrived at Neverland in the UHD BD of Pan (timecode 00:19:10), highlight details of the large bubble and rope on the right side of the screen were blown out on the DX9, whereas the KS9500 would preserve the definition of these brighter elements through tone-mapping rolloff.
Game Mode in HDR
With consumers getting their hands on Microsoft's new Xbox One S console this month, a question has been raised as to which TVs will deliver the lowest input lag for playing games in HDR when they arrive in the near future. At this time of publication, Panasonic's 2016 range of HDR-capable Viera televisions are the only ones on the market whose [Game] mode can be engaged during playback of HDR content, although other TV makers must be working furiously to provide gamer-friendly HDR presets on future models.

Indeed, once we forced HDR mode on the Panasonic 65DX902B, input lag stayed at a very decent 39ms (measured using a Leo Bodnar tester) with [Game Mode] enabled. There's one caveat though: [Adaptive Backlight Control] needed to be switched off, or else lag time would increase to 51ms which, to be fair, was not unplayable.
Weaknesses
Over-Aggressive Local Dimming in HDR
Although the Panasonic DX902 features a high number of FALD zones, in certain low-APL scenes the dimming algorithm in HDR mode could be too aggressive even with [Automatic Backlight Control] set to the lowest value of "Min", spoiling the original creative intent of the movie. One such instance was during the opening space sequence in The Martian: the Viera TX-65DX902B was darkening several dark patches excessively, resulting in a blotchy "reverse clouding" effect.
The DX900's sharply-defined backlight algorithm also had a tendency to show up the FALD grid structure of the television. As the title "The Martian" appeared on the aforementioned space scene, the bright letters were accompanied by square-shaped haloing/ blooming against the dark backdrop. The same phenomenon could be observed in timecode 00:19:56 of The Revenant where Hugh is reassuring his son Hawk at night, with the silhouettes being displayed in rectangular halos.
Narrow Viewing Angles
Owing to the use of VA LCD panel sourced from Taiwanese vendor Innolux Corporation, contrast and colours on the Panasonic TX-65DX902B washed out faster off-axis than any other premium TVs from top TV manufacturers on the market at the moment. In fact, while setting up the displays ahead for last month's HDR TV shootout event, several staff who helped out remarked that blacks looked shallower and colours appeared different on the Viera 65DX902, only to have to retract their comment when they were asked to stand bang in the centre of the screen. Owners would be advised to sit in the middle to best experience the gorgeous contrast and colours offered by the television.
Dark Colour Smearing
The 65″ DX902B suffered from this smearing issue where dark colours moving across a lighter background would leave visible trails. Initially we blamed the slower pixel response time of the onboard Innolux VA LCD panel, but after further analysis and consulting with other experts, we concluded that it's more likely to be caused by decay time of the display's LED PFS (potassium-fluorosilicate) phosphor featuring an extremely narrow red peak: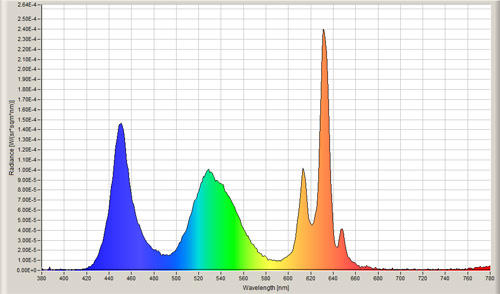 Spectral power of distribution (SPD) captured using a JETI 1211 spectroradiometer
Ironically, optimising the TX-65DX902's [Intelligent Frame Creation] "Custom" settings to achieve the highest motion resolution would actually make the smearing more apparent, so there's certainly a case for disabling [IFC] and letting the display's inherent sample-and-hold motion blurriness mask the issue.
| | |
| --- | --- |
| | |
| Optimised [IFC] "Custom" | [Intelligent Frame Creation] off |
Benchmark Test Results
| | |
| --- | --- |
| Dead pixels | None |
| Screen uniformity | Good; faint vertical bands more obvious during HDR |
| Overscanning on HDMI | 0% with [16:9 Overscan] set to "Off" |
| Blacker than black | Passed |
| Calibrated black level (black screen) | LEDs shut off |
| Calibrated black level (4×4 ANSI) | 0.019 cd/m2 |
| Black level retention | Some fluctuation from local dimming |
| Primary chromaticity | Excellent |
| Scaling | Good |
| Video mode deinterlacing | Effective jaggies reduction |
| Film mode deinterlacing | Passed 3:2 & 2:2 in SD & HD if [Film Cadence Mode] on |
| Viewing angle (cone) | 46° |
| Motion resolution | 1080 lines with [IFC] "Custom"; 300 "Off" |
| Digital noise reduction | Optional; effective when engaged |
| Sharpness | Defeatable edge enhancement |
| Luma/Chroma bandwidth (2D Blu-ray) | Full luma; chroma slightly blurred vertically even with [1080p Pure Direct] on |
| 1080p/24 capability | No judder in 2D; judder in 3D |
| 2160p/24 capability | No judder |
| Measured panel refresh rate | 120Hz |
| Measured peak brightness | 1250 cd/m2 |
| Measured DCI-P3 coverage | 98% |
| Leo Bodnar input lag tester | 39ms with [Game Mode] enabled |
| Full 4:4:4 reproduction (PC) | Yes for 1920×1080 & 3840×2160@60Hz |
Power Consumption
| | |
| --- | --- |
| Default [Normal] mode | 131 watts |
| Calibrated [Professional] mode | 99 watts |
| HDR mode | 460 watts |
| Standby | <1 watt |
Miscellaneous Data
Thermal image confirming direct-lit LED backlight configuration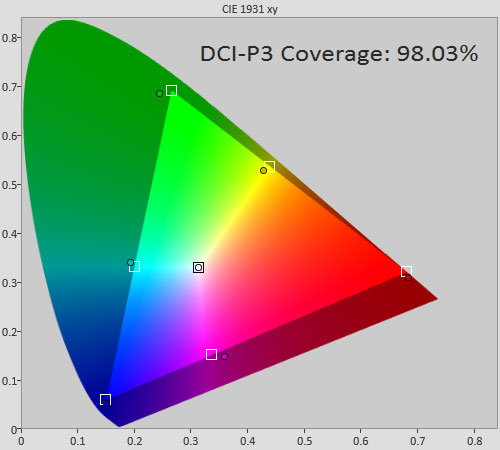 Percentage of DCI-P3 colour gamut coverage measured using UHDA methodology
Verdict
Some may question our decision to lavish our "Highly Recommended – Best Value" award on a flagship TV costing nearly £3000, but when you take into consideration the Panasonic Viera TX-65DX902B's supreme colour accuracy that's possible through professional calibration, general picture quality and HDR-compatible game mode, plus the fact that following an official price drop recently to £2899, the TV undercuts rival FALD (full-array local dimming) LED LCD and OLED models by at least £800 in the UK, hopefully you'll understand our reasoning.
Note: If you're considering buying this television, please support this website by making your purchase from our sponsor Crampton & Moore Leeds – call 0113 2446607 and ask for store manager David (who also organises our annual TV shootout event), quoting HDTVTest for advice, best price and first-rate service.