Panasonic ended its one-year hiatus from making and selling OLED televisions with the unveil of the company's new flagship EZ1002 series (also marketed as the EZ1000 outside of UK) at CES earlier this year. Whereas the late-2015 CZ952 OLED featured a curved screen and only 450 nits of peak brightness, the new Panasonic EZ1000/ EZ1002 uses a flat panel, and has been specced to hit almost twice the peak luminance of its predecessor for a more impactful HDR (high dynamic range) presentation.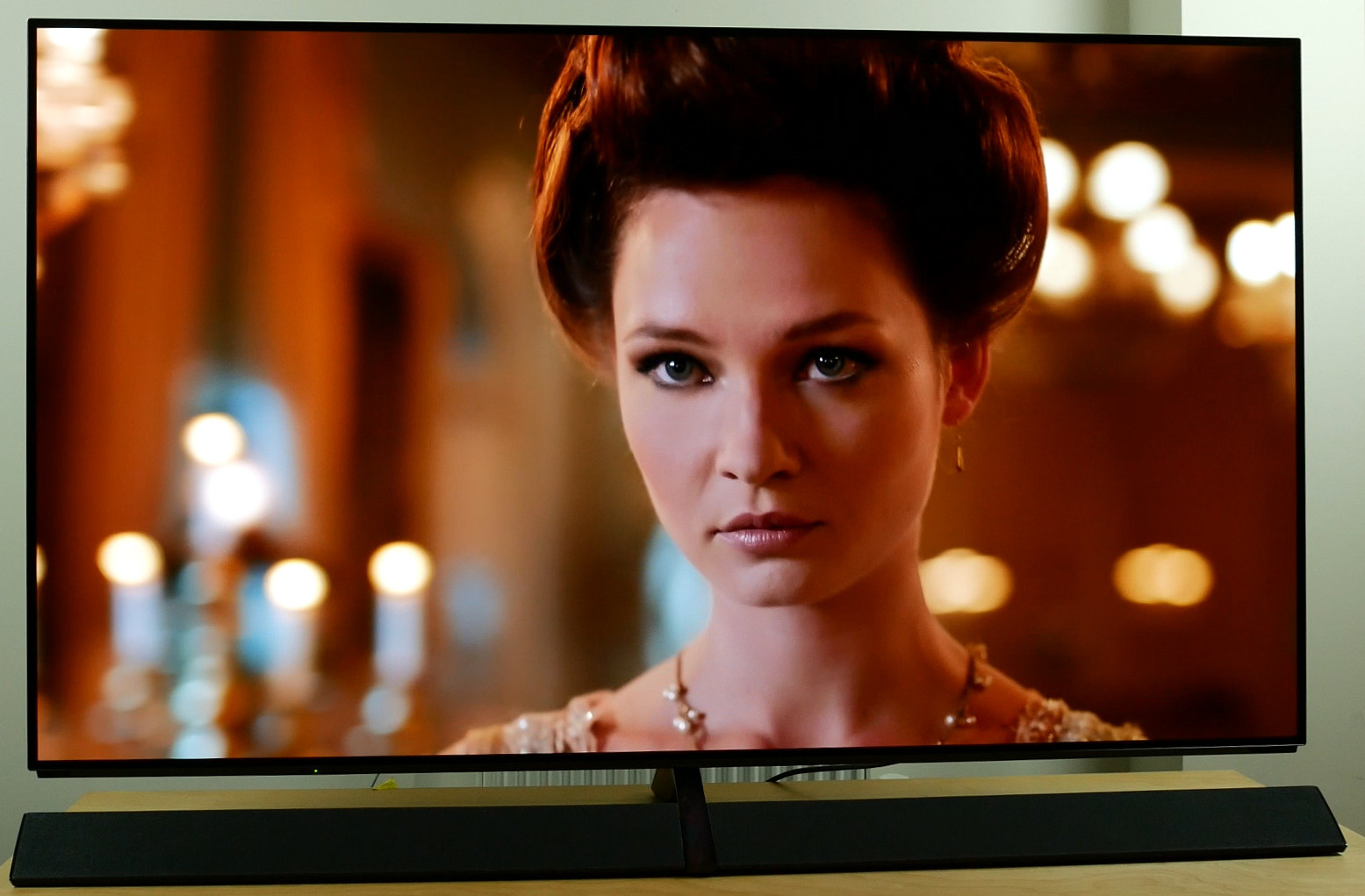 Two screen sizes are available: the 65-inch Panasonic TX-65EZ1002B which we're reviewing today, and the gigantic TX-77EZ1002B 77-incher to arrive later in 2017. They will feature a WRGB OLED panel sourced from LG Display, UHD (ultra high-definition) resolution of 3840×2160, HDR support for both HDR10 and HLG (Hybrid Log-Gamma) but not Dolby Vision formats, dual Ultra HD Premium and THX 4K certifications, a Technics-tuned soundbar, as well as the Japanese brand's My Home Screen 2.0 Smart TV interface. Like what's seen on most 2017 TVs, there's no 3D capability on board.
Design
Perhaps the first thing that draws your attention to the Panasonic TX65EZ1002B is its supplied soundbar (which has been given a moniker of "Dynamic Blade Speaker") spanning the entire width of the screen. The OLED panel is held aloft from the combined soundbar/ stand via a central pedestal, imparting a much-craved "floating in air" appearance to the whole setup.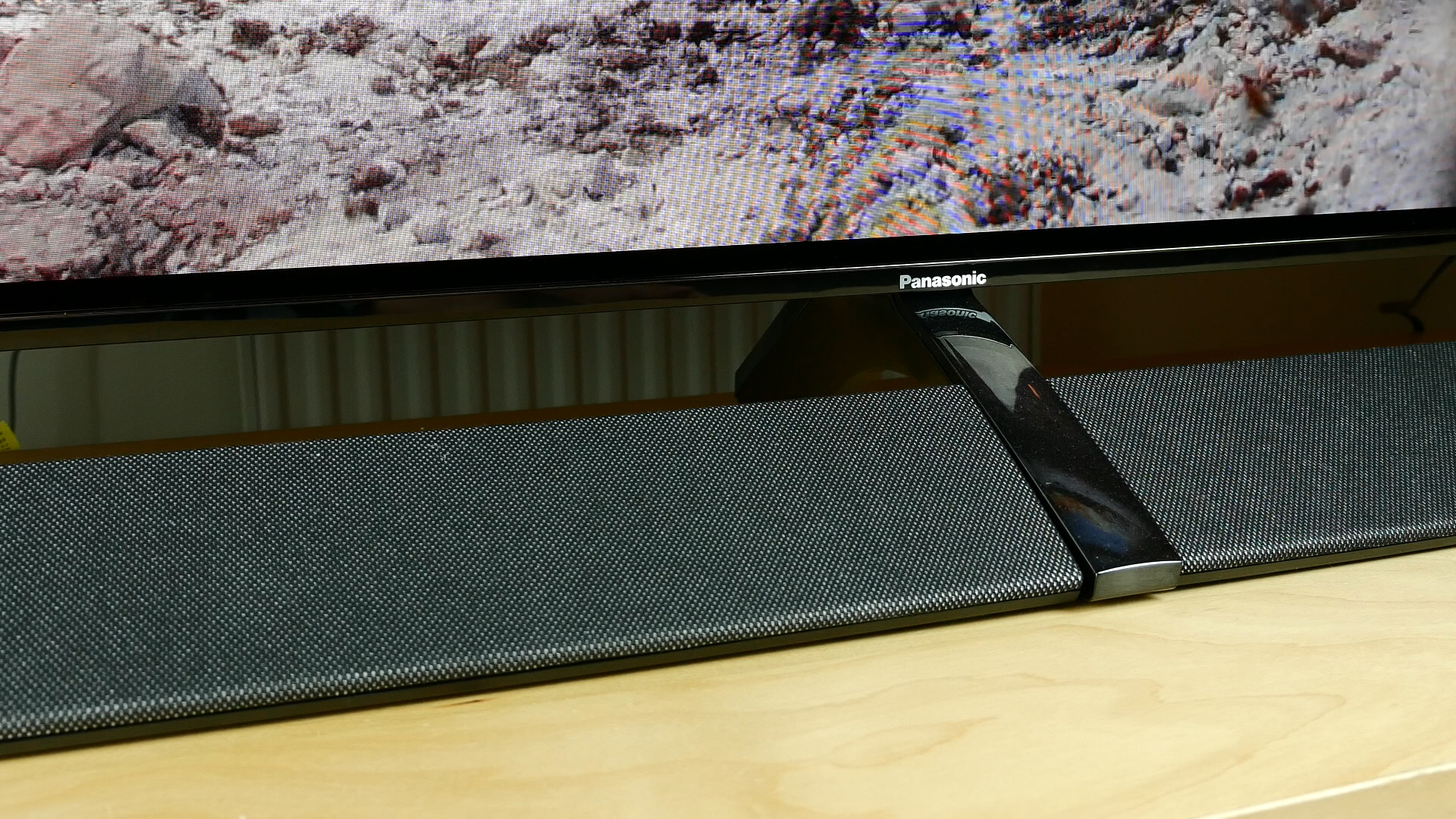 Like many OLEDs, the EZ1002B carries a "two-thickness" styling. The top half of the chassis is extremely slender, solely made up of the OLED panel which doesn't require separate backlight illumination, and is in turn framed by a suitably slim black bezel and gleaming gunmetal side trim. The screen itself has been treated with an "Absolute Black" filter that significantly attenuates the light-induced magenta cast seen on 2016 OLED televisions. The bottom half bulges to house the TV's brains and other components including power supply unit.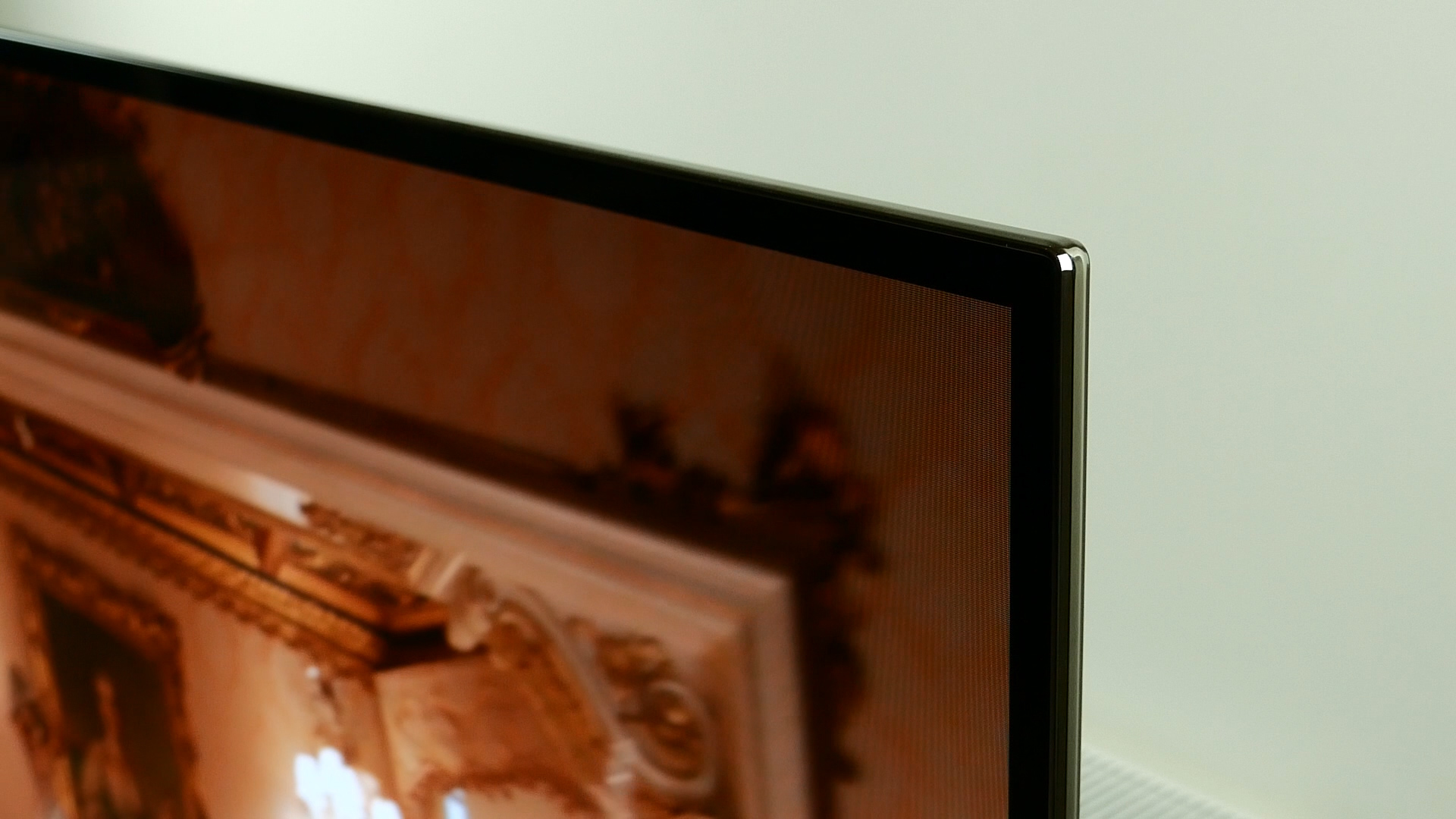 Like top-end Panasonics over the past few years, the TX-65EZ1002 ships with two remote controls. The main remote sports a brushed silver metallic finish, backlit buttons, substantial weight and superb tactile feedback, all of which makes it a joy to use.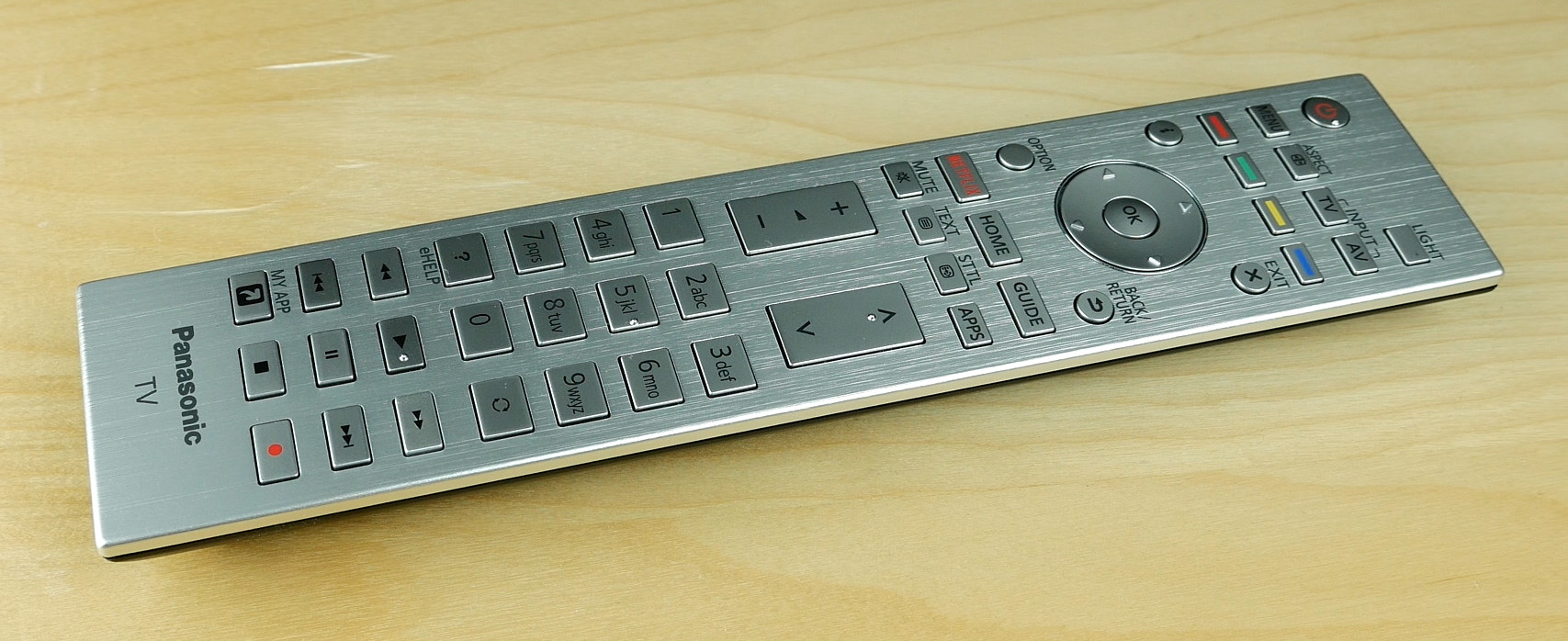 The supplementary remote is smaller, curved and equipped with a central touchpad – we didn't care for it for our type of usage.
Connections
Although the Panasonic 65EZ1002B offers four HDMI inputs, only HDMI 1 and HDMI 2 are full-bandwidth 18Gbps ports that can accept and display 2160p@50Hz/60Hz at higher bit-depth and chroma.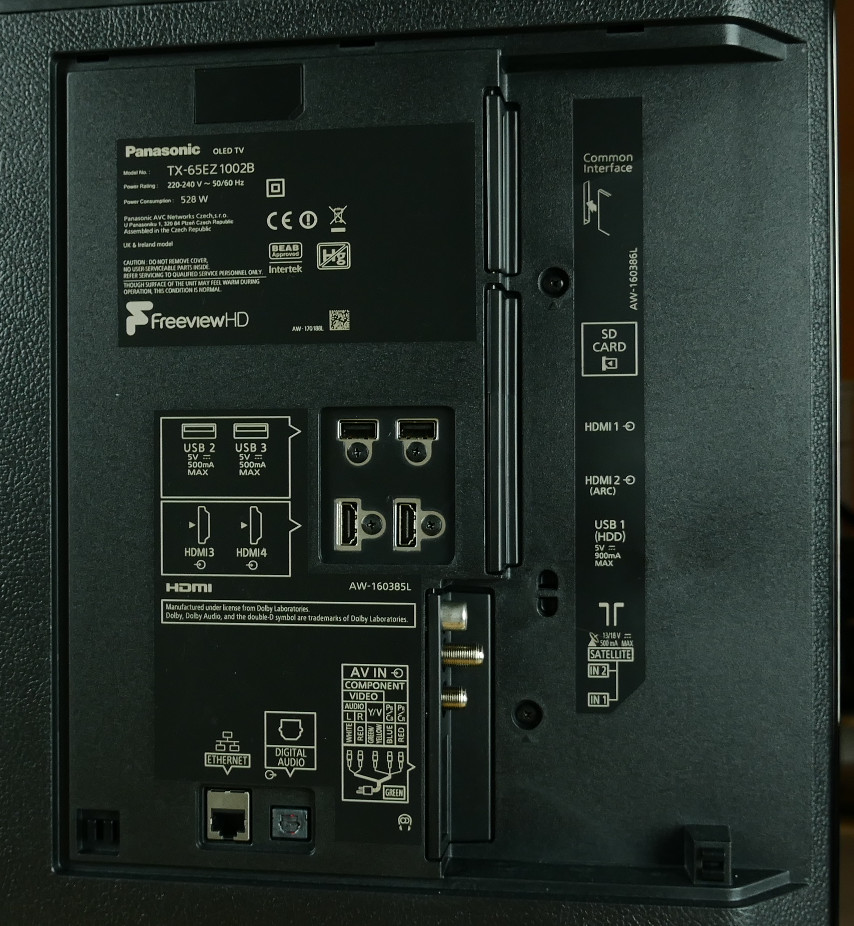 This is similar to the scenario found on the Sony Bravia A1/ A1E, making LG the only OLED manufacturer to provide four full-fat HDMI 2.0b connections at this time of writing (June 2017).
Calibration
We calibrated our Panasonic TX-65EZ1002B review sample using a Klein K10-A colorimeter profiled against a JETI Spectraval 1511 reference-grade spectroradiometer, DVDO AVLab TPG and Murideo Fresco Six-G signal generators, as well as Portrait Display's CalMAN software. The comprehensive and effective onboard calibration controls allowed us to dial in greyscale and colours to a supremely accurate degree that's unmatched by any other non-Panasonic consumer television.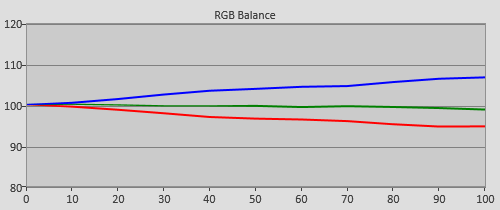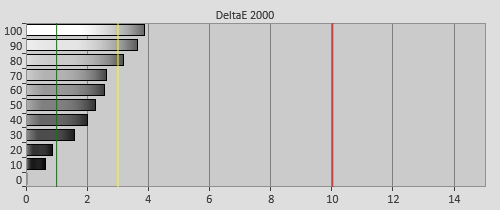 Pre-calibration [Professional] RGB tracking and delta errors (dEs)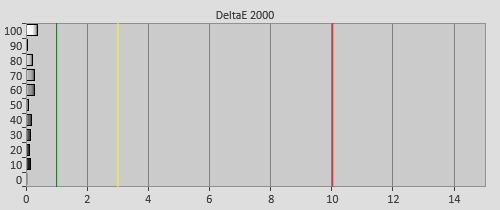 Post-calibration RGB tracking and dEs in [Professional] mode
| | |
| --- | --- |
| | |
| Pre-calibration gamma tracking (2.43) | Post-calibration gamma tracking (2.41) |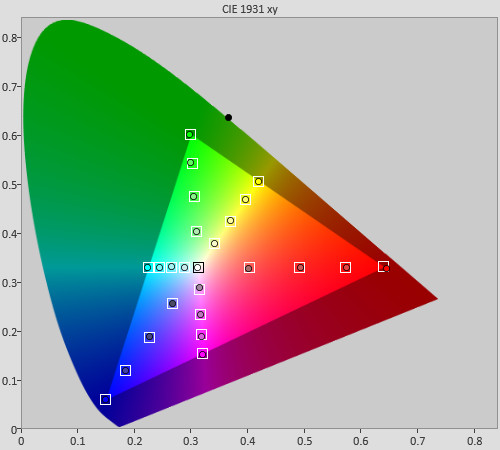 Post-calibration colour saturation tracking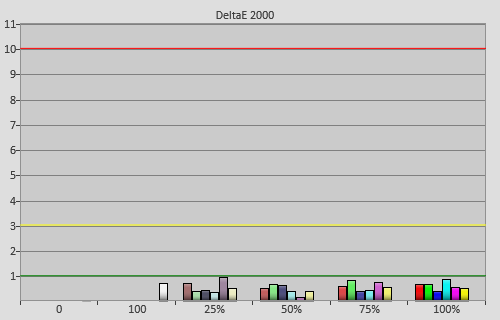 Post-calibration colour errors (<3 not appreciable to the eye)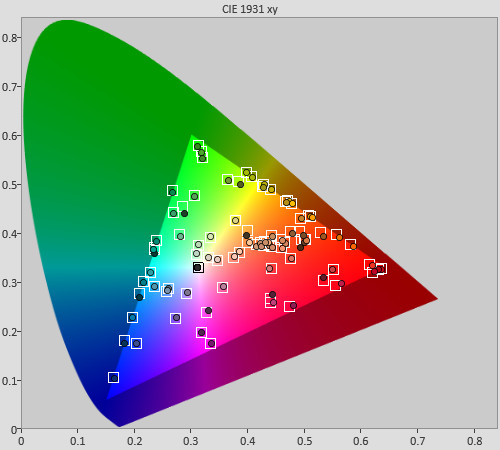 Post-calibration Colour Checker SG test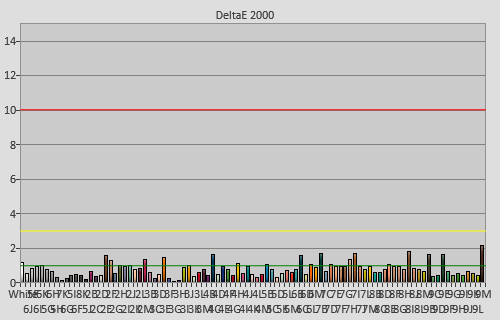 Post-calibration Colour Checker SG errors (<3 not appreciable to the eye)
Benchmark Test Results
| | |
| --- | --- |
| Dead pixels | None |
| Screen uniformity | Mild reverse vignetting & thin vertical streaks in very dark scenes |
| Overscanning on HDMI | 0% with [16:9 Overscan] and [Pixel Orbiter] set to "Off" |
| Blacker than black | Passed |
| Calibrated black level (black screen) | 0 cd/m2 |
| Calibrated black level (4×4 ANSI) | 0 cd/m2 |
| Black level retention | Stable |
| Primary chromaticity | Excellent |
| Scaling | Excellent |
| Video mode deinterlacing | Effective jaggies reduction |
| Film mode deinterlacing | Passed 3:2 & 2:2 in SD & HD with correct [Film Cadence Mode] |
| Viewing angle (cone) | 166° |
| Motion resolution | 650 lines with [IFC] or [Clear Motion] on; 300 otherwise |
| Digital noise reduction | Optional; effective when engaged |
| Sharpness | Defeatable edge enhancement |
| Luma/Chroma bandwidth (2D Blu-ray) | Full luma & chroma with [Pure Direct] mode enabled |
| 1080p/24 capability | No judder |
| 2160p/24 capability | No judder |
| Measured panel refresh rate | 120Hz |
| Measured peak brightness | 665 cd/m2 |
| Measured DCI-P3 coverage | 99% |
| Leo Bodnar input lag tester | 26ms with [Game Mode] enabled |
| Full 4:4:4 reproduction (PC) | Yes for 1920×1080 & 3840×2160@60Hz with [Pure Direct] mode engaged |
Power Consumption
| | |
| --- | --- |
| Default [Normal] mode | 97 watts |
| Calibrated [Professional] mode | 112 watts |
| HDR [True Cinema] mode | 217 watts |
| Standby | <1 watt |
Miscellaneous Data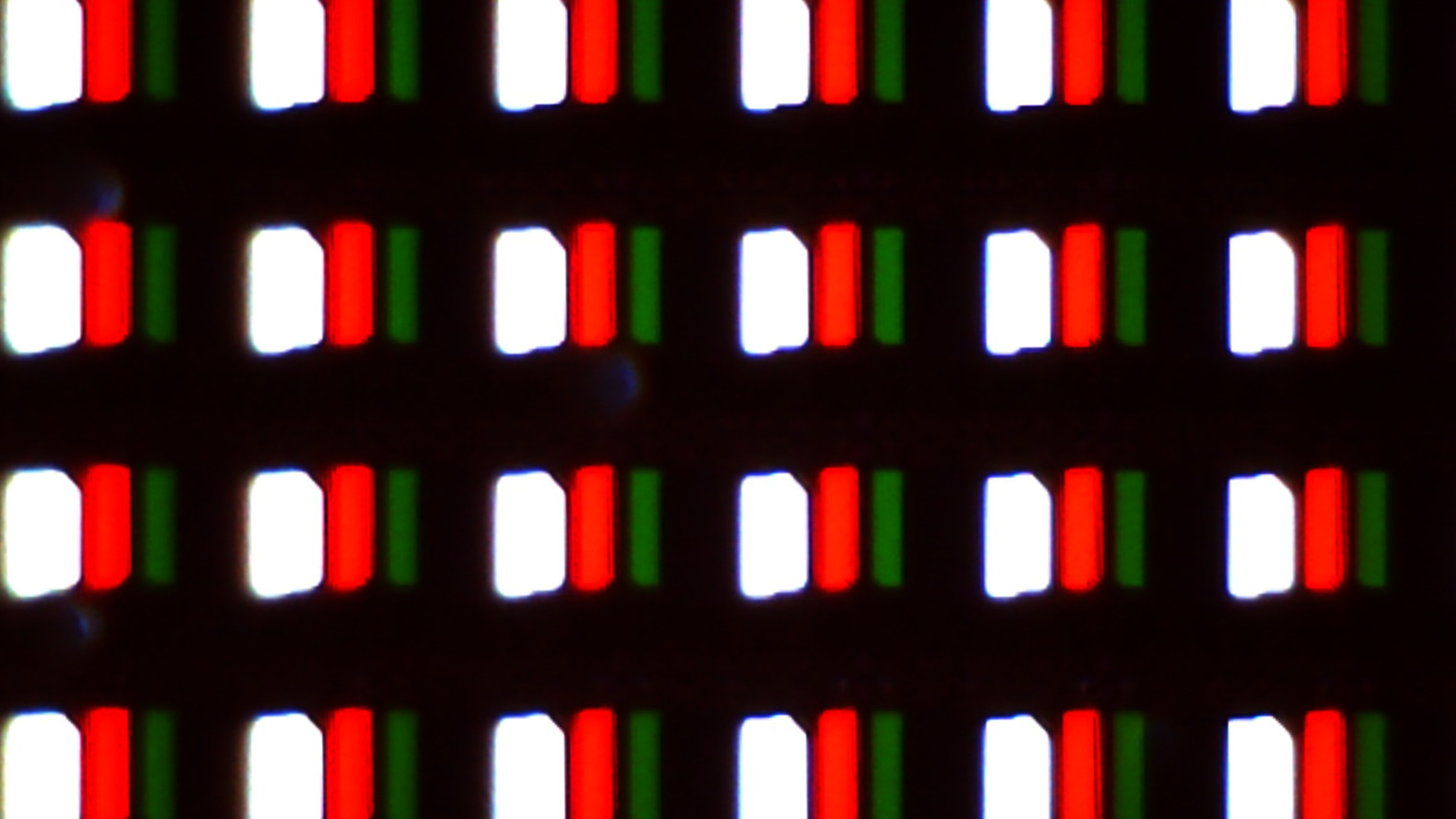 Macro photo of subpixel structure confirming WRGB OLED panel layout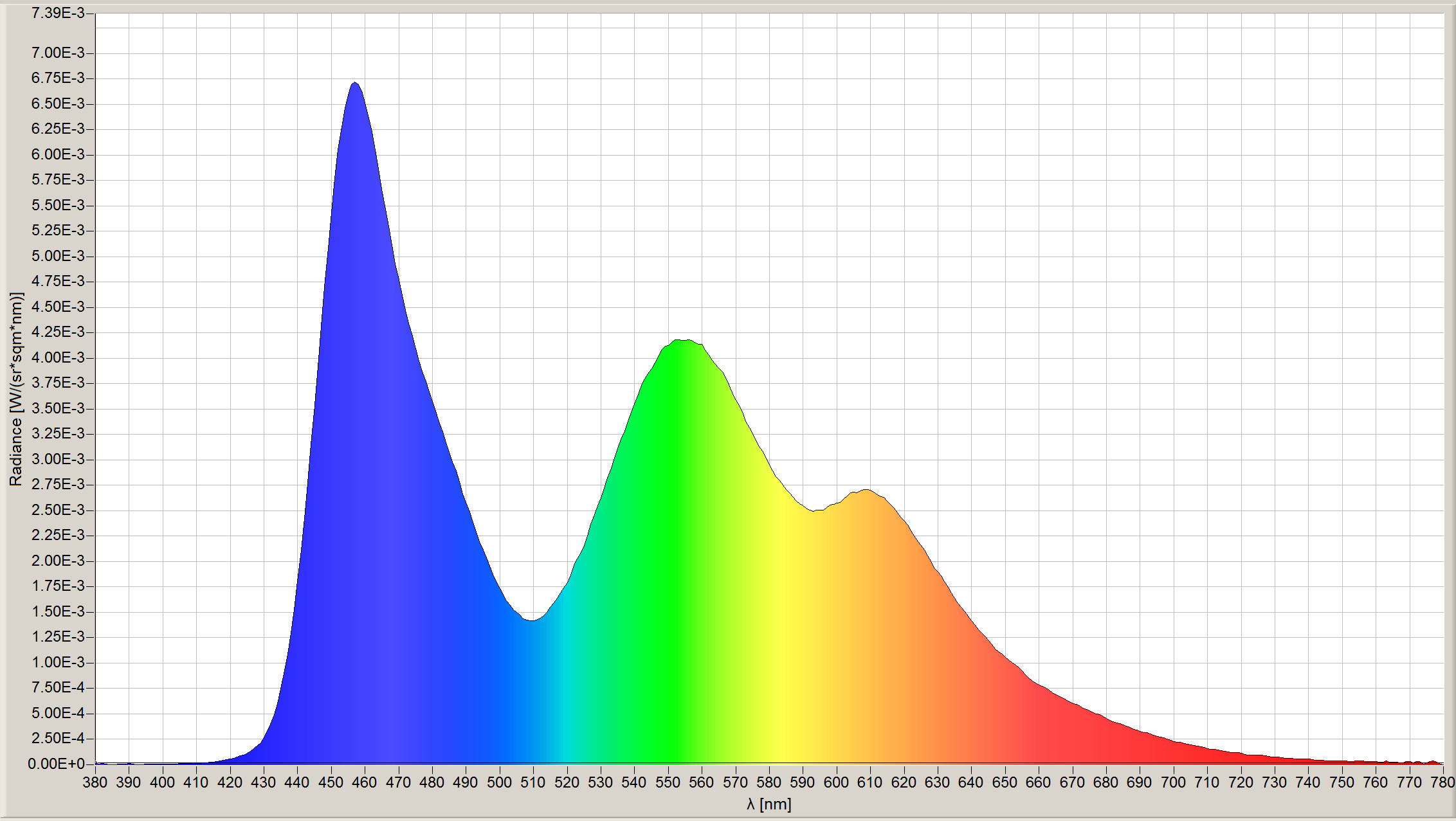 Spectral power of distribution (SPD) captured using a JETI 1511 spectroradiometer
Picture Quality
We've compared the 2017 OLED TVs from LG, Panasonic and Sony displaying the same source(s) side by side after calibration, and while for most viewers all of them deliver excellent picture quality, there are some minor differences in certain aspects where one brand would outperform the other two.
Without a shadow of a doubt, the trump card of the Panasonic TX65EZ1002B is colour accuracy particularly post-calibration, which means owners can enjoy movies in a manner that faithfully reproduces the creative intent of the directors and producers. On the other hand, the advanced colour management system (CMS) on LG OLEDs tends to introduce posterisation and noise artefacts if over-adjusted, whereas Sony doesn't even offer a CMS across their entire Bravia television lineup since the beginning of time.
This is not to say that the LG and Sony 2017 OLED televisions present colours wrongly, just that the Panasonic EZ1002 will paint more hues and shades correctly, which may or may not be apparent depending on how familiar you are with the video material, and whether you have a reference display for comparison. But for viewers who'd like the peace of mind that they're watching films as accurately as you can get from a mass-produced consumer display, then the 65EZ1002B is the logical choice.
Like the LG B7 and the Sony A1, the Panasonic EZ1000 rendered the regions just above black in a visibly cleaner fashion than 2016 OLEDs which could exhibit disturbing amounts of macroblocking, pixellation and fizziness especially if the feed was bit-starved or heavily compressed.
All current OLED TVs are driven using the sample-and-hold method where each frame is held continuously until the arrival of the following frame refreshes the image. It's hardly surprisingly then that with all motion enhancement technologies turned off, the Panasonic TX-65EZ1002 returned a typical sample-and-hold motion resolution of 300 lines according to the horizontally scrolling vertical lines in Chapter 31 of the FPD Benchmark Software test Blu-ray.
Panasonic provides two ways to reduce blur and improve motion clarity on the EZ1002B, although whatever the permutation, the highest motion resolution we could extract from the OLED TV was 650 lines. First is motion-compensated frame interpolation (MCFI) which is controlled via the [Intelligent Frame Creation] setting. Besides "Off", there are three [IFC] intensities of "Min", "Mid" and "Max" in addition to a "Custom" mode which allows user to independently adjust the [Blur Reduction] and [Film Smooth] components. Even the least aggressive [IFC] "Min" setting incurred very mild soap opera effect (SOE) to 24p films and interpolation artefacts, so if you can't get on with the next method and prefer to use interpolation to boost motion sharpness, we suggest using [IFC] "Custom" with the appropriate [Blur Reduction] and [Film Smooth] values.
| | |
| --- | --- |
| | |
| Optimised [Intelligent Frame Creation] | [Clear Motion] on |
What will likely excite video enthusiasts more is the presence of a black frame insertion (BFI) mode which can be engaged by turning [Clear Motion] on. This injects black frames between the original video frames, mimicking impulse-based displays such as plasmas and CRTs to clear our retinal persistence and achieve greater motion clarity without introducing any SOE or interpolation artefacts. Due to how BFI works, there would inevitably be a drop in light output and an increase in flickering, though we found neither to be bothersome on our Panasonic TX-65EZ1002B review unit.
We managed to eke out 208 cd/m2 peak white on a 10% window with [Clear Motion] enabled, which in our opinion is sufficiently bright for all but the most sun-drenched lounges. To our eyes, flicker was well-controlled in 24Hz (movies) and 60Hz (games) photorealistic content albeit more noticeable with 50Hz material (e.g. sports broadcast in the PAL regions of UK and Europe). Sensitivity to flicker at different frame rates do vary from one individual to another, so rather than take our word for it, it's best to check black frame insertion out in person to see if it works for you.
The Panasonic EZ1002 OLED supports HDR10 and HLG (Hybrid Log-Gamma), which are the open HDR and broadcast HDR standards respectively. For the latter, our review sample automatically recognised and played the couple of HLG-encoded video clips through a USB drive out of the box without requiring any further firmware update.
Peak brightness on our TX65EZ1002B review unit measured 665 nits on a 10% windowed pattern, which is in line with the +/- 10% variance observed on production WRGB OLED panels, yet still comfortably exceeds the minimum threshold for Ultra HD Premium certification. DCI-P3 colour gamut coverage was 99% which is expected of a "2017" 3D-less OLED panel.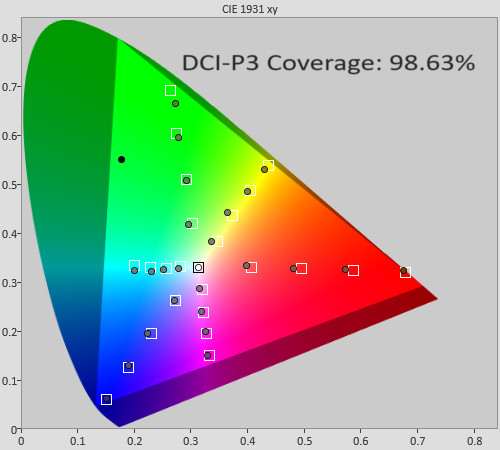 Post-cal colour saturation tracking against DCI-P3 standard in Rec.2020 container
Instead of getting hung up on peak luminance figures, what's probably more important is the HDR tone-mapping approach to reflect the original artistic intent. We really admire the algorithm used by Panasonic to tone-map HDR10 static metadata from 1000- and 4000-nit HDR videos to the EZ1000's native peak brightness of 665 nits.
Click on the options below to compare PQ EOTF tracking:
1000 nits | 4000 nits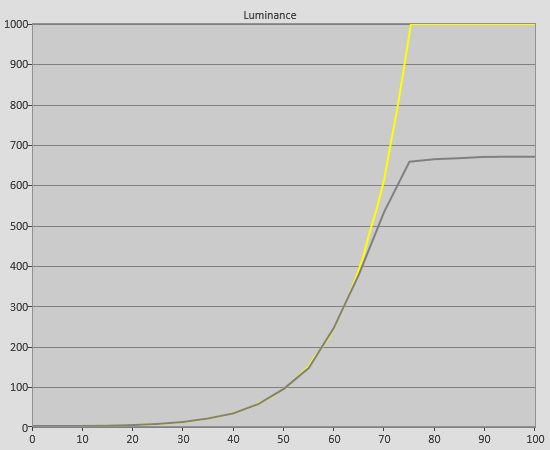 In HDR10 4K Blu-rays that are mastered at 4000 nits, the 65EZ1002B retained most of the specular highlight detail without sacrificing overall brightness too much or causing excessive posterisation, all whilst tracking the ST.2084 perceptual quantisation (PQ) electro-optical transfer function (EOTF) standard as tightly as possible before rolling off. Outstanding.
Click on the options below to compare HDR colour detail:
Before HDR calibration | After HDR calibration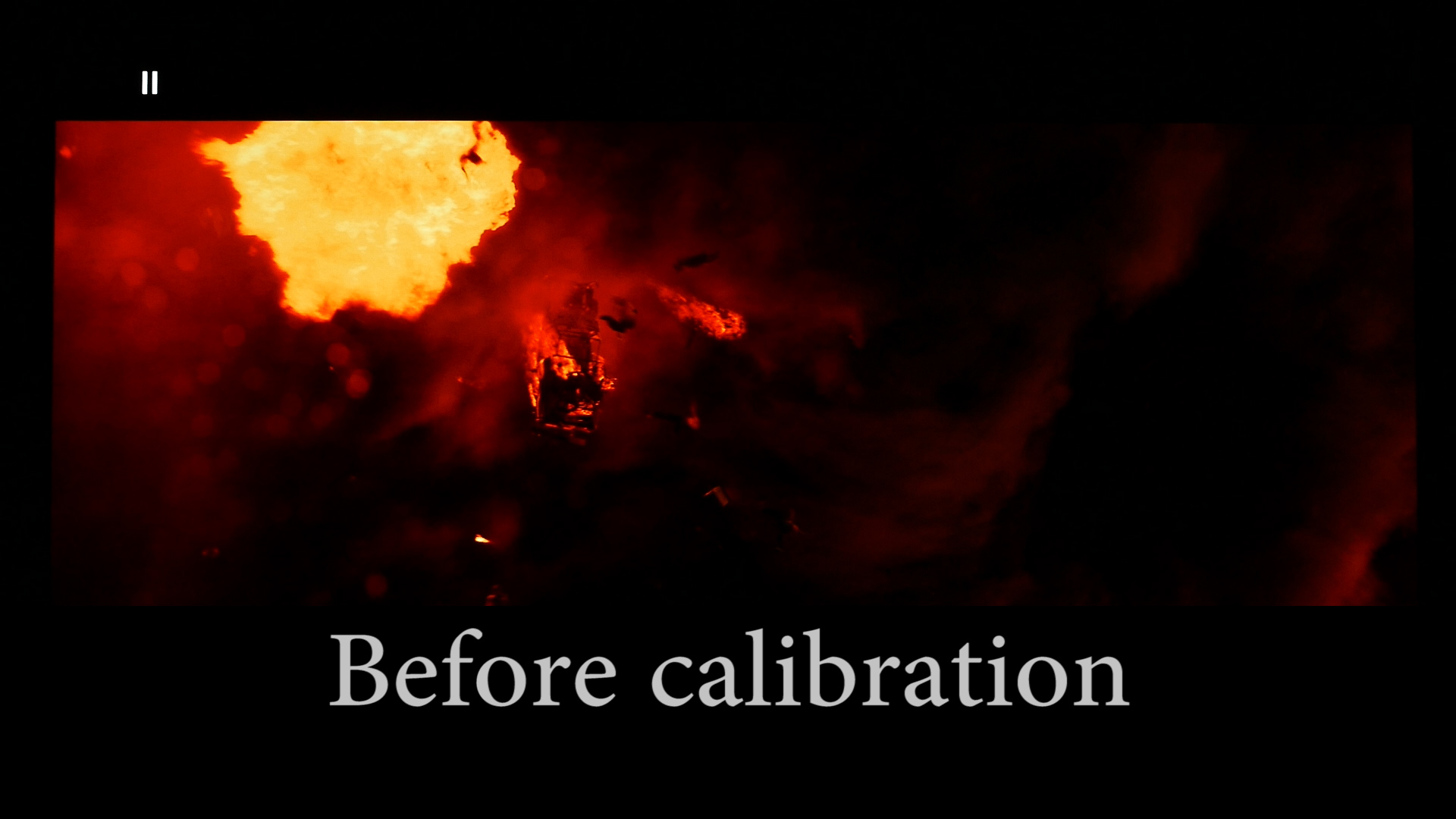 There's an issue with the out-of-the-box HDR [True Cinema] and [Professional] mode settings where certain coloured channels (red in particular) were compressed, causing for example the explosions in the Ultra HD Blu-ray of Mad Max: Fury Road to look flat and muted. Fortunately, adjustment of specific settings during calibration restored the full coloured detail and richness.
The Panasonic EZ1002B is a fabulous display for playing video games: the company's engineers have worked hard to bring input lag down to 26ms for both 1080p SDR and 4K HDR games, provided [Game Mode] was engaged.
| | |
| --- | --- |
| | |
| Input lag in 1080p SDR | Input lag in 2160p HDR |
Enabling [Pure Direct] to achieve full 4:4:4 chroma or [Clear Motion] for improved motion clarity increased latency to merely 36ms and 34ms respectively, which are still highly responsive numbers that will please all but the most demanding twitch gamers.
Video Review
Conclusion
The Panasonic TX-65EZ1002B is an excellent OLED television whose key strengths include unrivalled colour accuracy, highly configurable motion sharpening, and the most balanced HDR10 tone-mapping we've witnessed on a consumer OLED to date.
For a number of prospective buyers, one deterrent will be lack of Dolby Vision (DV) support. At this time of publication (June 2017), we haven't had the opportunity to pit disc-based Dolby Vision content on a DV-capable set against HDR10 on a comparable television, and so don't know how much of the proprietary technology's theoretical dynamic metadata advantage will translate into real-world benefits. But the marketing reality is that many consumers who are spending a few grand on a high-end television in 2017 will likely be looking to futureproof their set regardless of whether Dolby Vision takes off or not… sadly it's become a tickbox exercise. Time will tell.
In Panasonic's defence, the EZ1000/ EZ1002 boasts some of the best tone-mapping from HDR10 4K Blu-rays we've seen on a consumer TV, striking an impressive balance between retention of bright highlight detail and APL (Average Picture Level) especially for 4000-nit-graded material. And halfway into 2017, HDR10 Ultra HD Blu-rays still far outnumber Dolby Vision ones whose confirmed titles to be released this year can be counted on one hand, including must-have blockbusters such as Despicable Me I and II, The Fate of The Furious, Power Rangers and Resident Evil: Vendetta. Even then, these Dolby Vision 4K Blu-ray discs will still contain a HDR10 base layer, so it's not as if they cannot be enjoyed in their high dynamic range glory on the Panasonic OLED.
Another factor that may put many off the TX65EZ1002B is its high price – the 65-incher is at least £2000 more expensive than its closest competitor, the Sony Bravia A1/ A1E. Whether the EZ1002B is worth the price difference depends on how much you value class-leading colour fidelity. You can add a £300 eeColor external 3D LUT box (plus calibration fee) to get the Sony's colour accuracy to match the Panasonic's, but the unit only colour-corrects for 1080p SDR, not UHD HDR. To do the latter, you'll need the Lumagen Radiance 4K Pro series of video processor which retails upwards of £4000, and even then you'll always be swimming upstream to fight the TV's internal tone-curve and gamut mapping unless you can disable it completely (which as far as we're aware the Sony A1 OLED doesn't allow you to do).
In other words, the Panasonic EZ1000/ EZ1002 is actually a bargain in relative terms. As long as you get a panel with decent near-black and white uniformity, after calibration the TV could pass for a client reference monitor in a film grading studio. There's also apparently a user-uploadable 3D LUT (look-up table) function, though unfortunately we didn't have time during our review period to test it.
In summary, the 65EZ1002B is a stunning prosumer display with a price to match, a PR-OLED™. If price is a sticking point, you can wait for Panasonic's step-down OLED model, the EZ952/ EZ950 series, which hopefully will come close to the performance of the flagship EZ1002/ EZ1000.
Note: If you're considering buying this television, please support this website by making your purchase from our sponsor Crampton & Moore – call 01302 365760 and ask for Richard, quoting HDTVTest for competitive prices and first-rate service.