The Panasonic TX-L65WT600 is more than just the company's debut Ultra HD display – it's also the unwitting figurehead of a new LCD era for the soon-to-be-ex plasma giant.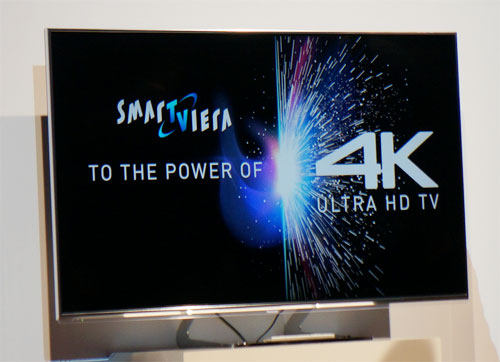 The famously tricky TV industry has set its sights on higher resolution displays, and for a variety of reasons, it's not practical to do that at the moment with anything other than LED LCD. Not only this, but consumers have given LED LCD technology the vote of confidence, so enhancing a proven and already-existing product category with a technological improvement makes complete sense.
Unlike with the company's plasma technology, Panasonic is now competing in a crowded LCD space. In Plasma, Panasonic really competed only with Samsung, with both companies using their own proprietary panel technology. We're unsure who manufactures the LCD panel found in the Viera TX-L65WT600B, but it's likely that it's also available for other television manufacturers to build sets out of, too. If we're wrong on that count and it is indeed Panasonic's own, the point remains that there is less variance across manufacturers when it comes to LCDs.
What we're really saying is that in LCD-land, Panasonic do not have an automatic unique selling point. Appropriately, the company has promoted the fact that the WT600 is the world's first 4K UHD (ultra high-definition) TV to be compatible with Ultra HD video at up to 60 frames per second, thanks to its implementation of the HDMI 2.0 standard. Most current UHD displays max out at 24 or 30 frames per second when being fed UHD content, which is fine for films but would impose obvious lack of motion fluidity on future 4K video footage, like that from a UHD camcorder or televised sports content. In this regard, the TX-L65WT600 is future proofed.
Let's get stuck in and see if Panasonic's 65-inch 4KTV has what it takes to compete in an increasingly crowded Ultra HD LED marketplace.
Note: The specific model we reviewed was the Panasonic TX-L65WT600B which is the British 3-pin-plug version.
Design
The Panasonic TX-L65WT600 shares much of its ultra-slick styling with the 1080p WT60/WT65 series LED LCD TVs, and that can only be a good thing in our view. Like with those screens, the bezel surrounding the LCD panel is metal, but the most eye-opening touch is the transparent stand, which evokes the image of a television that's "floating". In fact, we liked this stand so much that we feel it'd almost be a shame to wall-mount the Viera WT600.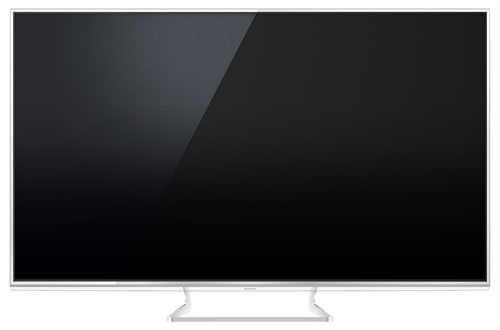 Unboxing a new plasma from a Panasonic flight case isn't an experience we'll ever have again, but the TXL65WT600B brought back the same memories: it's pretty heavy for an LCD-based screen. Not uncommonly for Panasonic and not uncommonly for a top-end display, the build quality in our review sample felt incredibly solid.
The remote is Panasonic's current design, which we like a lot. This version is styled in silver to match the TV, which we prefer over the black remotes supplied with the plasmas, purely because the finish is matte rather than the fingerprint-tastic gloss black.
Connections
4x HDMI inputs (one 4K compatible)
1x DisplayPort input (4K comaptible)
1x SCART input (via adapter)
1x shared Composite/Component input (via adapter)
Operation
There's no major menu redesign to be found on the TXL65WT600, and that's fine by us because Panasonic's menus have been clear and legible for as long as we can remember, anyway. The text is rendered at native 4K resolution, and the icons have been redone to take advantage of the higher resolution, too.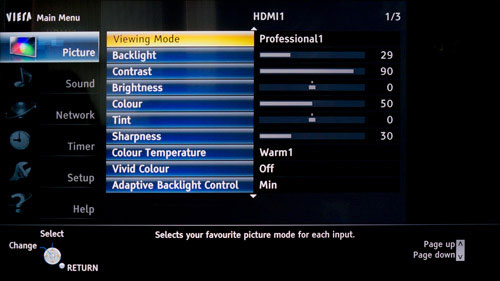 [Picture] menu
All of the advanced picture controls we'd expect are in here, and on top of the basic adjustments (for Backlight level, Contrast, Brightness and so on), we have greyscale and gamma refinement menus (with 10-point precision), and a full three-axis colour management system for primary and secondary colours. (You're having your £5,500 4K TV calibrated – right?)
We're mainly used to these menus from Panasonic's plasmas (RIP), but the TX-L65WT600B has some LCD-specific and 4K-specific adjustments included as well. The most obvious is [Adaptive Backlight Control], which adjusts the intensity of the LEDs according to the brightness level specified by the video signal itself. Even the best of these implementations will reveal some brightness shifting if the LEDs and the software controlling them can't respond quickly enough to sudden changes in brightness, but overall we feel that these systems are worth it when they're carefully implemented (as Panasonic's is). Of course, in a perfect world we wouldn't need them, but the design of LCD means light control is a good idea to avoid dark scenes appearing "lit up", and until 4K OLED is affordable…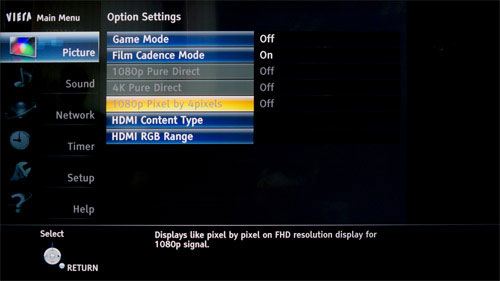 [Option Settings] menu
The [Option Settings] submenu has access to the [1080p Pure Direct] system (which bypasses options video purists don't care about in order to avoid loss of colour resolution) and its counterpart, [4K Pure Direct]. We turned both on in order to keep the processing path as straightforward as possible.
There's also the option to use a simpler 1080p->2160p (HD->UltraHD) upscaling mode, called [1080p Pixel by 4pixels] which we'll talk more about later.
Calibration
Note: Our Panasonic TX-L65WT600B review sample was calibrated using Calman Professional, the industry-leading video calibration software.
Greyscale
After doing a basic setup on the Panasonic TX-L65WT600 – which in our case involved selecting the [THX Cinema] preset mode and making sure any sharpening and noise reduction controls were turned off (or in the case of the sharpening, NEARLY off) – we were fairly satisfied with the overall colour of the picture, but since we're used to watching finely-tuned displays, we could detect a little bit of a beige tint. We ran some measurements on the screen to get some hard data and give our observation some scientific backing, and sure enough, it was there in the charts.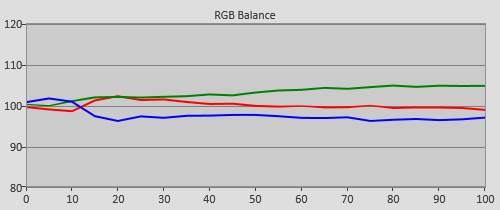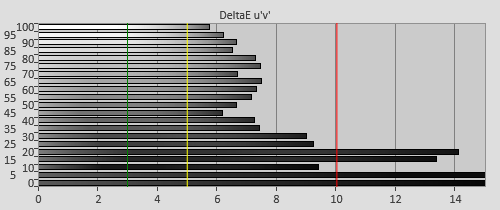 Pre-calibration RGB tracking and delta errors (dEs)
If you choose to have your Panasonic WT600 calibrated (which is almost mandatory given its price tag!) you can count on banishing any visible tint completely thanks to its comprehensive calibration controls. A basic 2-point adjustment (controlling the darker and brighter tones in the image, respectively) was enough to mostly curtail it, and the 10-point white balance adjustments allow a calibrator to hone in on any remaining regions of error.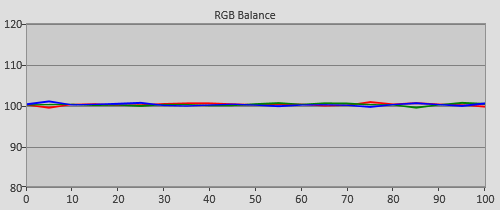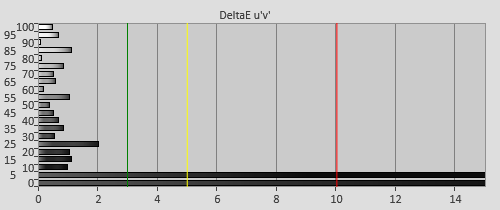 Post-calibration RGB tracking and dEs in [Professional] mode
Gamma
The THX Cinema preset mode uses an average gamma of about 2.14, which is reasonably close to the broadcast sort-of-standard of 2.2.
| | |
| --- | --- |
| | |
| Pre-calibration gamma tracking (2.14) | Post-calibration gamma tracking (2.4) |
As with previous Panasonic LCD televisions we've reviewed, it appears the company has adjusted the tonal response a little, compressing highlights in the picture in order to make it appear perceptibly brighter. With this trick, peak whites aren't actually any whiter (turning up the Backlight is what'd be needed for that), but brighter greys are boosted.
We calibrated for a gamma of 2.4, which arranges the tonal characteristics in a way that are a better match for viewing in a darkened room (frequent readers will know that the underlying reason for this lies in how our eyes react to ambient light). There's a 10-point gamma control as well, so we were able to adjust those controls in order to undo the aforementioned highlight compression and get exacting levels of light output from the LCD panel.
Colour
Panasonic has been nailing colour accuracy for some time now, and the Panasonic TXL65WT600B didn't buck this trend. Above, we described that our 65WT600 review sample had a small greeny-red tint to its grey shades, meaning that before this was adjusted out, all the other colours measured as having a small tint to them, too. We did say "small": all colours were very close to target and measured as having essentially unnoticeable errors. The extra greeny-ness present in grey shades is what we noticed most, but even then, only as experienced calibration techs.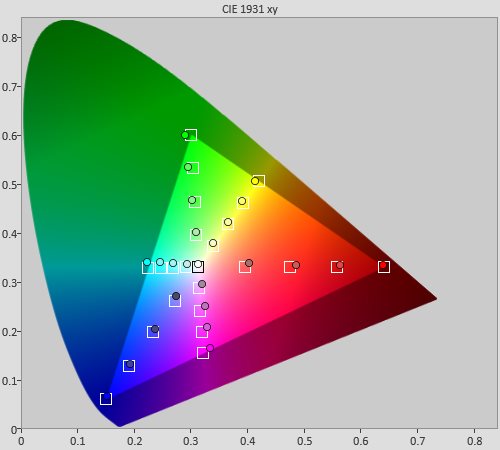 Pre-calibration colour saturation tracking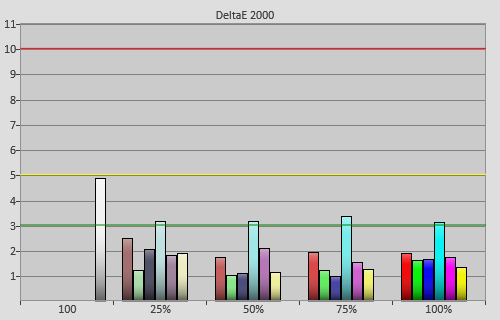 Pre-calibration colour errors (<3 not appreciable to the eye)
Although we could have happily have watched the above, the TX-L65WT600 has the necessary controls to perfect colour reproduction, and we have the necessary tools and software, so we did.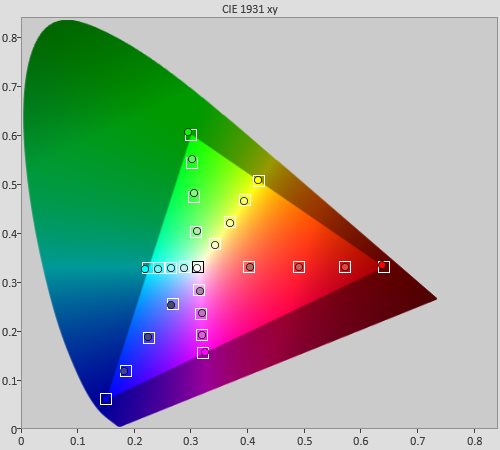 Post-calibration colour saturation tracking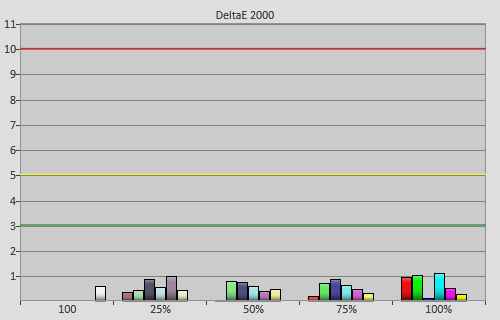 Post-calibration colour errors (<3 not appreciable to the eye)
The same outstanding colour linearity that we saw on Panasonic's 1080p LED LCDs and Plasmas is here on the TX-L65WT600, which is wonderful news. Not surprisingly for an LED-based LCD, the Viera WT600 does not support the extra-wide Rec.2020 Ultra HD colour gamut – in terms of colour, it's no better than a "normal" 1080p display. That's fine at the moment, because all of our existing content is made for use on this "normal" system. But, if content providers make genuine wide colour gamut content available in the future, be it via the web, broadcast, or a future 4K Blu-ray Disc, the Panasonic TX-L65WT600B – like all displays currently available – won't be able to show the extra colour. The jury is still out on whether they will do so.
Benchmark Test Results
| | |
| --- | --- |
| Dead pixels | None noted (pixels are tiny, good luck spotting defects!) |
| Screen uniformity | Typical for edge-lit LED, some non-uniformity visible with some content |
| Overscanning on HDMI | 0% with [16:9 Overscan] set to "Off" |
| Blacker than black | Passed |
| Calibrated black level (black screen) | 0.041 cd/m2 (full black screen auto-dims to near off) |
| Calibrated black level (ANSI checkerboard) | 0.046 cd/m2 |
| Black level retention | Mostly stable, but screen auto-dims with full black signal input – controllable with dynamic backlight control |
| Primary chromaticity | Excellent |
| Scaling | Excellent |
| Video mode deinterlacing | Very effective jaggies reduction |
| Film mode deinterlacing | Passed 2-2 PAL and 3-2 NTSC tests in SD and HD |
| Viewing angle | Good for VA LCD: slight loss of contrast and hue shift |
| Motion resolution | Good: some motion trails still visible with [Intelligent Frame Creation] on, usual LCD blur with off |
| Digital noise reduction | Defeatable NR |
| Sharpness | Defeatable edge enhancement |
| Luma/Chroma bandwidth (2D Blu-ray) | Full Luma, Full Chroma |
| 1080p/24 capability | No judder in 2D or 3D |
| Input lag (Leo Bodnar lag tester) | 36ms (Game Mode) |
| Full 4:4:4 reproduction (PC) | Yes, with [Pure Direct] modes enabled |
Power Consumption
| | |
| --- | --- |
| [THX Cinema] mode | 133 watts |
| Calibrated [Professional] mode | 140 watts |
| Standby | 1 watt |
Picture Performance
Black Level
By LED LCD standards, the TX-L65WT600's black level performance is good, and is very comparable to the other displays in this category. A full black screen, with auto dimming defeated, measured at 0.041 cd/m2. More tellingly for real-world content, the centre black patch in the ANSI checkerboard test chart measured at 0.046 cd/m2.
Panasonic has clearly passed on IPS LCD technology this time, since the full HD WT60/WT65 series only managed to muster black of 0.152 cd/m2. We're not sure what the exact type of panel found in the TX-L65WT600B is, but it's some sort of Vertical Alignment (VA) or VA-like technology.
Given that the company is (at least in the interim before OLED appears) going LED LCD-exclusive, we'd call that a wise move. Panasonic long promoted the superior viewing angle quality of IPS-type panels, and its recommendation that they be used in brighter rooms (with plasma fulfilling dark-room duties) seemed like an adept way of marketing their strengths and weaknesses. This was within the context of its dual LCD + Plasma lineup, with the plasma range being ideal for use in the sort of environments where IPS would result in a visible contrast limitation. With plasma soon to be gone, VA LCD is a more all-around proposition.
Motion Resolution
It probably won't surprise anyone to hear that as an LCD-based product, the Panasonic TXL65WT600 has LCD-style motion. In other words, 24fps films will look crisp, but very high motion video content (sports, etc) will reveal a small amount of blur.
With the FPD Benchmark motion resolution test, it was possible to discern all four fine moving lines even at their smallest possible size, but with some blur. That probably points to the need for a native 4K resolution test pattern; in the meantime we'll need to rely on subjective assessment.
Now that plasma and its naturally high motion resolution is gone, Panasonic would do well to have a look at what Samsung have been doing for years with their "Motion Plus" system. Other brands (Panasonic included) use signal type detection to determine this (meaning that 24p input from Blu-ray is covered by [24p Smooth Film] instead of [Intelligent Frame Creation], and the two can have different settings applied), whereas Samsung actually analyse the video signal to determine if the underlying content is film or video, meaning that if the user so chooses, films can be shown untouched but high-motion video content can benefit from the desirable boost in motion resolution. Samsung's approach means that films transferred to video frame rates (in other words, film on 50hz European or 60hz American TV) are still categorised by the TV as film, whereas other brands see the 50hz or 60hz input and assume video.
The Panasonic TXL65WT600B does feature backlight blinking, but it's our understanding that different sections of the screen are left unlit at certain times ("backlight scanning" might be more precise), rather than the screen being entirely unlit for small sections of time inbetween frames – like a plasma display, and like Sony's "Impulse" Motionflow mode on their LED TVs. Sony's "Impulse" mode, in its first generation, flickered too much to be usable for the most part, but later versions improved. Now that plasma is no more, Panasonic might want to investigate something similar to this (shutting off all of the light zones at once for a short time) to give their LCD-based screens some of the same "liveliness" that this technique afforded PDP.
3D
The Viera TX-L65WT600 had almost no difficulty with our multitude of signal processing tests, proving that it supports 3D in 50hz, 60hz, and 24hz without introducing any motion judder. We also checked that motion interpolation was defeatable in all signal types (we've seen some manufacturers attempt to patch over a lack of juddery 50hz implementation by forcing motion interpolation on, but Panasonic does it the right way).
The only small negative we could see was that, with side-by-side content, the scaling used to get the 960×1080 picture halves up to 3840×2160 looked a little pixelly, rougher than the equivalent scaling for 2D content. Some 4K Ultra HD TVs, bizarrely, have failed to deliver all 1080 lines of a 3D signal; this is a comparatively minor issue.
Standard Definition
If you're expecting SD content to look horrible on a 4K display, don't. There's a well-circulated supposition that the more pixels being interpolated, the worse the quality will be, although that isn't true in our experience.
Showing low-res content on a low-res display means that the low-res content can hide behind a sharply defined pixel grid (the visible pixel edges, or in the case of CRT TVs, scan-line gaps), with these sharp gaps also making the picture appear sharp. With the SD-sized pixel grid removed – as is the case on a 1080p HD or 2160p UHD screen – the content is shown "warts and all", and that's equally the case regardless of the resolution. Both 1080p HDTV and 2160p UHD/4K screens have considerably higher resolution than standard definition, so don't expect the standard-def quality to look any worse than on your old 1080p TV. As usual, Panasonic's careful video processing stops the quality of ropey over-the-air SD channels looking any worse than they have to.
High Definition
How a 4K display handles existing 1080-line HD content is of critical importance, given how much of it is in circulation. In the case of the TX-L65WT600B, "very well" is the answer.
The last similar 1080p-to-2160p upscaling process we checked out was Sony's "Reality Creation", which encompasses several scaling and texture enhancement processes. Early versions of Sony's scaling system had undefeatable and heavy sharpening tricks which drew attention to themselves, whereas recent iterations have allowed for more customisation and a more natural picture. Panasonic has got it right from day one on the Viera WT600, and it's telling how they haven't promoted the TX-L65WT600 as featuring any branded upscaling processes. We discussed Sony's terms already, Samsung has its "Quadmatic Picture Engine", whereas Panasonic isn't (yet?) playing that particular marketing game. Their scaling is clean, without any smoothed over fine edges or obvious halos/ringing artefacts. It works exactly as it should, preserving a sharp look without altering the underlying material.
Scaling is a necessary evil, with 1:1 mapping always being preferable – 1080p content will always look best on a 1080p screen. But, sensitively done upscaling like this is a strong second option, and obviously the only option for watching on a 4K screen. We were satisfied with turning up the [Sharpness] control a little, which very gently adds some high frequency lift, compensating for the inherent non-crispness that scaling adds. (The allowed range of values is 0-100, instead of only offering 10 steps like older Panasonic HDTVs). This linear processing is not the same as branded off-board sharpening boxes which step over the fine line between addressing technological factors and revisionism.
Panasonic offers the ability to totally disable spatial interpolation during the upscaling of 1080p content to the 2160p (4K) panel. The option is called [1080p Pixel by 4pixels], and turning it on instructs the TV to simply duplicate pixels from the HD source to fill the UHD panel, instead of calculating new inbetween ones. That means you'll be seeing absolutely no extra generated pixel data, but up-close viewing will look a little pixellated/jaggy as a result. The scaling process is of a very high standard anyway, so we didn't feel the need to use this option, although it's interesting for videophile users.
Speaking of revisionism, true to form, there isn't any to be had here (unless you opt into it). As usual, there is no unwanted video processing. Noise reduction, sharpening, contrast enhancement, and even a "brilliance enhancer" are on board – and all of them leave the decision up to the user.
One of the other elements of Panasonic's marketing push has been to promote the TX-L65WT600B's ability to reproduce every tiny coloured detail from a 4K source, which is especially useful for avoiding colour bleed if you have a computer hooked up to the display. As a result of this, the Panasonic WT600 can easily resolve all of the fine coloured details from a 1080p source. All consumer video formats use lower resolution coloured data as a compression tool, and many TVs do not even display all of that. To give you an idea of the subtle but welcome difference this can make, have a look at this close-up from a Blu-ray Disc menu (the film is Big Trouble in Little China, in case you're wondering where the text is from):
Click on the options below to compare chroma resolution:
[1080p Pure Direct] "Off" <========> [1080p Pure Direct] "On"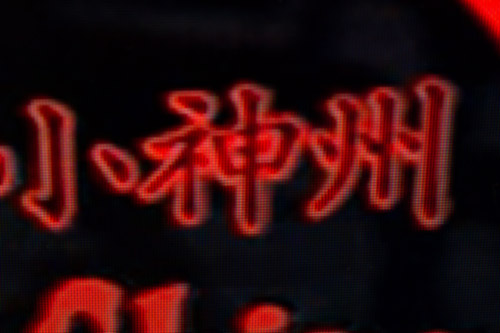 For decades, we've been fed the line that it's okay to cut the chroma resolution in half because the eye is less sensitive to coloured details. The last half is true, but in our opinion, we're reaching the stage where screen sizes and pixel counts make this practice all the more questionable. It's great to see Panasonic squeezing out every drop of detail possible from an HD source, even down to the small coloured details.
So, what's not to like? We've already mentioned that the TXL65WT600 exhibits some motion blur with fast-paced video content – it's an LCD, after all – and similarly, panel uniformity is not perfect, which is attributable to the fact that this is a large LED edge-lit LCD screen. We've seen reports of uniformity problems across the web, but our review unit didn't feature anything that was outwith the norm for edge-lit LED LCD.
Ultra HD (4K/2160p)
UHD looks predictably great on the Panasonic TXL65WT600B, with the high resolution, accurate greyscale, accurate Rec.709 HD colour, and lack of extraneous video processing combining to produce an impressive image. As always, we're just left waiting for some more content.
At this stage, we're using a fast PC to output 4K clips to the display, but the TX-L65WT600 can also play them (in certain formats) from a USB memory stick. Just for kicks, we tried outputting 4096×2160 to the UHD TV. This is the Digital Cinema 4K resolution, which Sony also uses on their 4K projectors. It's also the output format of the REDRay player. We were impressed to see that, when pressing the Aspect Ratio button, the 65WT600 gave us the option of either cutting 128 columns from the left and right to fit the 4096-wide image onto the 3840-wide panel, or to letterbox (and therefore scale) the image to fit, with small black strips at the top and bottom. (There's also the option to squash the picture to fit). We doubt that most users will ever have the need for this, which makes it all the more surprising to see this level of attention to detail included.
We also confirmed that the Panasonic WT600 passes a full 4:4:4 signal even at 4K resolution, which is very good news for those using it as a gigantic 4K computer display. (The low input lag is also fantastic news for this same reason). It's very impressive that Panasonic managed to get full-bandwidth, no compromises 4K, when all manufacturers have (or have had at some point) difficulty even getting a full-bandwidth 1080p image through their 4K Ultra HD televisions.
Sony recently saddled their Bravia X9 4K UHDTV with undefeatable noise filtering, which caused it to blur out fine motion details in Ultra-HD content. Samsung used to have a similar problem a few years ago with HD, but have since added a fully working "Off" switch for the NR system. On the other hand, Panasonic has a long track record of frankly knowing better than this: engineers from the company have authored technical papers explaining how these sort of tricks ultimately work against the goal of high picture quality, if the source is already high quality (which we'd hope most UHD content will be). Once again, the video processing path is squeaky clean.
Console Gaming
The Panasonic TXL65WT600 carries over the fast gaming performance of the WT60/WT65 HD LED LCD into the 4K realm: with [Game Mode] enabled, our Leo Bodnar input lag tester reported a fast 36ms of lag. Gaming on LCD still doesn't feel as responsive as on plasma, from our experience, but that's becoming an increasingly less relevant comparison to make with Panasonic shuttering that technology.
Conclusion
The TX-L65WT600B is an excellent 4K/Ultra-HD outing from Panasonic. To borrow a phrase, "it just works". The colours are accurate, the scaling clean, and there is no unwanted video processing opted into on the viewer's behalf. Everything we can think of is controllable, and the display's ability to eek out every fine pixel of coloured detail even from a 4K source indicates a high level of attention to detail.
From a casual glance, it might look similar to Panasonic's top-end 1080p LED LCD, the WT65. The critical difference is that the company's debut 4K display uses VA LCD technology, meaning that it can deliver fairly deep blacks which are much deeper than what Panasonic's other IPS-type LCDs could provide. That addresses our key gripe with some older Panasonic LCD products, and as we discussed, it makes sense to use VA LCD technology now that Panasonic is going exclusively LCD.
Were we to factor price more heavily into our final rating, we wouldn't be very complimentary to any 4K UHD TV. As always, early adopters will pay a high price for access to the latest technology, even if they spend most of their time watching "normal" 1080p content. Of course, at this stage, if we were spending any money ourselves, we'd be snapping up one of Panasonic's outstanding final 1080p plasma TVs, which overall do offer a better picture when all factors are considered.
But since you're reading a review of an Ultra HD display, it's probably an Ultra HD display that interests you – in which case Panasonic's Viera WT600 is a wonderful addition to a lineup of relatively similar products.