Panasonic is truly committed to bringing high-quality 4K Blu-ray playback to the masses – no company offers more UHD BD player models than the Japanese brand at this time of writing. Besides the critically-acclaimed flagship DMP-UB900 and step-down DMP-UB700, Panasonic has also introduced three new series at CES 2017 back in January, namely the DMP-UB400, the DMP-UB310 and the DMP-UB300. Today, we're taking a look at the UB400 which retails for £300, half the UB900's launch price a year ago.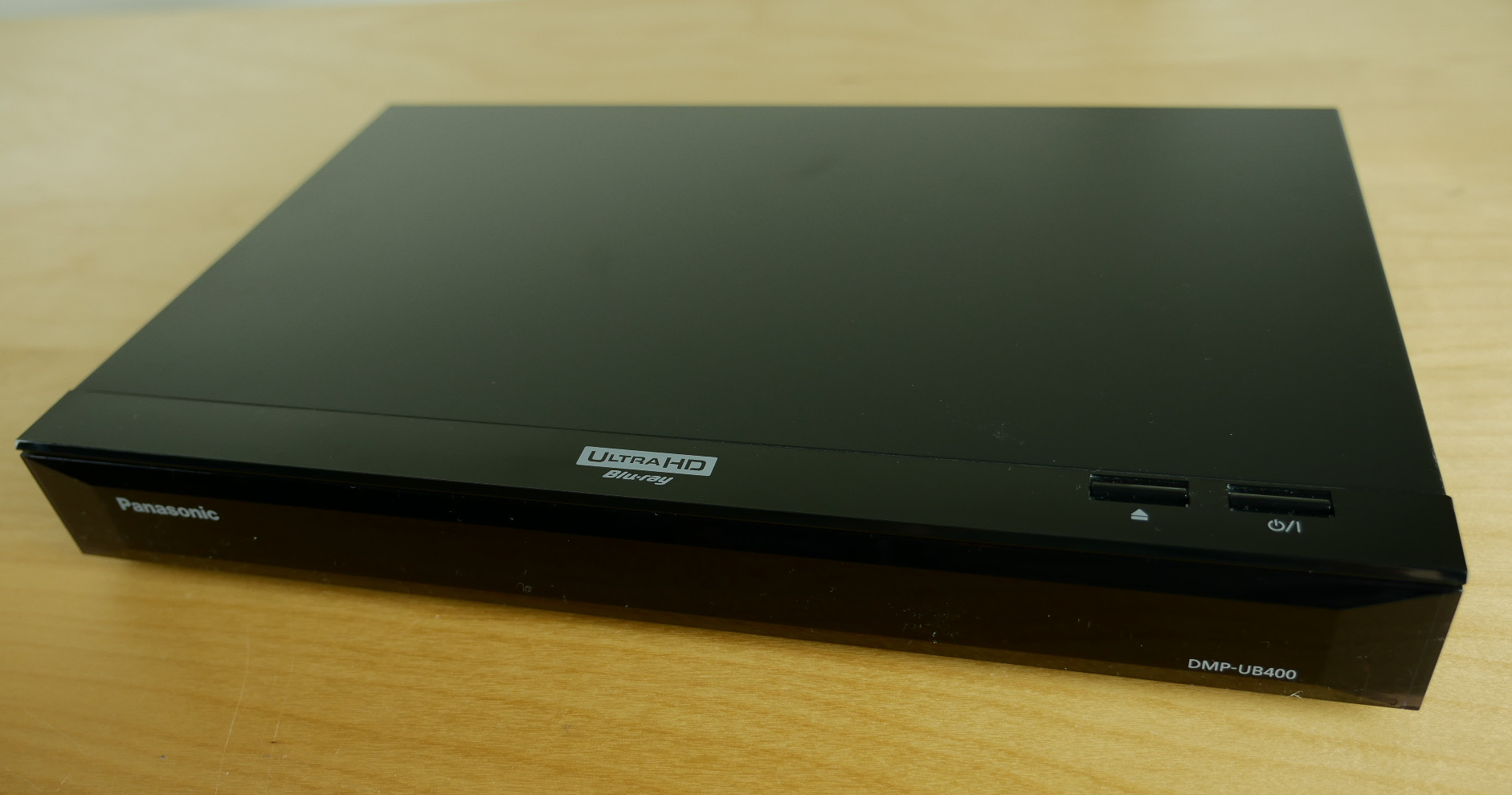 In physical terms, the DMPUB400 is not as wide, deep or heavy as the top-end DMPUB900, though its metallic casing, black finish, glossy front flap (no LED display) and decent build quality did enough to prevent the machine from carrying a budget, plasticky feel. Integrated WiFi, High Premium Clarity sound with optical audio out, as well as two HDMI ports for split audio/video outputs (to accommodate legacy equipments like AV receivers and soundbars which don't support HDMI 2.0a or HDCP 2.2) are provided. Note that the UB400 is the most affordable Ultra HD Blu-ray player from Panasonic to feature twin HDMI outputs – the step-down UB310 and UB300 will only have one HDMI output.

Whilst it'll never be as classy as the backlit remote bundled with the Panasonic DMP-UB900, the basic remote control that ships with the DMP-UB400 is freshly adorned with a couple of welcome additions. The first is a dedicated [HDR Settings] button which lets users directly select one of four presets to make HDR material more watchable in a brighter viewing environment. The second is a [Playback Info] button that was missing from the UB700's remote; this allows users to immediately find out not only the disc's resolution, bit-depth, colour gamut and chroma sampling, but also the player's corresponding output, which can be extremely useful for troubleshooting playback issues.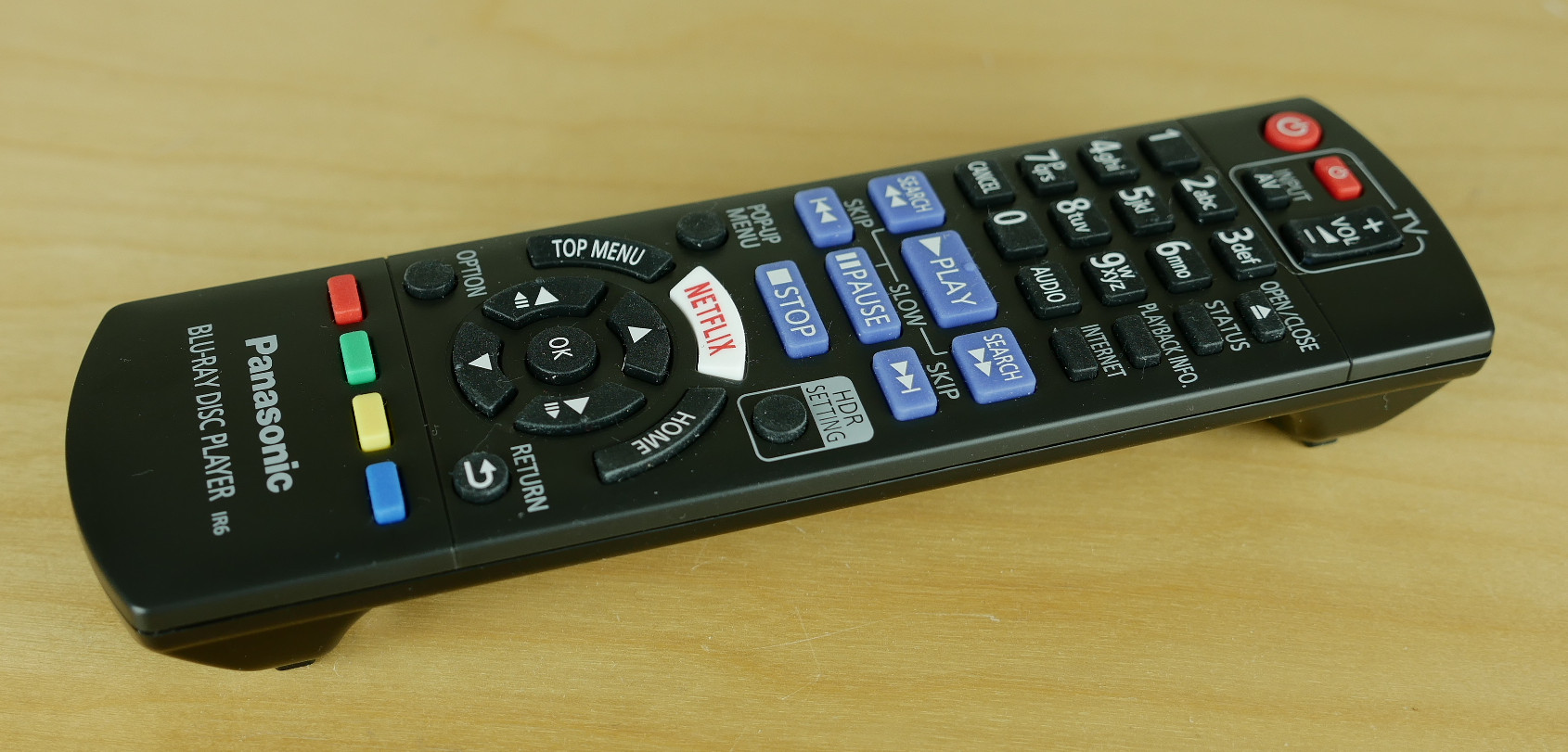 Operation was quiet, and discs loaded with impressive speed. The Panasonic UB400's HDMI video output from 4K Blu-rays appeared identical to its more expensive UB700 and UB900 siblings, judging from various test patterns and UHD BDs we served up and scrutinised on several calibrated HDR TVs. Presentation was squeaky clean without any revisionist tampering such as undefeatable noise reduction or edge enhancement, whilst frequency responses for both luma and chroma were as sharp and detailed as we've seen on any stock Ultra HD Blu-ray players.
Moving beyond excellent native 2160p24 and 1080p24 Blu-ray performance, the Panasonic DMP-UB400EBK offered at least two features not currently available on last year's UB900 and UB700 (although both will receive a firmware update in the near future to enable these features). One is a 10-bit video output mode, something we've been lobbying Panasonic to implement on their 4K Blu-ray players since last year.
On the DMPUB700 and DMPUB900, the video output from UHD Blu-rays is forced at 12-bit, causing older televisions which can't handle 12-bit video properly to exhibit posterisation in scenes with smooth gradients. On the DMPUB400, there now exists an "Auto (10bit Priority)" option under the [Deep Colour Output] control, which asks the player to output 10-bit video instead, thus reducing posterisation on these TVs.
The Panasonic DMP-UB400 also provides a [Dynamic Range Adjustment] setting for viewers who wish to brighten HDR images for daytime viewing. We've explained the reason why in a previous article, but 4K Blu-rays are generally unsuitable for consumption in the presence of significant ambient light due to how HDR10 code values are mastered in absolute luminance, yet there's little to no headroom for displays to elevate brightness since [Backlight] and [Contrast] are normally maxed out in HDR mode to meet the peak brightness demands of high dynamic range material.
Some viewers resort to either engaging [Dynamic Contrast] on their HDR TVs, or increasing the [Contrast] setting on the 4K Blu-ray player itself. While both methods can work effectively to bump up APL (Average Picture Level), they typically also clip specular highlight detail (which is a key benefit of HDR). Panasonic's [Dynamic Range Adjustment] approach instead cleverly applies YUV-to-RGB conversion before gain adjustments, allowing for brightening of APL without clipping specular highlights (to a certain degree).
The four [HDR Settings] options are merely presets with [Dynamic Range Adjustment] fixed at specific values:
"Standard" = [Dynamic Range Adjustment] "0"
"Natural Environment" = [Dynamic Range Adjustment] "+4"
"Light Environment" = [Dynamic Range Adjustment] "+8"
"Bright Environment" = [Dynamic Range Adjustment] "+11"
Although cranking [Dynamic Range Adjustment] up to maximum didn't blow out bright highlights in a grey ramp test pattern that's mastered to 1000 nits, in practice we did observe some clipping of coloured highlight detail in 4K Blu-ray films. As always, be judicious with the use of such a powerful control: we advise going with [HDR Settings] "Natural Environment" if you're watching HDR in a non-dark room, maybe "Light Environment" at a stretch.
Like its Panasonic siblings, the DMPUB400EBK delivers class-leading HDR-to-SDR conversion for users who don't own a HDR television, or projector owners who do not wish to trigger HDR mode for fear of elevating black floor without noticeable peak luminance benefits. Colour conversion looked properly saturated, blacks were not clipped and there's no visible posterisation, none of which could be said of OPPO 203's attempt.
Interestingly, the UB400 also boasts an HLG-to-HDR10 conversion feature, though we're not entirely sure how useful it's going to be, considering that HLG (Hybrid Log-Gamma) is intended to be an HDR format used in broadcast, and the DMPUB400 is a physical media player without onboard tuners. Perhaps streaming HLG through IP (for example BBC iPlayer app) on a non-HLG-compliant TV?
None of Panasonic's UHD Blu-ray players support Dolby Vision HDR format, or 24p output from Netflix streaming (it's locked at 60p). At this time of publication, there are no DV 4K Blu-ray available on the market – we don't think it's a dealbreaker given the UB400's many strengths.
Verdict
Delivering excellent video quality and novel processing features in a smaller, more affordable package, the Panasonic DMP-UB400 represents outstanding value for money.