Panasonic has launched another 4K Blu-ray player at the IFA 2016 consumer electronics trade show in Berlin this afternoon. Given a model number of DMP-UB700, the new Ultra HD disc spinner will sit below the company's critically-acclaimed DMP-UB900 we reviewed a few months ago.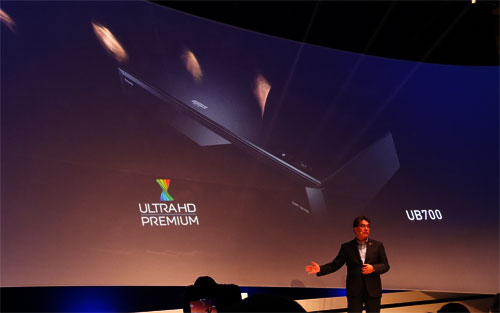 In keeping with 4K BD specifications outlined by the Blu-ray Disc Association (BDA), the Panasonic UB700 will support high dynamic range (HDR) videos. The machine will also boast Ultra HD Premium certification, having met the stringent criteria stipulated by the Ultra HD Alliance (UHDA), supporting 3840×2160 ultra high-definition resolution at 50p and 60p, as well as Rec.2020 wide colour gamut.

To deliver superb picture quality with realistic depth and vibrant colours, the Panasonic DMPUB700 features a new 4K High-Precision Chroma processor comprising high-quality processing to upsample 4:2:0 chroma from Ultra HD Blu-ray discs to 4:4:4, which has been developed with the help of Panasonic Hollywood Labaratory (PHL) Blu-ray R&D facility. A 4K Direct Chroma upscaling function also upconverts 2K content to higher-res pseudo-4K images with beautiful colour reproduction.
Similar to the step-up UB900, the Panasonic DMP-UB700 provides dual HDMI outputs for separate video and audio piping, allowing owners to continue using their legacy AV receiver or home theatre system which are not HDCP 2.2-compliant. Fans of 3D movies will be pleased to learn that 3D Blu-ray playback will continue to be supported, albeit in 1080p format. Dolby Vision media support has not been specified, so our wait for a Dolby Vision 4K Blu-ray player continues (at least at this time of publication).
As far as we could tell, the main feature missing from the UB700 versus the UB900 will be high-quality analogue audio output. The recommended retail price (RRP) has been set at £399.99 (£200 less expensive than the flagship UB900, and also undercutting Samsung's seminal UBD-K8500 which exhibits undefeatable noise reduction on red/blue channels), making it a tremendously attractive proposition for viewers who wish to join the 4K HDR resolution. Availability is scheduled for late October/ early November.