The beauty of modern televisions is that they can be updated with the latest software either automatically (over the air or internet) or manually (through a USB stick) to fix existing bugs or introduce new features. On this note, LG Electronics has released a beta firmware (version 04.31.02) for its UB850V series of 4K Ultra HD TVs, which we've found to improve several aspects of picture quality on the 49-inch model that's still sitting in our test room.
3D Full HD
When we reviewed the LG 49UB850V two months ago, we noted that the TV didn't deliver full HD 3D resolution, failing to fully resolve the alternating black and white vertical single-pixel lines in our custom-authored test pattern.
| | |
| --- | --- |
| | |
| Before firmware update | After firmware update |
We're pleased to report that firmware 04.31.02 has addressed this issue, restoring arguably the most appealing attribute of 4K ultra high-definition (UHD) TV, namely full HD resolution from a passive 3D display. With this most recent firmware, LG has also toned down the blur filter processing in 3-D mode, so that extra-dimensional images no longer look softened. We sampled a few of our favourite 3D clips on the 49UB850, and were very happy with the amount of detail, texture and depth on show.
Improved Pseudo-Local Dimming
Once updated with software version 04.31.02, our LG UB850V review sample exhibited less blooming/ haloing artefacts due to improved backlight management and pseudo-local dimming algorithm. With [LED Local Dimming] set to "Low", more dimming zones (there are 12 columns in total, spanning the entire height of the panel) stayed lit even when there's only a small area of bright elements on screen. While this configuration did not lower black level as aggressively, we preferred it since blooming (which was more distracting) was reduced substantially.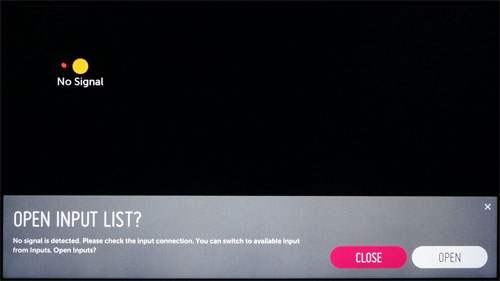 Furthermore, whenever the firmware-updated 49UB850V encountered a blank input, a screen-wide infobar would pop up at the bottom asking if you'd like to switch inputs, effectively forcing the LED backlight to stay illuminated, again minimising the occurrence of blooming. Very clever, LG.
Other Enhancements
OSD (on-screen display) menu (including WebOS) speed and responsiveness was noticeably faster after installing the new firmware, contributing to a smoother and much more pleasant user experience. Netflix 4K streaming is now fully operational on the 49UB850, having been unavailable when we tested the UHD television back in June.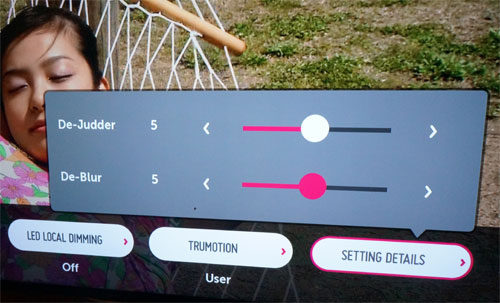 A [De-Blur] slider has been added to the [TruMotion] "User" setting, though it didn't improve motion resolution beyond the LCD baseline of 300, which is hardly surprising given that the UB8500 lacks any functional motion blur reduction technology (you'd have to go one rung higher to the UB950V for that).
Verdict
It's refreshing to see a TV manufacturer responding to constructive feedback in a quest to improve its products. In light of the various improvements brought about by the latest firmware, we've upgraded the rating of the LG 49UB850V to "Qualified Recommendation" in our original review.