Poll a group of hardcore video enthusiasts about their favourite Blu-ray player, and an OPPO machine will likely end up very high – if not top – of the list. The brand is revered among the AV community for several reasons: bit-perfect output, premium build quality, and extensive customer support long after a player has first shipped. In fact, the OPPO BDP-103 remains the only Blu-ray deck that has scooped our rarely-bestowed "Reference Level" award to date.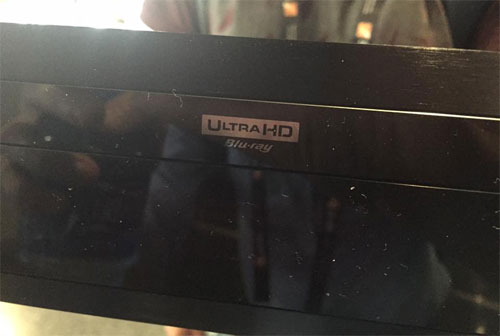 Photo credit: Chris Heinonen
And so with the industry marching relentlessly towards a new video age comprising 4K UHD (ultra high-definition) and HDR (high dynamic range), AV fans began to await the arrival of an Ultra HD Blu-ray player from the company. After initially teasing a photo of its forthcoming 4K disc spinner on Twitter a few months ago, OPPO has this week shown its new UDP-203 4K BD player to select journalists in a closed-door preview at the CEDIA 2016 expo in Dallas.
Update 17 September 2016: OPPO has officially put up an advanced notification webpage where you can see a product shot showing a central display panel beneath the disc tray loader and a front USB port.

Few details are known about the OPPO UDP203, but going by photos and tweets from Chris Heinonen, editor of Reference Home Theater, the player will feature an archetypal OPPO design with a central disc loader and brushed metallic front, as well as dual HDMI outputs for separate video and audio connections, so owners with legacy non-HDCP 2.2-compliant AV receiver or home theatre system can continue using their existing equipment without having to upgrade.

Photo credit: Chris Heinonen
Other titbits gleaned by Heinonen at CEDIA regarding the OPPO 203 included 5Ghz Wifi capability, absence of Darbee, and a launch price of only $499 which seemed surprisingly keen, given that the brand's players generally sell between the £500 and £1,000 mark in the UK. Dolby Vision (DV) support wasn't explicitly mentioned, but many will be hoping that there's a DV-compatible chipset onboard, and OPPO is merely waiting for certification. Availability is slated for before the end of the year, so we've put the OPPO UDP-203 straight on top of our Christmas wishlist.
Update 21 September 2016: Leading AV journalist John Archer has been informed at a UK briefing that the OPPO UDP-203 and the step-up UDP-205 do have Dolby Vision-capable chipset (custom-built by Mediatek), but they're still in the certification process. The UK list price for the 203 will be £599.
Source: Chris Heinonen via FlatpanelsHD.com