In case you've missed the memo, curved TVs are big on Samsung's agenda, so much so that to date the South Korean manufacturer hasn't even got around to sending us a 2015 flat-screen model for review despite our repeated requests. And so, sitting in our test room today is yet another curved display from Samsung, but with two small twists.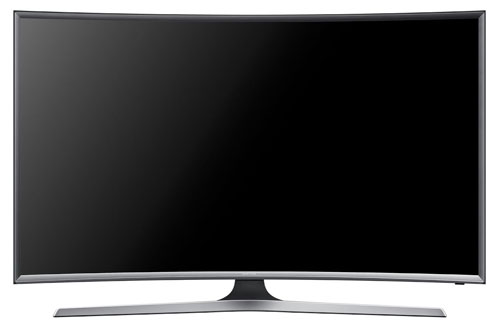 First, the UE32J6300 is the smallest curved TV yet from the company, coming in at a screen size of 32 inches, although larger versions are available at 40″ (UE40J6300), 48″ (UE48J6300) and 55″ (UE55J6300). It also features only full HD 1080p rather than the more fashionable 4K UHD (ultra high-definition) resolution which, to be fair, would probably be overkill for a 32in television.
It's worth mentioning too that with all the focus being put on 4K Ultra HD, the J6300 series is actually Samsung's highest-ranked 1080p HDTV for 2015. Let's see how it performs.
Design
The presence of a curvature (however gentle) on a television this small is certainly a novelty. The black bezel is reasonably slim, with its bottom border taking on a lighter, silvery hue to not only provide a classy two-tone effect, but also complement the finish of the Y-shaped stand.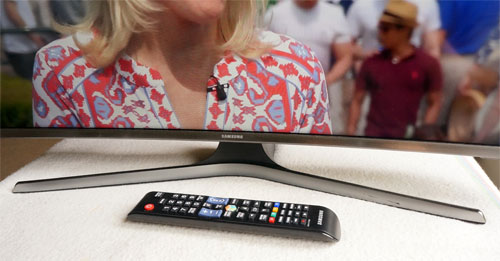 Step round the back and you'll see that the Samsung UE32J6300AK's chassis is chunkier than most (thus hinting at direct instead of edge-lit LED backlighting), but we're more than happy to accommodate the bulk if black levels and screen uniformity are improved as a result. Build quality is decent.
Connections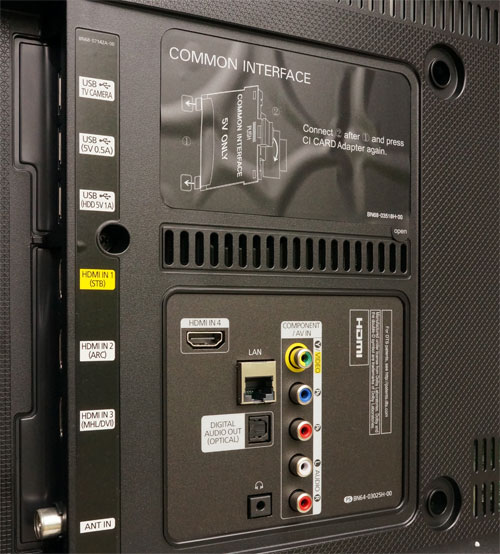 4x HDMI, 3x USB, component, aerial for Freeview HD, LAN, optical & headphone out
Calibration
No surprises here, the calibration controls on our Samsung UE32J6300AKXXU review unit worked like a dream, allowing us to obtain highly accurate greyscale and colours in [Movie] mode, the most accurate picture preset out of the box. Gear used to calibrate the Samsung 32J6300 included a profiled Klein K10-A meter, a DVDO AVLab TPG signal generator, and SpectraCal's CalMAN software.
Greyscale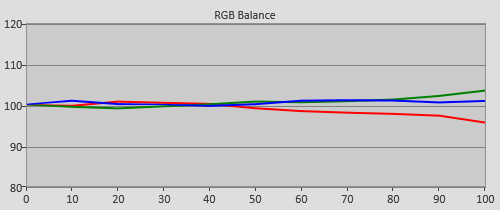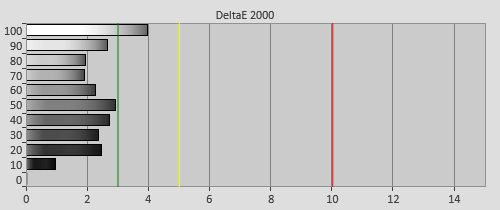 Pre-calibration RGB tracking and delta errors (dEs) in [Movie] mode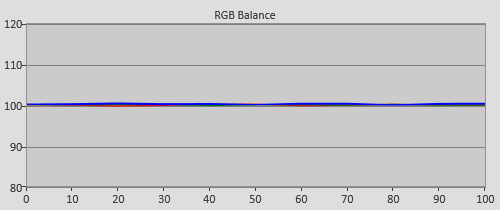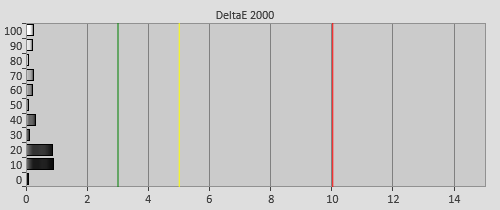 Post-calibration RGB tracking and dEs in [Movie] mode
Gamma
| | |
| --- | --- |
| | |
| Pre-calibration gamma tracking (2.25) | Post-calibration gamma tracking (2.38) |
Colour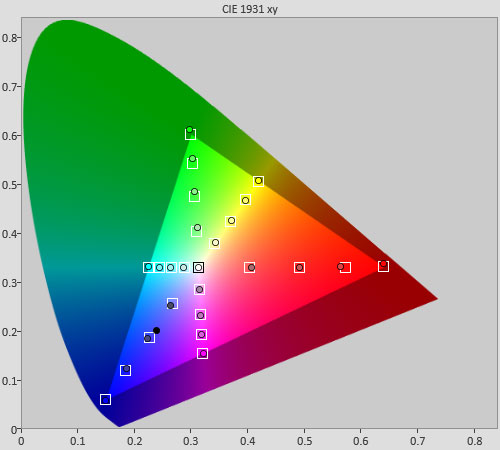 Post-calibration colour saturation tracking in [Movie] mode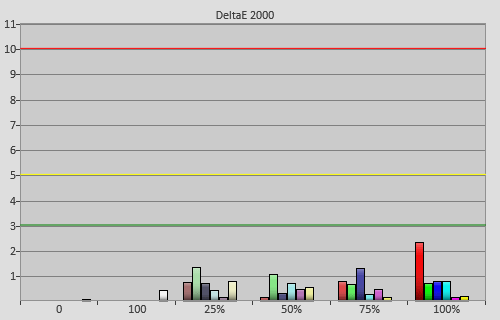 Post-calibration colour errors (<3 not appreciable to the eye)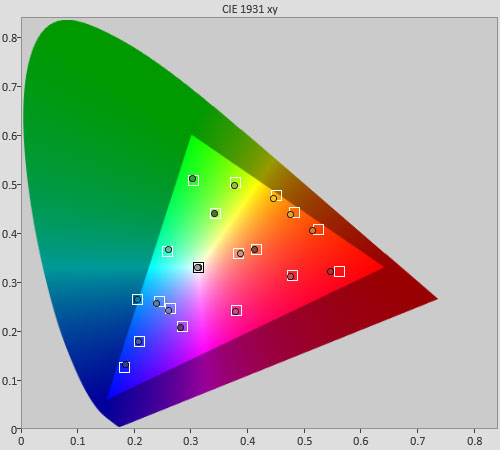 Colour Checker Classic test after calibration in [Movie] mode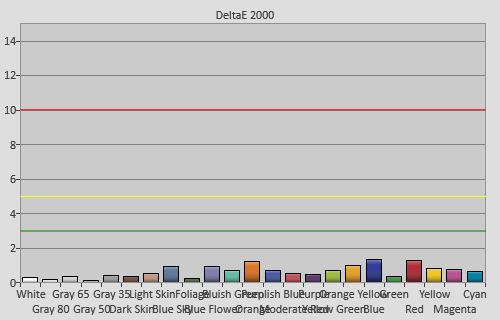 Post-calibration Colour Checker Classic errors (<3 not appreciable to the eye)
Benchmark Test Results
| | |
| --- | --- |
| Dead pixels | None |
| Screen uniformity | Two darker vertical bands near left & right edges |
| Overscanning on HDMI | 0% with [Fit to screen] set to "On" |
| Blacker than black | Passed |
| Calibrated black level (black screen) | 0 cd/m2 (LEDs shut off) |
| Calibrated black level (4×4 ANSI) | 0.042 cd/m2 |
| Black level retention | Auto-dimming with full black screen |
| Primary chromaticity | Excellent |
| Scaling | Excellent: sharp & detailed with minimal ringing |
| Video mode deinterlacing | Very effective jaggies reduction |
| Film mode deinterlacing | Passed 3:2 & 2:2 in SD & HD with [Film Mode] on |
| Viewing angle | Decent for an LCD-based display |
| Motion resolution | 1080 with [Auto Motion Plus] enabled |
| Digital noise reduction | Optional; effective when engaged |
| Sharpness | Defeatable edge enhancement |
| Luma/Chroma bandwidth (2D Blu-ray) | Full luma; chroma horizontally blurred |
| 1080p/24 capability | No telecine judder |
| Measured panel refresh rate | 120Hz |
| Input lag (high-speed camera) | 31ms compared to lag-free CRT |
| Leo Bodnar input lag tester | 42ms in [PC] mode |
| Full 4:4:4 reproduction (PC) | Yes, with 60hz signal and [PC] input label |
Power Consumption
| | |
| --- | --- |
| Default [Standard] mode* | 44 watts |
| Calibrated [Movie] mode | 39 watts |
| Standby | <1 watt |
Note: Out of the box, [Eco Sensor] was enabled by default in the [Standard] picture preset.
Picture Quality
Black Level & Contrast
Despite the curvature, the VA-type panel on Samsung's 32″ J6300 yielded a deep shade of blacks by LED LCD standards, coming in at 0.042 cd/m2 on both a full-field video black (though with auto-dimming defeated by displaying a pause icon from our Blu-ray player) and a 4×4 ANSI chequerboard pattern once we pegged peak white to our normal target of 120 cd/m2.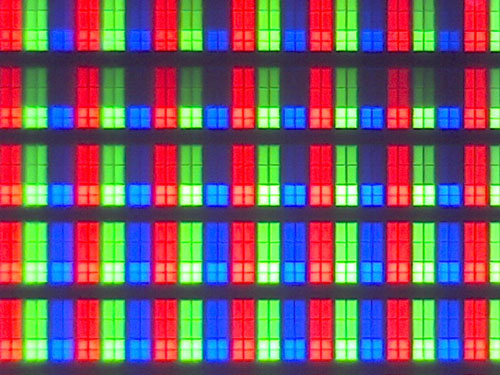 Macro shot of subpixel structure indicating VA LCD matrix
The UE32J6300 doesn't feature any advanced dimming system (apart from shutting off its LEDs on a full-black screen), but we never felt it's needed at this size and price point especially given the set's impressive native black-level response.
Backlight/ Screen Uniformity
Likely helped by the direct-lit LED configuration, backlight uniformity on the Samsung UE-32J6300 drew no complaints from us: after calibration, we detected no clouding or corner bleeding even under examination in a dark room. However, when cycling through full-field grey patterns, we did notice two slightly darker vertical bands running down near the left and right edges of the screen, which is probably related to the stress required to bend the LCD panel. Fortunately, the banding was pretty much invisible throughout most of the photorealistic content (including Women's World Cup football and Wimbledon tennis) we sampled on the television.
Motion
For a £500 TV, the motion handling on the 32J6300 was outstanding – we honestly didn't expect Samsung to equip such an affordable set with some of the best motion-enhancing technologies available on the market.
Lovers of black frame insertion (BFI) can activate the tech on the UE32J6300 by switching on [LED Clear Motion] in the [Auto Motion Plus] "Custom" submenu, which improves motion clarity tremendously without incurring interpolation artefacts or soap opera effect (SOE) in 24fps movies. Some image darkening and flicker inevitably ensued due to how BFI works, but the former could be adequately compensated for by cranking up [Backlight] (we measured a max luminance of 150 cd/m2 in full-field white with [LED Clear Motion] engaged), whereas the latter was a non-issue (for us) in most real-life material except during truly bright scenes.
Viewers who demand higher brightness or are particularly sensitive to flicker can also choose to forgo black frame insertion, and use the separate deblur and dejudder controls (again found in the [Auto Motion Plus] "Custom" submenu) to achieve high motion resolution with minimal side effects.
We watched a ton of Wimbledon matches on the 32in Samsung J6300 off the TV's internal Freeview HD tuner, and were very happy with what we saw. Colours looked wonderfully realistic with greens appearing especially lush; there's no ghosting or triple-ball effect; and only very rarely we spotted the odd stutter which we couldn't be sure wasn't in the broadcast source itself.
Gaming
Samsung's 2015 TVs have consistently delivered the lowest input lag among television models we've tested this year, but unfortunately the rabbit hole did not extend deep enough to the UE32J6300. Our Leo Bodnar device returned a figure of 42ms with the TV's HDMI input labelled as [PC] which also permitted for full 4:4:4 chroma reproduction.

Input lag in [Game] mode came in slightly higher at 49ms, though that's still tolerable compared with the 124ms obtained in [Movie] mode.
Conclusion
The Samsung UE32J6300 is without doubt the best 32-inch TV we've reviewed so far when it comes to picture quality. As more and more buyers opt for larger TVs, the 32″ segment has become somewhat neglected, with displays of this screen size invariably getting handicapped in the areas of calibration controls, colour accuracy, native 24p playback or motion resolution.
Samsung's 32in J6300 proved to be a wonderful exception. It offered the full suite of 10-point white balance controls and advanced colour management system (CMS) as found on the company's higher-end 4K Ultra HD models costing thousands of pounds more, contributing to outstandingly accurate image rendition once greyscale and colours were dialled in. Motion handling was another big step up over other 32-inch televisions we've seen: the 32J6300 presented 1080p/24 Blu-ray films smoothly without judder or interpolation, and even had room for an eminently usable black frame insertion (BFI) system to boost motion clarity.
If we had to nitpick, input lag could be lower, though please bear in mind that the numbers posted by the UE32J6300AK were perfectly acceptable for playing video games right before the 2013 and 2014 Sonys as well as 2015 Samsungs came along and blew everything else out of the water. Viewing angles were also not the best, but it's par for the course for VA LCD panels, and we'd take this over the shallower blacks and reduced contrast that plague IPS screens any day.
And it's not as if the price of the UE32J6300 is prohibitive; in fact, it's downright affordable. The recommended retail price (RRP) is set at £500, but street price has already dropped to around £400 at this time of writing. If you're in the market for a new 32″ TV, the Samsung UE-32J6300 should be your first choice, even if you're not a fan of the curved screen format.