Although Samsung has been making waves with its UHD (ultra high-definition) and curved tellies, it's worth remembering that the bulk of the TVs shifted by the Korean manufacturer will be your bog-standard full HD 1080p flat-screen displays, such as the UE40H6400 we're reviewing today. It is the direct successor to last year's immensely popular UE40F6400 which was Samsung's best-selling model in 2013 according to reliable sources.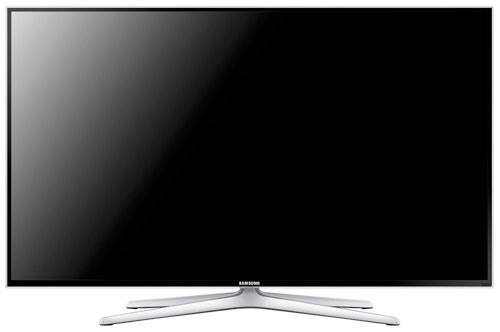 The Samsung UE-40H6400 is the 40-inch version within the company's H6400 series which is also available in a myriad of screen sizes: the 32-inch UE32H6400, the 48-inch UE48H6400, the 55-inch UE55H6400, the 65-inch UE65H6400, and even a 75-incher (UE75H6400). In terms of specifications, probably the biggest differentiator between the Series 6 and step-down models is the presence of 3D capabilities (naturally the active variant for Samsung). Other features include a Quad-Core processor (which really does speed up navigation and Smart TV apps compared to its predecessor the F6400), inbuilt Freeview HD tuner, integrated WiFi connectivity, and the firm's latest Smart Hub internet-connected platform.
Design
With a transparent trim and a chrome-plated four-legged pedestal stand (which is swivel-capable), the UE40H6400's styling is a throwback to Samsung televisions from a few years ago. The polished black bezel is impressively slim given the set's direct LED underpinning, however it's obvious when inspected from the sides that the chassis is not as sleek as an edge-lit LED LCD TV.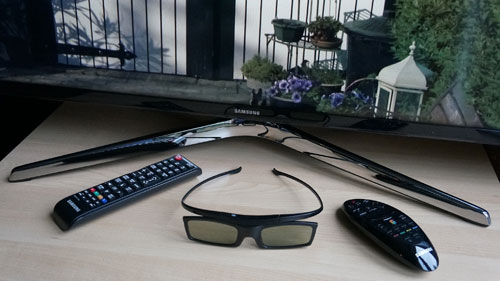 Build quality was decent, with no sign of wobbliness once assembled, though as is normally the case with midrange Samsungs, we experienced minor difficulty screwing in the supplied screws due to slightly ill fit.
Connections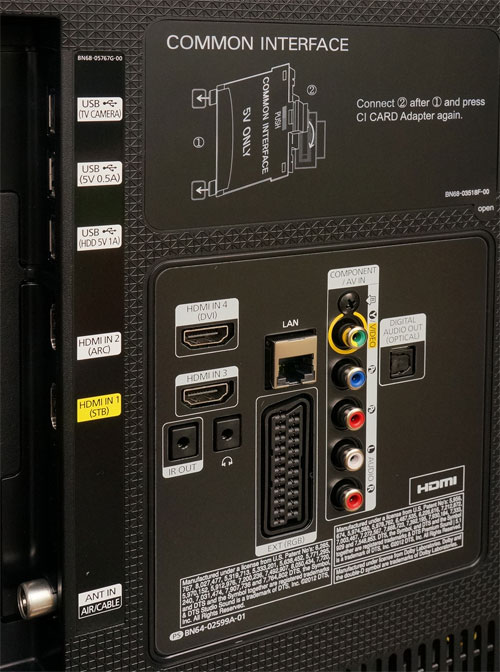 Rear: 4x HDMI, 3x USB, component, RGB Scart, aerial, LAN, headphone & audio outs
Calibration
Note: Our Samsung UE40H6400AKXXU review sample was calibrated using CalMAN 5, the industry-leading video calibration software.
As per usual for Samsung flat-panel televisions, the most accurate out-of-the-box picture preset on the UE40H6400 is [Movie] mode, which we engaged for the purpose of calibration.
Greyscale
The default [Colour Tone] of "Warm2" yielded greys that had too much green, and too little red and blue. The discrepancy became larger as the image got brighter.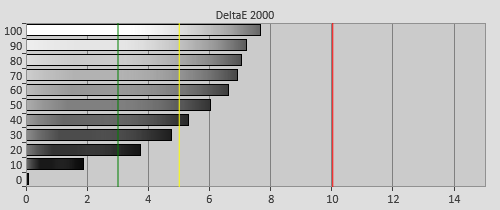 Pre-calibration RGB tracking and delta errors (dEs)
In [Movie] mode, both two-point and more precise 10-point [White Balance] controls are available. We first used the former to get greyscale in the ballpark of D65, then the latter to further tweak a few luminance levels that needed finetuning to hit reference-level greys and 2.4 gamma: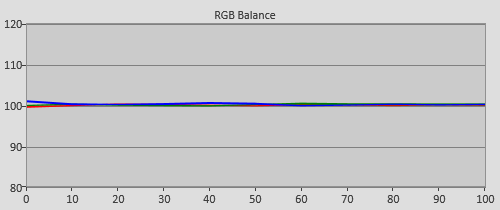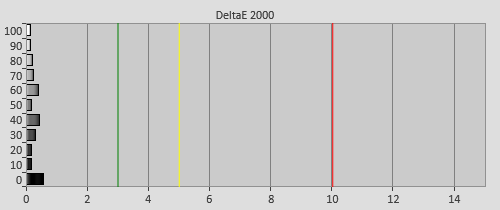 Post-calibration RGB tracking and delta errors (dEs)
After calibration, delta errors (dEs) sat comfortably below 1 across the entire luminance range, which means that either bright or dark images on screen will be free of any untoward tint.
Gamma
Prior to calibration, measured gamma on the 40in Samsung H6400 approximated the conventional value of 2.2. However, since 2011 the International Telecommunications Union (ITU) has endorsed 2.4 as the recommended EOTF (electro-optical transfer function) for flat-screen HDTV used in dark-room studio mastering.
| | |
| --- | --- |
| | |
| Pre-calibration gamma tracking (2.19) | Post-calibration gamma tracking (2.4) |
Samsung provides enough picture-affecting controls for us to rectify this. We first dialled [Gamma] down to "-2", then repurposed the onboard [10p White Balance] system for 10-point gamma to attain absolutely flat 2.4 gamma tracking. With such linearity in place, on-screen pictures will exude richness and a smooth yet realistic tonal transition from video black to peak white.
Colour
Samsung offers three [Colour Space] options on the UE-40H6400: "Auto", "Native", and "Custom". Out of the box, "Auto" was most accurate to Rec.709 HDTV specification, whereas "Native" expanded the gamut slightly, skewing green, magenta and yellow.
We opted for [Colour Space] "Custom" though, which is Samsung's highly configurable, RGB-based colour management system (CMS). We went to work, and achieved an excellent result: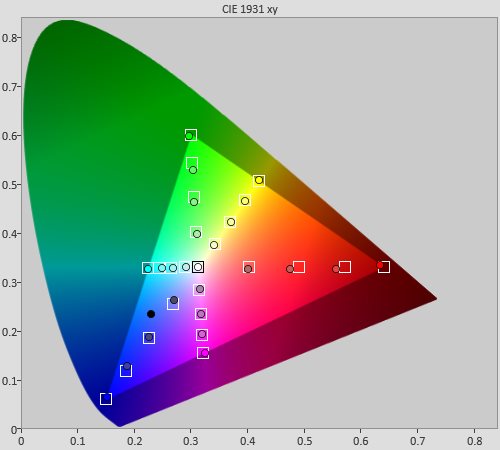 Post-calibration colour saturation tracking in "Custom" [Colour Space]
While certain sub-100% saturation tracking points appeared undersaturated on the CIE diagram above, delta errors (dEs) were actually all below 3, meaning that these inaccuracies are not perceptible to the human eye in real-world viewing.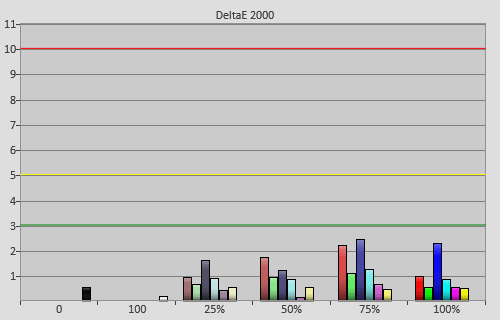 Post-calibration colour errors (<3 not appreciable to the eye)
Benchmark Test Results
| | |
| --- | --- |
| Dead pixels | None |
| Screen uniformity | Fantastic – no backlight bleed or clouding |
| Overscanning on HDMI | 0% with [Picture Size] set to "Screen Fit" |
| Blacker than black | Passed |
| Calibrated black level (black screen) | 0 cd/m2 (LEDs shut off) |
| Calibrated black level (ANSI checkerboard) | 0.041 cd/m2 |
| Black level retention | Auto-dimming with full black screen |
| Primary chromaticity | Excellent |
| Scaling | Very good |
| Video mode deinterlacing | Effective jaggies reduction |
| Film mode deinterlacing | Passed 3:2 cadence over 480i & 1080i; and 2:2 over 576i |
| Viewing angle | Decent for VA LCD: washout occurs beyond 45° off-axis |
| Motion resolution | 600 to 1080 with [Motion Plus] engaged; 300 otherwise |
| Digital noise reduction | Optional; effective when engaged |
| Sharpness | Defeatable edge enhancement |
| Luma/Chroma bandwidth (2D Blu-ray) | Full luma; chroma horizontally blurred |
| 1080p/24 capability | No judder in 2D |
| Input lag (high-speed camera) | 38ms compared to lag-free CRT |
| Leo Bodnar input lag tester | 43ms |
| Full 4:4:4 reproduction (PC) | Yes, with 60hz signal and "PC" input label |
Power Consumption
| | |
| --- | --- |
| Default [Standard] mode | 26 watts |
| Calibrated [Movie] mode | 55 watts |
| Standby | <1 watt |
Note: Out of the box, [Eco Sensor] is enabled by default in [Standard] mode, which explains why the energy usage prior to calibration was much lower than after.
Picture Quality
Black Level
After full calibration with peak white luminance capped at our usual target of 120 cd/m2 to level the playing field, native black level on the Samsung UE40H6400's VA-type LCD panel came in at 0.041 cd/m2 on a 4×4 ANSI checkerboard pattern, putting it among the deepest we've measured on 2014 LED LCD TVs alongside Sony's superb Bravia W7 and W8 series. Like almost every other LED TV on the market, the 40H6400 shuts down its backlight when asked to display a full black screen.
Backlight Uniformity
Backlight consistency was fantastic on our Samsung H6400 review unit, with nary a hint of corner bleeding or clouding even before calibration. We also didn't notice any significant dirty screen effect (DSE) during panning shots across a uniformly toned background (for example football field). While plasma still rules in the screen uniformity stakes, what we saw on the UE-40H6400 was probably as good as it gets for an LCD-based display. This is the reason why video enthusiasts generally prefer direct-lit LED technology – even without local dimming – over its edge LED counterpart.
Motion
We've previously praised Samsung's improved backlight scanning/ black frame insertion (BFI) algorithm for 2014 in our review of the UE55HU8500 and UE55H8000 step-up models, declaring that it produced some of the sharpest motion clarity we've seen from LED LCDs without sacrificing luminance or incurring too much flicker. On the UE40H6400, we could still hit 120 cd/m2 with BFI enabled (by engaging [LED Clear Motion] in the [Motion Plus] "Custom" submenu), but had to crank [Backlight] and [Contrast] to near maximum to do so, indicating that the underlying LCD panel isn't equipped with as much overhead reserve as the HU8500 and H8000, and therefore needed to be driven harder.
We could still live with [LED Clear Motion] on the H6400, but for a quirk on our sample, whereby [Motion Plus] "Custom" would randomly (and stealthily) switch to what appeared to be the "Smooth" setting even though it's still labelled as "Custom". We picked up this issue when several 24fps adverts aired after the Champions League football on ITV HD suddenly exhibited the dreaded "soap opera effect" and interpolation artefacts with [Motion Plus] set to "Custom" and [LED Clear Motion] switched on. We managed to reproduce the issue with our own motion interpolation detection test pattern too, but there was no way for us to determine if it was specific to our review unit, or down to the firmware (ours was version 1106, the latest at time of publication).
The aberration seemed to be limited to [Motion Plus] "Custom" – we tried various permutations, including setting [Blur Reduction] to "8" and [Judder Reduction] to "0", and still the issue would surface from time to time. It really is a shame, because we think very highly of Samsung's [LED Clear Motion] this year, and with this covert introduction of frame interpolation marring its benefits, it feels like an opportunity missed.
Samsung does provide three other interpolation modes, namely [Motion Plus] "Clear", "Standard" and "Smooth". All three settings doubled motion resolution (as judged via the horizontally scrolling lines pattern in Chapter 31 of the FPD Benchmark Software test disc) from the baseline LCD level of 300 to 600, so we recommend sticking with "Clear" for general use since it introduced the least interpolation artefacts and soap opera effect (there's still some though – we'd turn it off for movies and 24p dramas).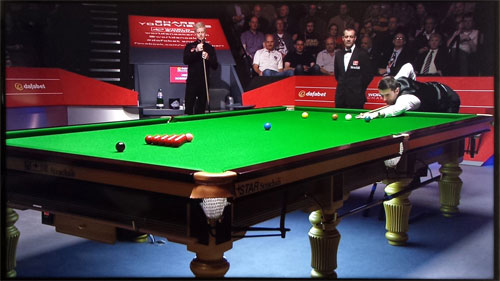 Motion hiccups following a change of pace with scene cuts were by and large absent on the UE-40H6400 compared with other Samsung TVs on which we've noted this problem. Again, we're not sure if it's the TV hardware or firmware 1106 that did the job, but we sat through a number of snooker frames and full-length live football broadcasts without witnessing any stutter or tearing/ combing.
2D
HD material – well-mastered Blu-ray discs in particular – looked gorgeous on the 40″ Samsung H6400, thanks largely to the display's deep blacks and linear 2.4 gamma which worked in tandem to create lush, contrasty pictures. Accurate greyscale and colours post-calibration helped immensely too, imbuing the on-screen image with not only authenticity, but also plenty of vibrant "pop" especially when set against the rich blacks.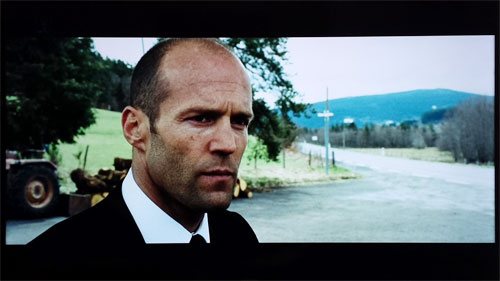 A uniform backlight is most appreciated during dark sequences in a dimly lit viewing environment, but one should not underestimate its effect on brighter scenes too. The Samsung UE40H6400's outstanding backlight uniformity, which we attribute entirely to its direct-lit LED light source, freed the picture on screen from any sort of inconsistent patchiness, ensuring a lucid, pristine presentation.
Standard-definition video processing is of a high standard – the 40H6400 scored well in various test cards in the HQV Benchmark disc. Nowadays we actively shun standard-def programmes whenever we can, but the handful of SD channels we accidentally surfed onto looked fairly decent.
3D
Good news: after four long years since the launch of Samsung's first 3D LED television, the UE40H6400 is the first one that supports native 1080p/24 playback in 3D mode, although – at the risk of sounding like a broken record – we're unsure if the improvement was brought about by hardware or firmware. Regardless, watching 3D Blu-rays on a Samsung LED LCD – what with its relatively bright and gloriously full-res extra-dimensional images – without seeing judder or soap opera effect for the very first time was an absolute revelation.
Update 3 May 2014: After scrutinising more test patterns, we concluded that the 40H6400 still did not support native playback of 3D 1080p/24 video signal, contrary to what we wrote earlier. It appears that Samsung's applying a gentle form of motion interpolation to three-dimensional content even with [Motion Plus] set to "Off", thus smoothing any judder which was originally present. The interpolator was quite mild, keeping soap opera effect and interpolation artefacts to a mostly unnoticeable level – Samsung's solution was probably the next best alternative to native 3D 24fps playback. Although we don't see why you'd want to, the forced motion interpolation in 3D mode – which was really subtle – can be defeated by engaging [Game] mode.
50Hz content in the third dimension, such as Sky 3D, were handled well without any forced interpolation which plagued the more expensive Samsung HU8500 and H8000 we tested last month.
Some crosstalk was inevitable particularly at certain stereoscopic depth, but because the ghost images were quite faint, they didn't really detract from our enjoyment. That said, dense backgrounds had a tendency to look blurry owing to crosstalk, though perversely the mushiness served to bring foreground objects into clarity, thus enhancing perceived tri-dimensional depth.
The H6400 ships with two pairs of SSG-5100GB active-shutter 3D glasses (simple self-assembly required) which are lightweight, and do not produce as much flicker as active 3D eyewear from some other brands.
Gaming
The Samsung UE-40H6400 clocked in a Leo Bodnar input lag figure of 43ms in both [Game] and [PC] modes, providing a more than acceptable if not spectacular responsiveness for playing PC or console games.

Lag in [Movie] mode was almost twice as high at 84ms.
Conclusion
With the UE40H6400, Samsung has successfully addressed our two major complaints about last year's outgoing UE40F6400. The addition of a Quad-Core processor definitely made menu navigation and Smart TV applications a fair bit zippier. 3D mode was much improved too, with Samsung toning down the forced motion interpolation so effectively that judder was cured yet no soap opera effect was introduced.
Otherwise, the Samsung 40H6400 is a shining example of why direct LED (even sans local dimming) is favoured over edge-lit models by those who value picture quality – we'd willingly accept a bigger waistline in exchange for a deep, consistent black canvas. Together with greyscale and colours which can be calibrated to near perfection, not to mention a street price just north of £600 at this time of writing, these positive attributes make the UE40H6400 one of the wisest buys if you're looking for a TV that can deliver first-rate image quality without breaking the bank.