We're not sure if anyone knows this, but according to our internal data on Samsung's LED LCD TVs, in years gone by its Series 7 has generated the least interest among potential buyers: we suspect most people would either settle for the midrange Series 6 which delivers outstanding bang for the buck, or go straight to the flagship Series 8 with all the bells and whistles.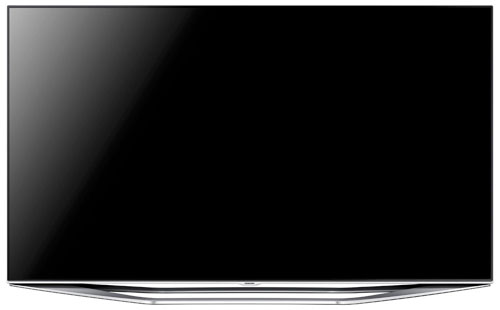 But this year, we think the Samsung H7000 will get more attention, since it's the highest-end flat-screen 1080p model in the company's 2014 TV lineup (the top-end H8000 range is curved, as far as full HD models go).
Design
We've taken in the 46-inch model (i.e. UE46H7000) for review, whose design is suitably attractive largely due to the uber-thin black bezel. The LCD panel sits on a non-swivel stand that spans the entire width of the screen, but because the sides are slanted upwards from the base, it can be placed on a narrower AV rack (good thinking there Samsung).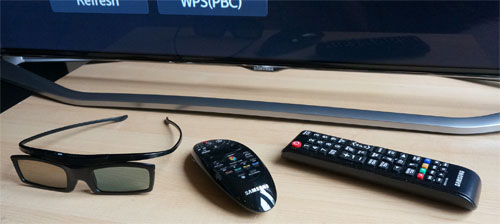 Features include edge LED backlighting, quad-core processor, a Clear Motion Rate (CMR) of 800, active 3D capabilities, inbuilt Freeview HD and satellite tuners, as well as the Korean brand's comprehensive suite of catch-up and Smart TV services.
Connections
Rear: 4x HDMI, 3x USB, component, SCART, aerial & satellite tuners, LAN, audio outs
Calibration
Armed with a profiled Klein K10-A meter, a DVDO AVLab TPG signal generator and CalMAN 5.3 video calibration software, we used the comprehensive array of picture-affecting controls provided on the Samsung UE-46H7000 to calibrate its greyscale to D65, gamma to 2.4, and colour space to Rec.709 HDTV standard.
We achieved excellent results throughout, with delta errors (dEs) never exceeding the humanly perceptible threshold of 3 across all our measurements, which means that real-world content won't be tinged with any visible inaccuracy.
Greyscale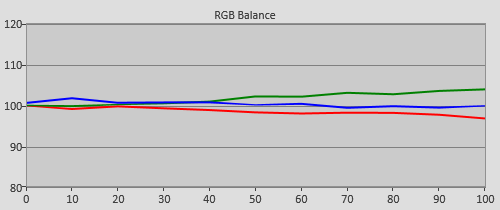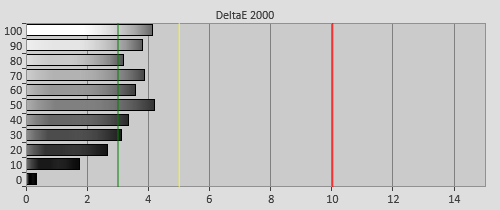 Pre-calibration RGB tracking and delta errors (dEs)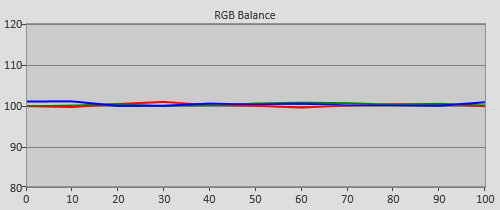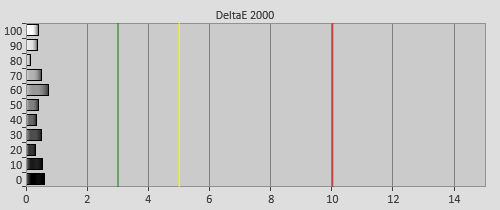 Post-calibration RGB tracking and delta errors (dEs)
Gamma
| | |
| --- | --- |
| | |
| Pre-calibration gamma tracking (2.19) | Post-calibration gamma tracking (2.4) |
Colour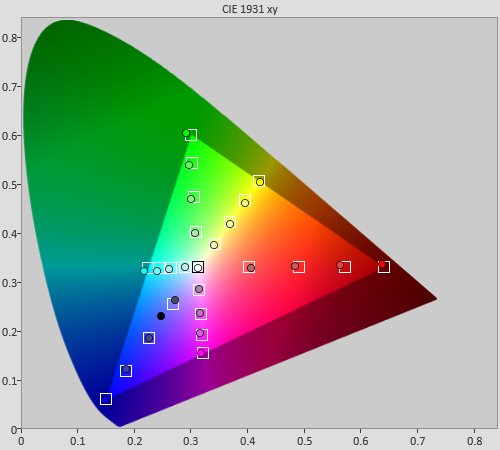 Post-calibration colour saturation tracking in "Custom" [Colour Space]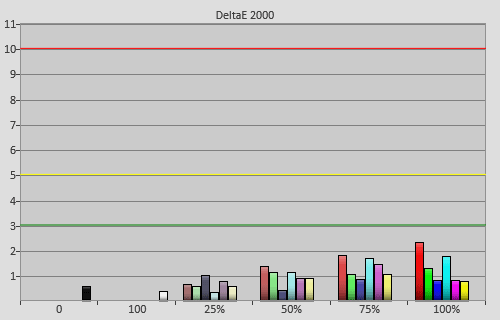 Post-calibration colour errors (<3 not appreciable to the eye)
Benchmark Test Results
| | |
| --- | --- |
| Dead pixels | None |
| Screen uniformity | Excellent for an edge LED LCD |
| Overscanning on HDMI | 0% with [Picture Size] set to "Screen Fit" |
| Blacker than black | Passed |
| Calibrated black level (black screen) | LEDs shut off |
| Calibrated black level (ANSI checkerboard) | 0.04 cd/m2 |
| Black level retention | Auto-dimming with full black screen |
| Primary chromaticity | Excellent |
| Scaling | Excellent |
| Video mode deinterlacing | Very effective jaggies reduction |
| Film mode deinterlacing | Passed 3:2 cadence over 480i & 1080i; and 2:2 over 576i |
| Viewing angle | Decent for VA LCD: washout occurs beyond 45° off-axis |
| Motion resolution | 1080 with [Motion Plus] engaged; 300 otherwise |
| Digital noise reduction | Optional; effective when engaged |
| Sharpness | Defeatable edge enhancement |
| Luma/Chroma bandwidth (2D Blu-ray) | Full luma; chroma horizontally blurred |
| 1080p/24 capability | No judder in 2D |
| Input lag (high-speed camera) | 32ms compared to lag-free CRT |
| Leo Bodnar input lag tester | 39ms in [PC] mode |
| Full 4:4:4 reproduction (PC) | Yes, with 60hz signal and [PC] input label |
Power Consumption
| | |
| --- | --- |
| Default [Standard] mode | 75 watts |
| Calibrated [Movie] mode | 56 watts |
| Standby | <1 watt |
Picture Quality
The Samsung UE46H7000 rendered a deep shade of blacks by LED LCD standards, with its native black level coming in at 0.04 cd/m2 on a 4×4 ANSI chequerboard pattern once we fixed peak white luminance to 120 cd/m2 as we always do in all our TV reviews to maintain a level playing field. Backlight uniformity on our review sample was supremely impressive too, with no clouding or backlight bleed in sight to detract from the image depth and immersiveness.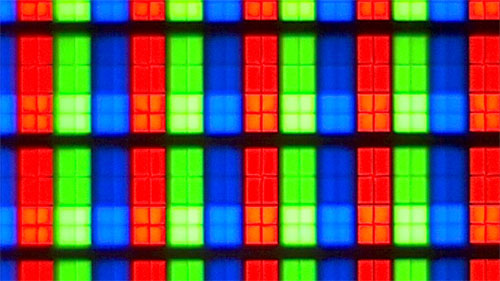 Subpixel structure indicating SPVA + PSA matrix
We've never found calibration controls to be lacking on high-end Samsung TVs over the past few years, and the same applies to the 46in H7000. Using the well-implemented picture-affecting controls, we dialled greyscale and colours on the display to truly accurate levels, delivering a sumptuous and natural-looking image that simply oozed plenty of "pop" owing to the 2.4 gamma.
Engaging [Motion Plus] boosted motion resolution from the normal LCD baseline of 300 lines (as determined via the horizontally scrolling lines pattern in Chapter 31 of the FPD Benchmark Software disc) to 1080, even on its mildest setting of "Clear". We particularly liked enabling [LED Clear Motion] in the [Motion Plus] "Custom" submenu, which activates black frame insertion (BFI) without introducing interpolation artefacts or soap opera effect (SOE) to 24fps movies. However, as is the case with several 2014 Samsung televisions we've tested/ calibrated, the BFI would sometimes stealthily switch to [Motion Plus] "Smooth" which caused films to look like cheaply-shot video, making it a no-go for users who do not wish (or have the knowledge/ experience) to tinker with the settings as necessary.
Tri-dimensional material looked wonderfully detailed with abundant texture and depth on the UE-46H7000, courtesy of full HD 3D resolution afforded by the active-shutter glasses (ASG) system. Judging from the challenging lantern scene in the 3D Blu-ray of Tangled, crosstalk was minimal, and if present was very faint and negligible. As with all Samsung's LCD-based 3D TVs, the 46″ H7000 did not support native 1080p/24 playback in 3-D mode, causing panning shots in 3D Blu-rays to display with mild telecine judder. The judder could be ironed out by setting [Motion Plus] to "Standard" or "Smooth", but both introduced soap opera effect and interpolation artefacts which are far more undesirable. If you're seeing stuttering/ juddering with 50Hz 3D content, for example broadcasts from the Sky 3D channel, try engaging [Game] mode which allows for smooth 50fps handling in the third dimension.
Our Samsung UE46H7000STXXU review unit was updated to firmware version 1110 (the latest at time of testing) which brought about a few improvements, notably reducing lip-sync error, as well as eradicating the phenomenon of LED backlight switching on and off like a disco light during difficult low-APL scenes (e.g. Uma Thurman being buried alive in Kill Bill Vol.2).

The UE46H7000's input lag measured at 40ms (using the Leo Bodnar tester) with [Game] mode engaged, which could be lowered a smidgen to 39ms by renaming the HDMI input label to [PC]. Although the Sony Bravias are more responsive, this is a more than decent figure for video gaming purposes. Input lag in [Movie] mode was 78ms.
Conclusion
At a time when most other TV brands (including Sony, Panasonic, LG and Toshiba) have curiously gone with IPS-type LCD panels on their flagship HDTVs this year, the superb SPVA panel on the Samsung UE-46H7000 makes it arguably the best 1080p television that money can buy among 2014 models, thanks largely to its outstanding black-level response and contrast performance.
Interestingly, the H7000 isn't even Samsung's non-4K range-topper, but we think its picture quality edges out the step-up curved H8000 series due to the former's slightly deeper and more uniform blacks. Firmware version 1110 cured several issues we've noticed on 2014 Samsungs (i.e. no more lip-sync delay or erroneous backlight fluctuation), and we certainly hope similar improvements can be rolled out to other models in the company's impressive TV lineup.