A retailer recently told us that seven out of every ten televisions sold to its walk-in customers are made by Samsung. If true, this statistic doesn't surprise us at all, because from our testing over the past couple of years, no TV maker has been more consistent than the South Korean giant in churning out high-quality LED LCD TVs model after model.
And the Samsung UE48H6400 we're looking at today is a prime example of the company's excellence. This 48-inch display doesn't carry the most cutting-edge of styling, but its picture quality puts most similarly-priced rivals to shame. Among the H6400's many praiseworthy attributes are deep blacks from a VA-type LCD panel, good backlight uniformity helped by direct-lit LED placement, a comprehensive array of calibration controls allowing for attainment of accurate colours, and impressive video processing.
Note: The design, on-screen display (OSD) menu, connections around the back, and remote controls on the UE-48H6400 are identical to those found on the smaller 40-inch UE40H6400 we reviewed back in May, so please refer to that article if you need more details or a refresher.
Technical Data
Calibration
We used a profiled Klein K10-A meter, a DVDO AVLab TPG signal generator, and SpectraCal's CalMAN 5.3 software to calibrate our Samsung UE48H6400AKXXU review unit in its most accurate picture preset, namely [Movie] mode.
The first-rate picture-affecting controls provided by Samsung allowed us to align greyscale to D65, gamma to 2.4, and colours to Rec.709 standard, resulting in no visible inaccuracies in real-life viewing.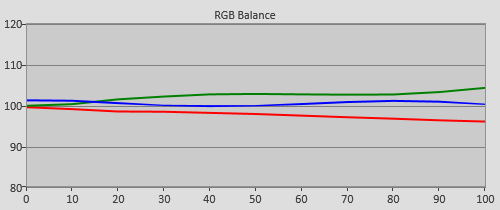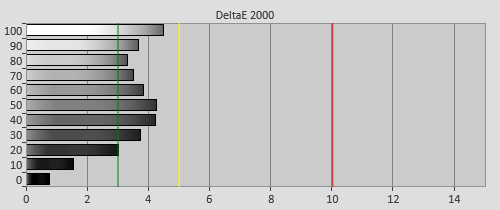 Pre-calibration RGB tracking and delta errors (dEs)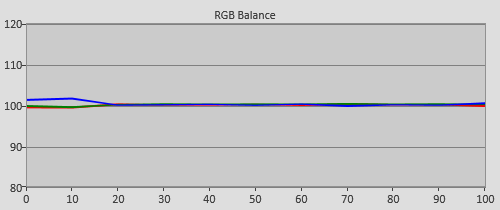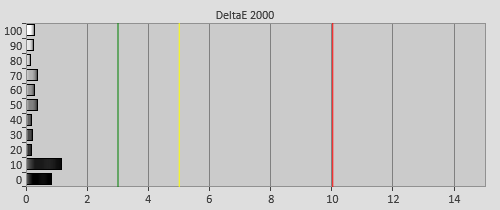 Post-calibration RGB tracking and dEs in [Movie] mode
| | |
| --- | --- |
| | |
| Pre-calibration gamma tracking (2.21) | Post-calibration gamma tracking (2.41) |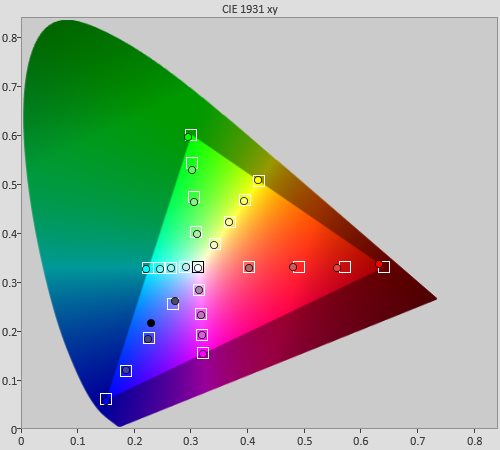 Post-calibration colour saturation tracking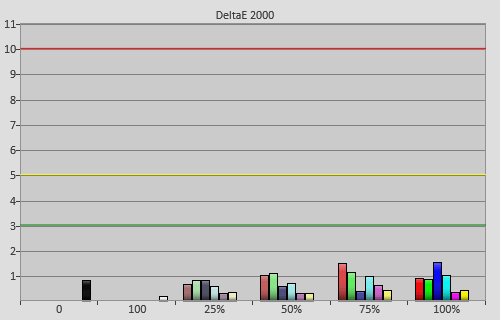 Post-calibration colour errors (<3 not appreciable to the eye)
Benchmark Test Results
| | |
| --- | --- |
| Dead pixels | None |
| Backlight uniformity | Good: no corner bleed or clouding; mild DSE |
| Overscanning on HDMI | 0% with [Picture Size] set to "Screen Fit" |
| Blacker than black | Passed |
| Calibrated black level (black screen) | 0.046 cd/m2 |
| Calibrated black level (4×4 ANSI) | 0.046 cd/m2 |
| Black level retention | Stable |
| Primary chromaticity | Excellent |
| Scaling | Very good |
| Video mode deinterlacing | Effective jaggies reduction |
| Film mode deinterlacing | Passed 3:2/480i & 1080i; and 2:2/576i |
| Viewing angle | Decent for VA LCD |
| Motion resolution | 1080 with [Motion Plus] engaged; 300 otherwise |
| Digital noise reduction | Optional; effective when engaged |
| Sharpness | Defeatable edge enhancement |
| Luma/Chroma bandwidth (2D Blu-ray) | Full luma; chroma horizontally blurred |
| 1080p/24 capability | No judder in 2D |
| Input lag (high-speed camera) | 37ms compared to lag-free CRT |
| Leo Bodnar input lag tester | 43ms |
| Full 4:4:4 reproduction (PC) | Yes, with 60hz signal and "PC" input label |
Power Consumption
| | |
| --- | --- |
| Default [Standard] mode | 79 watts |
| Calibrated [Movie] mode | 74 watts |
| Standby | <1 watt |
Black Level
The Samsung UE48H6400 uses a VA LCD panel which paints a deep shade of blacks by LED LCD standards. After fixing peak 100% white to 120 cd/m2, native black level measured 0.046 cd/m2 on both a full-field video black scene and a 4×4 ANSI chequerboard pattern.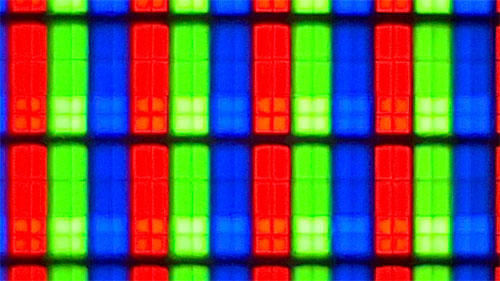 Subpixel structure indicating VA LCD matrix
Unlike most LED TVs we encounter (including the 40in version), our 48H6400 review sample did not shut off its LEDs when asked to display full-screen black. While commendable, we're not sure if this behaviour was specific to our individual unit, the screen size or the firmware.
Backlight Uniformity
After calibration, we did not witness any backlight bleed or clouding on our 48in H6400 sample – its direct-lit LED configuration likely helped in this regard. Some dirty screen effect (DSE) was present during panning shots across tonally uniform backdrops (for instance a football field), but in our experience this is par for the course for larger LED LCD televisions, unless you're willing to fork out a significant premium for a direct LED set with full-array local dimming (FALD) such as the Panasonic AX902/ AX900.
Motion
Enabling [Motion Plus] even at its lowest setting of "Clear" boosted motion resolution to 1080 (as judged using the horizontally scrolling lines test card in Chapter 31 of the FPD Benchmark Software disc) from the usual LCD baseline of 300. However, we could still see mild soap opera effect (SOE) with [Motion Plus] "Clear", so we recommend either switching [Motion Plus] off completely for 24fps content like Blu-ray movies, or engaging the "Custom" option with a high [Blur Reduction] value but [Judder Reduction] set to "0".
Inside the [Motion Plus] "Custom" submenu is also where [LED Clear Motion], i.e. Samsung's backlight scanning system, resides. Although activating this option increased motion clarity without introducing any SOE or interpolation artefacts, there's visible flicker and drop in brightness that would deter most viewers.
2D
Various high-def material, be them Blu-rays or Freeview HD broadcasts, looked supremely impressive on the UE48H6400, what with its velvety blacks, 2.4 gamma and neutral greyscale that contributed greatly to a tint-free image boasting tons of "pop" and depth. The TV's colour palette appeared rich yet never unnatural, with only a small tweak to the [Flesh Tone] control required to reproduce realistic skin tones.
One area of concern that has been raised by existing Samsung H6400 owners is lip-sync delay, particularly from the inbuilt tuner where no correction via an external receiver is possible. With the latest firmware version (at time of testing) of 2120 loaded on our set, we didn't experience this issue throughout the many SD and HD channels we sampled. Yes, look (and listen) hard enough and you'll notice a very slight discrepancy between picture and sound, but it never bothered us in real-world viewing.
3D
The Samsung UE-48H6400 ships with two pairs of active-shutter 3D glasses (flat-packed, requires assembly). While the overall extra-dimensional experience was decent thanks to full HD 3D resolution, non-intrusive crosstalk and minimal flicker, the 3DTV presented 24Hz and 50Hz content with some judder in the third dimension. To eradicate the judder, [Motion Plus] needed upping to "Standard", though of course this would introduce soap opera effect to films.
We've seen (and written about) this 3-D frame rate handling problem on every LCD-based 3D TV from Samsung, so it seems the manufacturer just isn't interested in improving the tri-dimensional performance of its televisions.
Gaming
Our Leo Bodnar input lag tester returned a figure of 43ms from the 48″ H6400 with [Game] mode engaged. Renaming the HDMI input label to [PC] did not reduce the lag below 43ms.

Outside [Game] and [PC] modes, input lag rose to 81ms which hampered responsiveness for playing video games.
Verdict
There were times we sat transfixed in front of the Samsung UE48H6400, scarcely believing the outstanding picture quality we're seeing from this eminently affordable set. At a street price of around £600, we cannot recommend it highly enough.