Samsung is really hitting the ultra high-definition (UHD) TV market hard this year, having released no less than four different 4K Ultra HD series (HU6900, HU7500, HU8200 and HU8500), with more expected to be on the way post-IFA. In for review today is the Samsung UE48HU7500: we've previously tested its larger 55-inch sibling, but figured that we'd take a look at this 48-incher too for a couple of reasons.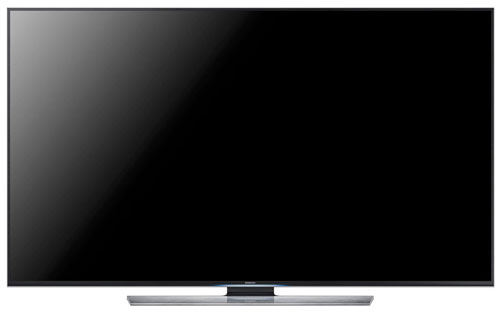 The 48HU7500 is the first television with a screen size of 48 inches to be reviewed by us; it's also the smallest-sized 4K TV to pass through our test room. So many questions, let's see if we can provide some answers.
Note: The physical design, on-screen menu, connection ports and remote controls on the Samsung UE-48HU7500 is identical to those found on the larger UE55HU7500, so please refer to that review if you need more details or a refresher.
Calibration
As is the case with most Samsung TVs these days, the UE48HU7500 calibrates like a dream, chiefly due to well-implemented calibration controls which work as they should. Using our Klein K10-A meter, DVDO AVLab TPG 4K signal generator and CalMAN 5.3 video calibration software, we obtained D65 greyscale, 2.4 gamma and accurate Rec.709 colours very quickly on our Samsung UE48HU7500TXXU review sample.
Greyscale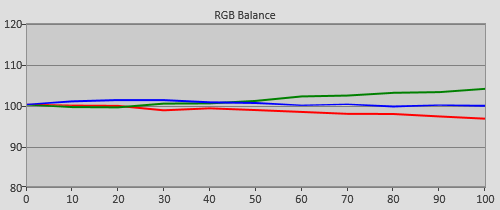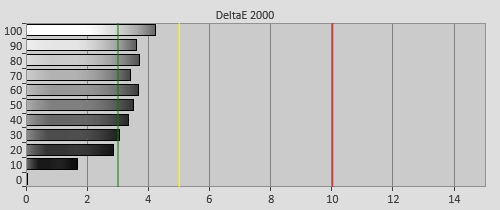 Pre-calibration RGB tracking and delta errors (dEs)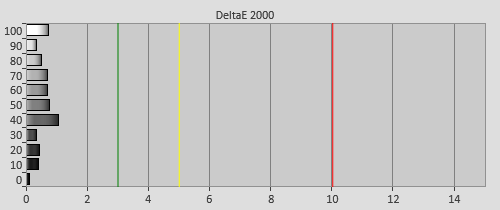 Post-calibration RGB tracking and dEs in [Movie] mode
Gamma
| | |
| --- | --- |
| | |
| Pre-calibration gamma tracking (2.17) | Post-calibration gamma tracking (2.38) |
Colour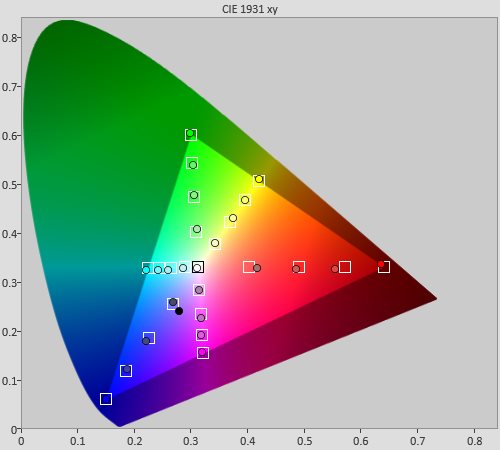 Post-calibration colour saturation tracking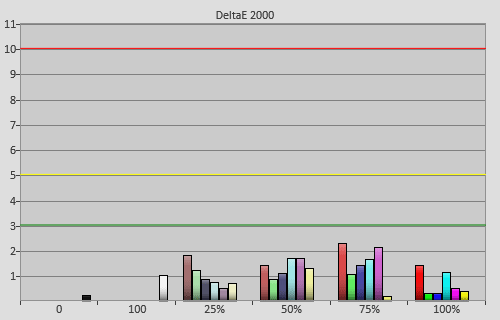 Post-calibration colour errors (<3 not appreciable to the eye)
Benchmark Test Results
| | |
| --- | --- |
| Dead pixels | None |
| Screen uniformity | Very good for edge LED LCD |
| Overscanning on HDMI | Defeatable with 1080p and 2160p (UHD) content |
| Blacker than black | Passed |
| Calibrated black level (black screen) | 0 cd/m2 (LEDs shut off) |
| Calibrated black level (ANSI checkerboard) | 0.057 cd/m2 |
| Black level retention | Auto-dimming with full black screen |
| Primary chromaticity | Excellent |
| Scaling | Excellent |
| Video mode deinterlacing | Very effective jaggies reduction |
| Film mode deinterlacing | Passed 2:2 PAL and 3:2 NTSC tests in SD and HD |
| Viewing angle | Decent – blacks & colours wash out beyond 40° off-axis |
| Motion resolution | 1080 lines (and likely higher) with [LED Clear Motion] on |
| Digital noise reduction | Optional; effective when engaged |
| Sharpness | Defeatable edge enhancement |
| Luma/Chroma bandwidth (2D Blu-ray) | Full Luma; Chroma vertically softened |
| 1080p/24 capability | No judder in 2D; mild judder in 3D |
| Input lag (Leo Bodnar tester) | 41ms in [PC] mode |
| Full 4:4:4 reproduction (PC) | Yes, with [PC] input label |
Power Consumption
| | |
| --- | --- |
| Default [Standard] mode | 67 watts* |
| Calibrated [Movie] mode | 87 watts |
| Standby | 1 watt |
*Note: [Eco Sensor] is enabled by default in [Standard] mode, which explains why energy usage was lower before calibration than after.
Picture Quality
The onboard VA-type panel provided a deep shade of black by LED LCD standards, measuring 0.057 cd/m2 natively once peak white luminance was fixed to 120 cd/m2. Engaging the [Smart LED] pseudo-local dimming system did not improve black level substantially on a 4×4 ANSI chequerboard pattern, but proved more useful on predominantly dark scene – our preferred setting was "Low" which introduced the least black level fluctuation.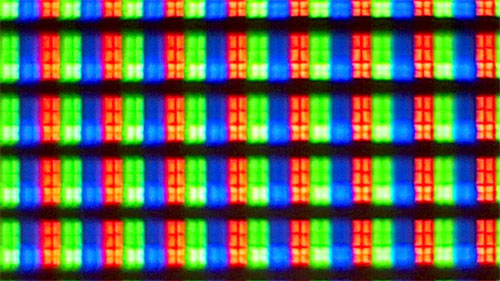 Subpixel structure indicating SPVA + PSA matrix
After calibration, colours looked wonderfully balanced, with no undue tinting to spoil proceedings. The supplied [Flesh Tone] control allowed us to dial skin tones to a highly accurate level, injecting authenticity to the entire picture. Accessing Netflix 4K streaming was straightforward, though we didn't think it superior to well-mastered 1080p Blu-rays from normal viewing distance. A subtle fan noise could be heard from the rear of the panel where the connection inputs resided – fortunately this was easily masked by normal television volume.
As expected from a properly designed active-shutter glasses (ASG) system, the Samsung 48HU7500 resolved full HD 3D resolution (and possibly higher) to deliver a tri-dimensional image that's brimming with texture and depth. Crosstalk was impressively low. As with all Samsung LCD-based 3D TVs we've tested to date, the 48in HU7500 did not support native 1080p/24 playback in 3-D mode, which means that slow panning shots in 3D Blu-rays will display with mild telecine judder, unless [Motion Plus] was set to "Standard" or "Smooth" which would in turn introduce unwanted soap opera effect or interpolation artefacts.

Perhaps owing to updated firmware, we managed to extract lower input lag from the Samsung UE48HU7500 than its 55in sibling we reviewed some time ago. By renaming the HDMI input label to [PC], our Leo Bodnar input lag tester returned a figure of 41ms which is as good as it gets for UHD televisions due to the 1080p-to-2160p upconversion involved. This trick did not work on the UE55HU7500 when we tried it three months ago.
Verdict
While the effectiveness of 4K Ultra HD resolution at such a screen size remains debatable, there's no doubting that the UE48HU7500 is yet another superb LED LCD product from Samsung.