It's already autumn, but it's only now that we get the opportunity to check out the first flat-screen television from Samsung's 2015 lineup, which is hardly surprising given the South Korean manufacturer's overwhelming preference for curved TVs. Sitting in our test lab today is a 48-inch version of the Samsung JU7000 series – the second-highest ranked flat-panel TV from the company in the UK and Europe following the introduction of the JS8000 SUHD range at the IFA 2015 consumer electronics trade show which took place in Berlin earlier this month.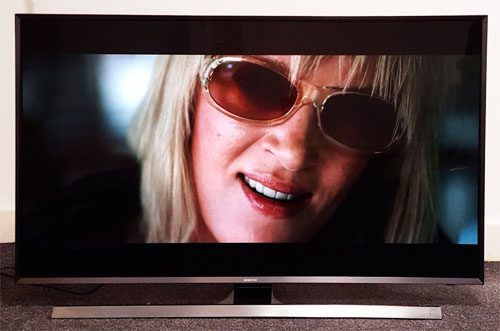 Specification-wise, the Samsung UE48JU7000 is the flat equivalent of the UE48JU7500 we reviewed back in April. This means an ultra high-definition (UHD) resolution of 3840×2160, direct LED backlighting, a quad-core processor, active-shutter 3D capability (though no glasses are included), and the firm's Tizen-based Smart TV portal.
The Samsung JU7000 doesn't deviate a million miles from the JU7500 in terms of styling either (apart from its straight lines, of course). The brushed metallic gunmetal grey bezel (which chamfers in towards the LCD screen) and Toblerone-shaped stand are classy touches, while the build quality of our UE48JU7000TXXU review unit was decent. A breakout One Connect Mini connection box containing four HDMI 2.0 ports with HDCP 2.2 compatibility are supplied alongside a traditional and a Smart remote.
Calibration
We calibrated our Samsung UE48JU7000T review sample with a profiled Klein K10-A meter, a DVDO AVLab TPG signal generator, and SpectraCal's CalMAN Ultimate software.
Samsung televisions typically calibrate very well largely owing to their comprehensive suite of calibration controls which work as intended, and the 48JU7000 was no exception. After adjusting the 2- and 10-point [White Balance] settings, as well as the onboard colour management system (CMS), we obtained highly accurate greyscale and colours on our set.
Greyscale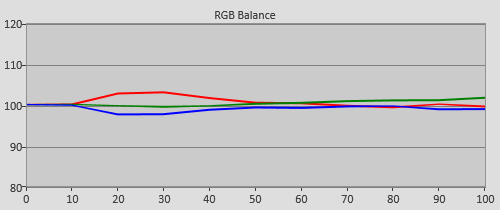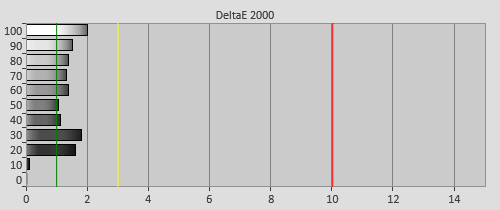 Pre-calibration RGB tracking and delta errors (dEs)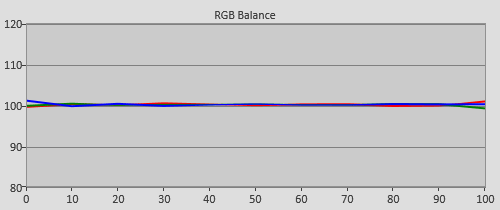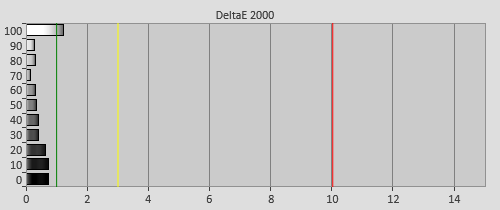 Post-calibration RGB tracking and dEs in [Movie] mode
Gamma
| | |
| --- | --- |
| | |
| Pre-calibration gamma tracking (2.33) | Post-calibration gamma tracking (2.37) |
Colour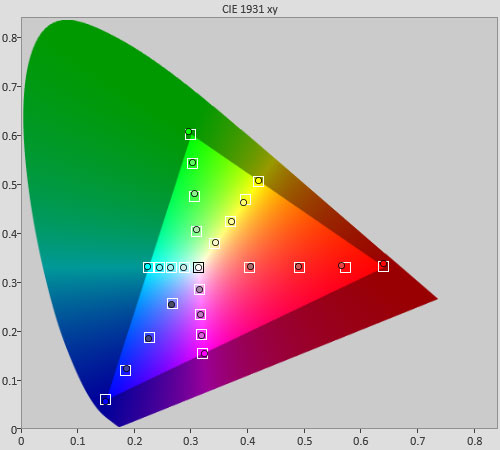 Post-calibration colour saturation tracking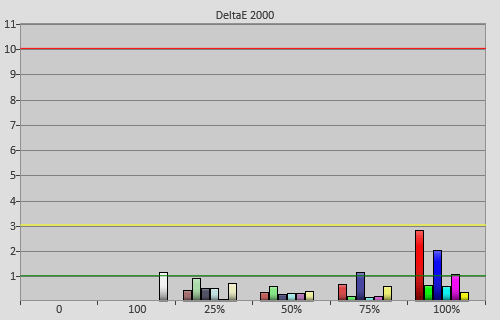 Post-calibration colour errors (<3 not appreciable to the eye)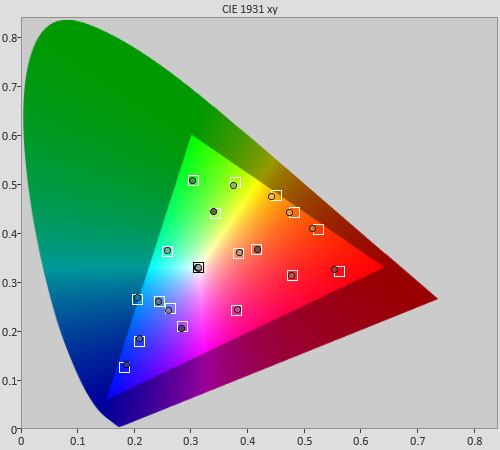 Post-calibration Colour Checker Classic test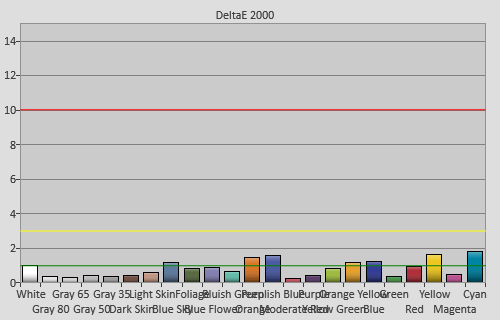 Post-calibration Colour Checker Classic errors (<3 not appreciable to the eye)
Benchmark Test Results
| | |
| --- | --- |
| Dead pixels | None |
| Backlight/ screen uniformity | Very good |
| Overscanning on HDMI | Defeatable |
| Blacker than black | Passed |
| Calibrated black level (black screen) | LEDs shut off |
| Calibrated black level (4×4 ANSI) | 0.063 cd/m2 |
| Black level retention | Stable if [Smart LED] "Off" |
| Primary chromaticity | Excellent |
| Scaling | Excellent |
| Video mode deinterlacing | Very effective jaggies reduction |
| Film mode deinterlacing | Passed 2:2 PAL & 3:2 NTSC tests in SD & HD |
| Viewing angle | Typical of VA-type LCD panel |
| Motion resolution | 1080 lines or higher with [Auto Motion Plus] enabled |
| Digital noise reduction | Optional; effective when engaged |
| Sharpness | Defeatable edge enhancement |
| Luma/Chroma bandwidth (2D Blu-ray) | Full Luma; Chroma vertically blurred |
| 1080p/24 capability | No judder in 2D; forced interpolation in 3D |
| Measured panel refresh rate | 120Hz |
| Input lag (Leo Bodnar tester) | 27ms in [Game] mode |
| Full 4:4:4 reproduction (PC) | Yes for both 1920×1080 and 3840×2160@60Hz |
Power Consumption
| | |
| --- | --- |
| Default [Standard] mode | 74 watts* |
| Calibrated [Movie] mode | 91 watts |
| Standby | <1 watt |
*Note: [Eco Sensor] was enabled by default in [Standard] mode, which partly explains why energy usage was higher after calibration than before.
Picture Quality
The native black level on the Samsung UE48JU7000's VA-type LCD panel measured slightly brighter than that on the UE48JU7500 – the first time we've encountered a flat-screen television underperforming a corresponding curved model in this department. With peak white pegged at our usual target of 120 cd/m2, black level came in at 0.063 cd/m2 on both a full-field video black and a 4×4 ANSI chequerboard pattern with [Smart LED] disabled.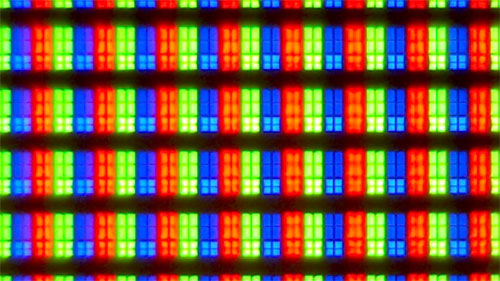 Macro photo of JU7000's subpixel structure: true RGB layout; VA-type LCD matrix
Engaging [Smart LED] activates some form of dimming on the Samsung JU7000. We ran our self-authored zone counter pattern (a small white box crawling horizontally and then vertically against a black background) on the display, and found that regardless of the [Smart LED] setting, no dimming took place anywhere on screen whenever the white box appeared. Also, with a couple of [Smart LED] settings, the whites would darken too (albeit only by a bit), leading us to initially think that the UE-48JU7000 was only capable of frame dimming.
However, after extensive testing with a few randomly-placed 5% grey pixels, we concluded that the dimming system on the UE48JU7000T was heavily dependent on the Average Picture Level (APL), and was most effective in very low-APL scenes, significantly deepening blacks to as low as 0.001 cd/m2.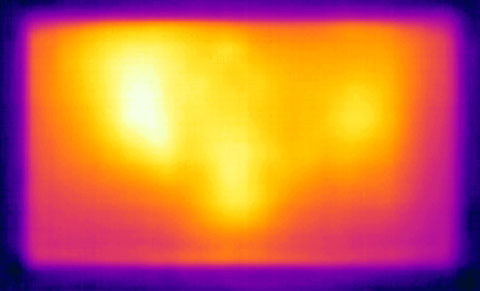 Using a thermal camera, we confirmed direct-lit LED placement on the Samsung UE48JU7000. Black and grey uniformity was very good on our review sample, with no clouding, corner bleed or banding visible after calibration.
Helped by reasonably deep blacks, accurate colours and best-in-class upscaling, HD images came across very fine indeed on the 48JU7000T, as long as we didn't venture too far off-axis in our sitting position (which is to be expected due to the limited viewing angles of VA LCD panel). Slow pans in 1080p/24 video signal (e.g. from Blu-ray movies) were judder-free without needing to call upon any artificial smoothing. Standard-definition feeds looked palatable too if you have to go down the source quality ladder.
Our firmware-updated Samsung JU7000 could read the metadata from the Life of Pi and Exodus: Gods and Kings HDR-mastered snippets that have been doing the rounds, but the result was more miss than hit. Sure, we saw more detail in brighter highlights, but the light distribution around the midtones and shadows appeared overly dark, and from time to time there'd be blatant colour space conversion errors.
It seemed that although the UE48JU7000 was able to read the HDR metadata (clue: [Backlight] automatically jumped to the maximum value of "20" upon playback of the HDR clips), the display simply didn't have sufficient dynamic range (we only measured a peak light output of 305 cd/m2 with [Backlight] and [Contrast] cranked to max in [Movie] mode) to present the HDR image correctly, hence the ungraceful degradation.
Absent the NanoCrystal quantum-dot film technology reserved for Samsung's step-up SUHD TVs, the JU7000T's inherent colour gamut also topped out at Rec.709, only managing to reproduce 81% of the DCI-P3 standard: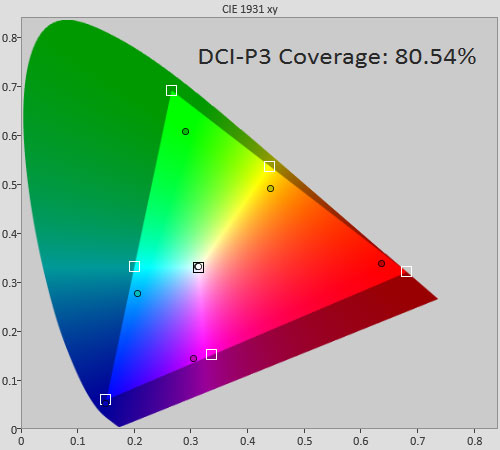 On the upside, 4:4:4 chroma could be achieved through all of the 4K TV's HDMI inputs except HDMI1, once we engaged [HDMI UHD Color] and set the source label to [PC]: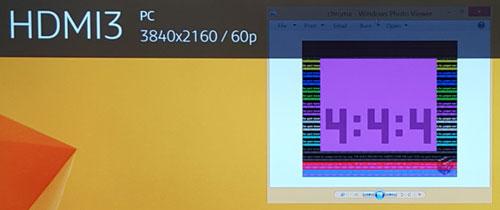 Like its UE48JU7500T sibling, the Samsung UE48JU7000T applied forced interpolation in 3D mode to 50Hz and 24Hz content even when [Auto Motion Plus] was switched off, therefore introducing the dreaded soap opera effect (SOE) to 3-D films. The good news is, this could be defeated by certain combinations of [AMP] settings, but the bad news is some judder would ensue. As with all Samsung 3DTVs we've tested in recent years, the 48JU7000 exhibited full HD 3D resolution and minimal crosstalk.

With [Game Mode] enabled, the UE-48JU7000 produced a low input lag of only 27ms (measured using the middle flashing patch of a Leo Bodnar tester). Lag times in [PC] and [Movie] mode went up to 37ms and 126ms respectively.
Conclusion
The UE48JU7000 is yet another outstanding 4K TV from Samsung that has no major weaknesses at its current street price of £1200. With the appropriate settings, blacks are convincing, colours are natural, motion clarity is high, video processing is first-rate, uniformity is good, and gaming responsiveness is excellent.
However, if you want impactful HDR presentation and to take greater advantage of the forthcoming Ultra HD Blu-ray format, it may be wiser to spend at least a few hundred pounds more on Samsung's JS series of SUHD televisions that can deliver higher brightness and wider colour gamut.