Samsung's affection for curved UHD (ultra high-definition) screens shows no sign of abating, and the South Korean manufacturer is lining up more such TVs for the year ahead. After reviewing the excellent JS9500 and JS9000 ranges, today we're taking a looking at the JU7500 series, Samsung's highest-end 2015 TV that doesn't carry the company's intriguing "SUHD" branding. This means no quantum dot colours or compatibility with future HDR (high dynamic range) content, although the display still features native 3840×2160 resolution, a quad-core processor, and the firm's new Tizen-based Smart TV platform.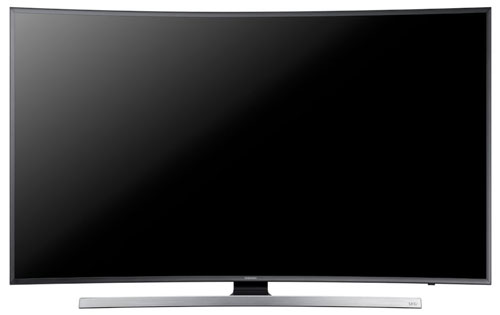 At 48 inches, the UE48JU7500 we're testing is also the smallest screen from Samsung if you're hell-bent on getting a curved telly, though larger JU7500 sizes are available in the shape of the 55-inch UE55JU7500 and the 65-inch UE65JU7500. Let's see how it fares in our review.
Design
While not the thinnest, the bezel on the 48JU7500 sports a tasteful brushed metallic grey finish, and recesses inwards towards the LCD screen to bring greater sense of depth in addition to the curvature.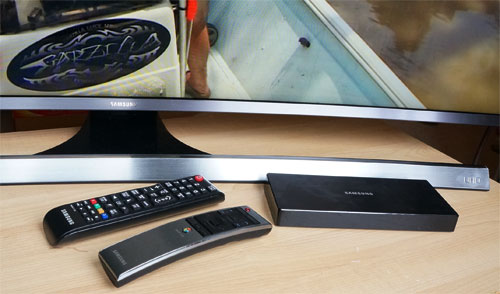 The panel is supported on a non-swivel pedestal stand whose base is – what else? – curved and carries a forward-facing "UHD" inscription.
Connections
The Samsung JU7500 comes with an external box – dubbed "One Connect Mini" – that provides four HDMI 2.0 ports with HDCP 2.2 compliance, two USB 2.0 inputs and a digital optical audio output. It's smaller than the full-fat version supplied with the step-up JS9500 and JS9000 models, and is fanless so operation is completely silent.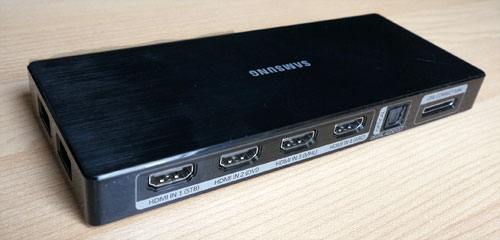 However, this does mean that some connection sockets have to reside on the side of the TV itself, and the One Connect Mini doesn't offer the same futureproofing potential as the One Connect.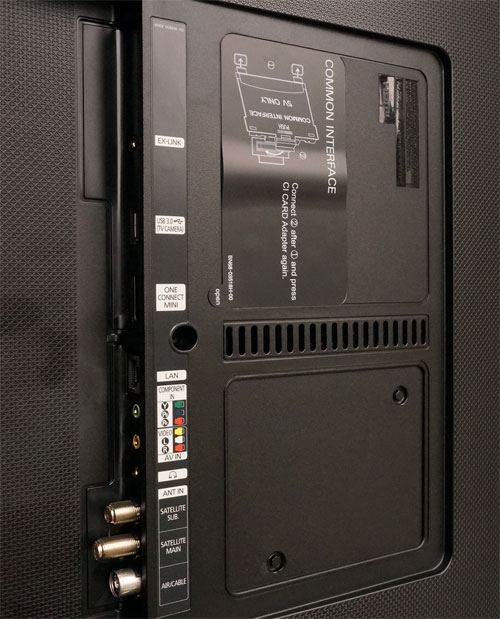 Side: Component, USB 3.0, LAN, Freeview HD & satellite tuners, headphone out & CI slot
Calibration
We calibrated our Samsung UE48JU7500T review unit using a profiled Klein K10-A meter, a DVDO AVLab TPG 4K signal generator, and CalMAN Ultimate version 5.4 calibration software. Out of the box, the most accurate picture preset was [Movie] mode, which we used as our platform for further adjustments.
There were no surprises here: the excellent calibration controls provided by Samsung on the UE-48JU7500 allowed us to dial greyscale, gamma and colours in to the D65, 2.4 and Rec.709 targets that have been the standard (for HDTV) used within the video and broadcast industry. If anything, colour saturation (red primary in particular) tracked even better than the quantum-dot-equipped SUHD sets, since the JU7500's native colour gamut wasn't as wide and so did not need much reining in.
Greyscale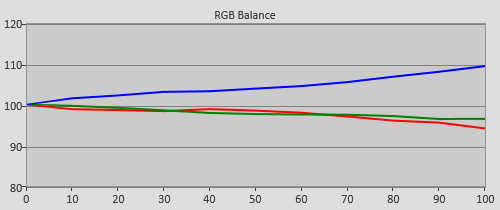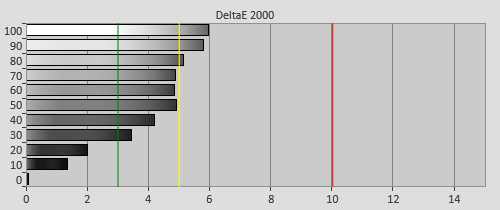 Pre-calibration RGB tracking and delta errors (dEs)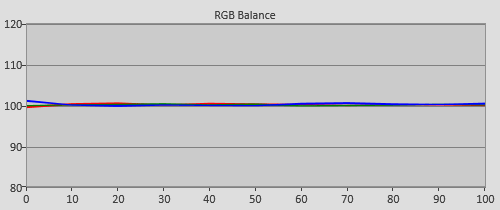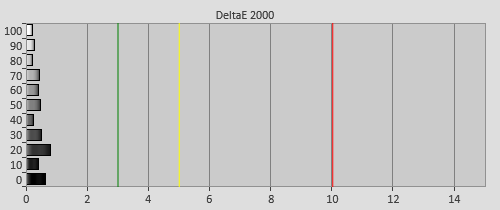 Post-calibration RGB tracking and dEs in [Movie] mode
Gamma
| | |
| --- | --- |
| | |
| Pre-calibration gamma tracking (2.17) | Post-calibration gamma tracking (2.37) |
Colour
Post-calibration colour saturation tracking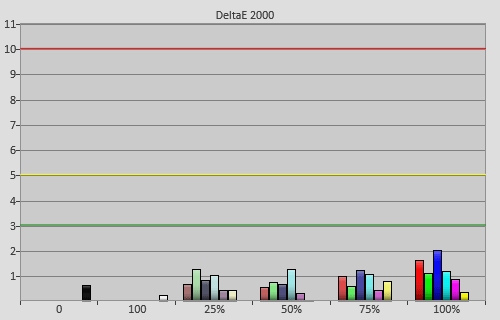 Post-calibration colour errors (<3 not appreciable to the eye)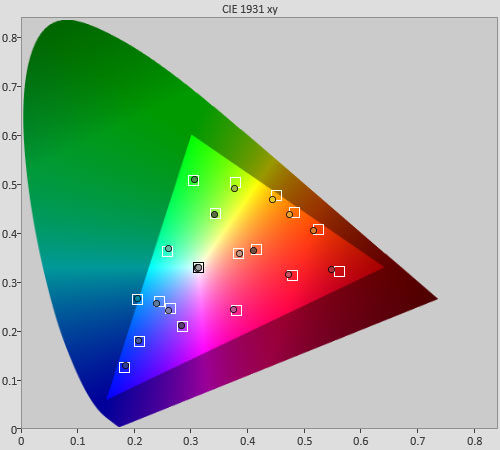 Post-calibration Colour Checker Classic test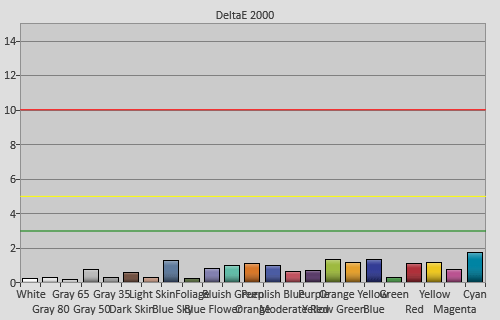 Post-calibration Colour Checker Classic errors (<3 not appreciable to the eye)
Benchmark Test Results
| | |
| --- | --- |
| Dead pixels | None |
| Backlight uniformity | Some reducible clouding |
| Overscanning on HDMI | Defeatable |
| Blacker than black | Passed |
| Calibrated black level (black screen) | LEDs shut off |
| Calibrated black level (4×4 ANSI) | 0.051 cd/m2 |
| Black level retention | Stable if [Smart LED] "Off" |
| Primary chromaticity | Excellent |
| Scaling | Excellent |
| Video mode deinterlacing | Very effective jaggies reduction |
| Film mode deinterlacing | Passed 2:2 PAL & 3:2 NTSC tests in SD & HD |
| Viewing angle | Typical of VA-type LCD panel |
| Motion resolution | 1080 lines or higher with [Auto Motion Plus] engaged |
| Digital noise reduction | Optional; effective when engaged |
| Sharpness | Defeatable edge enhancement |
| Luma/Chroma bandwidth (2D Blu-ray) | Full Luma; Chroma vertically softened |
| 1080p/24 capability | No judder in 2D; forced interpolation in 3D |
| Measured panel refresh rate | 120Hz |
| Input lag (Leo Bodnar tester) | 21ms in [Game] mode |
| Full 4:4:4 reproduction (PC) | Yes for both 1920×1080 and 3840×2160@60Hz |
Power Consumption
| | |
| --- | --- |
| Default [Standard] mode | 80 watts* |
| Calibrated [Movie] mode | 60 watts |
| Standby | <1 watt |
*Note: [Eco Sensor] was enabled by default in [Standard] mode.
Picture Performance
Black Level & Contrast
After pegging peak white to 120 cd/m2 as we always do on our TV review samples, the VA-type LCD panel on the Samsung UE48JU7500 yielded a native black level of 0.057 cd/m2 as measured on a full-field video black screen (with auto-dimming defeated by displaying a pause icon from our OPPO Blu-ray player) and a 4×4 ANSI chequerboard pattern. This is a touch brighter than the higher-end SUHD TVs whose more efficient transmittance granted by quantum dots delivered slightly deeper blacks.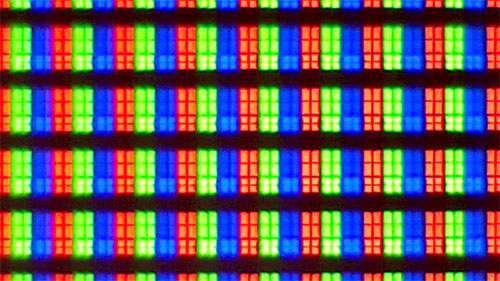 Subpixel structure indicating PVA LCD matrix
Of course, black-level response on the Samsung JU7500 can be further improved by enabling its pseudo-local dimming system. Besides "Off", three [Smart LED] settings are offered, namely "Low", "Standard" and "High". All three intensities lowered measured black level to 0.013 cd/m2 on a full-black screen, and 0.051 ("Low" and "Standard") to 0.053 cd/m2 ("High") on 4×4 ANSI.
Backlight & Screen Uniformity
Most curved LED-lit televisions suffer from backlight unevenness to a certain extent (presumably as a consequence of the stress applied to the LCD panel during the warping process), and the Samsung 48JU7500 was no different, exhibiting several patches of clouding predominantly near the edges of the screen.
More impressive was the UE48JU7500's screen uniformity, helped perhaps by its likely direct LED underpinning. We ran various shades of full-field grey patterns on the 4K TV, and detected no visible banding; nor did we witness any significant dirty screen effect (DSE) in panning shots during live football broadcast. There's some half-inch-wide darkening along the borders of the screen creating a minor "vignetting" effect, but it's only noticeable against a tonally uniform backdrop, and even then it didn't bother us in real-life viewing.
Motion
We really like Samsung's black frame insertion (BFI) technology on the Korean brand's TVs over the past couple of years due to the motion sharpness it brings without introducing interpolation artefacts or soap opera effect (SOE), but we found the implementation less appealing on the JU7500 compared with the step-up JS9500 and JS9000 series for two reasons.
First, the UE-48JU7500 didn't go as bright as the SUHD televisions in terms of peak luminance: with both [Backlight] and [Contrast] cranked to max, our Klein K10-A meter returned a reading of 140 cd/m2 on full-field white (whereas it was 240 cd/m2 on the quantum-dot-enhanced UE65JS9500). Whilst this level of brightness is perfectly adequate for critical viewing in a dimly-lit room, it may not cut it in a brighter, sun-filled environment (we're talking with BFI on).
Also, we noticed some microstutter in video-based 1080i50 content from the internal Freeview HD tuner, which didn't clear up despite experimenting with various settings including [Film Mode]. Motion hiccup following scene cuts still reared its head from time to time, but its frequency and severity was drastically reduced compared with 2013 and 2014 Samsungs.
HD & 4K
Apart from restricted viewing angle which is typical of the VA LCD panel used, we had no complaints about the post-calibrated image on the Samsung UE-48JU7500. Provided we didn't sit off-axis, blacks appeared convincingly deep without compromising shadow detail, while colours took on a lush yet never unrealistic hue. Upscaling quality was extremely high: well-mastered 1080p Blu-rays naturally looked excellent; and the 4K TV even made a fair fist of standard-definition programmes, preventing them from looking overly shabby, which is no mean feat considering the number of pixels that have to be artificially filled.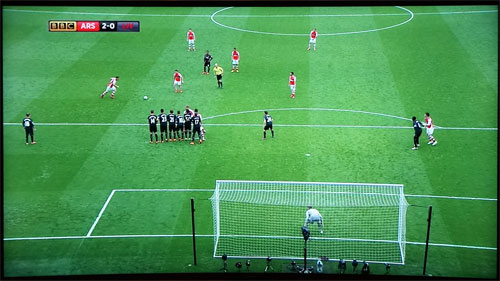 The 48″ JU7500 fully resolved all 3840 vertical and 2160 horizontal single-pixel lines from our DVDO AVLab TPG 4K pattern generator at 24Hz, 30Hz, 50Hz and 60Hz, but truth be told, the Ultra HD resolution didn't offer as much impact on this screen size versus a larger one from normal viewing distances. 4:4:4 chroma can be obtained by labelling the HDMI input as [PC], and enabling [HDMI UHD Color] for that specific port.
3D
The Samsung UE48JU7500 doesn't ship with any 3D glasses, which is hardly surprising given that even the flagship JS9500 UHD television received a similar treatment – it's very clear that tri-dimensional functionality is simply not a priority for the company. Nevertheless, we assessed the TV's 3-D performance using compatible active-shutter glasses we had at our disposal: output resolution was gloriously full HD 3D, but there's forced interpolation in 3D mode, so 3D Blu-ray films and Sky 3D movies would take on an unnatural, over-smoothed look. In other words, there are better alternatives to Samsung's offerings if you're a big fan of extra-dimensional material.
Gaming
Watch out Sony, Samsung is going after the "best gaming TV" crown you've comfortably held since 2013. The 48in JU7500 delivered the lowest input lag we've recorded yet from a 4K Ultra HD TV, coming in at 21ms according to our Leo Bodnar tester device.

Owners who care about full 4:4:4 chroma reproduction when playing PC games will also be pleased to know that input lag in [PC] mode measured an acceptable 36ms. [Movie] mode returned a much higher figure of 119ms. For gamers who demand both better gaming responsiveness and sharper motion, Sony Bravias still have the edge since [LED Clear Motion] is greyed out in either [Game] or [PC] mode on the Samsung UE48JU7500 (although realistically we still think Sony's BFI system is generally too dim to be usable).
Conclusion
We deliberated long and hard when the time came to assign a final rating for the Samsung UE48JU7500: with wide colour gamut (WCG) and high dynamic range (HDR) dominating the next phase of UHD TV development, should we penalise the JU7500 for not being as future-proofed as its SUHD cousins? At the end of the day though, there's no agreed standard for HDR just yet, and the 48JU7500 does put out an utterly compelling picture on-axis, with highlights being its uber-low input lag and surprisingly good screen uniformity.