The arrival of HDR games such as Gears of War 4 and Forza Horizon 3 has prompted many gamers to start looking for their first HDR-capable television, and as far as more affordable models go, few – if any – can top Samsung's KS7000 series. Available as the 49-inch Samsung UE49KS7000 (which we're reviewing today), the 55-inch UE55KS7000, the 60-inch UE60KS7000 and the 65-inch UE65KS7000, the KS7000 is the flat-screen equivalent of the curved Samsung KS7500 we tested back in May.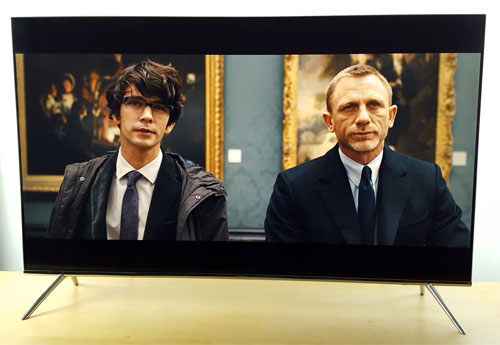 Despite being at least £200 less expensive than the step-up KS8000 range, the Samsung UE-49KS7000 offers comparable performance in most attributes of picture quality including for gaming. It carries Ultra HD Premium certification from the UHD Alliance too (and thus a peak brightness of at least 1000 nits), which no other 2016 competitor at this price point can match.
Note: The equivalent model in the USA is the Samsung KS8000 series.
Gaming enthusiasts – especially those who are into reflex-based genres like FPS (first-person shooters) or racing video games – will love the UE49KS7000's ultra-responsive [Game] mode. Over the past couple of years, Samsung televisions have consistently delivered lower input lag than displays from other TV manufacturers, and the KS7000 was no exception, returning a lag time of merely 22ms in [Game] mode according to our Leo Bodnar tester. Input lag in [PC] and [Movie] modes were higher at 37ms and 128ms respectively.
| | |
| --- | --- |
| | |
| Input lag in [Game] mode | Lag time in HDR [Game] mode |
The good news is that [Game] mode could also be engaged in HDR mode on the Samsung KS7000, providing a low-lag experience for playing HDR games. In case you're wondering, the reason why the lag figure was marginally lower in HDR mode is due to how the Leo Bodnar lag tester works. The flashing white bars need to hit a certain luminance threshold before they can be detected by the device's photosensor for input lag calculation, so the brighter HDR mode would naturally reach the threshold sooner, resulting in slightly lower reported lag.
Another aspect where Samsungs generally outperform televisions from other brands is motion clarity, largely thanks to effective black frame insertion (BFI) implementation. We're happy to see this motion-boosting technology make its way onto an entry-level SUHD TV such as the 49KS7000, helping the display render some of the cleanest and sharpest motion on the market today which will surely please sports fans. In fact, with [LED Clear Motion] enabled, the Samsung UE49KS7000U even beat out other flagship TVs (all calibrated and motion-optimised) in terms of motion sharpness, as you can see for yourself from the following motion pursuit camera tests:
| | |
| --- | --- |
| | |
| Samsung KS7000 [LED Clear Motion] on | LG G6 [TruMotion] "User" |
| | |
| --- | --- |
| | |
| Panasonic DX902 [IFC] "Custom" | Sony ZD9 [Motionflow] "Custom" |
A small group of viewers who are extremely sensitive to flicker may not get on with black frame insertion, even though Samsung's 2016 iteration produced less flicker than before. For these users, the South Korean company also provides separate deblur and dejudder controls on the KS7000U, allowing the display to attain a motion resolution of 1080 lines or higher (as judged via the horizontally scrolling lines in Chapter 31 of the FPD Benchmark Software disc) without incurring interpolation artefacts or soap opera effect (SOE) in 24p films.
Talking of which, the Samsung UE49KS7000 painted a beautiful image for watching movies. The TV calibrated well: using a profiled Klein K10-A meter, a DVDO AVLab TPG signal generator, and SpectraCal's CalMAN software, we were able to neutralise greyscale to the industry standard of D65 white point by only using the onboard 2-point [White Balance] controls, since the 10p WB system was contrast-aligned and didn't work well on our UE49KS7000UXXU review sample.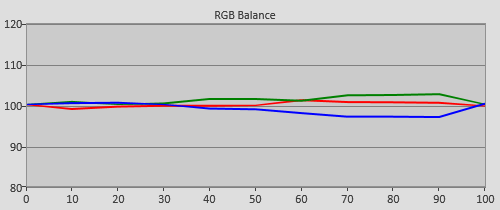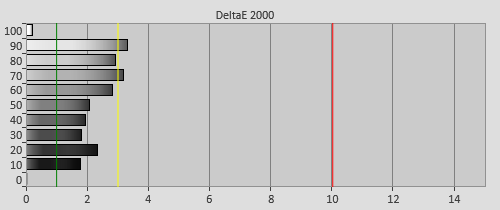 Pre-calibration RGB tracking and delta errors (dEs) in [Movie] mode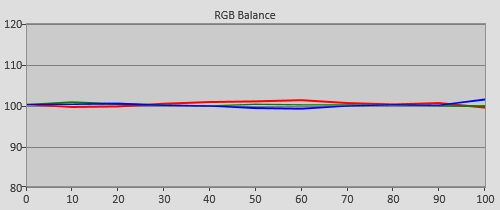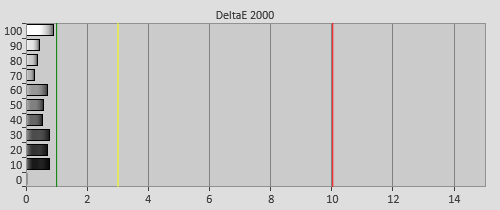 Calibrated RGB tracking and dEs after 2p & 10p white balance adjustments
| | |
| --- | --- |
| | |
| Pre-calibration gamma tracking (2.27) | Post-calibration gamma tracking (2.37) |
But the biggest improvement gained from calibration was in the area of colour accuracy, where Samsung's excellent colour management system – accessible by setting [Colour Space] to "Custom" – allowed us to reduce colour errors significantly. Only three out of the 140 patches measured in the Colour Checker SG chart crept over the visible threshold of delta error (dE) 3.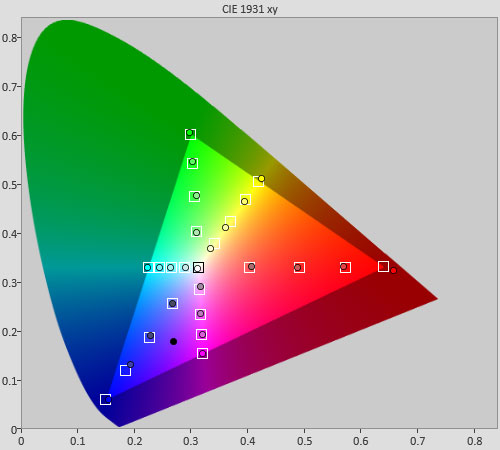 Post-calibration colour saturation tracking in [Movie] mode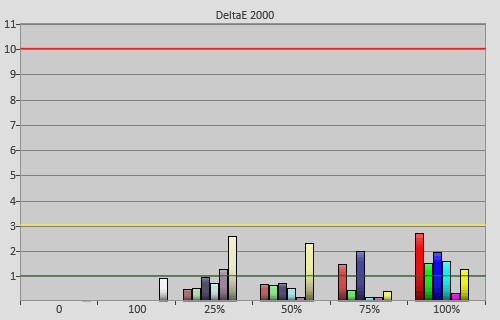 Post-calibration colour errors (<3 not appreciable to the eye)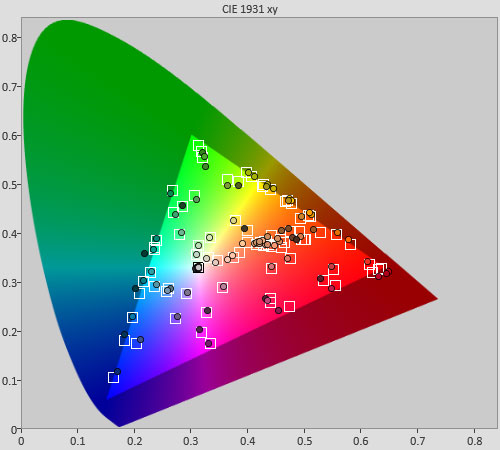 Post-calibration Colour Checker SG test in [Movie] mode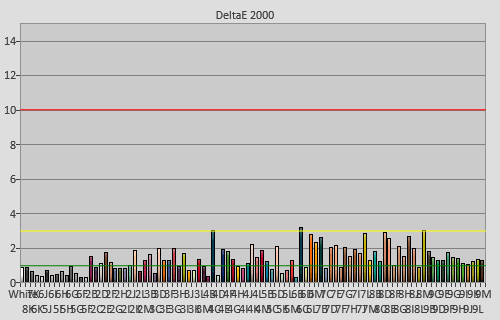 Post-calibration Colour Checker SG errors (<3 not visible to the eye)
The VA-type LCD panel found on the Samsung 49KS7000 yielded deep blacks by LED LCD standards, coming in at 0.04 cd/m2 on a 4×4 ANSI chequerboard pattern once peak white was pegged at our normal dark-room target of 120 cd/m2. Like all of the Korean brand's edge-lit SUHD TVs this year, the LEDs are mounted along the bottom border of the screen, so the top-and-bottom letterbox bars may not look jet-black (particularly in a pitch black room) since they can't be darkened independently from the main picture area, but it's nothing a small dose of bias lighting can't help mitigate.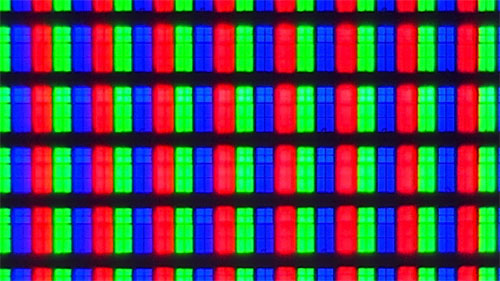 Macro photo of subpixel layout indicating RGB VA LCD matrix
Using our self-authored test pattern containing a small white box crawling horizontally and then vertically along the edges of a black background, we counted 10 vertical columns lighting up, each spanning the entire height of the screen. Based on the Average Picture Level (APL) of our test scene, at least five consecutive columns would be illuminated at any one time no matter where the white box was, an algorithm designed to attenuate the visibility of blooming/ haloing artefacts.
When we reviewed the curved Samsung UE55KS7500 several months ago, we noted several shortcomings including subpar HDR performance and an edge enhancement bug. We're pleased to report that we saw no such issues on the 49in KS7000: perhaps Samsung had listened to feedback and ironed out the kinks; or the flat-panel version wasn't affected in the first place.
4K HDR Blu-ray playback on the UE49KS7000 looked as good as on its more expensive KS8000 and KS9000 edge LED siblings. Blessed with peak brightness and tone-mapping that went beyond 1000 nits, the TV expressed specular highlight detail – essentially the cornerstone of a bona fide HDR experience – with more authority and precision than any other similar-priced television.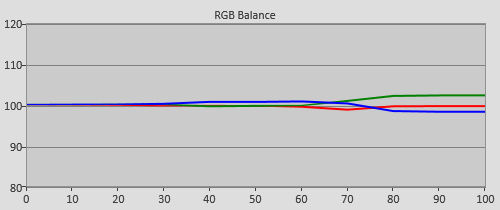 RGB tracking after [White Balance] calibration in HDR [Movie] mode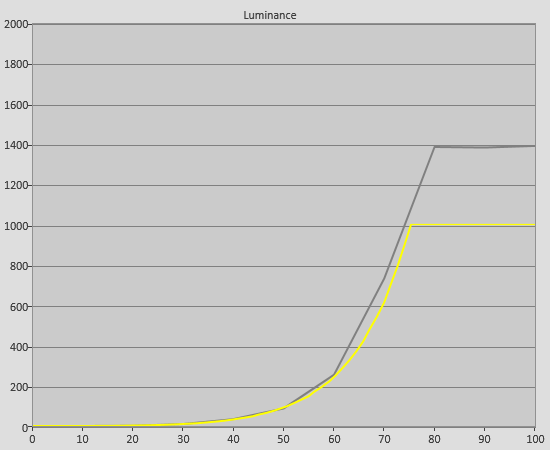 Post-cal PQ (perceptual quantisation) EOTF tracking against ST.2084 standard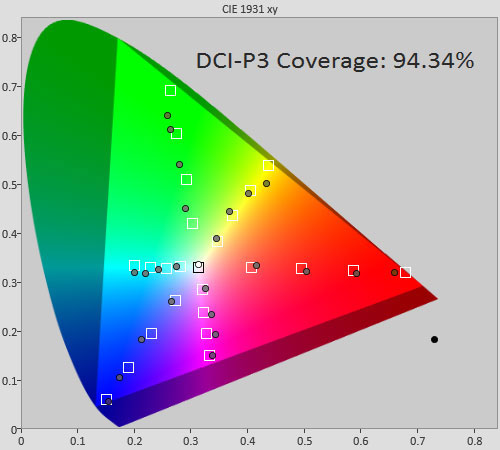 Post-cal saturation tracking of DCI-P3 colour space within Rec.2020 container
Although the 49″ KS7000's peak brightness quickly ramped up to 1380 cd/m2 on window sizes specified by the UHDA for Ultra HD Premium accreditation, it could only be sustained for approximately 19 seconds before gradually dropping over a period of 16 seconds to 570 cd/m2. While we prefer luminance levels that could be held stable indefinitely for ease of calibration, we understand this phenomenon is caused by power restriction, and specular highlights that require such high peak brightness are generally quite fleeting in real-world content anyway. Full-field peak white measured 579 cd/m2.
Benchmark Test Results
| | |
| --- | --- |
| Dead pixels | None |
| Backlight/ screen uniformity | Very good |
| Overscanning on HDMI | Defeatable |
| Blacker than black | Passed |
| Calibrated black level (black screen) | LEDs shut off |
| Calibrated black level (4×4 ANSI) | 0.04 cd/m2 |
| Black level retention | Stable if [Smart LED] "Off" |
| Primary chromaticity | Very good |
| Scaling | Very good |
| Video mode deinterlacing | Effective jaggies reduction |
| Film mode deinterlacing | Passed 2:2 & 3:2 tests in SD, though HD loses lock |
| Viewing angle (cone) | 60° |
| Motion resolution | 1080 lines or higher with [Auto Motion Plus] engaged |
| Digital noise reduction | Optional; effective when enabled |
| Sharpness | Defeatable edge enhancement |
| Luma/Chroma bandwidth (2D Blu-ray) | Full Luma; Chroma vertically blurred |
| 1080p/24 capability | No judder |
| 2160p/24 capability | No judder |
| Measured panel refresh rate | 120Hz |
| Measured peak brightness | 1380 cd/m2 |
| Measured DCI-P3 coverage | 94% |
| Input lag (Leo Bodnar tester) | 22ms in [Game] mode; 21ms in HDR [Game] mode |
| Full 4:4:4 reproduction (PC) | Yes for both 1920×1080 and 3840×2160@60Hz |
Power Consumption
| | |
| --- | --- |
| Default [Standard] mode | 68 watts* |
| Calibrated [Movie] mode | 50 watts |
| HDR mode | 118 watts |
| Standby | <1 watt |
*Note: Out of the box, [Eco Sensor] was engaged by default in [Standard] mode.
Miscellaneous Data
Horizontal viewing angle of our Samsung UE-49KS7000 review unit
Verdict
Delivering an image that's almost as good as the more expensive KS8000 series, the Samsung UE49KS7000 offers exceptional value for money. Among the set's many strengths, super-low input lag (including in HDR mode) and BFI-enhanced motion clarity are the two which are unrivalled by any other non-Samsung TV (even flagship models).
Given its edge-lit LED configuration, of course the KS7000's HDR performance wasn't going to be as compelling as that provided by full-array local dimming (FALD) LCDs or OLED TVs, but then again it's considerably more affordable. The 49KS7000's overall picture quality and UHD Premium credentials elevate the display as our number one choice in its price class – it's a veritable HDR hero.