It's a very strange time we live in. As TV manufacturers seek to boost sales of 4K Ultra HD televisions which command higher margins, they are reserving all their best features and specifications for UHD (ultra high-definition) models, resulting in top-of-the-range 1080p HDTVs not quite delivering the sort of performance expected of a flagship display. As a case in point, please refer to our review of this year's Sony W95 flagship full HD television.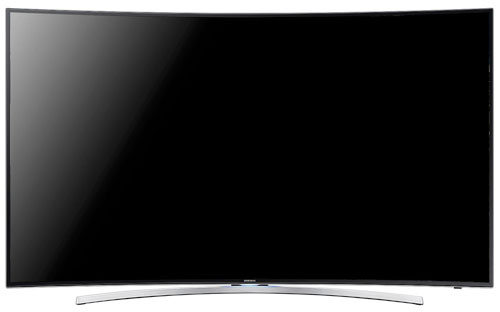 Today we're looking at Samsung's top-of-the-line 1080p HDTV, namely the UE55H8000 which is the direct successor to last year's excellent F8000 series, although there's been a very significant change in terms of styling. Like the Korean manufacturer's flagship HU8500 UHD range, the Samsung H8000 features a curved screen. Let's see how its picture quality measures up.
Design
The UE-55H8000's chassis is nearly identical to its UE55HU8500 4K brethren, sporting a subtly curved LCD panel, reasonably slim black bezel and shiny silver trim along the edges. The supplied non-swivel table-top stand is a modified version of the company's archetypal four-legged "Quad Stand", appropriately arced to complement the screen's curvature.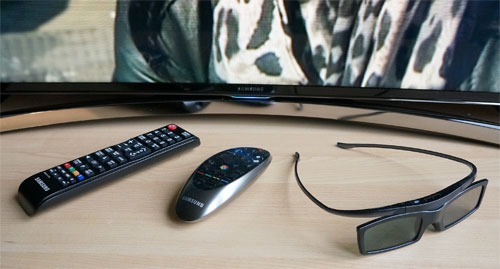 Build quality of the H8000 doesn't quite reach the heights of the HU8500: the plastic enclosure around the back and the slightly ill-fitting screws on our review unit did not exactly deliver a premium feel. Nevertheless, the whole ensemble looks highly distinctive – this is not yet another run-of-the-mill flat-screen TV.
Connections
Rear: 4x HDMI, 3x USB, component, RGB Scart, aerial, LAN, headphone & audio outs
Calibration
Note: We calibrated our Samsung UE55H8000STXXU review sample using CalMAN 5, the industry's leading video calibration software.
Greyscale
The most accurate picture preset for the UE-55H8000 out of the box is [Movie] mode, just like every other Samsung HDTVs we've tested. The default [Colour Tone] of "Warm2" yielded respectable greyscale, though blue component was lacking somewhat at brighter intensities.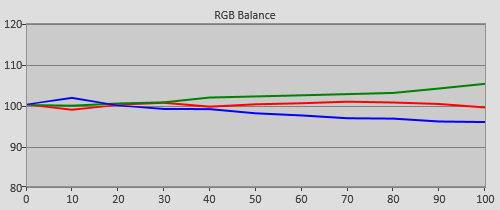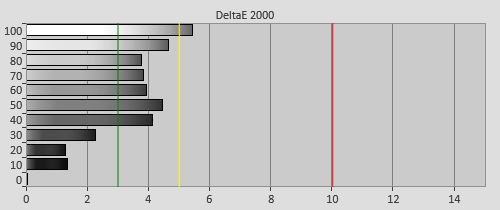 Pre-calibration RGB tracking and delta errors (dEs)
Samsung offers two-point [White Balance] controls and also a more precise 10-point system in the UE55H8000's [Movie] mode, both of which we used to achieve reference-level greyscale: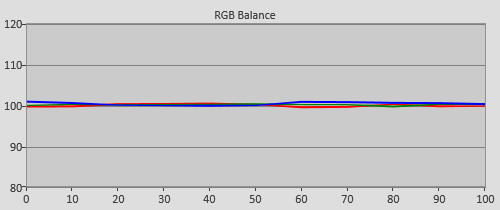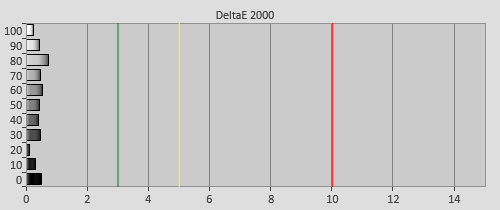 Post-calibration RGB tracking and delta errors (dEs)
Delta errors (dEs) came below 1 across the entire luminance range, ensuring a neutrally-tinted image irrespective of whether bright or dark content was displayed.
Gamma
Like most TV manufacturers (Sony being a praiseworthy exception) to date, Samsung still targets 2.2 gamma in its most accurate [Movie] mode, even though no less an authority than the International Telecommunications Union (ITU) has decreed 2.4 as the recommended electro-optical transfer function (EOTF) for flat-panel HDTV used in a dark room for studio mastering.
| | |
| --- | --- |
| | |
| Pre-calibration gamma tracking (2.23) | Post-calibration gamma tracking (2.37) |
After decreasing [Gamma] to "-2", and tweaking the display's 10-point white balance controls (repurposing them for 10p gamma), we obtained linear 2.4 gamma tracking, which should provide a contrast-rich yet realistic tonal transition from black to white.
Colour
Even with the help of Samsung's excellent RGB-based colour management system (i.e. [Colour Space] "Custom"), saturation tracking on the 55H8000 wasn't quite as linear as that measured on the UE55HU8500 4K UHD model: once we aligned colours at 100%, the 75% saturation points were globally undersaturated: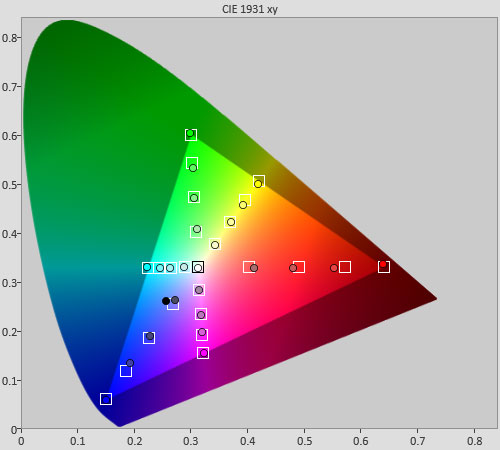 Post-calibration colour saturation tracking in "Custom" [Colour Space]
Fortunately, only 75% blue exhibited delta error (dE) exceeding 3, the commonly accepted perceptible threshold for the human eye. Even so, it wouldn't be easy for viewers to pick up this inaccuracy in real-world videos outwith a side-by-side comparison against a display featuring reference colours.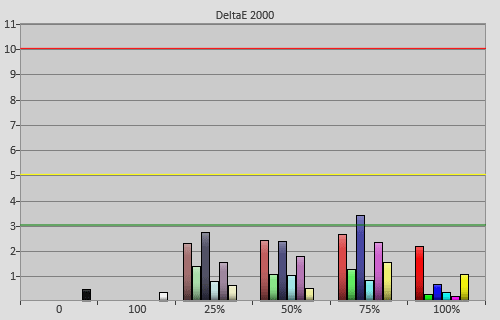 Post-calibration colour errors (<3 not appreciable to the eye)
Benchmark Test Results
| | |
| --- | --- |
| Dead pixels | None |
| Screen uniformity | Several patches of mild clouding |
| Overscanning on HDMI | 0% with [Picture Size] set to "Screen Fit" |
| Blacker than black | Passed |
| Calibrated black level (black screen) | 0 cd/m2 (LEDs shut off) |
| Calibrated black level (ANSI checkerboard) | 0.06 cd/m2 |
| Black level retention | Auto-dimming with full black screen |
| Primary chromaticity | Excellent |
| Scaling | Excellent |
| Video mode deinterlacing | Very effective jaggies reduction |
| Film mode deinterlacing | Passed 3:2 & 2:2 in SD & HD with correct [Film Mode] |
| Viewing angle | Decent – blacks & colours wash out beyond 40° off-axis |
| Motion resolution | 1080 lines with [Motion Plus] engaged; 300 if off |
| Digital noise reduction | Optional; effective when engaged |
| Sharpness | Defeatable edge enhancement |
| Luma/Chroma bandwidth (2D Blu-ray) | Full luma; chroma horizontally blurred except in [Game] mode |
| 1080p/24 capability | No judder in 2D; telecine judder in 3D |
| Input lag (high-speed camera) | 32ms compared to lag-free CRT in [Game] mode |
| Leo Bodnar input lag tester | 34ms in [Game] mode |
| Full 4:4:4 reproduction (PC) | Yes, with 60hz signal and [PC] input label |
Power Consumption
| | |
| --- | --- |
| Default [Standard] mode | 78 watts |
| Calibrated [Movie] mode | 92 watts |
| Standby | <1 watt |
Note: [Eco Sensor] was engaged by default on our Samsung UE55H8000 review unit out of the box, thus explaining why energy consumption was lower before calibration than after.
Picture Quality
Unlike the HU8500, the 55in H8000 doesn't offer a [Smart LED] option in its user menu, suggesting that the onboard pseudo-local dimming isn't hardware-based. Nevertheless, black level measured a very decent 0.06 cd/m2 after calibrating peak white luminance to our normal target of 120 cd/m2. Together with the UE-55H8000's accurate greyscale, linear 2.4 gamma and authentic colours, this made for some quite breathtaking images, especially during bright sequences.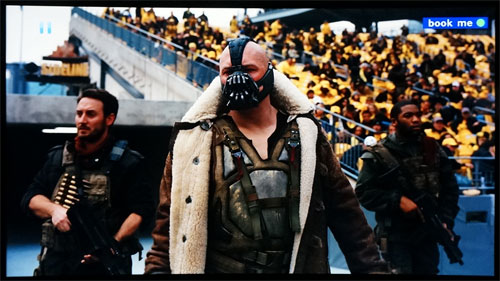 Very dark scenes suffered slightly because of several patches of clouding mainly near the top border of the panel. [Cinema Black] can be used to darken the letterbox bars in 2.35:1 films, but the single setting that doesn't introduce luminance shifts to the whole screen (besides "Off", obviously) was "Medium", which only darkened the bottom bar and therefore could not attenuate the backlight inconsistency entirely. Interestingly, [Cinema Black] comes in three strengths on our UE55H8000 review sample – "Low", "Medium" and "High" – whereas it's available only as an on/off toggle on the UE55HU8500.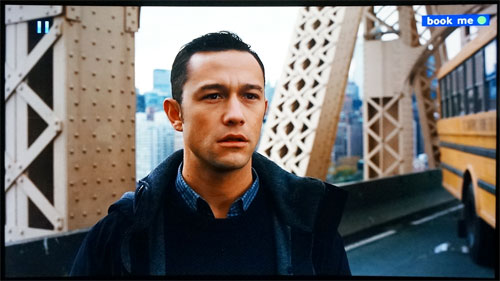 The H8000 is blessed with Samsung's much-improved black frame insertion (BFI)/ backlight (ok, technically edge-light) scanning technology which can be switched on by engaging [LED Clear Motion] within the [Motion Plus] "Custom" submenu. It produced a touch more flicker in test patterns than what we saw on the HU8500, but barely any in photorealistic content except during truly bright scenes, which is why we left it on throughout our review process to benefit from the superior motion clarity it brings.
Otherwise, the Samsung UE-55H8000 manifested similar quirks to the UE-55HU8500 we reviewed last week: intermittent motion hiccups after scene cuts; forced motion interpolation in 50Hz 3D content except in [Game] mode; and lack of native 1080p/24 playback in the third dimension (i.e. slow pans in 3D Blu-ray movies would exhibit mild telecine judder unless [Motion Plus] was set to "Standard" or "Smooth" which introduced soap opera effect). The curved screen is a novelty feature, and doesn't improve picture quality or viewing angle on a display of this size to any meaningful degree.

Samsung has reduced the input lag on the 55H8000 compared with last year's 55F8000, though it's still behind the class-leading Sony Bravias. Our Leo Bodnar input lag tester returned a figure of 34ms in [Game] mode; and a much less gaming-friendly 119ms in [Movie] mode.
Verdict
There were times when we looked at the lush, beautiful picture put out by the Samsung UE55H8000, and thought that this TV deserved a "Highly Recommended" rating. But ultimately it's let down by some backlight inconsistency, and priced too close to the company's corresponding 4K Ultra HD model: for only £500 more, you could buy the all-singing all-dancing, equally curved, and future-proofed to the hilt UE55HU8500 UHDTV.
Note: If you're interested in buying this television, please support us by considering making your purchase from our advertising partner Crampton and Moore who will provide competitive prices and first-rate customer service. At the very least, please go ahead and like their Facebook page or follow them on Twitter for special offers.