Prices of 4K Ultra HD TVs have come down quite significantly since they hit the market some 18 months ago, and in the UK you won't find many cheaper than Samsung's HU6900 range of ultra high-definition (UHD) televisions. It's available in three screen sizes, namely the 40-inch Samsung UE40HU6900, the 50-inch UE50HU6900 and the 55-inch UE55HU6900. Even as believers that 4K resolution is perceptible versus 1080p at normal viewing distances, we think such a high pixel count will probably be wasted on a 40-incher, so we're reviewing the largest model which commands a street price of £1500 at this time of writing.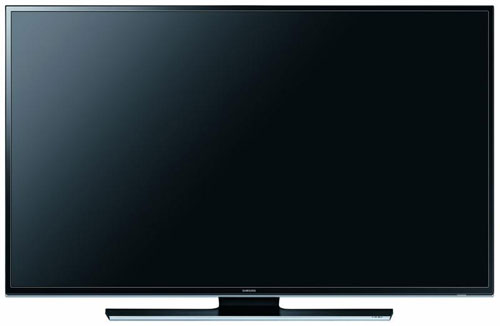 Of course, a few features have to be trimmed to achieve this price, so it comes as no surprise that the UE55HU6900 doesn't offer any 3D capabilities. Also, the TV's motion is rated at CMR (Clear Motion Rate) 200 which is lower than any non-entry-level Samsungs in recent memory – by comparison, the step-up HU7500 and HU8500 UHD series boast CMR of 1000 and 1200 respectively. Let's crack on and see how this translates to real-world image quality.
Design
Unsurprisingly given its budget status, the 55HU6900's styling is relatively low-key, what with its black bezel and brushed metallic edging. The bottom right of the screen holds probably the most conspicuous LED indicator we've ever seen on a flat-screen television, which may prove distracting in a dimly-lit viewing environment. Unfortunately we couldn't find a way to turn it off permanently during our brief time spent with the set.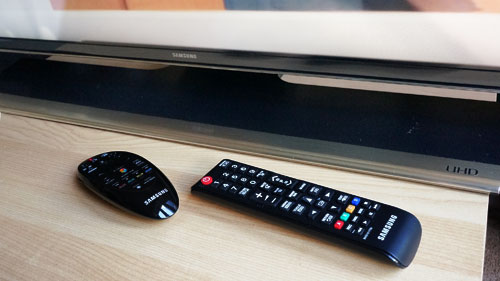 The trapezoidal base of the table-top stand is two-toned, largely made up of black plastic instead of the full metal body found on the higher-end Samsung UE55HU7500 and UE55HU8500. The front of the base retains the brushed metallic silver finish, as well as the "UHD" inscription.
Inspected from the sides, the panel isn't slim, which together with some LEDs that are located far away from the edges (visible through the rear vents) suggests direct LED underpinning. Build quality is acceptable – we've encountered much flimsier TVs in our lifetime.
Connections
Unlike the HU7500 and HU8500, the Samsung HU6900 doesn't have a fan near its connection ports, and so is silent in operation. We noticed that navigating the user menu did become sluggish once 4K content was displayed, but thankfully there's no adverse effect on picture performance. There's also a socket which can be connected to a later version of Samsung's One Connect box to upgrade certain aspects of the UHD TV.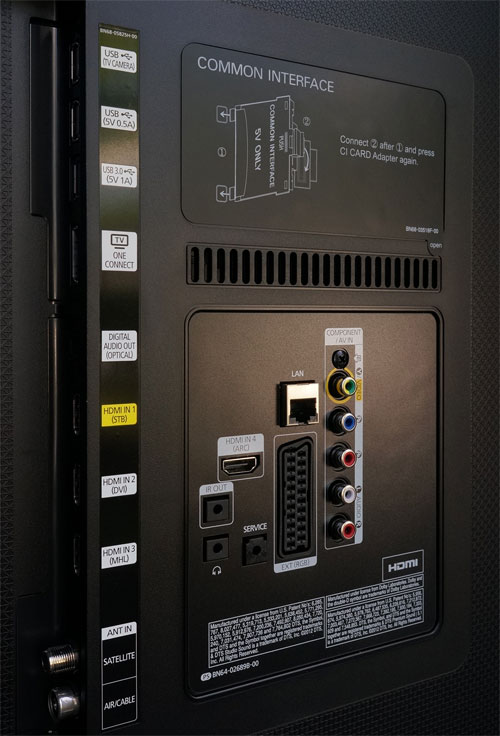 Rear: 4x HDMI, 3x USB, component, RGB Scart, aerial, LAN, headphone & audio outs
Calibration
Using Samsung's comprehensive array of picture-affecting controls and CalMAN 5, the industry-leading video calibration software, we calibrated our UE55HU6900UXXU review unit in [Movie] mode to excellent effect, with greyscale and colour delta errors (dEs) reduced to less than 2 (3 is considered the cutoff before inaccuracies become visible to the human eye).
Greyscale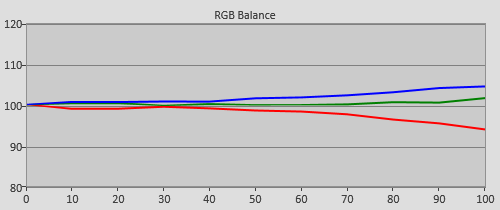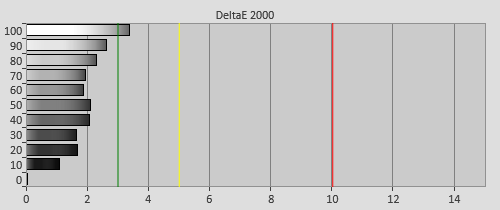 Pre-calibration RGB tracking and delta errors (dEs)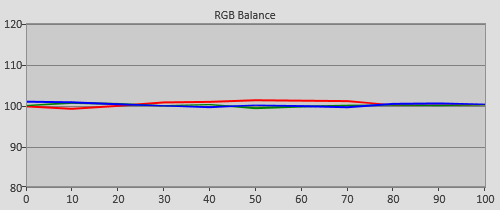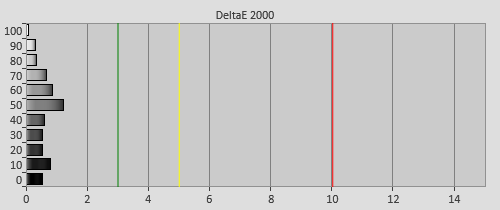 Post-calibration RGB tracking and dEs in [Movie] mode
Gamma
| | |
| --- | --- |
| | |
| Pre-calibration gamma tracking (2.26) | Post-calibration gamma tracking (2.37) |
Colour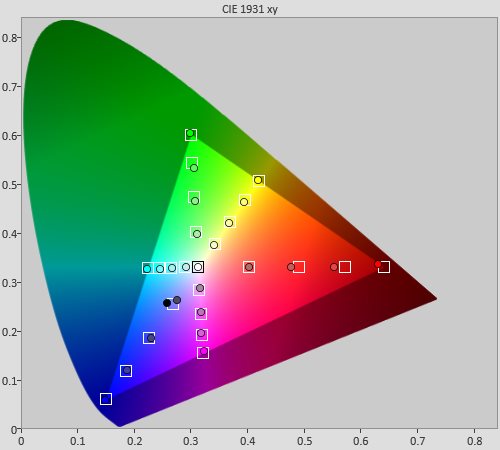 Post-calibration colour saturation tracking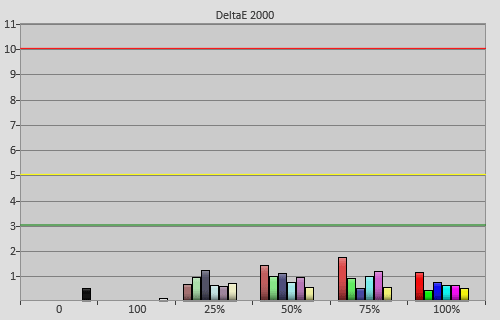 Post-calibration colour errors (<3 not appreciable to the eye)
Benchmark Test Results
| | |
| --- | --- |
| Dead pixels | None (not easy to spot at 4K resolution anyway) |
| Screen uniformity | Very good |
| Overscanning on HDMI | 0% with [Picture Size] set to "Screen Fit" |
| Blacker than black | Passed |
| Calibrated black level (black screen) | 0 cd/m2 (LEDs shut off) |
| Calibrated black level (ANSI checkerboard) | 0.053 cd/m2 |
| Black level retention | Auto-dimming with full black screen |
| Primary chromaticity | Excellent |
| Scaling | Excellent |
| Video mode deinterlacing | Very effective jaggies reduction |
| Film mode deinterlacing | Passed 3:2 over 480i with [Film Mode] engaged |
| Viewing angle | Decent – blacks & colours wash out beyond 40° off-axis |
| Motion resolution | 300 |
| Digital noise reduction | Optional; effective when engaged |
| Sharpness | Defeatable edge enhancement |
| Luma/Chroma bandwidth (2D Blu-ray) | Full Luma; Chroma vertically softened |
| 1080p/24 capability | Mild telecine judder |
| Input lag (high-speed camera) | 31ms compared to lag-free CRT in [PC] mode |
| Leo Bodnar input lag tester | [PC] mode 40ms; [Game] mode 46ms; [Movie] 57ms |
| Full 4:4:4 reproduction (PC) | Yes, with [PC] input label |
Power Consumption
| | |
| --- | --- |
| Default [Standard] mode | 45 watts* |
| Calibrated [Movie] mode | 103 watts |
| Standby | 1 watt |
*Note: Out of the box, [Eco Sensor] is enabled by default in [Standard] mode, which explains why energy usage was much lower before calibration than after.
Picture Quality
After calibration and fixing peak white luminance to our specified target of 120 cd/m2, native black level on the Samsung UE55HU6900 measured 0.053 cd/m2, which seems to be par for the course for a VA-type 4K LCD panel this year. The HU6900 is not equipped with pseudo-local dimming technology so there's little else you can do to improve the black-level response, but it's not that big a loss since we consider 0.05 cd/m2 to be good enough by LED LCD standards.
Even better, not having any sort of local dimming on board frees the UHD TV of black level fluctuation (save for the LEDs switching off on a full-black screen): the buried alive scene in Kill Bill Vol 2 didn't trip up the UE-55HU6900 as it did on the more expensive 55HU7500 and 55HU8500. Backlight uniformity was as good as we've observed on an LCD display, with no evidence of clouding or corner bleeding when we examined the panel in a dark room.
Motion was where the UE55HU6900 fell apart. With stills and slow-moving images, things appeared pristine, vibrant and sharply detailed, thanks to the TV's accomplished upscaling and post-calibrated ability to render deep blacks, smooth gamma without undue tonal jumps, and supremely accurate colours. Yet when there's medium-fast pans, the on-screen picture degraded into a blurry mess.
Here's the thing: being a basic model with important features stripped, the Samsung HU6900 provides no way of boosting motion resolution beyond the baseline LCD level of 300 (as determined via the horizontally scrolling lines test card in Chapter 31 of the FPD Benchmark Software disc). The included [Motion Plus] interpolator merely applied dejudder (causing soap opera effect) but not deblur processing – in fact, this is the first time we've seen the [Blur Reduction] option missing from the [Motion Plus] "Custom" submenu on a Samsung television. [LED Clear Motion], which on other 2014 Samsung TVs amounted to a highly effective black frame insertion (BFI) system, only darkened the 55HU6900's image slightly without improving motion clarity.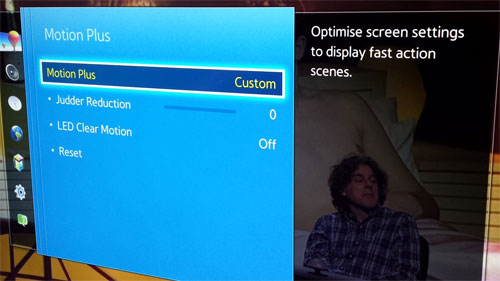 To be fair, the motion blur was not any worse than what you'd expect from a stock LCD display. But when you put together a perfect storm of largish screen size, super-high resolution and a not insignificant price premium compared with regular HDTVs, then the lack of functional motion interpolation becomes difficult to swallow. The UHDTV's 4K resolution only holds true on a static picture; on a moving image you'd be lucky to get 1K. On a positive note, the less advanced motion processing seemed to have rid the HU6900 of any motion hiccup which has plagued Samsung's high-end TVs over the past couple of years.
The UE55HU6900 doesn't support native 24fps playback, which means that Blu-ray movies will display with subtle telecine judder. If you're very sensitive to even the mildest stutter, then try setting [Judder Reduction] to "4" to smooth out the judder, though be warned that this will introduce minor soap opera effect and the occasional interpolation artefacts.
While we had no trouble accessing Netflix 4K streaming on the step-up HU7500 and HU8500 series, we couldn't do so on our UE-55HU6900 sample. For starters, there wasn't even a Netflix app to be found within the TV's Smart Hub portal despite running on the most up-to-date firmware version 1001 at time of publication. Otherwise, ultra high-definition content looked glorious, although the aforementioned motion blurring did sour our enjoyment somewhat. Using a 4K test pattern generator, we confirmed that the Samsung HU6900 accepted and displayed 3840×2160 resolution at 50Hz and 60Hz.
Update 11 June 2014: Samsung has sent word that the Netflix app (including Netflix 4K) is now operational on the HU6900 series, although we're unable to verify this ourselves since we no longer have access to a review sample.
Verdict
The Samsung UE55HU6900 is a case of you get what you pay for. Yes it's 4K, but only when the picture on screen is mostly still. Once the camera starts panning, resolution drops away quite noticeably, and unfortunately there's no motion-enhancing technology available on the set to reduce blurring.
The television is not without its virtues: contrast performance was good by LED LCD standards; input lag was low for an Ultra HD TV; plus greyscale, gamma and colour accuracy were top-notch after calibration. But we're not entirely convinced the 55in HU6900 is the best choice on which to spend £1500, especially considering its lack of native 24p playback and Netflix 4K streaming. Buy it only if you're going to view 4K photos most of the time.
Note: If you're interested in buying this TV, please support us by considering making your purchase from our advertising partner Hills Sound & Vision – call 01273 411698 for competitive prices and first-rate service.