Two key premium, next-gen features that Samsung are pushing heavily in its 2014 television lineup are ultra high-definition (UHD) resolution and curved screens. Over the past few weeks, we've reviewed a curved Ultra HD model (UE55HU8500); a curved, non-4K one (UE55H8000); and a non-curved, non-4K version (UE40H6400). To complete our coverage, today we're looking at the non-curved, UHD Samsung HU7500 series (which is marketed as the HU8550 in North America).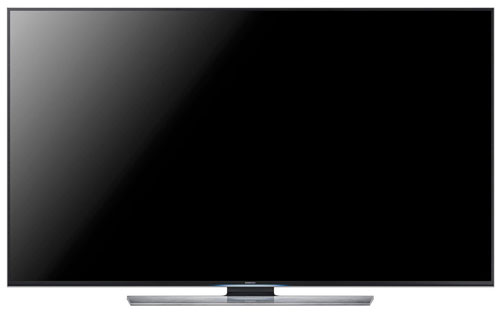 The South Korean manufacturer's Series 7 UHD range is available in three screen sizes: the 48-inch Samsung UE48HU7500, the 55-inch UE55HU7500 (the subject of today's review), and the 65-inch UE65HU7500. Besides the absence of curvature, the HU7500 also lacks the following features compared with the step-up HU8500 series:
Quad-Core Plus processor which is faster than the Quad-Core version on the 55HU7500;
1200 Clear Motion Rate (CMR) – the UE-55HU7500 is rated at 1000 CMR;
PurColor and Auto Depth Enhancer technologies;
One Connect external box; and
Integrated camera for motion control and Skype video calls.
Otherwise, just like its pricier sibling the UE55HU8500, the 55in Samsung HU7500 is equipped with a screen resolution of 3840×2160 (four times the pixel count of a "regular" HDTV), HDMI 2.0 (for 4K@60p/50p support), built-in HEVC decoder (to stream Netflix 4K among others), MHL 3.0 (for 4K@30Hz transmission) and HDCP 2.2 copy protection standard.
Design
The Samsung UE55HU7500 carries a similar styling to the UE-55HU8500 we tested last month, minus the curvy elements of course. Thanks to edge-lit LED technology, the matte black bezel is strikingly slim at 8mm, creating a wonderful "picture suspended in air" effect.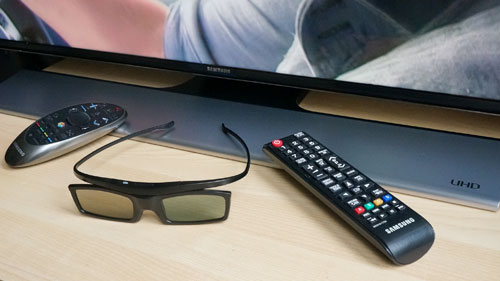 The panel is encased in brushed metallic silver side trim, a finish that's repeated on the pedestal stand's trapezoidal base which is also marked with a "UHD" inscription on the rightmost corner. The HU7500's rear plastic enclosure does not feel as premium as that seen on the higher-end HU8500. A subtle fan noise is emitted from the back of the chassis, which thankfully can be easily masked by normal TV volume.
Connections
Instead of a slot for Samsung's Smart UHD Evolution Kit, the UE-55HU7500 provides a port which can be hooked up to a later iteration of One Connect box for futureproofing purposes.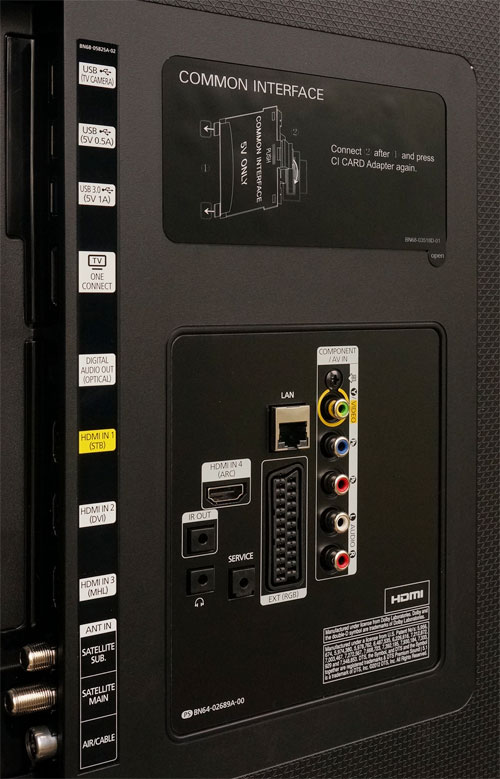 Rear: 4x HDMI, 3x USB, component, RGB Scart, aerial, LAN, headphone & audio outs
Calibration
Note: Our Samsung UE55HU7500TXXU review unit was calibrated using CalMAN 5, the industry's leading video calibration software.
Greyscale
As always with Samsung, the most accurate out-of-the-box picture preset on the UE55HU7500 was [Movie] mode, whose default [Colour Tone] of "Warm2" yielded greys that were a touch too blue: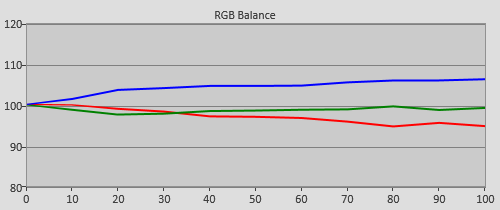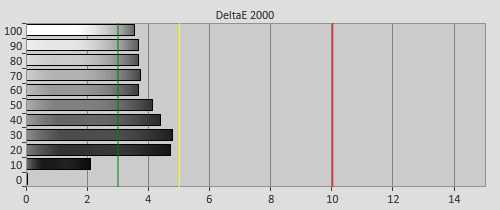 Pre-calibration RGB tracking and delta errors (dEs)
[Movie] mode offers both a two-point [White Balance] controls, as well as a more precise 10p WB system. Since the blue excess was fairly uniform throughout the luminance range, we only needed to use the former to achieve an excellent result: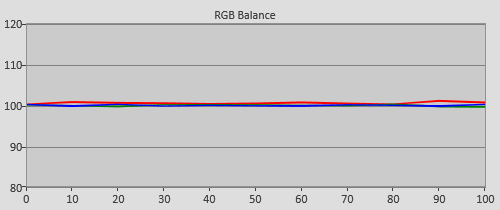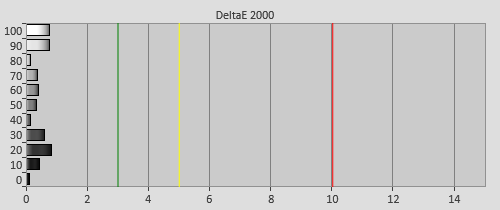 Post-calibration RGB tracking and dEs in [Movie] mode
Delta errors (dEs) measured under 1 (the generally accepted cutoff before inaccuracies become visible to the human eye is 3) from 0% to 100% video signals, ensuring that images displayed on screen will be free of discolouration or tinting.
Gamma
With all settings left untouched out of the box in [Movie] mode, overall gamma on the 55″ Samsung HU7500 measured bang on 2.2, which would be satisfactory had the ITU (International Telecommunications Union) not adopted 2.4 as the recommended EOTF (electro-optical transfer function) for flat-screen HDTVs used for studio mastering in a dark room.
| | |
| --- | --- |
| | |
| Pre-calibration gamma tracking (2.2) | Post-calibration gamma tracking (2.39) |
Lowering [Gamma] to "-2" was all that's needed to obtain a reasonably flat 2.4 gamma tracking, resulting in punchy images that looked realistic from dark to bright without undue tonal jumps.
Colour
Three [Colour Space] options are provided on the UE-55HU7500: "Auto", "Native", and "Custom". For owners who don't intend to carry out advanced calibration on their sets, "Auto" produced reasonably accurate colours, adhering more closely to Rec.709 HDTV standard than "Native". But since we have the necessary tools and skills, we took advantage of [Colour Space] "Custom" – essentially Samsung's colour management system (CMS) – to further improve colour fidelity on the television.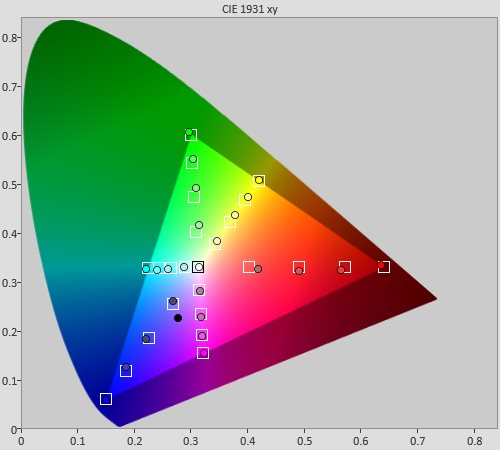 Post-calibration colour saturation tracking
We attained first-rate results, with all the measured colour saturation tracking points posting dEs of less than 3, meaning that viewers shouldn't be able to see any colour errors in real-world content.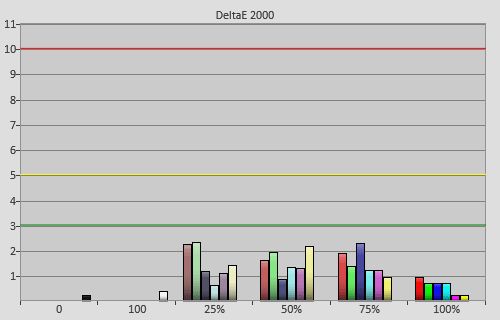 Post-calibration colour errors (<3 not appreciable to the eye)
Benchmark Test Results
| | |
| --- | --- |
| Dead pixels | None (would be difficult to spot at 4K resolution anyway) |
| Screen uniformity | Very good for an edge-lit LED LCD |
| Overscanning on HDMI | Defeatable with 1080p and 2160p (UHD) content |
| Blacker than black | Passed |
| Calibrated black level (black screen) | 0 cd/m2 (LEDs shut off) |
| Calibrated black level (ANSI checkerboard) | 0.055 cd/m2 |
| Black level retention | Auto-dimming with full black screen |
| Primary chromaticity | Excellent |
| Scaling | Excellent |
| Video mode deinterlacing | Very effective jaggies reduction |
| Film mode deinterlacing | Passed 2:2 PAL and 3:2 NTSC tests in SD and HD |
| Viewing angle | Decent – blacks & colours wash out beyond 40° off-axis |
| Motion resolution | 1080 lines (and likely higher) with [LED Clear Motion] on |
| Digital noise reduction | Optional; effective when engaged |
| Sharpness | Defeatable edge enhancement |
| Luma/Chroma bandwidth (2D Blu-ray) | Full Luma; Chroma vertically softened |
| 1080p/24 capability | No judder in 2D; mild judder in 3D |
| Input lag (Leo Bodnar tester) | 69ms in [Game] and [PC] mode |
| Full 4:4:4 reproduction (PC) | Yes, with [PC] input label |
Power Consumption
| | |
| --- | --- |
| Default [Standard] mode | 116 watts* |
| Calibrated [Movie] mode | 111 watts |
| Standby | 1 watt |
*Note: [Eco Sensor] is enabled by default in [Standard] mode.
Picture Quality
Black Level
The flat panel on the Samsung UE55HU7500 produced a deeper native black level than the UE55HU8500's curved screen, coming in at 0.057 cd/m2 on a 4×4 ANSI chequerboard pattern once we pegged peak white luminance to 120 cd/m2 (our usual target to maintain a level playing field across the different TVs we review). However, the HU7500's software-based pseudo-local dimming – whose on/off state and intensity is controlled via the [Smart LED] option in the user menu – wasn't as effective as that implemented on the flagship HU8500 which is said to also incorporate a hardware component.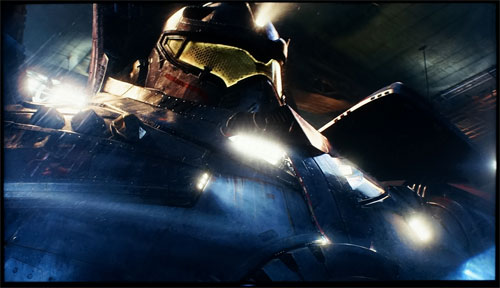 All three [Smart LED] settings, namely "Low", "Standard" and "High", merely darkened the 55HU7500's ANSI black level marginally to 0.055 cd/m2; whereas engaging [Smart LED] on the 55HU8500 lowered the figure from 0.069 cd/m2 to 0.041 cd/m2. As is the case with most non-full-array local-dimming systems, where [Smart LED] delivered the most benefit was during low APL scenes. When fed with full-field video black signal (with auto-dimming defeated by displaying a pause icon from our OPPO Blu-ray player on screen), the Samsung UE55HU7500's measured black level dropped to 0.01 cd/m2, 0.004 cd/m2 and 0.003 cd/m2 with [Smart LED] "Low", "Standard" and "High" respectively.
Like most LED LCD televisions, the Samsung HU7500 switches off its LED backlight completely when asked to display a full black screen, leading to some interesting side effects with certain near-black material. For example, in Kill Bill: Vol 2 when the coffin containing The Bride (Uma Thurman) was nailed shut (timecode 00:36:28), the UE55HU7500's LED backlight began flashing on and off like a disco light, as the TV got confused between total darkness and just the faintest outline of Thurman's face.
We tried various settings, including disabling [Smart LED] and even engaging [Game Mode], to try and eradicate the maddening backlight fluctuation, but to no avail. To be fair, such super-low APL sequences are very rare, but hopefully Samsung can adjust the auto-dimming threshold in a future firmware update to prevent such an issue from cropping up.
Being a step-down model. the Samsung HU7500 doesn't come with the [Cinema Black] option offered on the HU8500 and H8000 curved LED televisions. We don't think it's a big loss, but it does mean that the TV won't be able to darken the top and bottom letterbox bars in cinemascope films.
Backlight/ Screen Uniformity
Our Samsung UE-55HU7500 review sample exhibited very good backlight consistency, with no evidence of corner bleed or clouding once calibrated. Given how LEDs mounted along the borders are required to illuminate the entire LCD screen via light guide plates, some dirty screen effect (DSE) was inevitable, but it's very minor, and hardly noticeable even in panning shots across a largely homogeneous background such as football field. In any case, backlight uniformity on the HU7500 was better than that we saw on its curved counterpart (HU8500).
Due to the way the edge LEDs and light guide plates are arranged, we did detect a slightly brighter horizontal stripe which followed our action of scrolling up and down the user menu. It's extremely mild though, and totally invisible in real-life content – we mention it only for the sake of completeness.
Motion
We've been complaining about motion hiccups after scene cuts featuring a change of pace (e.g. from live action to slow-mo replay, or vice versa) on high-end Samsung TVs over the past couple of years. The bad news is, motion hiccup was still present on the UE55HU7500; but the good news is, there's some improvement in terms of frequency and severity. We only spotted it a handful of times during the Match Of The Day football highlights programme on BBC HD, and even then it's more a micro-stutter than a full-blown judder plus combing/ tearing. The only surefire method to kill the aberrant motion processing was by enabling [Game] mode, but overall we think there's really no need for such last-ditch measure, since the odd micro-stutter was largely tolerable even by our exacting standards.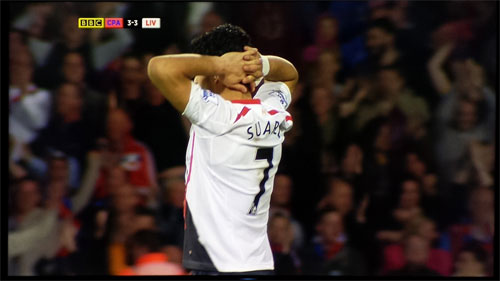 With software version 1121 (the latest at time of publication), [Motion Plus] "Clear" appeared to be as good as off, neither boosting motion resolution nor smoothing judder. We really liked the [LED Clear Motion] option in the [Motion Plus] "Custom" submenu, which activates Samsung's much-improved 2014 backlight scanning technology to enhance motion clarity without introducing interpolation artefacts, though as we discovered on the midrange UE40H6400, we had to bump [Backlight] and [Contrast] to almost maximum to compensate for the decrease in brightness, and hit our peak white luminance target of 120 cd/m2.
If the flicker caused by [LED Clear Motion] is too much for your eyes (each individual has different sensitivity), a decent alternative is setting [Blur Reduction] to "8" and [Judder Reduction] to "0" in the [Motion Plus] "Custom" submenu, which reduces motion blur without producing a hyper-smoothened look (for instance soap opera effect in 24fps movies).
2D
After dialling in greyscale and colours through calibration, HD content looked nothing short of stunning on the Samsung UE55HU7500 whose convincing blacks, rich contrast, and above all absence of visible pixel grid even from up close contributed to a truly silky image. The wow factor was further accentuated by the display's size-zero bezel which created a quite surreal illusion of the panel floating in mid-air. When paired with a reference Blu-ray transfer such as Pacific Rim, the 55HU7500 was an utter sight to behold, handling with aplomb the movie's wide dynamic range (from dark crevices to dazzling lights, without compromising any shadow or highlight detail in between) and multi-layered textures on the giant robots and monsters.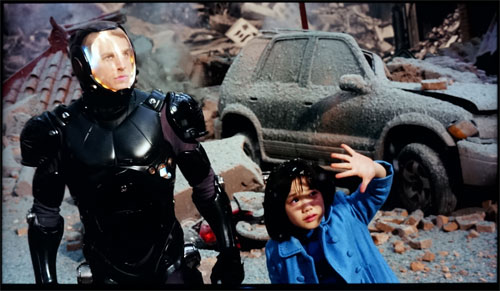 Of course, good contrast performance and authentic colours will benefit all sort of material viewed on the HU7500. Samsung's impressive video processing made sure that so-so standard-definition broadcasts did not look any worse, although we'd argue that if you're planning to do the majority of your viewing in SD, then you're doing this wrong.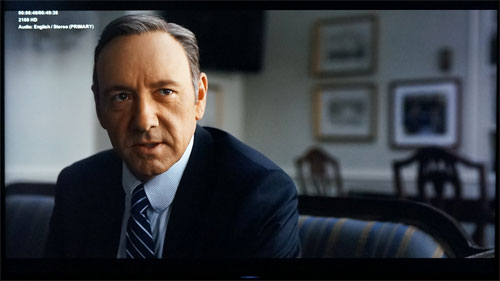 At the other end of the spectrum, native 4K content looked exquisite, with a staggering amount of detail on show that's not marred by any underhanded noise filtering or edge enhancement. For lucky owners of the 55HU7500, the most easily accessible ultra high-definition (UHD) footage at this time of writing is none other than House of Cards Season 2 on Netflix 4K, as long as your broadband speed is fast enough. Just like on the flagship HU8500 series, the images came across as clean and gorgeous, but we did notice a small lip-sync error and sporadic instances of posterization. However, until we manage to check out Netflix 4K on a Ultra HD set from another brand, we couldn't be sure whether the problems stemmed from the Samsung UE55HU7500 or from Netflix's streaming.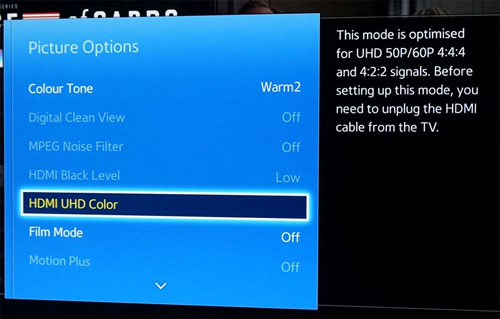 Samsung offers a new user-accessible control called [HDMI UHD Color] on its 2014 range of UHDTVs. Instead of expanding the TV's gamut to fulfil Rec.2020 colour space (we wished), it serves to provide support for up to 4:4:4 chroma resolution with 4K@60p/50p sources, indicating that the 55HU7500's onboard HDMI 2.0 chip is a full-bandwidth, Level A version. [HDMI UHD Color] has to be enabled manually for each HDMI port where 4K res with 4:2:2 or 4:4:4 reproduction is required, because the chroma information is not auto-detected by the chip Samsung is using.
3D
We've come to accept that Samsung 3D LED TVs cannot do native 1080p/24 playback in 3-D mode, and the HU7500 was no different. Fortunately, the Korean TV maker finally sees the sense to not force undefeatable MCFI (motion-compensated frame interpolation) and the consequent soap opera effect down our throat: [Motion Plus] "Off" was truly off, although of course some telecine judder would manifest itself with such a configuration. We found that setting [Judder Reduction] to "2" under the "Custom" [Motion Plus] submenu worked well to eliminate judder without introducing overt soap opera effect.
The Samsung UE-55HU7500 ships with two pairs of flat-packed SSG-5100GB active-shutter 3D glasses. Tri-dimensional images reached full HD 3D resolution (and possibly higher, but we don't have the necessary test pattern to verify) without excessive flicker or drop in brightness, though we're slightly disappointed that crosstalk was no better than the midrange H6400 series.
Console/ PC Gaming
Samsung doesn't seem to be trying its hardest to appeal to gamers, at least as far as its high-end UHD offerings are concerned. Like last year's F9000 series, placing our Leo Bodnar tester on the middle flashing bar on the 55HU7500's screen returned an input lag figure of 69ms in both [Game] and [PC] modes.

While this sort of lag time is probably still acceptable for casual gamers, those who are into twitch gaming or just want the most responsive display possible would be better served by a Sony (or maybe Panasonic) 4K Ultra HD TV.
Conclusion
The Samsung UE55HU7500 builds upon the success of 2013's F9000 series which helped the South Korean brand catch up to Sony in terms of 4K UHD TV market share within a space of 6 months despite being late to the party. The HU7500's picture quality isn't necessarily better than the F9000, but the addition of several must-have next-gen features such as inbuilt HEVC decoding, updated Netflix 4K client, HDMI 2.0 and HDCP 2.2 makes the former an infinitely better choice, though if you consider the possibility of upgrading the F9000 with this year's One Connect box, things become less clear-cut.
Despite being designated as a step-down model with certain features omitted, the UE-55HU7500 actually held its own against the range-topping UE55HU8500 when it came to image quality. In fact, the backlight (or technically, edge-light) on the flat-screen 4KTV was more uniform than what we observed on its curved sibling, although the latter's pseudo-local dimming system was more accomplished since it's not entirely software-driven. Ultimately, we think the decision between the two boils down to whether you're happy to spend £400 more for the curved design which is bound to get people talking.
Note: If you're interested in buying this TV, please support us by considering making your purchase from our advertising partner Hills Sound & Vision – call 01273 411698 for competitive prices and first-rate service.