If the Samsung UE55HU8200 ultra high-definition (UHD) television that's currently sitting in our test room is any indication, the South Korean manufacturer's affinity for all things curved is growing stronger by the day. The HU8200 (marketed as the HU7250 in the USA) is the third curved TV range that Samsung is releasing, following the flagship 4K HU8500 and 1080p H8000 series which we reviewed earlier in the year.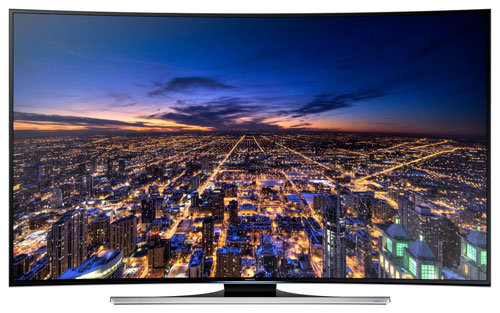 On paper, the Samsung HU8200 shares many identical specifications with the HU7500 including a Quad Core processor, a CMR (Clear Motion Rate) figure of 1000Hz, HDMI 2.0, integrated HEVC decoder and HDCP 2.2, with the obvious difference being that the former's panel is curved. Compared with the step-up HU8500 model, the HU8200 lacks a Quad-Core Plus processor, 1200Hz CMR, PurColor plus Auto Depth Enhancer technologies, One Connect external box, and inbuilt camera for Skype and gesture controls. Price-wise, the HU8200 sits nicely between the HU7500 and the HU8500 too.
Two screen sizes are available, namely the 55-inch UE55HU8200 and the 65-inch UE65HU8200. We're testing the smaller version, since we're always mindful of cramped average living room size in the UK and Europe.
Design
We unpacked the 55HU8200 with someone who's never laid eyes on a curved television before, and he was left spellbound by the curvature. Even though we've seen quite a few bendy tellies to date, and don't think the curve either adds to or detracts from the picture quality at such sizes, the UE55HU8200's subtle concavity is still a marvellous styling and engineering feat that took our breath away.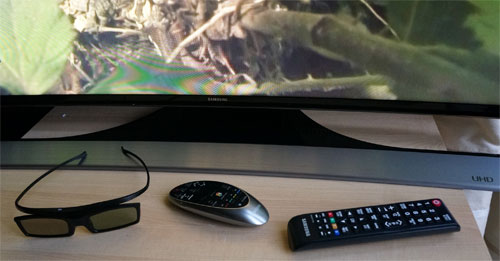 A relatively slim matte black bezel and chrome-plated borders represent swanky touches. Taking up less footprint than the one found on the flagship UE55HU8500, the arced base of the HU8200's table-top stand is finished in brushed metallic grey, and carries a "UHD" designation.
Connections
Like the UE55HU7500, the 55in Samsung HU8200 features an input port which allows owners to "upgrade" their UHDTV with a future version of the One Connect external media receiver box. A soft fan noise could be heard from the connections compartment round the back of the set, which was easily masked by normal TV volume.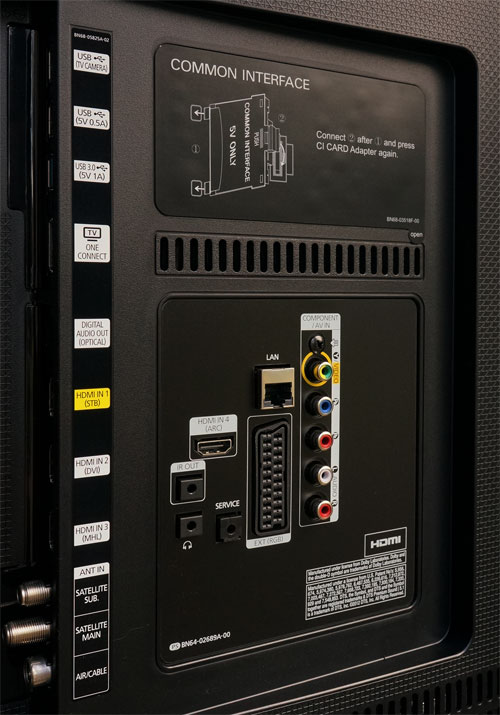 Rear: 4x HDMI, 3x USB, component, RGB Scart, aerial, LAN, headphone & audio outs
Calibration
The Samsung UE55HU8200 calibrates like a dream, which we did so in the most accurate [Movie] preset using our resident Klein K10-A meter, Spectracal's CalMAN 5.3 software and DVDO's AVLab TPG signal generator.
Greyscale
In the [Movie] mode on our 55HU8200 review sample, the default [Colour Tone] of "Warm2" yielded greyscale that exhibited slightly too much green component especially towards the brighter portion of the image: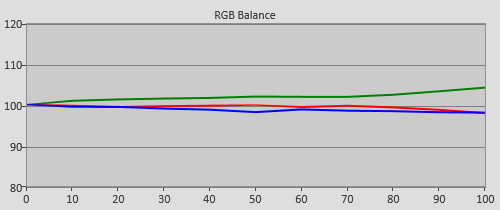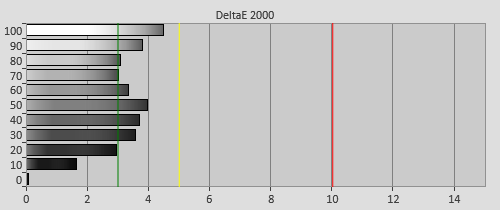 Pre-calibration RGB tracking and delta errors (dEs)
Even though the Samsung HU8200 offers both two-point as well as more precise 10-point [White Balance] controls, we only needed to use the former to obtain supremely accurate greyscale.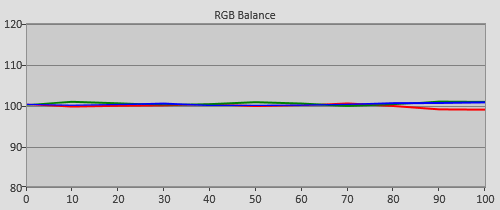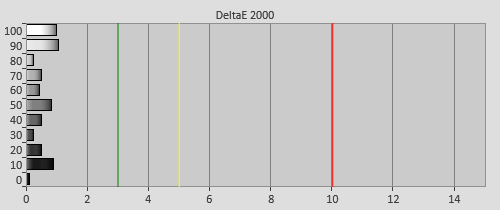 Post-calibration RGB tracking and dEs in [Movie] mode
Post-calibration, delta errors (dEs) hovered around 1 and below across the entire luminance range – 3 is normally considered the threshold above which inaccuracies would become visible. In other words, there should be no perceptible greyscale error in real-life viewing irrespective of whether the content is dark or bright.
Gamma
Samsung are still tuning their TVs to 2.2 gamma by default, even when the International Telecommunications Union (ITU) is recommending 2.4 as the electro-optical transfer function (EOTF) for digital TVs used in dark-room studio mastering.
| | |
| --- | --- |
| | |
| Pre-calibration gamma tracking (2.19) | Post-calibration gamma tracking (2.41) |
Dialling [Gamma] down from the default value of "0" to "-2" brought measured overall gamma to 2.4, ensuring a contrast-rich picture with plenty of depth and "pop".
Colour
As usual on Samsung televisions, [Colour Space] "Auto" produced reasonable colours on the UE55HU8200, but it can be dialled in to highly accurate levels by using the South Korean manufacturer's excellent RGB-based colour management system (CMS) which is accessible through [Colour Space] "Custom".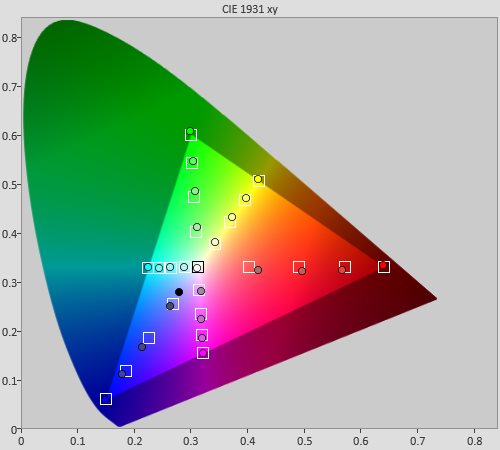 Post-calibration colour saturation tracking
After tweaking, delta errors (dEs) for all the colour saturation tracking points that we measured dropped under the humanly perceptible cutoff of 3, which means colours would look natural and realistic in real-world content.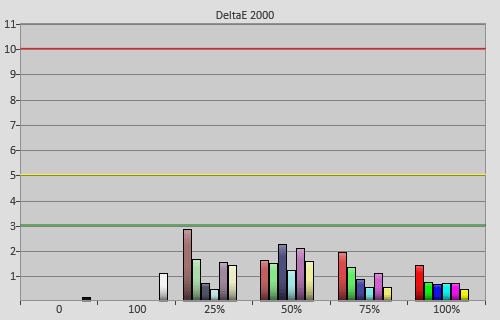 Post-calibration colour errors (<3 not appreciable to the eye)
Benchmark Test Results
| | |
| --- | --- |
| Dead pixels | None |
| Screen uniformity | Very good for an edge-lit & curved LED LCD |
| Overscanning on HDMI | Defeatable with 1080p and 2160p (UHD) content |
| Blacker than black | Passed |
| Calibrated black level (black screen) | 0 cd/m2 (LEDs shut off) |
| Calibrated black level (ANSI checkerboard) | 0.073 cd/m2 |
| Black level retention | Auto-dimming with full black screen |
| Primary chromaticity | Excellent |
| Scaling | Excellent |
| Video mode deinterlacing | Very effective jaggies reduction |
| Film mode deinterlacing | Passed 2:2 PAL and 3:2 NTSC tests in SD and HD |
| Viewing angle | Decent – blacks & colours wash out beyond 40° off-axis |
| Motion resolution | 1080 lines (and likely higher) with [LED Clear Motion] on |
| Digital noise reduction | Optional; effective when engaged |
| Sharpness | Defeatable edge enhancement |
| Luma/Chroma bandwidth (2D Blu-ray) | Full Luma; Chroma vertically softened |
| 1080p/24 capability | No judder in 2D; mild judder in 3D |
| Input lag (high-speed camera) | 32ms in [PC] mode |
| Leo Bodnar input lag tester | 41ms in [PC] mode; 68ms in [Game] mode |
| Full 4:4:4 reproduction (PC) | Yes, with [PC] input label |
Power Consumption
| | |
| --- | --- |
| Default [Standard] mode | 126 watts* |
| Calibrated [Movie] mode | 135 watts |
| Standby | 1 watt |
*Note: In the out-of-the-box [Standard] mode, [Eco Sensor] is engaged by default.
Picture Quality
The first thing that struck us as we were calibrating the UE-55HU8200 and browsing through our array of test patterns was how consistent the TV's backlight was, and there wasn't any screen uniformity issue in sight either. Over the past couple of years we've noticed a general improvement in the backlight uniformity of Samsung's edge LED TVs, and it's encouraging to see the company extending this desirable trait to its curved displays too. To put things in perspective, the HU8200 actually exhibited better backlight/ screen uniformity than many high-end flat-panel televisions from other brands, a testament to Samsung's technical wizardry and quality control.
Of course, a consistent backlight is pointless if the blacks are subpar (see Exhibit A), and fortunately the UE55HU8200 didn't disappoint in this department, putting in a strong contrast performance that we've come to expect from the company's SPVA LCD panels. In absolute terms, the HU8200's native black level (0.073 cd/m2) didn't quite measure as deep as the flat-screen HU7500 (0.057 cd/m2), but it's understandable given the stress placed on the LCD panel to bend the screen, and in any case still ranks as good by LED LCD standards.
Black-level response can be further improved by engaging [Smart LED] which is Samsung's pseudo-local dimming system for the edge-lit LED backlight. Three intensities are available, namely "Low", "Standard" and "High". After doing lots of measurements and watching a selection of low-APL material, we preferred [Smart LED] "Low" which deepened blacks sufficiently (0.014 cd/m2 on full-field video black with auto-dimming defeated) without incurring fairly obvious black level fluctuation witnessed with "Standard" and "High".
Otherwise, the UE-55HU8200 behaved almost exactly like the step-down UE-55HU7500 as far as picture's concerned. Colours appeared natural and authentic, with the UHDTV never missing a beat in reproducing the not-easy-to-render memory colours like green foliage and skin tones – we even settled on the same [Flesh Tone] value after calibration.
Samsung's black frame insertion (BFI) technology – which can activated by setting [Motion Plus] to "Custom" then enabling [LED Clear Motion] – worked well, boosting motion clarity without introducing interpolation artefacts or excessive flicker in photorealistic content. As can be expected of BFI, a dip in luminance ensued, but this was easily overcome by increasing [Backlight] – we still managed to hit 120 cd/m2 peak white with room to spare.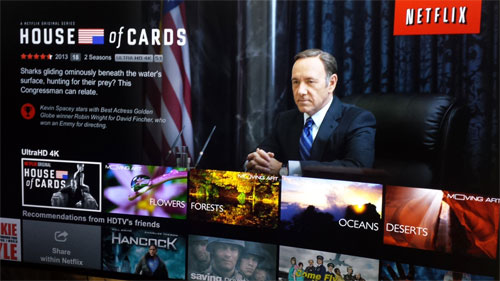 Several quirks we initially reported on the Samsung UE55HU7500 were also present on the UE55HU8200:
[Motion Plus] "Clear" did nothing, neither reducing motion blur nor smoothing out judder;
LED backlight switching on and off erroneously during the Uma Thurman buried alive scene in Kill Bill Vol. 2;
Intermittent motion hiccups following scene cuts with a change of pace: we saw some during the Nadal-Djokovic French Open final; and
Minor lip-sync error when streaming House of Cards Season 2 using Netflix 4K.
Three-dee was lovely to watch on the 55HU8200 – it's gloriously full-res (active 3D), not to mention sufficiently bright and colourful. Crosstalk was minimal, and even when present the ghost images were faint and so did not spoil our enjoyment. Like all Samsung LCD-based 3D TVs, the UE55HU8200 handled 1080p/24 signal from 3D Blu-rays with mild telecine judder due to lack of native 24fps playback (only in the third dimension, not in 2D), but it's not jarring, and could be partially smoothened by setting [Judder Reduction] to "2" within the "Custom" [Motion Plus] submenu. If you're experiencing stutter with extra-dimensional 50Hz content such as Sky 3D programmes, try using [Game] mode which should make tri-dimensional 50fps material judder-free.

The HU8200 returned lower input lag than the Samsung HU8500 and HU7500, which we think is helped by an updated firmware (version 2122 at time of publication), bringing the UHD TV's gaming responsiveness in line with 4K Ultra HD televisions from Panasonic and Sony. As we've previously found on certain Samsung TV models, the key to obtaining the lowest input lag on the UE-55HU8200 was by renaming the HDMI input label to [PC] – our Leo Bodnar device reported a figure of 41ms in this configuration. [Game] and [Movie] modes had more lag at 68ms and 129ms respectively.
Verdict
Curved or not, the UE55HU8200 is yet another high-quality LED TV from Samsung, featuring outstanding uniformity, accurate colours post-calibration, typically superb video processing, and now low input lag for an Ultra HD television. While we suspect most buyers will either settle for the flat-screen HU7500 or go all the way straight to the range-topping curved HU8500, the Samsung HU8200 is still a strong addition to the company's ever-expanding UHD display lineup.