In case you haven't noticed, Samsung is betting big on 4K Ultra HD and curved televisions this year, and no product embodies this more than the company's flagship UHD (ultra high-definition) TV for 2014, namely the HU8500 series. It's available to buy in the UK in three screen sizes: the 55-inch Samsung UE55HU8500 (which we're reviewing today), the 65-inch UE65HU8500, and the gigantic 78-inch UE78HU8500.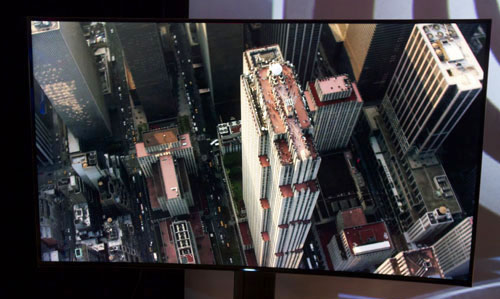 The 55in HU8500 features a native screen resolution of 3840×2160 (four times the pixel count of a 1080p HDTV), a curved design, and the most current next-gen specifications including HDMI 2.0 (allowing for 4K@60hz/50Hz playback), inbuilt HEVC decoding (for Netflix 4K streaming), MHL 3.0 (supporting 4K@30Hz) and HDCP 2.2 copy protection standard. As if the UHDTV isn't futureproofed enough, the UE-55HU8500 ships with an external "One Connect" box containing the television's processing circuitry, which can potentially be replaced (at a price) with a newer one offering the latest upgrades.
Note: Our review was conducted with the 55HU8500's firmware updated to version 1100, the latest at time of publication. Europe's HU8500 series is equivalent to the Samsung HU9000 in North America.
Design
Regardless of what you think about curved displays, the gentle concavity of the UE55HU8500's screen will undoubtedly stand out among the swathe of flat-panel TVs on shop floors. Inspected from the sides, the chassis – encased in polished chrome trim – is thicker than what we've seen from most Samsung edge-lit LED LCD televisions, but that's not necessarily a bad thing if it contributes to better backlight uniformity in the presence of both a curved screen and 4K resolution.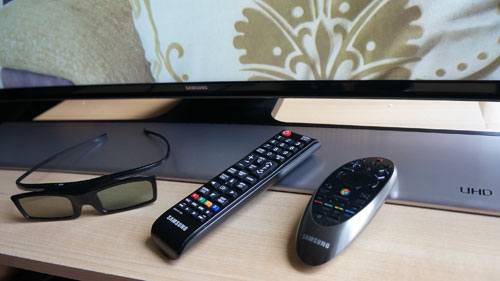 In combination with the subtle curvature, the 10mm-thin black bezel produces a quite surreal "picture floating in air" effect. The supplied table-top stand sports a brushed metallic grey base which is not only marked with a "UHD" inscription, but also arced to perfectly complement the curvity of the LCD panel. Unlike last year's F8000 range, the 55HU8500's non-swivel stand doesn't span the entire width of the TV, and so can be placed on a smaller AV rack. Wallmounting is possible, though understandably the outer extremities of the HU8500 won't be flush against the wall… unless you live in a lighthouse (a favourite in-joke among detractors of curved tellies).
Connections
The 2014 version of One Connect box has been beefed up, even though it takes up less footprint width-wise. Upon powering up the TV we immediately noticed a soft, whirring fan noise emanating from the box – Samsung informed us that they've fitted a fan this year due to several complaints of last year's One Connect box running overly hot.

Ironically, the underside of the new One Connect box included with our review sample became hot to touch after some time anyway despite the fan, so now we've got two problems of heat build-up and fan noise (which was around as loud as a post-foam-fix Panasonic ZT plasma in our test room). To be fair, we couldn't hear the background noise over normal television volume at sensible viewing distances, but prudent placement is essential.
Calibration
Note: Our UE55HU8500 review unit was calibrated in its [Movie] mode (the most accurate picture preset on Samsung TVs) using CalMAN 5, the industry-leading video calibration software. For reasons we'll explain in the "Motion" section later in this article, we calibrated the set with [LED Clear Motion] engaged.
Greyscale
The default [Colour Tone] setting of "Warm2" in [Movie] mode was reasonably accurate – delta errors (dEs) would have been even lower had Samsung targeted the 2.4 gamma standard recommended by the International Telecommunications Union (ITU) for flat-screen HDTV used in a dark room for studio mastering, instead of the more conventional 2.2: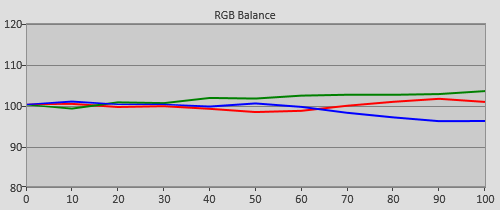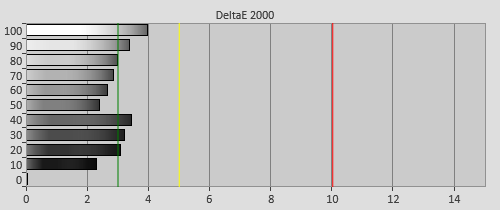 Pre-calibration RGB tracking and delta errors (dEs)
In [Movie] mode, Samsung offers a two-point white balance (WB) controls and also a more precise 10-point system. We only needed to use the former to achieve a beautiful result: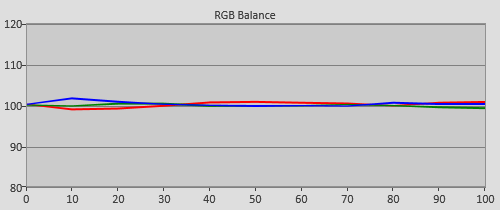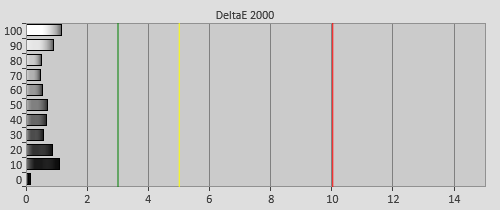 Post-calibration RGB tracking and dEs in [Movie] mode
After calibration, delta errors (dEs) measured below 2 across the entire luminance range, meaning that the image on screen will appear tint-free be it dark or bright. Of course, we could take advantage of the ten-point WB controls to flatten the greyscale even more, but any improvement would be academic, since 3 is the theoretical dE cut-off before inaccuracies become visible to the human eye.
Gamma
The Samsung UE-55HU8500 is equipped with a pseudo-local dimming system which can extract higher dynamic contrast from the TV's edge LED backlight, the on/off state and intensity of which is controlled via the [Smart LED] option. The default [Smart LED] setting in [Movie] mode was "Standard" which skewed gamma tracking, as you can see from the graph on the left below:
| | |
| --- | --- |
| | |
| Pre-calibration gamma tracking | Post-calibration gamma tracking (2.35) |
After dropping [Smart LED] to "Low" intensity, and dialling [Gamma] down to "-2", we got overall gamma to track fairly close to 2.4, ensuring a punchy, rich image with a realistic rise out of black.
Colour
Three [Colour Space] options are available on the UE55HU8500: "Auto", "Native" and "Custom". Out of the box, "Auto" measured closest to Rec. 709 HDTV specifications. Instead of expanding the gamut (dashing any chance of fulfilling Rec. 2020 UHD colour space – not that any consumer-grade display on the market can do it), "Native" caused cyan and yellow to deviate significantly from the correct coordinates.
| | |
| --- | --- |
| | |
| [Colour Space] "Auto" | [Colour Space] "Native" |
[Colour Space] "
Custom
" is Samsung's excellent RGB-based colour management system (CMS) which fortunately uses the more accurate "
Auto
" gamut as its starting point. After some tweaking, we obtained a first-rate result: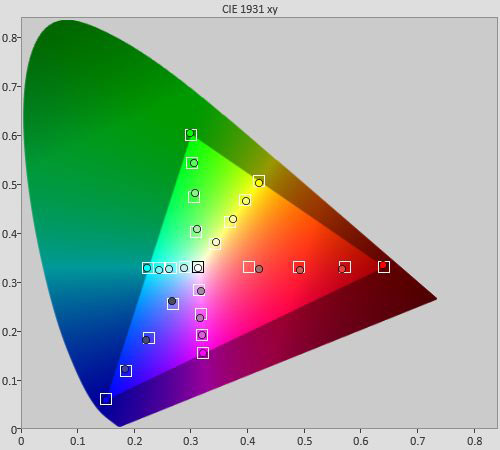 Post-calibration colour saturation tracking
Delta errors (dEs) were curbed under 3 across all the saturation tracking points we measured – essentially the HU8500 4K Ultra HD television exhibited no colour errors that would be perceptible to viewers.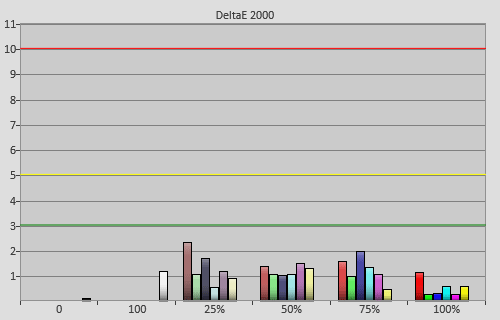 Post-calibration colour errors (<3 not appreciable to the eye)
Benchmark Test Results
| | |
| --- | --- |
| Dead pixels | None (would be difficult to spot at 4K resolution anyway) |
| Screen uniformity | Acceptable considering it's edge-lit and curved |
| Overscanning on HDMI | Defeatable with 1080p and 2160p (UHD) content |
| Blacker than black | Passed |
| Calibrated black level (black screen) | 0 cd/m2 (LEDs shut off) |
| Calibrated black level (ANSI checkerboard) | 0.041 cd/m2 with [Smart LED] "Low" |
| Black level retention | Auto-dimming with full black screen |
| Primary chromaticity | Excellent |
| Scaling | Excellent |
| Video mode deinterlacing | Very effective jaggies reduction |
| Film mode deinterlacing | Passed 2:2 PAL and 3:2 NTSC tests in SD and HD |
| Viewing angle | Decent – blacks & colours wash out beyond 40° off-axis |
| Motion resolution | 1080 lines (and likely higher) with [LED Clear Motion] on |
| Digital noise reduction | Optional; effective when engaged |
| Sharpness | Defeatable edge enhancement |
| Luma/Chroma bandwidth (2D Blu-ray) | Full Luma; Chroma vertically softened |
| 1080p/24 capability | No judder in 2D; telecine judder in 3D |
| Input lag (Leo Bodnar tester) | 73ms in [DVI PC] mode |
| Full 4:4:4 reproduction (PC) | Yes, with [PC] input label |
Power Consumption
| | |
| --- | --- |
| Default [Standard] mode | 97 watts* |
| Calibrated [Movie] mode | 107 watts |
| Standby | 1 watt |
*Note:Out of the box, [Eco Sensor] was enabled by default, which explains why energy usage was lower before calibration than after.
Picture Quality
Black Level & Contrast Performance
After pegging peak luminance to our usual target of 120 cd/m2, the native black level (i.e. with [Smart LED] disabled) on our Samsung UE55HU8500 review unit measured 0.069 cd/m2 on both a full-field video black signal with auto-dimming defeated by pressing the [INFO] button, and a 4×4 ANSI checkerboard pattern. While higher than the circa-0.05 cd/m2 we've seen on Samsung's SPVA panels in recent years, the slightly brighter blacks were perhaps understandable given the complicated warping process needed to produce a curved screen, and in any case bettered every IPS LCD television we've reviewed.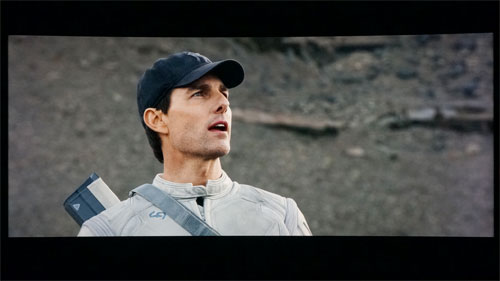 [Smart LED] activates the pseudo-local dimming system (we use the prefix "pseudo" because technically true local dimming is only possible on full-array, direct-lit LED LCDs) on the HU8500 edge LED TV, which comes in 3 strengths: "
Low
", "
Standard
" and "
High
". All three deepened ANSI black level to 0.041 cd/m
2
; and full-screen black (auto-dimming defeated) to 0.008 cd/m
2
, 0.002 cd/m
2
and 0.0017 cd/m
2
respectively (from the "
Low
" to "
High
" settings).
The [Smart LED] "Standard" and "High" positions obscured shadow detail and altered gamma too much for our liking, leaving [Smart LED] "Low" as our preferred option. Some luminance fluctuations remained visible during challenging low-APL scenes (for example as Batman emerges from the shadows to meet Catwoman in The Dark Knight Rises – timecode 01:10:04), but they were infrequent and worth the compromise to improve black-level response.
For some strange reason, engaging [Cinema Black] darkened ONLY the bottom letterbox bar in scope ratio films on our review unit – we're not sure if it's a sample-specific quirk or a model-wide phenomenon. In any case, we detected no global luminance shifts (unlike certain iterations of [Cinema Black]), so we'd happily leave the option enabled to not only better blend the black letterbox bars to the bezel, but also conceal any backlight unevenness.
Backlight/ Screen Uniformity
It's rare to see decent screen and backlight uniformity on edge-lit LED LCD TVs at the best of times, so it's with some trepidation that we went about examining this aspect of the UE55HU8500 by putting up full-field grey patterns of various intensities. Credit where it's due – Samsung's engineers have done a remarkable job considering the stress that has to be applied to the LCD panel to bend it. Sure, we saw a vertical band on the right side of the screen, and patches of horizontal streaks on a 10% grey pattern, but they never troubled us in real-life content – even with medium-fast panning shots across a tonally even background which is what happens frequently in football broadcasts – unless we sat/stood more than 45° off-axis.
Once calibrated, our Samsung 55HU8500 review sample exhibited no significant backlight bleed or clouding, but even if it did, auto-dimming on a full black screen and/or [Smart LED] "Low" should alleviate any backlight inconsistency.
Motion
The 55-inch HU8500 delivered some of the sharpest motion clarity we've seen from an LED LCD display, thanks to Samsung's much-improved black frame insertion (BFI) technology which can be enabled by setting [Motion Plus] to "Custom", then switching on [LED Clear Motion]. Sony has been leading the pack with its BFI system (namely the "Impulse" mode on Bravia TVs) over the past couple of years, but it's now been eclipsed by the one Samsung implemented on the UE55HU8500 (at least until we get the chance to test a 2014 Sony Ultra HD 4K TV).
Brightness, flicker and double ghost images – three issues that plague most BFI systems, even Sony's excellent Impulse mode to some extent – have been addressed effectively on the UE-55HU8500. With [LED Clear Motion] engaged, the television had no problem hitting our peak luminance target of 120 cd/m2 for critical viewing, or even higher for daytime use. Samsung's skilful implementation of BFI also meant that we didn't really see much flicker on photorealistic content except during truly bright scenes, or double image ghosting beyond test patterns.
Since [LED Clear Motion] supports native 1080p/24 playback this year (last year's version didn't), we saw no reason not to use it for every possible type of content, though unfortunately it cannot be applied in [Game] mode or to digital TV broadcast from the internal tuners.
Like last year's high-end Samsungs, the UE55HU8500 suffered from the occasional motion hiccup after scene cuts, which was particularly obvious with digital television broadcasts, for example as the scene switched from a slow-mo replay back to the live court view as Andy Murray was bouncing the ball ready to serve during BBC's airing of the Davis Cup tennis event. The whole picture would stutter, which might be accompanied by some tearing/ combing. We observed these artefacts too while watching live football, e.g. when the camera cut from a close-up of the manager's face back to the field.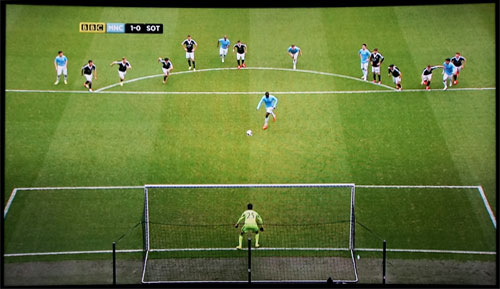 It's as if the change in on-screen motion speed was confusing Samsung's onboard video processor which then applied one single frame of unnecessary interpolation even when [Motion Plus] was clearly set to "Off", resulting in the described stutter/ tearing. Blu-rays were affected too, though to a much lesser extent, manifesting as a slight hesitation after resuming playback from pausing, or when the end credits started rolling. The only sure-fire method to kill the motion hiccups is by engaging [Game] mode which is not without its own shortcomings (no 10p WB; no BFI; no native 24p support).
We also briefly tried out the HU8500's [Football Mode] in our attempt to eradicate the motion hiccups, but its overblown contrast, garish colours and hyper-sharpened lines – all locked and non-adjustable by the way – are the direct antithesis of video accuracy, so we spared our eyes the anguish after 5 seconds.
SD & HD Video Processing
The UE55HU8500 reinforced our opinion that Samsung owns the best in-TV scaling solution on the market. It couldn't work miracles with ropey standard-definition broadcasts, but those who have bought a 4K UHD television would probably do a vast majority of their viewing in HD anyway. High-definition content was upconverted beautifully to the 3840×2160 screen, presenting the details crisply and cleanly without introducing undue ringing and noise.
Video- and film-based deinterlacing was top-notch, in both SD and HD. With [Film Mode] engaged, the Samsung HU8500 correctly detected and processed 3:2 cadence over 480i and 1080i; and 2:2 over 576i. The higher "Auto1" setting was required to pass 2:2 over 1080i, but it caused combing in standard-def mixed edits (e.g. scrolling video text overlaid upon film material). The bottom line? [Film Mode] "Auto2" for SD; "Auto1" for HD.
4K
The UE-55HU8500's One Connect box is compliant with HDMI 2.0 standard which supports 4K resolution at higher frame rates, and using DVDO's excellent AVLab TPG 4K test pattern generator, we confirmed that the UHD TV accepts and displays 3840×2160 video signals at 24Hz, 30Hz, 50Hz and 60Hz, fully resolving both horizontal and vertical single-pixel lines. Such inputs greyed out the [Picture Size] option, and locked the panel into 1:1 pixel mapping (yay!).
When the television was fed with 4096×2160 (or Digital Cinema true 4K) resolution signal at 24Hz, two [Picture Size] options became available: "16:9" and "Screen Fit". The former cropped away the extra pixels outside a 3840×2160 frame (so you'll still get 1:1 pixel mapping but lose some information along the borders); whereas the latter downscales the image be fitted on the UHD panel.
Featuring built-in HEVC decoding and an updated Netflix client, the Samsung UE55HU8500 is the first TV we've reviewed that allows us to watch Netflix 4K streaming. With native UHD content still thin on the ground, Netflix's delivery of House of Cards Season 2 in Ultra HD marks a watershed moment, making 4K so much more accessible to the masses.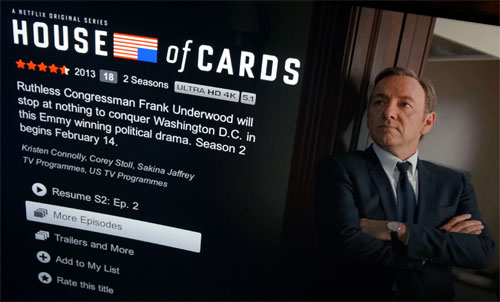 Bright scenes looked highly detailed, providing an immersive yet natural sense of sharpness. Faraway objects in long shots were rendered with pinpoint resolution, injecting more depth to the image than what could be attributed to the screen's curvature. Within the Netflix app, the Samsung HU8500 preserved our calibrated settings in [Movie] mode, adding authenticity to the already pristine picture.
The dialogue-driven (rather than action-packed) nature of House of Cards lent itself perfectly to being streamed over the internet even at ultra high-def resolution. All things considered, Netflix had done a good job, keeping compression artefacts to a minimum. We saw the odd posterization here and there, but they were few and far between, and never detracted from the sumptuous presentation.
3D
The active shutter glasses (ASG) 3D system on the Samsung HU8500 successfully resolved full HD 3D (and possibly even higher resolution, but we didn't have the necessary patterns to verify, since our own custom 3D-res test pattern maxed out at 1080p), providing bags of detail and depth. We witnessed some crosstalk, but the ghost images were of the dark variety, and so were easier to tune out.
After calibration, peak luminance in the third dimension stood at 50 cd/m2 as measured through the 3D specs' shuttering lens, which is brighter than what 3-D plasma TVs can muster. And as was the case last year, the active-shutter glasses that came with the television (you get two pairs) didn't introduce much flicker, making tri-dimensional content actually watchable during daytime.
Like every single Samsung 3D LED TV we've tested to date, the UE55HU8500 didn't support native 1080p/24 playback, meaning that slow-medium panning shots in Blu-ray movies would display with subtle telecine judder. The only way to completely remove the judder was by setting [Motion Plus] to "Standard" or "Smooth", however doing so would introduce the dreaded soap opera effect into film-based material, subverting the cinematic quality of 24fps movies. On balance, we'd rather put up with the odd judder which only manifests during panning sequences than to sit through an entire film that looks like cheaply shot video, though of course we wished that Samsung had provided proper 24p support in the first place – it continues to confound us how they can get this feature right on their plasmas but not on their LED LCDs.
Things got even more confusing when it came to 3D 50hz content: the 55" HU8500 applied forced motion interpolation to such video signals despite [Motion Plus] being set to "Off", causing Sky 3D movies to look overly smooth and video-like. Fortunately there is a way to defeat it, and that's by engaging [Game] mode, although you'll need to adjust a bunch of parameters to obtain an accurate image (it's possible).
Console/ PC Gaming
If you're a competitive twitch gamer who demands the most responsive display for playing first-person shooters (FPS) or arcade games, the Samsung UE55HU8500 is not for you – it appears that the intensive onboard video processing has taken its toll on input lag. The lowest input lag we managed to squeeze from the UHDTV was a less-than-impressive 73ms with our Leo Bodnar device connected to the HDMI2 port which was then renamed to [DVI PC]. Input lag in [Game] mode was 76ms; and in [Movie] mode was a painful 152ms.
Conclusion
The UE-55HU8500 improves upon Samsung's first-generation UHDTV, the F9000 series, in several key aspects. It features all the requisite next-gen specifications including HDMI 2.0, HEVC decoding and HDCP 2.2, ensuring compatibility with future Ultra HD content and most importantly Netflix 4K streaming which is now live and operational. The HU8500 also produces some of the sharpest motion we've seen from an LED LCD display, owing to its superior black frame insertion (BFI) technology that's so usable we actually incorporated it into our calibration workflow for critical viewing.
On the subject of the curved screen, our stance is neutral. At this size, we do not think the curvature adds much to the depth of the image (contrast and resolution contribute more), but it's not so flagrant that we'd dismiss it straight away. Should curved TVs become a hit among consumers, it will be because of the novelty factor, rather than for picture quality reasons.
We're slightly disappointed by the high input lag and continual presence of motion hiccups, but won't hold them against the UHD television in light of its list price. At £2699, the Samsung UE55HU8500 is significantly less expensive that last year's UE55F9000 which went for £3999 at launch – we certainly won't say no to a better-specified TV that costs less.