Despite raising a few eyebrows, Samsung's creation of a new "SUHD" designation to market the company's top-tier Ultra HD TVs – featuring quantum dot colours and HDR (high dynamic range) support not found on lower-down models – must be considered a success. Even upmarket British retailer John Lewis is now listing "SUHD" as a category alongside "LED" and "OLED" in its television selection filter.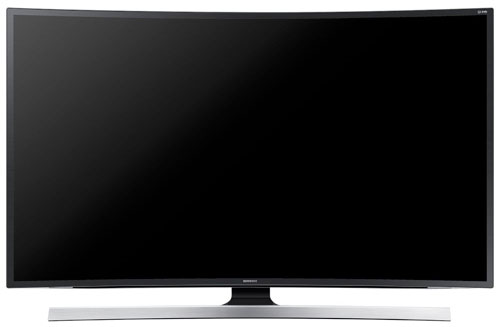 The Samsung JS8500 we're taking a look at today is the South Korean brand's entry-level SUHD TV for 2015, positioned below the higher-end JS9000 and flagship JS9500 series. Three screen sizes are available: the 48-inch UE48JS8500, 55-inch UE55JS8500 and 65-inch UE65JS8500. We're reviewing the 55-incher which is likely to be the most popular size, and retails at £2,599.
Like the step-up UE55JS9000, the Samsung UE55JS8500 is equipped with a curved screen, 3840×2160 UHD (ultra high-definition) resolution, native 10-bit LCD panel, edge-lit LED backlighting, Nano-Crystal quantum dot technology to achieve wider colour gamut, HDR capabilities, four HDMI 2.0 inputs with HDCP 2.2 compatibility, inbuilt HEVC decoding, as well as the firm's new Tizen-based Smart TV portal.
The JS8500 has a less powerful processor (quad-core) and slightly lower Picture Quality Index – or PQI, an arbitrary rating system Samsung devised to differentiate between models – of 1900 vs the JS9000 (octa-core; 2000 PQI) … we shall see if these have any impact on actual picture performance. The 55JS8500 also uses a One Connect Mini box instead of the full-fat version supplied with the JS9000 and JS9500 – we'll explain the ramifications later in this article.
Note: Our review unit was the Samsung UE55JS8500TXXU which is the 3-pin-plug UK model. Interestingly, while the JS8500 is a curved TV in the United Kingdom and Europe, it's flat in the USA.
Design
Make no mistake, the UE55JS8500 is a handsome set. Its tastefully curved screen is framed by a relatively slim, dark gunmetal grey bezel which in turn bears an "SUHD" marking on the top right corner. The chamfer detailing seen on the top-of-the-line UE65JS9500 is absent here, but we doubt many owners will mourn its loss.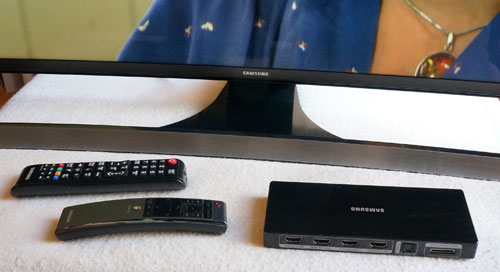 The brushed metallic silver table-top stand is sleek, slender and – you've guessed it – curved. As is increasingly common on high-end televisions of late, the stand is fixed and no swivel is possible. Build quality is high, with little evidence of cheap plastics.
Connections
The JS8500 ships with an external One Connect Mini box which carries some of the most important inputs including 4 HDMI sockets with HDMI 2.0 and HDCP 2.2 specifications, plus 2 USB ports and an optical digital audio output.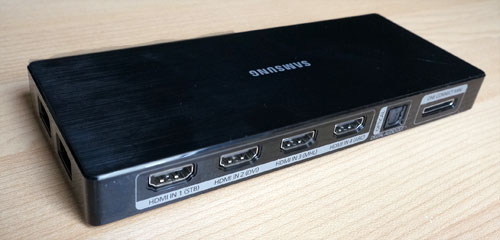 Unlike the "proper" One Connect Box bundled with the step-up JS9000 and JS9500 however, the Mini version doesn't contain the TV's video processing circuits, thus limiting future upgradability. On the upside, this means that the breakout box is fanless and operates without noise.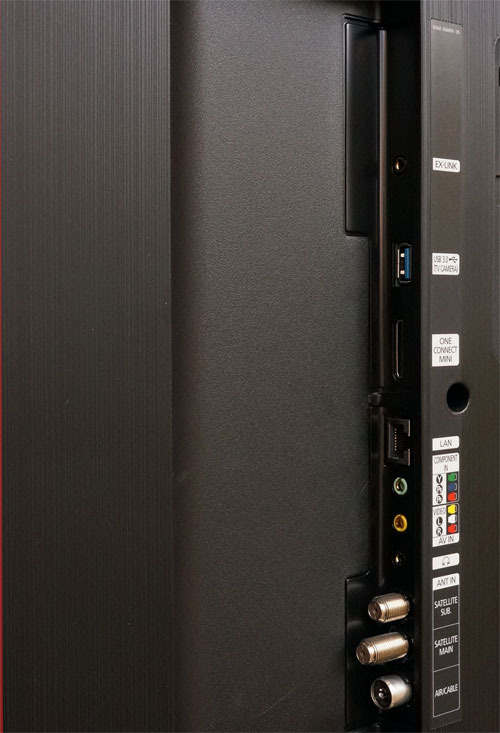 Side: Component, USB 3.0, LAN, Freeview HD & satellite tuners, headphone out & CI slot
Calibration
We calibrated our Samsung UE55JS8500T review sample using a profiled Klein K10-A, a DVDO AVLab TPG signal generator, and SpectraCal's CalMAN Ultimate video calibration software. As always on Samsung televisions, the most accurate out-of-the-box picture preset was [Movie] mode which we proceeded to use as our platform of choice for further tweaking.
Perhaps taking on board feedback from technical reviewers regarding the mildly oversaturated reds on the JS9000 and JS9500, Samsung has remapped the [Colour Space] "Auto" gamut on the JS8500 to tone red down. However, this also caused greens to appear somewhat pale. Guided by Gretag-MacBeth's Colour Checker chart, we found it better to overshoot the outer extremities to make sure the sub-75% tracking points remain adequately saturated.
Otherwise, the display's 2-point and 10-point [White Balance] controls worked as intended, allowing us to align greyscale to D65 and gamma to 2.4 with ease.
Greyscale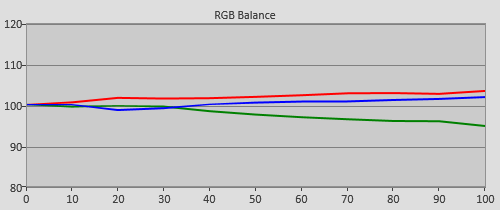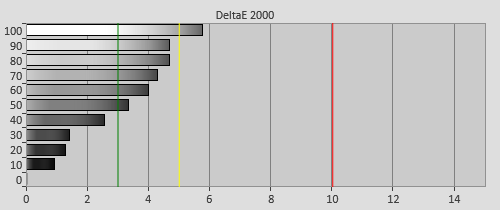 Pre-calibration RGB tracking and delta errors (dEs)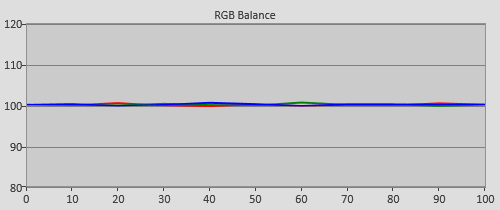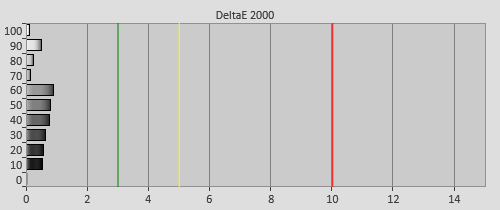 Post-calibration RGB tracking and dEs in [Movie] mode
Gamma
| | |
| --- | --- |
| | |
| Pre-calibration gamma tracking (2.3) | Post-calibration gamma tracking (2.35) |
Colour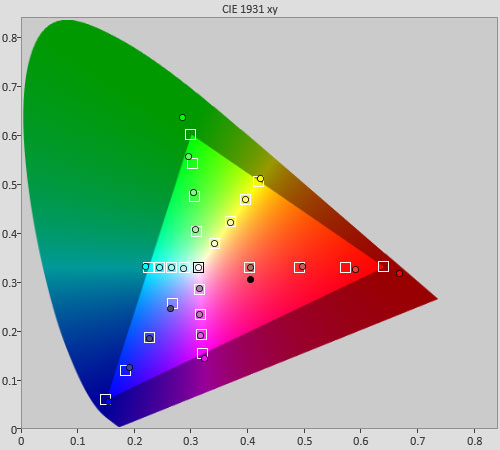 Post-calibration colour saturation tracking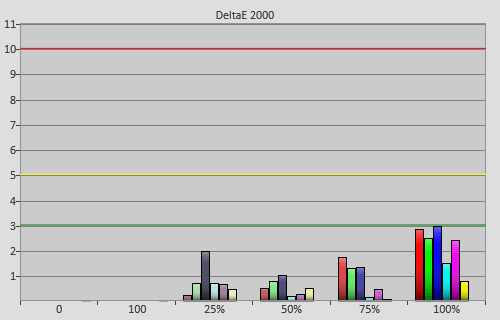 Post-calibration colour errors (<3 not appreciable to the eye)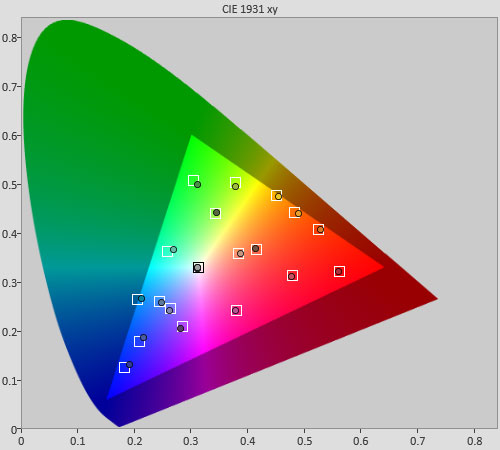 Post-calibration Colour Checker Classic test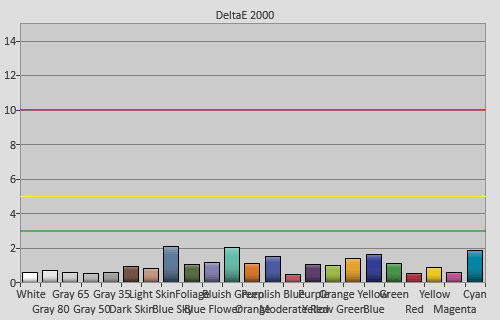 Post-calibration Colour Checker Classic errors (<3 not appreciable to the eye)
Benchmark Test Results
| | |
| --- | --- |
| Dead pixels | None |
| Backlight uniformity | Some clouding; reduced by engaging [Smart LED] |
| Overscanning on HDMI | Defeatable with [Fit to screen] "On" |
| Blacker than black | Passed |
| Calibrated black level (black screen) | LEDs shut off |
| Calibrated black level (4×4 ANSI) | 0.058 cd/m2 |
| Black level retention | Auto-dimming on full-black screen |
| Primary chromaticity | Very good |
| Scaling | Excellent |
| Video mode deinterlacing | Very effective jaggies reduction |
| Film mode deinterlacing | Passed 2:2 & 3:2 tests in SD & HD |
| Viewing angle | Typical of VA-type LCD panel |
| Motion resolution | 1080 lines or higher with [Auto Motion Plus] enabled |
| Digital noise reduction | Optional; effective when engaged |
| Sharpness | Defeatable edge enhancement |
| Luma/Chroma bandwidth (2D Blu-ray) | Full Luma; Chroma horizontally blurred |
| 1080p/24 capability | No judder in 2D; mild judder in 3D |
| Measured panel refresh rate | 120Hz |
| Measured DCI-P3 coverage | 92% |
| Input lag (Leo Bodnar tester) | 22ms in [Game] mode |
| Full 4:4:4 reproduction (PC) | Yes for both 1920×1080 and 3840×2160@60Hz |
Power Consumption
| | |
| --- | --- |
| Default [Standard] mode | 70 watts* |
| Calibrated [Movie] mode | 58 watts |
| Standby | <1 watt |
*Note: In the out-of-the-box [Standard] picture preset, [Eco Sensor] was enabled by default.
Black Level & Contrast
After peak white was pegged to our normal target of 120 cd/m2, the VA-type LCD panel on the Samsung 55″ JS8500 yielded a native black level (i.e. with [Smart LED] disabled) of 0.058 cd/m2 on both a full-field video black (auto-dimming defeated by displaying a pause icon from a Blu-ray player) and a 4×4 ANSI chequerboard pattern.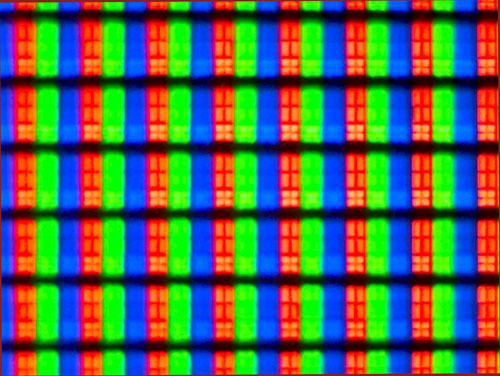 The SUHD television features a pseudo-local dimming system which is controlled via the [Smart LED] option in the user menu. Besides "Off", three strengths are available: "Low", "Medium" (well-informed readers will remember that this midway setting is normally labelled as "Standard" on other Samsung TVs to date), and "High".
Running our custom-authored test pattern (where a small white box crawls horizontally then vertically against a black background), we counted at least 8 rows of dimmable zones on the UE55JS8500, possibly 10. The reason we couldn't be sure was because the majority of the rows would remain illuminated: for instance, even with the most aggressive [Smart LED] setting of "High", the top half of the screen lit up as the white box was moving along the top border. [Smart LED] "Medium" and "Low" expanded the area of zonal illumination to two-thirds of the screen.
Irrespective of our findings using specialised test pattern, the 55JS8500's [Smart LED] algorithm worked pretty well in real-world viewing to improve black-level response and hide backlight inconsistencies, though not as effectively as those implemented on the step-up 65JS9000 (which operates in quadrants), let alone the 150-zone-FALD-toting 65JS9500.
For you number junkies, all three non-off [Smart LED] settings lowered measured black level to 0.007 cd/m2 on a full-black screen with auto-dimming defeated. On a 4×4 ANSI chequerboard, "Low" and "High" returned the native figure of 0.058 cd/m2, whereas "Medium" came in slightly lower at 0.052 cd/m2. [Smart LED] "High" manipulated gamma, brightening our 120 cd/m2 calibrated peak white level to 131 cd/m2.
Backlight/ Screen Uniformity
Initially our Samsung UE55JS8500 review sample exhibited several wisps of clouding in a dark room, but they were pretty much gone once we lowered its [Backlight] setting, and engaged the [Smart LED] control. We were also pleasantly surprised by how little banding and DSE (dirty screen effect) we saw in panning shots across a uniformly toned backdrop (such as a football field), given the well-documented difficulties of illuminating the entire screen evenly from LEDs mounted along the edges.
Motion
Like its JS9500 and JS9000 SUHD siblings, the Samsung JS8500 features a 120Hz panel with high brightness transmittance owing partly to NanoCrystal/ quantum dot technology. Engaging [Auto Motion Plus] boosted motion resolution (evaluated using the horizontally scrolling lines in Chapter 31 of the FPD Benchmark Software test disc) from the vanilla LCD baseline of 300 to 1080 (or higher) lines.
By far our favourite [Auto Motion Plus] setting is "Custom" with [LED Clear Motion] enabled. This activates black frame insertion (BFI) which enhances motion clarity without introducing interpolation artefacts or soap opera effect (SOE) to 24p films. Because of how it works, BFI naturally causes a drop in light output as well as increased flicker, but the UE-55JS8500's high brightness potential allowed the former to be easily overcome by upping [Backlight] appropriately, while Samsung's skilful implementation suppressed flicker to a level where it's (to our eyes) only apparent on truly bright scenes.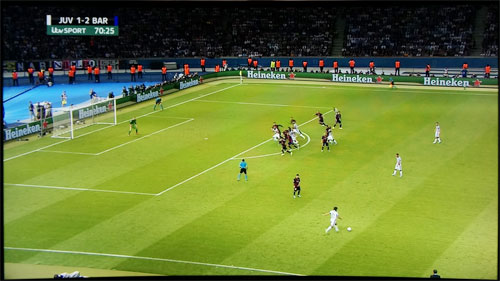 Of course, there are some individuals who are highly sensitive to flicker, for whom [LED Clear Motion] will be a no go. In such cases, the next best fallback for crisp motion handling is [Auto Motion Plus] "Custom" with a high [Blur Reduction] value and [Judder Reduction] set to "0".
HD & SD
In our opinion, Samsung offers the most effective in-TV scaling solution on the market among 4K TV makers, and so it proved on the UE55JS8500. The television delivered a suitably sharp and detailed presentation from high-definition sources, whilst providing a flattering result for standard-def material. It must be stressed though that no display (especially a UHD one) can completely compensate for grubby/ poorly transferred/ highly compressed DVDs or SD broadcasts, but the 55in JS8500 did try its best to make them palatable.
The TV's deinterlacing prowess was equally impressive: jaggies were more or less extinguished from video-based content; and the 55JS8500 did not so much as encounter a hitch when processing film cadences. Note that [Film Mode] has to be set to "Auto1" for 3:2 and 2:2 pulldown correction to work over 1080i, but because this led to occasional tearing/ stuttering on scrolling text overlay, we suggest leaving it at "Auto2", since deinterlacing artefacts like jagged edges, twitter and moire in 480i/ 576i material are more pronounced and in need of intervention.
When the UE55JS8500's excellent video processing was combined with highly accurate greyscale and colours obtained through calibration, the end result was quite spectacular. Pristine Blu-ray movies like Oblivion and various Disney/ Pixar animations looked stunningly clean, detailed and punchy. Film grain integrity was preserved, as long as the noise reduction controls were left off.
Engaging [Smart LED] deepened blacks considerably on the UE-55JS8500, making a mockery of its 0.058 cd/m2 ANSI black level (we should really be collaborating with other like-minded technical reviewers to come up with a standardised method of assessing real-life black-level performance, given the increasing effectiveness of dimming technologies). Among the three intensities, [Smart LED] "Low" introduced the least backlight fluctuation with its dimming algorithm, making it our setting of choice.
Similar to the step-up JS9000, the Samsung JS8500 provides a [Cinema Black] option to darken the top and bottom letterbox bars in cinemascope films, which worked well in our testing.
4K including HDR
We feasted our eyes on HDR (high dynamic range) demo footages of Life of Pi and Exodus on the SUHD TV, and found them to be a major step up to corresponding Blu-ray versions particularly in terms of punchiness and detail in specular highlights. The overall HDR experience on the UE-55JS8500 wasn't as impactful as the flagship 65JS9500 due to a combination of smaller screen size and absence of full-array local dimming (FALD), but then again the latter does cost twice the price.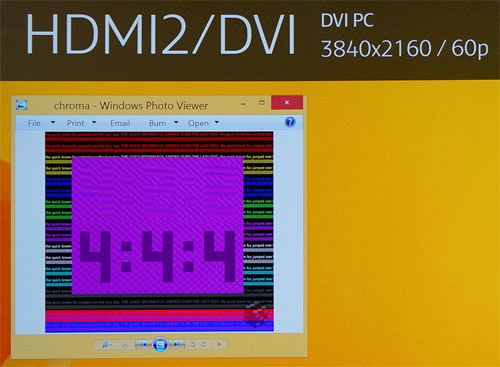 By enabling [UHD HDMI Color] and relabelling the HDMI input source as [PC], we successfully achieved full 4:4:4 chroma reproduction at 3840×2160/60fps piped from a Geforce GTX 970 graphics card installed in a Chillblast gaming tower, but only from the HDMI2, HDMI3 and HDMI4 ports (for some reason HDMI1 topped out at 4:2:2 on our setup). The Samsung JS8 had no problem resolving all 3840 vertical and 2160 horizontal alternating black and white single-pixel lines from DVDO's AVLab TPG 4K signal generator at 24Hz, 30Hz, 50Hz and 60Hz.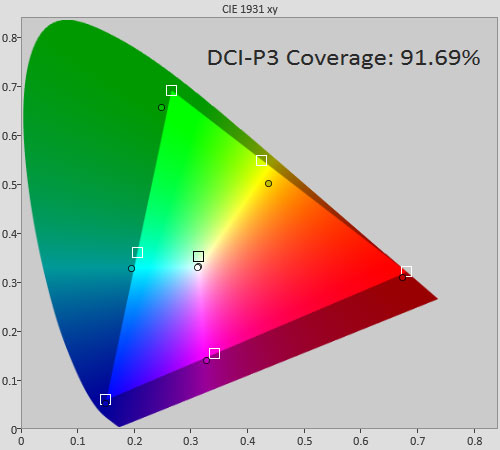 Measured against DCI-P3 colour gamut standard, our UE55JS8500T sample – in its "Native" [Colour Space] – provided 92% coverage, which is bang on the figure advertised by Samsung.
3D
The 55JS8500 doesn't ship with any 3D glasses (not even the flagship JS9500 got any) – it seems 3D is truly an unimportant agenda for Samsung, perhaps rightly so considering the public's waning interest in this format. Nevertheless, we spotted at least one improved attribute in terms of tri-dimensional performance, so we know the company has not totally given up on 3-D just yet.
We've previously complained about forced interpolation in 3D mode on Samsung's 2015 Ultra HD TVs. On the JS8500, there appeared to be a way to disable the interpolation (at least with 24p 3D material) without resorting to [Game] mode. We observed forced processing with [Auto Motion Plus] "Off", but none with "Clear" selected, or "Custom" with [Judder Reduction] set to "0". This allowed us to enjoy 3D Blu-rays without experiencing soap opera effect (SOE), though we did notice some telecine judder in panning shots.
With 50fps extra-dimensional content (e.g. from Sky 3D), there's interpolation at all times regardless of the UE55JS8500's [Auto Motion Plus] setting. The only method to defeat the interpolation was by enabling [Game] mode which unfortunately introduced regular stutter stemming from 50Hz to 60Hz frame rate conversion (the design of 3D mode on Samsung LCDs is 60Hz-centric).
Otherwise there were no surprises 3D-wise, with resolution being full HD 3D (or higher), contributing to glorious detail and silkiness. Paired with some Samsung SSG-5100GB active-shutter glasses we coincidentally had at our disposal, the 3DTV did evince some inevitable crosstalk that's thankfully faint and non-intrusive.
Gaming
This year, Samsung has been churning out some uber-responsive TVs for playing games, and the JS8500 continued this excellent trend. With [Game Mode] engaged, our Leo Bodnar device recorded a super-low input lag of 21.8ms from the UE55JS8500, in line with similar figures obtained from the South Korean manufacturer's other 2015 UHD (ultra high-definition) televisions we've tested so far.

Computer gamers (for whom 4:4:4 chroma reproduction may be important) will also be pleased to know that input lag in [PC] mode measured not much higher at 37ms. [Movie] mode, burdened by high-quality video processing, increased lag to 130ms.
Conclusion
Samsung seldom put a foot wrong with their TV offerings these days, and in the UE55JS8500 they've crafted an enticing proposition for viewers wishing to board the High Dynamic Range train. The SUHD television boasts superb video processing, fluid motion handling, top-notch gaming responsiveness and of course HDR support, not to mention can be calibrated to a very high level of accuracy.
Versus the JS9000, the Samsung JS8500 obviously cannot undergo a One Connect Box hotswap to upgrade its processing. We also found the JS8's pseudo-local dimming system to be slightly less effective than the JS9's, therefore lessening the impact of HDR delivery. That said, the step-up model does cost at least £500 more. In any case, both are outstanding TVs, and we're sure each will have its respective following depending on budget.