Samsung's range of televisions is more extensive than ever, but if you break it down by screen size, the UE55JS9000 we're reviewing today is the company's top-specced 55-inch model this year, since the flagship JS9500 series starts at 65″.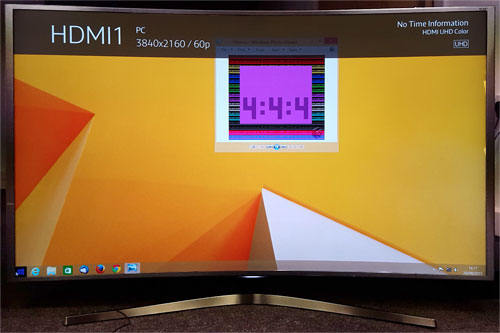 Given the Korean TV maker's penchant for all things curved and UHD (ultra high-definition), the 55in Samsung JS9000 naturally carries these two features, alongside native 10-bit panel, Nano Crystal (quantum dot) colours and HDR (high dynamic range) support – all defining characteristics of the firm's new-for-2015 SUHD TVs.
Calibration
We calibrated our UE55JS9000T review unit in [Movie] mode (which was the most accurate out-of-the-box picture preset) using a profiled Klein K10-A meter, a DVDO AVLab TPG 4K signal generator, and CalMAN Ultimate video calibration software.
Using the well-implemented picture-affecting controls on the 55″ JS9000, we achieved highly accurate greyscale and gamma, although as was the case with other Samsung SUHD models we've reviewed, colours verged on the oversaturated side of things, requiring some reining in to keep delta errors (dEs) under the humanly perceptible threshold.
Greyscale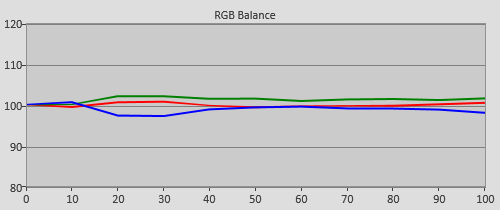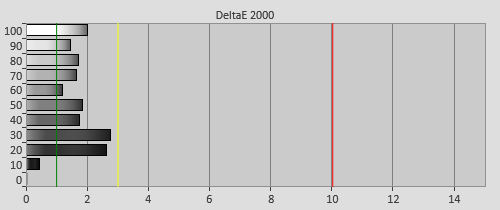 Pre-calibration RGB tracking and delta errors (dEs)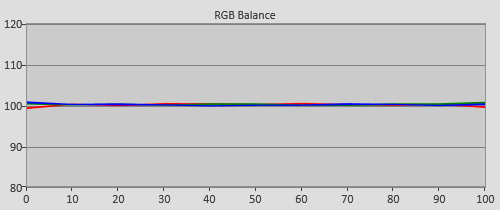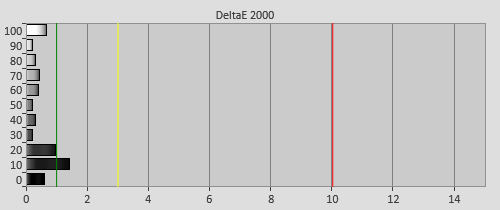 Post-calibration RGB tracking and dEs in [Movie] mode
Gamma
| | |
| --- | --- |
| | |
| Pre-calibration gamma tracking (2.4) | Post-calibration gamma tracking (2.38) |
Colour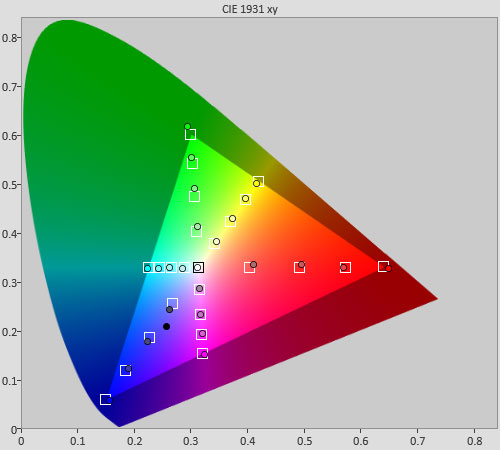 Post-calibration colour saturation tracking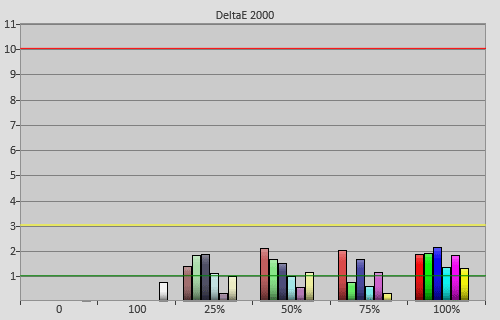 Post-calibration colour errors (<3 not appreciable to the eye)
Post-calibration Colour Checker Classic test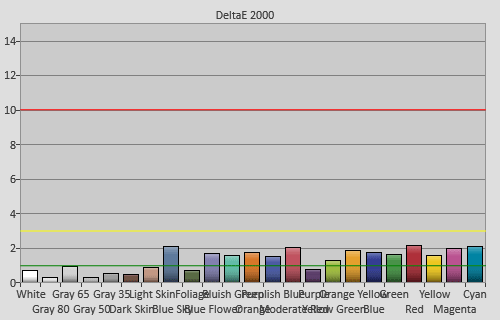 Post-calibration Colour Checker Classic errors (<3 not appreciable to the eye)
Benchmark Test Results
| | |
| --- | --- |
| Dead pixels | None |
| Backlight uniformity | No clouding with [Smart LED] engaged |
| Overscanning on HDMI | Defeatable with [Fit to screen] "On" |
| Blacker than black | Passed |
| Calibrated black level (black screen) | LEDs shut off |
| Calibrated black level (4×4 ANSI) | 0.054 cd/m2 |
| Black level retention | Stable if [Smart LED] "Off" |
| Primary chromaticity | Very good |
| Scaling | Excellent |
| Video mode deinterlacing | Very effective jaggies reduction |
| Film mode deinterlacing | Passed 2:2 PAL & 3:2 NTSC tests in SD & HD |
| Viewing angle | Typical of VA-type LCD panel |
| Motion resolution | 1080 lines or higher with [Auto Motion Plus] enabled |
| Digital noise reduction | Optional; effective when enabled |
| Sharpness | Defeatable edge enhancement |
| Luma/Chroma bandwidth (2D Blu-ray) | Full Luma; Chroma horizontally softened |
| 1080p/24 capability | No judder in 2D; mild judder in 3D |
| Measured panel refresh rate | 120Hz |
| Input lag (Leo Bodnar tester) | 24ms in [Game] mode |
| Full 4:4:4 reproduction (PC) | Yes for both 1920×1080 and 3840×2160@60Hz |
Power Consumption
| | |
| --- | --- |
| Default [Standard] mode | 99 watts |
| Calibrated [Movie] mode | 73 watts |
| Standby | <1 watt |
Picture Quality
Black Level & Contrast
With [Smart LED] turned off, the PVA LCD panel on Samsung's UE55JS9000 generated a native black level of 0.054 cd/m2 on a 4×4 ANSI chequerboard pattern once peak white was aligned to our normal goal of 120 cd/m2. Like most LED LCD TVs, the 55JS9000 shuts off its backlight completely on a full-black screen, but this can be defeated by displaying a pause icon from a Blu-ray player, in which case the same number of 0.054 cd/m2 was obtained.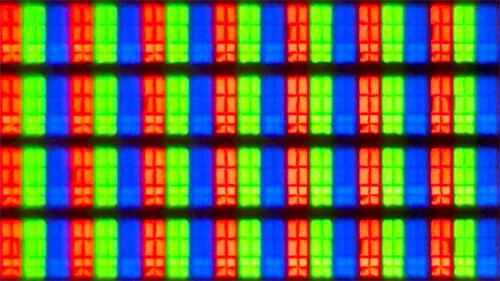 [Smart LED] switches on the pseudo-local dimming system on the television, improving ANSI blacks to 0.048 cd/m
2
on the "
Low
" and "
Medium
" settings. [Smart LED] "
High
" features a brightness-boosting element, raising peak white to 128 cd/m
2
from our original figure of 120 cd/m
2
. All three active [Smart LED] settings lowered full-field video black level (auto-dimming defeated) to 0.003 cd/m
2
.
The Samsung 55in JS9000 was perhaps more impressive at the other end of the contrast ratio spectrum, producing a maximum light output of 557 and 512 nits in [Dynamic] and [Movie] mode respectively. With correct metadata flagging, the SUHD set shouldn't have any difficulty hitting the 600-nits luminance specified by the Korean TV brand.
Backlight/ Screen Uniformity
After judicious adjustment of the [Backlight] and [Smart LED] settings while maintaining peak white at 120 cd/m2, our Samsung UE55JS9000TXXU review sample manifested no visible clouding or corner bleeding even during low-APL scenes when scrutinised in a dark room. Grey homogeneity was acceptable too, which is no mean feat when the TV's edge-lit LED configuration is taken into account.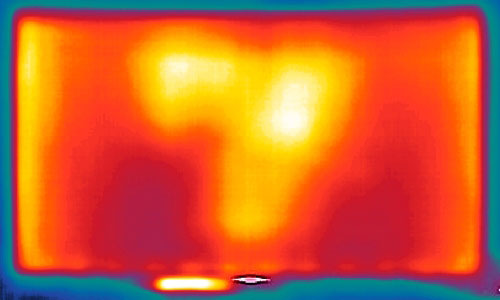 We've been experimenting with using a thermal camera to determine the LED module arrangement on LED-based LED displays, and can confirm that the Samsung UE55JS9000 is illuminated by two vertical strips of LEDs mounted along the left and right borders of the screen.
Motion
With impulse-type displays such as CRTs and plasmas no longer available to buy new, Samsung's high-end televisions currently delivers the sharpest motion among the present crop of televisions (including OLED) on the market. With [Auto Motion Plus] engaged, the 55″ JS9000 had no problem resolving all 1080 horizontally scrolling lines in Chapter 31 of the FPD Benchmark Software disc.
Our favourite mode is [LED Clear Motion] which activates backlight strobing to mimic the fade-to-black characteristic of impulse-type displays, allowing for high motion clarity without resorting to interpolation. However, [Backlight] needs to be upped appropriately to compensate for the drop in brightness, and [LED Clear Motion] may not be suitable for users who are extremely sensitive to flicker.
4K
As long as [HDMI UHD Color] was enabled, and the input label renamed to [PC], the Samsung UE55JS9000 successfully reproduced 4:4:4 chroma from all four of its HDMI ports at 3840×2160@60Hz. Graphics card used was a Geforce GTX 970 inside a Chillblast gaming tower.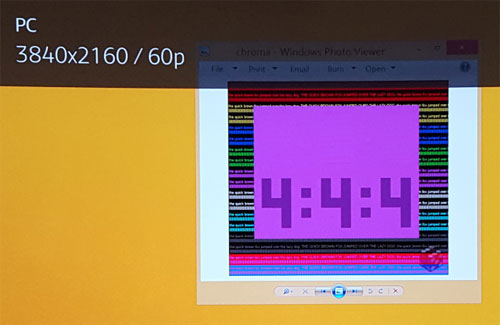 With [Colour Space] set to "Native", DCI-P3 coverage measured 91% in [Movie] mode. Engaging [Dynamic] mode expanded the gamut slightly to 93%.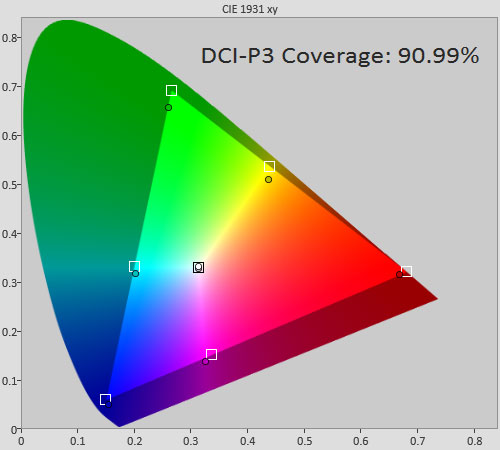 We ran Samsung-supplied Life of Pi and Exodus HDR clips on the 55JS9000 side by side against a JS9500, and as expected, blacks washed out more on the former in brighter scenes owing to the absence of full-array local dimming (FALD), but it still provided a wonderful viewing experience with the amount of contrast and finely gradated detail on show.
3D
Like most 3DTVs these days, the Samsung UE55JS9000T doesn't ship with any 3D glasses included, which is a shame because the TV's extra-dimensional picture was actually quite respectable. The 55in JS9000's full HD 3D resolution (verified using our custom-authored test pattern) yielded sharp detail without any jagged edges or softening in sight, while its copious light output worked well to sufficiently combat the darkening effect of the shuttering lenses.
Watched through a pair of Samsung SSG-5100GB active-shutter glasses, crosstalk was also minimal (and where present, dark and faint enough to be barely noticeable) on the UE-55JS9000, resulting in a clear 3-D image with oodles of depth that's a million miles away from the blurry mess presented by Panasonic's TX-65CR852B.
The Achilles' heel of Samsung's 3D LED TVs has always been their non-native handling of 24Hz and 50Hz material in the third dimension, and given how 3D has faded into obscurity in the TV world over the past few years, this will probably never get fixed. With [Auto Motion Plus] disabled on the 55JS9000, 24fps 3D Blu-rays exhibited mild judder during slow pans, whereas there's undefeatable interpolation in 50Hz tri-dimensional content. The latter probably isn't much of a concern now that Sky has shut down its dedicated 3D TV channel.
Gaming
Samsung is currently the undisputed leader in churning out super-responsive TVs for playing video games, with Sony's traditionally low lag times having taken a slight hit this year possibly due to the inclusion of Android TV. The UE55JS9000 is no exception, clocking a Leo Bodnar-derived input lag figure of merely 24ms, in line with the Korean TV manufacturer's other 2015 SUHD televisions we've tested to date.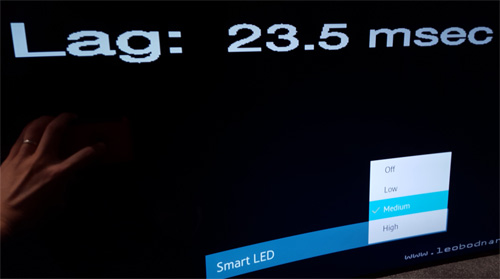 We're not sure if anyone noticed this earlier, but as of firmware version 1215, [Smart LED] can now be enabled in [Game] mode on the JS9000 (previously it was greyed out), allowing for improved black levels without increasing input lag to any appreciable degree. Well done to the company for listening to feedback!
Input lag in [Movie] mode measured a sluggish 135ms, though relabelling the HDMI input to [PC] halved this to 63ms if 4:4:4 chroma reproduction is important to you for 4K PC gaming.
Conclusion
The UE55JS9000 is the highest-specced 55-incher in Samsung's 2015 TV lineup, and its picture quality didn't disappoint. Depending on the settings used, the display is capable of delivering deep blacks, accurate greyscale, high motion clarity, ultra-low input lag and 4:4:4 chroma reproduction, in addition to the typically excellent video processing we've come to expect from the Seoul-headquartered consumer electronics giant.
Surveying the field, the Samsung 55JS9000's main competition comes from LG's 55EG960V OLED TV, Sony's KD-55X9305C and Panasonic's TX-55CX802B. While the LG, Sony and Panasonic hold the upper hand over the Samsung in outright black level, dimming effectiveness and colour accuracy respectively, none could outperform the UE55JS9000 as a complete package for enjoying movies, sports and video games. Because of its upgradeable One Connect Box and already-available HDR playback, the 55″ Samsung JS9000 is also the most future-proofed among the lot – it truly is a jack of all trades, and master of some.