Samsung offers more TVs which are UHD Premium-certified than any other brands this year: in fact, all of the company's 2016 SUHD models boast this accreditation that promises better 4K HDR (high dynamic range) presentation. Today we're taking a look at one of the South Korean manufacturer's more affordable SUHD televisions in the shape of the 55-inch UE55KS7500. Other Samsung KS7500 screen sizes that are available include the 43-inch UE43KS7500, the 49-inch UE49KS7500 and the 65-inch UE65KS7500.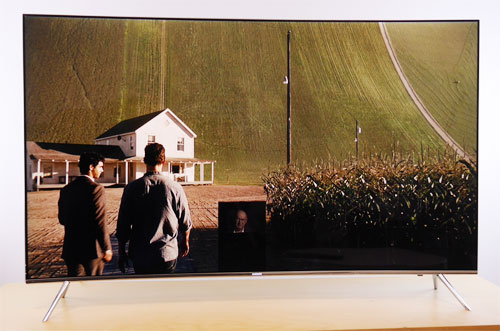 To obtain Ultra HD Premium certification from the UHD Alliance (UHDA), the Samsung 55KS7500 naturally has to meet the requisite specifications: a UHD (ultra-high definition) resolution of 3840×2160, 10-bit panel, HDR playback, a colour gamut coverage above 90% DCI-P3; and at least 1000 nits of peak brightness together with a black level of 0.05 nits. The KS7500 also feature a curved design, although for video enthusiasts who prefer flat screens, there's a Samsung KS7000 series whose specs are equivalent except for "Auto Depth Enhancer" specific to the bendy model.
Design
The Samsung UE55KS7500's gently curved panel is framed by a slim black bezel and a silver side trim. Its chassis is also relatively slender, helped by the set's edge-lit LED backlight and breakaway connections box. The front Ultra Black moth-eye filter is highly effective at rejecting reflections from ambient light.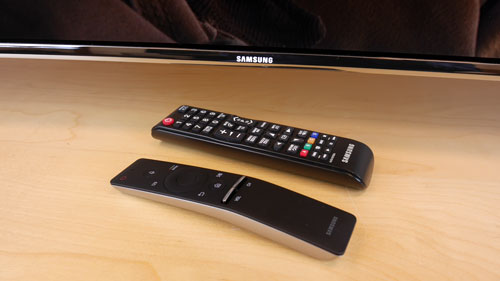 The UE-55KS7500 joins the increasing number of TVs these days that require a wide AV rack if you do not wish to go down the wall-mount route, since the pair of supporting feet are found closer to the sides than the middle. Uniquely, each foot slots and clicks into place without needing any screws, in case you're frantically searching the shipping package for some (like we did).
Connections
The KS7500 comes with an external One Connect Mini box which is fanless and houses the HDMI ports, all four of which we've verified to successfully pass 3840×2160@60Hz resolution with HDCP 2.2.
Calibration
We calibrated our Samsung UE55KS7500UXXU review sample with a profiled Klein K10-A meter, a Murideo Fresco Six-G HDMI 2.0a 4K HDR signal generator, and SpectraCal's CalMAN Ultimate software. The TV's well-implemented calibration controls allowed us to obtain accurate greyscale and colours, with only 3 out of 140 patches in the Colour Checker SG chart slightly exceeding the commonly accepted perceptible threshold of delta error (dE) 3.
Greyscale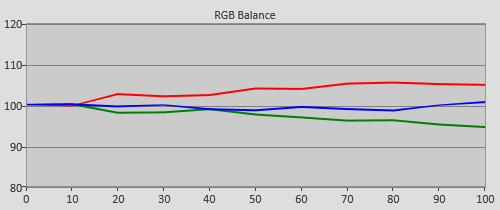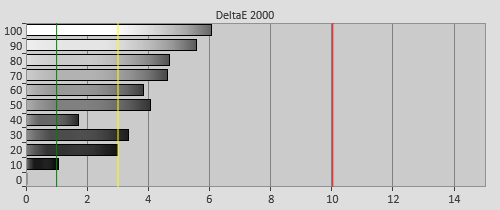 Pre-calibration RGB tracking and delta errors (dEs) in [Movie] mode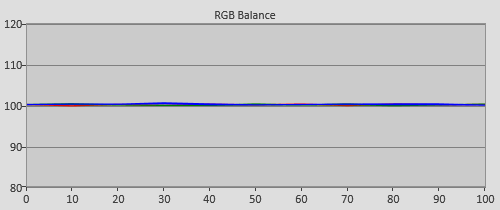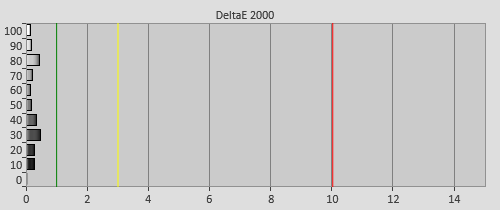 Calibrated RGB tracking and dEs after 2p & 10p white balance adjustments
Gamma
| | |
| --- | --- |
| | |
| Pre-calibration gamma tracking (2.34) | Post-calibration gamma tracking (2.39) |
Colour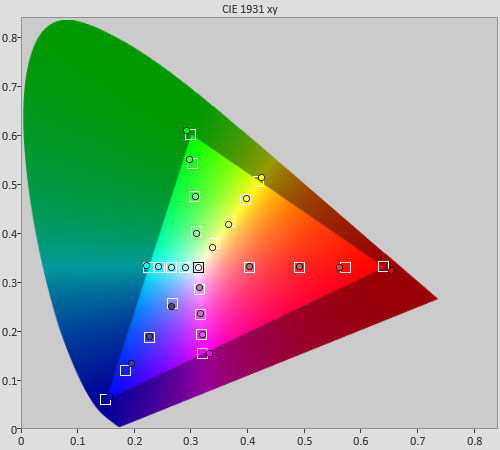 Post-calibration colour saturation tracking in [Movie] mode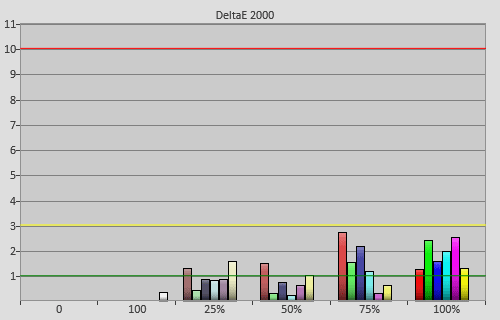 Post-calibration colour errors (<3 not appreciable to the eye)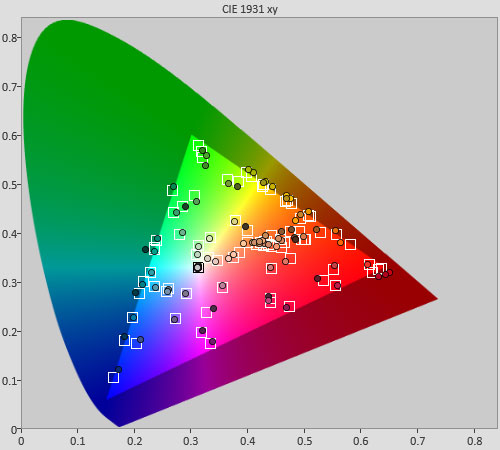 Post-calibration Colour Checker SG test in [Movie] mode
Post-calibration Colour Checker SG errors (<3 not visible to the eye)
Benchmark Test Results
| | |
| --- | --- |
| Dead pixels | None |
| Backlight/ screen uniformity | Very good |
| Overscanning on HDMI | Defeatable |
| Blacker than black | Passed |
| Calibrated black level (black screen) | LEDs shut off |
| Calibrated black level (4×4 ANSI) | 0.043 cd/m2 |
| Black level retention | Stable if [Smart LED] "Off" |
| Primary chromaticity | Good |
| Scaling | Very good |
| Video mode deinterlacing | Effective jaggies reduction |
| Film mode deinterlacing | Passed 2:2 & 3:2 tests in SD, though HD loses lock |
| Viewing angle (cone) | 60° |
| Motion resolution | 1080 lines or higher with [Auto Motion Plus] engaged |
| Digital noise reduction | Optional; effective when enabled |
| Sharpness | Some undefeatable edge enhancement |
| Luma/Chroma bandwidth (2D Blu-ray) | Full Luma; Chroma vertically blurred |
| 1080p/24 capability | No judder |
| 2160p/24 capability | Mild judder |
| Measured panel refresh rate | 120Hz |
| Measured peak brightness | 1185 cd/m2 |
| Measured DCI-P3 coverage | 96% |
| Input lag (Leo Bodnar tester) | 22ms in [Game] mode |
| Full 4:4:4 reproduction (PC) | Yes for both 1920×1080 and 3840×2160@60Hz |
Power Consumption
| | |
| --- | --- |
| Default [Standard] mode | 98 watts* |
| Calibrated [Movie] mode | 63 watts |
| HDR mode | 130 watts |
| Standby | <1 watt |
*Note: [Eco Sensor] was enabled by default in [Standard] mode.
Picture Quality
The VA-type LCD panel on the 55in Samsung KS7500 delivered a deep shade of blacks natively by LED LCD standards, coming in at 0.043 cd/m2 on a 4×4 ANSI chequerboard pattern once peak white was pegged to our normal dark-room target of 120 cd/m2.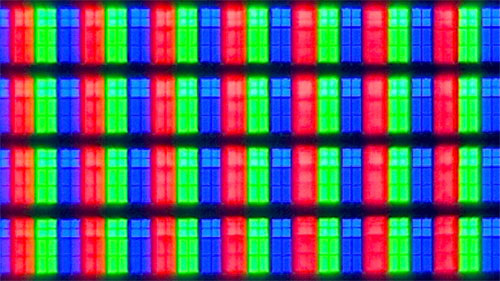 Macro photograph of subpixel structure confirming VA-type LCD matrix
Like its step-up Samsung KS9000 sibling, the UE-55KS7500 is illuminated by a single stripe of LED module along the bottom of the screen, which has two implications. One, the [Cinema Black] feature (found on previous Samsung edge LED TVs whose LEDs are positioned along the sides) which darkens the top and bottom letterbox bars in cinemascope films is no longer available. Second, bright elements against a black backdrop can show up large areas of blooming/ halos spanning the entire height of the screen, though Samsung's pseudo-local dimming algorithm proved fairly effective in keeping these artefacts to a minimum on our calibrated sample when viewed straight on.
Thermal scan indicating bottom edge-lit LED configuration
Talking of which, we ran our zone-counting test pattern (comprising a small white box crawling horizontally and then vertically against a black background), and observed 8 vertical columns of dimmable zones on the UE55KS7500. However, at least 4 consecutive columns (i.e. half the screen) would be illuminated at all times based on our test pattern, presumably to reduce haloing/ blooming.
Since the demise of plasma and CRT televisions, Samsung has led other TV brands in terms of motion clarity, largely owing to the inclusion of BFI (black frame insertion) technology. As determined using the horizontally scrolling lines in Chapter 31 of the FPD Benchmark Software Blu-ray test disc, the KS7500's motion resolution reached 1080 lines (or higher) with [Auto Motion Plus] engaged, although the streamlined "Auto" setting introduced unmistakable SOE (soap opera effect) to 24fps films, not to mention intermittent interpolation artefacts. A better option would be to activate black frame insertion through the [LED Clear Motion] control in the [Auto Motion Plus] "Custom" submenu, though due to how BFI works, there'd be some flicker and luminance drop (which would require upping backlight to compensate).
Unfortunately on our sample and firmware version, there's some undefeatable edge enhancement running at all times, causing film grain to look exaggerated. Update 15 May 2016: After some extensive testing, this turned out to be a recurring software bug which could be defeated manually.
Viewing angle was wider than last year's SUHD displays, on par with the UE55KS9000.
For HDR, the Samsung UE55KS7500's peak brightness behaviour was similar to that witnessed on the higher-end UE55KS9000 albeit at a lower intensity. Measured on window sizes specified by the UHDA for Ultra HD Premium certification, it reached a peak of 1185 cd/m2, stabilised around 1050 cd/m2 for around 15 seconds, then freefalled to 375 cd/m2. This fluctuating luminance made greyscale calibration in HDR mode extremely tricky if not impossible, which wasn't helped by a) the central white patch measurements being affected by the presence of an adjustment slider at the bottom of the screen; and b) the [White Balance] gain controls on our review unit being reversed (for example, increasing [R-Gain] would decrease red energy).
The 55KS7500's DCI-P3 colour gamut coverage came in at 96%, the same as the 55KS9000: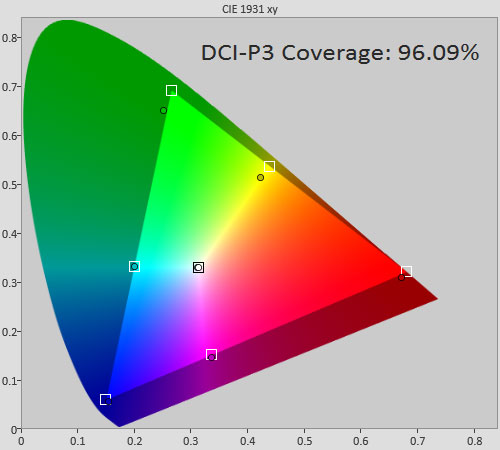 Whilst decent, the HDR presentation on the UE-55KS7500 wasn't quite as impressive as those seen on this year's top-tier 4K UHD TVs. Sampling a few Ultra HD Blu-rays fed from a Samsung UBD-K8500 player, specular highlights did not look as impactful; colour hues were somewhat off; image appeared flat; there's slight stuttering in slow panning shots; and we spotted mild posterisation in the sky in The Martian even with [HDMI UHD Color] engaged (the last 3 issues were not present on a 2016 Sony we're reviewing at this time of writing). In other words, even among televisions which are all UHD Premium-certified, there's significant difference in HDR performance, raising questions over the usefulness of this standardisation effort.
Samsung's track record of making super-responsive televisions for playing video games has been excellent since last year. Input lag on the 55KS7500 measured 22ms in [Game] mode according to our Leo Bodnar tester, while lag times in [PC] and [Movie] modes were 38ms and 115ms respectively.

Video Review
Verdict
Although its HDR presentation was a bit hit and miss, the Samsung UE55KS7500 earned our "Recommended" award thanks to superb post-calibration accuracy, good screen uniformity, high motion clarity, and outstanding gaming responsiveness.
Note: If you're considering buying this television, please support this website by making your purchase from our sponsor Crampton & Moore – call 01302 365760 and ask for Richard, quoting HDTVTest for competitive prices and first-rate service.