Continuing the company's slight preference towards curvaceous screens, Samsung's flagship KS9500 (otherwise marketed as the KS9800 series in North America) is only available as a curved display, leaving the KS8000 as the highest-specced flat-panel TV from the South Korean manufacturer in 2016. Four screen sizes are available, namely the 49in Samsung UE49KS8000, the 55in UE55KS8000 (which we're reviewing today), the 65in UE65KS8000 and the mammoth 75in UE75KS8000.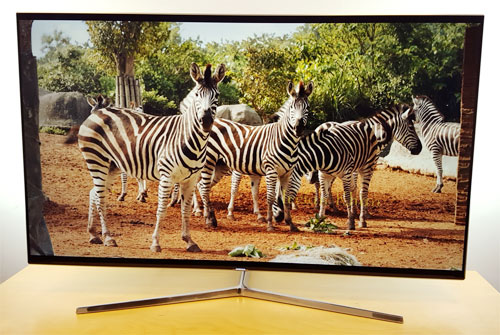 Pitched as a flat-screen equivalent for the KS9000 SUHD series, the 55KS8000 naturally shares the same specifications of 3840×2160 ultra high-definition (UHD) resolution, edge-lit LED backlighting, quantum dot-enhanced wide colour gamut (WCG), HDR10 playback, Ultra HD Premium certification, as well as the company's second-gen Tizen-based Smart TV platform. We've put a Samsung UE55KS8000TXXU review sample through our comprehensive array of tests, and here are its pros and cons.
Strengths
Best-in-Class Motion Clarity
We've previously picked the Samsung UE55KS9000 as our top TV available to buy new on the market for watching sports content. The UE55KS8000 not only fitted the bill too thanks to high motion clarity and excellent screen uniformity, but also offered an edge over the 55KS9000 since its flat-screen design doesn't distort geometry. With [LED Clear Motion] enabled to activate black frame insertion (BFI), the Samsung 8-Series display yielded a motion resolution of 1080 lines (as determined via the horizontally scrolling lines in Chapter 31 of the FPD Benchmark Software Blu-ray test disc) or even higher without incurring interpolation artefacts or soap opera effect (SOE).
The Samsung KS8000's high brightness capacity made the darkening effect caused by BFI pretty much a non-issue, but if you're a viewer who's sensitive to flicker (which to be fair had been reduced compared with previous BFI implementations from the company), the television's motion interpolation tech – we preferred [Auto Motion Plus] "Custom" with separate deblur and dejudder options – was no slouch either. However, as you can judge for yourself from the motion pursuit camera shots below, [LED Clear Motion] still delivered superior detail retention of moving objects while manifesting less ghosting:
| | |
| --- | --- |
| | |
| [Auto Motion Plus] "Custom" | [LED Clear Motion] |
Casting our eyes further afield versus other leading TV brands in the UK, LG's sets – be them of OLED or LED LCD variety – currently don't employ black frame insertion or backlight scanning; whereas Sony's BFI was too dim and flickery to be of any use. Panasonic has this year started introducing backlight scanning on some 2016 Viera TVs, but they're prone to exhibiting smearing due to the LED PFS (potassium-fluorosilicate) phosphor used. On the other hand, the Samsung 55KS8000's quantum-dot-derived colour spectrum – note the beautifully distinct and rounded peaks – resulted in no objectionable smearing in several torture test videos we ran on the television.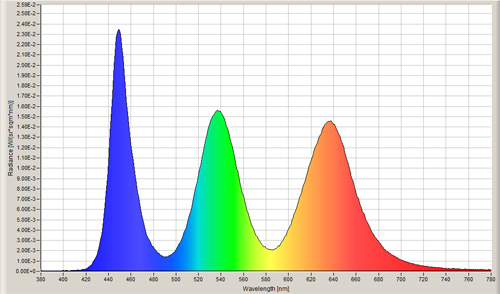 Spectral power distribution (SPD) measured using a JETI 1211 spectroradiometer
Lowest Input Lag including for HDR Games
Since last year, Samsung has consistently produced the most responsive televisions for playing video games, and the UE55KS8000 carried on in the same vein. With [Game Mode] engaged, the display returned a crazy-fast figure of merely 21ms from a Leo Bodnar input lag tester.
| | |
| --- | --- |
| | |
| Input lag in SDR | Input lag in HDR |
When we first calibrated a KS8000 several months ago, [Game Mode] was greyed out in HDR mode, but since then Samsung has rolled out a firmware update that allowed [Game Mode] to be switched on even during playback of HDR content. Indeed, lag time only rose a tiny bit to 22ms with [Game Mode] enabled when fed a video signal containing HDR metadata, which bodes well for playing HDR games from a Microsoft Xbox One S or PS4 Pro console. We watched a bunch of 4K Blu-rays and did some measurements in [Game Mode], and verified that HDR impact wasn't watered-down in any significant manner (peak brightness 1200 nits).
Deep Black Level
The UE-55KS8000's VA-type LCD panel delivered the deepest native blacks (i.e. without the help of local dimming) we've observed on a Samsung SUHD TV to date, coming in at 0.034 cd/m2 on a 4×4 ANSI chequerboard pattern once peak white was pegged at our normal dark-room target of 120 cd/m2.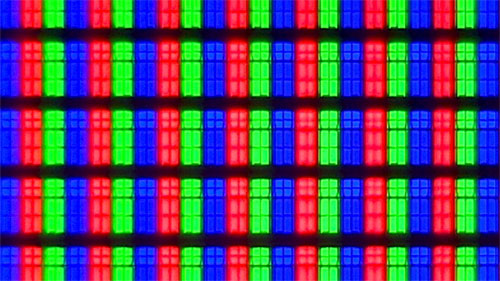 Macro photo of subpixel layout confirming VA-type RGB LCD matrix
Using our own custom-authored test pattern containing a small white box crawling horizontally and then vertically along the borders of a black background, we worked out there were 8, possibly 10, dimmable zones spanning the entire height of the screen. Samsung's pseudo-local dimming algorithm favoured minimising blooming over achieving even deeper blacks, a sensible decision considering the KS8000's bottom-mounted LED configuration.
4000-Nit Tone-Mapping
As more and more Ultra HD Blu-ray discs are analysed, it transpires that some post-production houses are purposely nulling certain HDR metadata strings in an attempt to thwart display-side tone-mapping, wrongly believing that no current HDR-capable consumer TV can tonemap properly to do their movies justice. Among all the HDR TVs we've tested over the past couple of years, only the 2016 Samsungs could overcome this hurdle and retain bright highlights up to 4000 nits without blowing them out, and fortunately this proved to be the case with the UE55KS8000 even though its peak brightness topped out at around 1400 nits once calibrated to D65 white point.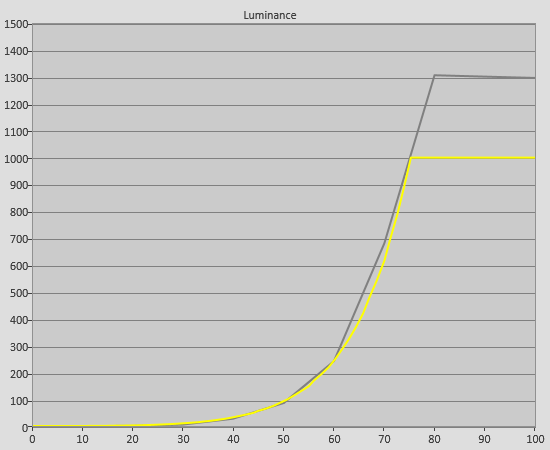 While the above chart obtained from our Samsung UE55KS8000TXXU review unit showed a relatively accurate PQ (perceptual quantization) EOTF (electro-optical transfer function) tracking for HDR presentation, in reality the situation wasn't quite as clear-cut. You see, once a peak white pattern was put up on screen, the 55KS8000 didn't hit full brightness immediately, needing at least 7 seconds to ramp up from circa-700 nits to 1400 nits. The display would then hang onto 1400 nits for a further 13 seconds, before peak luminance slowly dropped to 520 nits (which incidentally was also the max brightness for full-field white) over a period of 15 seconds. Although we understand this phenomenon is mainly caused by power restriction, it does mean HDR delivery won't be as consistent and compelling as that provided by a full-array local dimming (FALD) LED LCD television.
Weaknesses
Brightened Letterbox Bars in HDR/ Dark-Room Viewing
Because the UE55KS8000's LED modules are placed exclusively along the bottom border of the LCD panel instead of along the sides as found on previous Samsung edge LED TVs, the top and bottom letterbox bars in cinemascope films cannot be darkened independently from the active picture area. As a result, the letterbox bars would look brightened rather than jet black, which would be most apparent in a pitch-black room or when watching high dynamic range (HDR) material where [Backlight] has to be bumped up to maximum to hit the requisite peak brightness.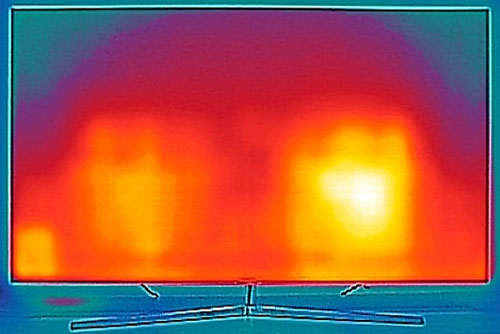 Thermal scan suggesting bottom-mounted edge LED placement
To be fair, the non-black letterbox bars wasn't a major problem in SDR (standard dynamic range) where [Backlight] could be toned down appropriately to take advantage of the LCD's deep native black-level reproduction, or in a moderately-lit or brighter viewing environment where the KS8000's effective "moth-eye" anti-reflection filter worked a treat. But for owners who are used to watching TV without the lights on, introducing some gentle illumination behind the screen – known technically as bias lighting – would go a long way towards mitigating the greying effect of the bottom-mounted LEDs.
HDR Posterisation at Certain Luminance
The ability of the Samsung UE-55KS8000 (in fact, the company's entire 2016 SUHD range) to resolve highlight detail up to 4000 nits in Ultra HD Blu-rays was not without its side effects. As we've witnessed on the step-up Samsung UE65KS9500, posterisation artefacts became visible at certain luminance levels, causing what should be smooth gradients to be rendered as discrete steps instead.
To clarify though, these posterised stripes only reared their ugly heads in HDR (not SDR); and bizarrely only at specific luminance levels. For example, we saw posterisation within certain scenes in The Martian (timecode 00:01:50) and The Revenant (timecode 00:01:57), but other sky shots within the same 4K Blu-ray movie would be free of it.
There exist several methods to attenuate (but not totally eradicate) HDR posterisation on the Samsung UE55KS8000, such as engaging [Dynamic Contrast] or [HDR+ Mode], but all they're doing is modifying the PQ curve (which comes back to our earlier point about the posterisation being most obvious at certain brightness intervals), thus deviating from the ST.2084 standard.
Benchmark Test Results
| | |
| --- | --- |
| Dead pixels | None |
| Backlight/ screen uniformity | Excellent – no clouding and no DSE on our sample |
| Overscanning on HDMI | Defeatable |
| Blacker than black | Passed |
| Calibrated black level (black screen) | LEDs shut off |
| Calibrated black level (4×4 ANSI) | 0.034 cd/m2 |
| Black level retention | Stable if [Smart LED] "Off" |
| Primary chromaticity | Good |
| Scaling | Excellent |
| Video mode deinterlacing | Very effective jaggies reduction |
| Film mode deinterlacing | Passed 2:2 PAL & 3:2 NTSC tests in SD & HD |
| Viewing angle (cone) | 60° |
| Motion resolution | 1080 lines or higher with [Auto Motion Plus] enabled |
| Digital noise reduction | Optional; effective when engaged |
| Sharpness | Defeatable edge enhancement |
| Luma/Chroma bandwidth (2D Blu-ray) | Full Luma; Chroma vertically blurred |
| 1080p/24 capability | No judder |
| 2160p/24 capability | No judder |
| Measured panel refresh rate | 120Hz |
| Measured peak brightness | 1420 cd/m2 |
| Measured DCI-P3 coverage | 96% |
| Input lag (Leo Bodnar tester) | 21ms in [Game] mode |
| Input lag in HDR | 22ms in [Game] mode |
| Full 4:4:4 reproduction (PC) | Yes for both 1920×1080 and 3840×2160@60Hz |
Power Consumption
| | |
| --- | --- |
| Default [Standard] mode | 65 watts* |
| Calibrated [Movie] mode | 61 watts |
| HDR mode | 132 watts |
| Standby | <1 watt |
*Note: [Eco Sensor] and [Motion Lighting] were enabled by default in [Standard] mode.
Calibration
We calibrated our 55-inch Samsung KS8000 review sample using a profiled Klein K10-A meter, a Murideo Fresco Six-G HDMI 2.0a 4K HDR signal generator, and SpectraCal's CalMAN Ultimate software. The SUHD television's well-implemented calibration controls let us achieve accurate greyscale and colours, with only 5 out of 140 patches in the Colour Checker SG chart creeping over the commonly accepted perceptible threshold of delta error (dE) 3.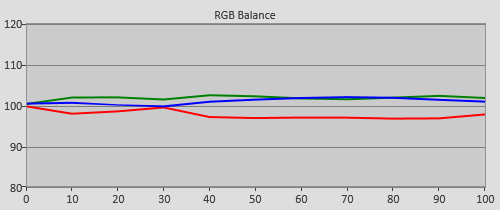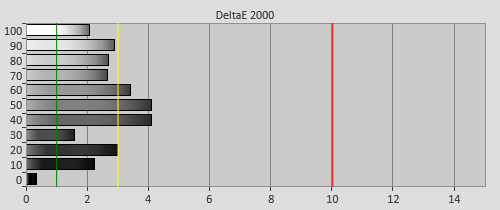 Pre-calibration RGB tracking and delta errors (dEs) in [Movie] mode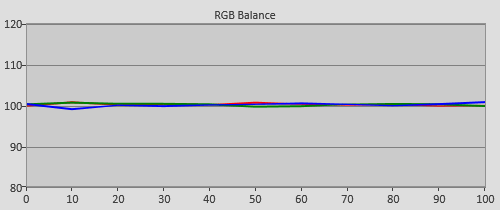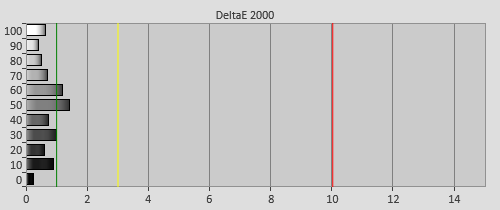 Calibrated RGB tracking and dEs after 2p & 10p white balance adjustments
| | |
| --- | --- |
| | |
| Pre-calibration gamma tracking (2.23) | Post-calibration gamma tracking (2.36) |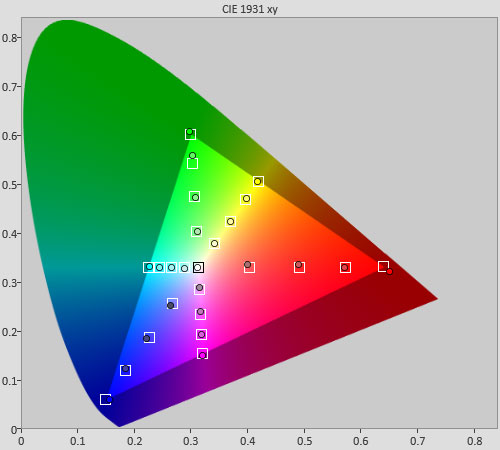 Post-calibration colour saturation tracking in [Movie] mode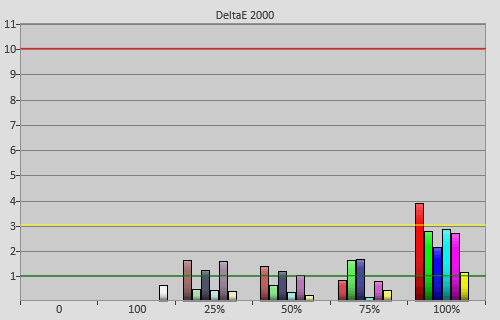 Post-calibration colour errors (<3 not appreciable to the eye)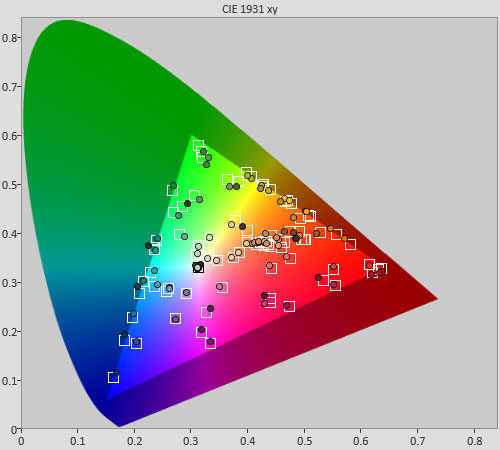 Post-calibration Colour Checker SG test in [Movie] mode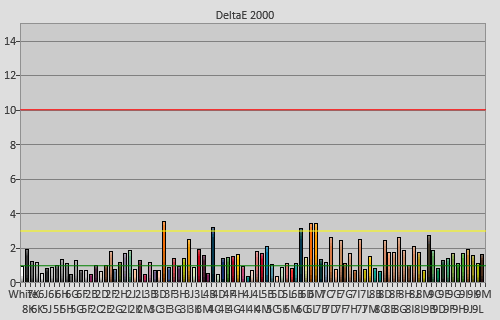 Post-calibration Colour Checker SG errors (<3 not visible to the eye)
Miscellaneous Data
Horizontal viewing angle of our Samsung 55KS8000 review unit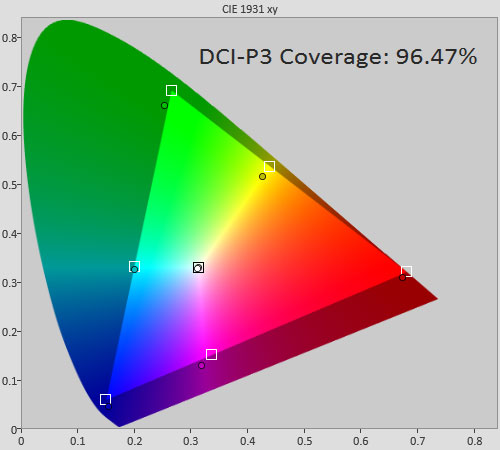 Percentage of DCI-P3 colour gamut reached according to UHDA methodology
Verdict
The UE55KS8000 is yet another outstanding LED TV from Samsung with deep blacks, punchy colours and high-quality video processing. We're still of the opinion that FALD LED LCDs and OLEDs provide a superior HDR experience (albeit at correspondingly higher prices), but the KS8000 easily earned our "Highly Recommended" award owing to class-leading motion clarity and gaming responsiveness even in HDR mode.
Note: If you're considering buying this television, please support this website by making your purchase from our sponsor Crampton & Moore Leeds – call 0113 2446607 and ask for store manager David (who also organises our annual TV shootout event), quoting HDTVTest for advice, best price and first-rate service.