Panasonic may have been fast out of the gate with the world's first Ultra HD Premium TV in the shape of the DX900, but Samsung is going to offer more TVs with such certification from the UHD Alliance than any other manufacturer this year. Today we are taking a look at the UE55KS9000, a 55-inch model from Samsung's KS9000 SUHD series which is the company's highest-specced edge-lit LED LCD range for 2016.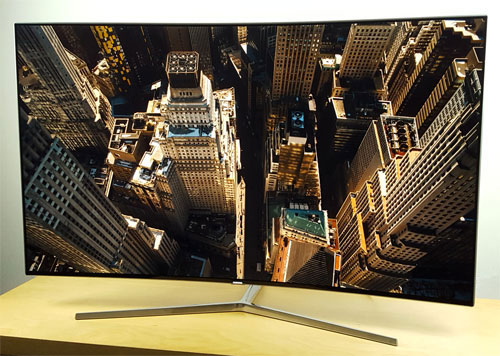 Also available in screen sizes of 49, 65 and 75 inches (namely the UE49KS9000, UE65KS9000 and UE75KS9000 respectively), the UHD Premium-certified status of Samsung's 9 Series guarantees 3840×2160 ultra high-definition resolution, 10-bit panel, DCI-P3 gamut coverage of at least 90%, HDR capability, and peak brightness/ black level of 1000/ 0.05 nits. In case you haven't received the memo, the South Korean consumer electronics giant has dropped 3D support across its entire 2016 TV lineup, so the 55KS9000 won't feature any sort of 3D functionality.
Please note that Samsung's equivalent edge LED range in the USA is called the KS9500. Somewhat confusingly, in the UK and Europe the Samsung KS9500 refers to the brand's top-end full-array local dimming (FALD) SUHD television whose corresponding model in the North America will be the KS9800.
Design
It's hard to imagine how Samsung could improve upon the outstanding aesthetics of last year's televisions, but they've actually gone ahead and done it with the UE55KS9000. For starters, the bezel is the thinnest yet seen on a curved LED TV, sitting flush together with the LCD panel behind one single sheet of glass, which has prompted the company to go for a bold-though-not-entirely-true "bezel-less" description.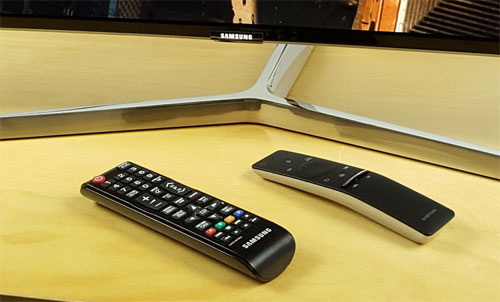 The pedestal of the 55KS9000's Y-shaped stand is recessed even farther than that found on last year's JS9000, thus creating a stronger impression of a "floating" screen. A quick trip around the back of the display reveals equally gorgeous craftsmanship: except for 4 VESA mount holes, its clean rear boasts no visible rivets or screws whatsoever, all hidden underneath the stand attachment and a panel-wide stripe of gleaming chrome accent. No wonder Samsung is using the term "full 360-degree design" to market the KS9000 – the set indeed looks as good from the back as it does from the front.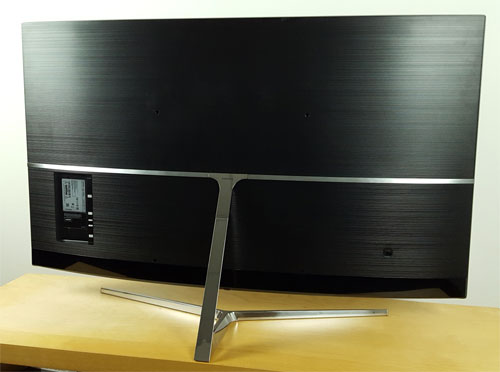 The SUHD TV ships with a One Connect Mini breakout connection box which is fanless. Unlike Samsung's high-end UHD (ultra high-definition) models over the past couple of years, there's no fan on the panel itself too, resulting in blissfully quiet operation. Using a Murideo Fresco signal generator, we verified that all four HDMI ports passed 3840×2160@60Hz resolution with HDCP 2.2 encryption.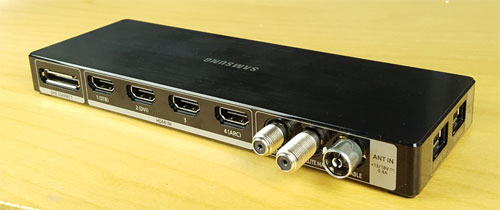 Two remotes are supplied with the 55KS9000, and this year brings another iteration of the Korean firm's Smart remote in addition to the more-familiar traditional clicker. The 2016 version assumes the role of a universal remote, allowing users to control many common source devices (set-top boxes, Blu-ray players, game consoles, etc.) that are automatically detected by the UE55KS9000 upon setup (cool!). On the whole the Smart remote worked reasonably well despite its significantly pared-down number of buttons, although we must admit that trying to summon the TV guide from a Sky+HD box required more clicks than we would've liked.
Operation
The UE-55KS9000 ushers in the biggest makeover of user menu on Samsung TVs in years. Taking cues from consumer research of the most commonly-used menu options, all the advanced picture-affecting controls have been shunted under the [Expert Settings] submenu, leaving only five listings in the top-level picture menu.
| | |
| --- | --- |
| | |
| Picture menu | [Game] mode |
One key improvement is how much easier it is to enable [Sports] and particularly [Game] mode on the KS9000. Whereas on previous Samsung televisions one had to go through [System] > [Setup] > [General] to engage [Game] mode, now [Game] mode is available just one level below the picture menu in the [Special Viewing Mode] section. Well done to Samsung's engineers for listening to feedback!
However, there's been one unwelcome change in terms of usability, though it mainly affects professional calibrators and serial tweakers. Navigating from the first menu item to the final one can only be achieved by scrolling downwards, which can prove frustrating especially when all the advanced calibration controls are now compiled as a long list within the [Expert Settings] submenu. On previous Samsung TVs, pressing the [Up] key on the first item in any menu will take you to the final item, allowing for speedier navigation.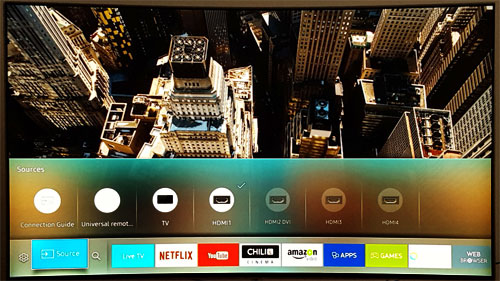 Otherwise, the updated Tizen-based Smart TV platform was a joy to operate, adding a slick dual-row interface at the bottom of the screen for easy access to in-TV tuners, external sources, streaming and gaming services plus other apps.
Calibration
We calibrated our Samsung UE55KS9000T review sample in [Movie] mode which is the only picture preset that offers 10-point [White Balance] controls. Gear used included a profiled Klein K10-A meter, a DVDO AVLab test pattern generator, a Murideo Fresco Six-G HDMI 2.0a signal generator, and SpectraCal's CalMAN Ultimate software.
Greyscale
The default [Colour Tone] of "Warm2" in [Movie] mode yielded greys that exhibited a mild red tint: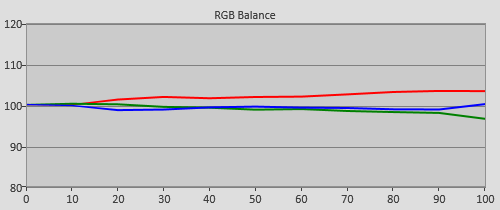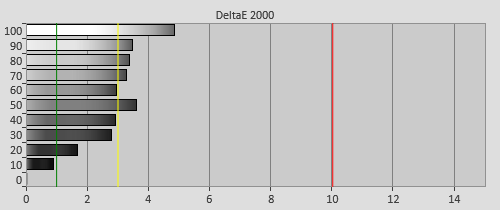 Pre-calibration RGB tracking and delta errors (dEs)
The [White Balance] controls on the 55″ KS9000 worked as effectively as those implemented on previous Samsung TVs, allowing greyscale to be accurately aligned to the D65 standard used within the film and broadcast industry: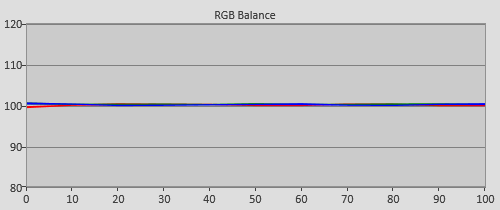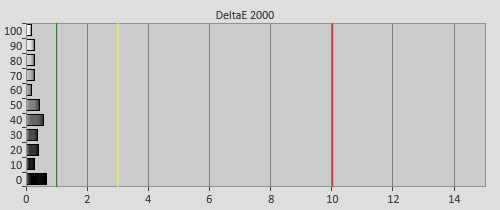 Post-calibration RGB tracking and dEs in [Movie] mode
Gamma
| | |
| --- | --- |
| | |
| Pre-calibration gamma tracking (2.23) | Post-calibration gamma tracking (2.41) |
Colour
After calibrating greyscale but before adjusting colours, the measured saturation tracking points (especially red and yellow) didn't fall as linearly as they should: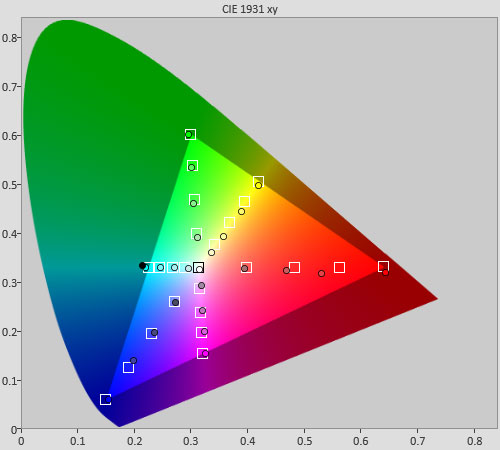 Pre-calibration colour saturation tracking
Some patient back-and-forth adjustments in the [Colour Space] "Custom" submenu (i.e. Samsung's colour management system) improved the colour accuracy: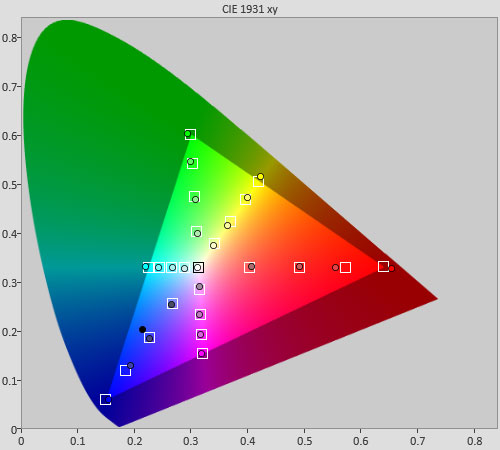 Post-calibration colour saturation tracking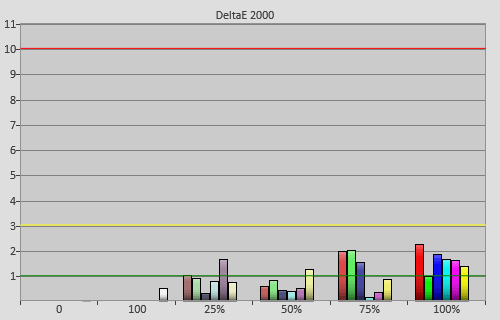 Post-calibration colour errors (<3 not appreciable to the eye)
Not content with measuring only 24 colour coordinates, we ran an exhaustive colour checker chart on our calibrated 55KS9000 unit: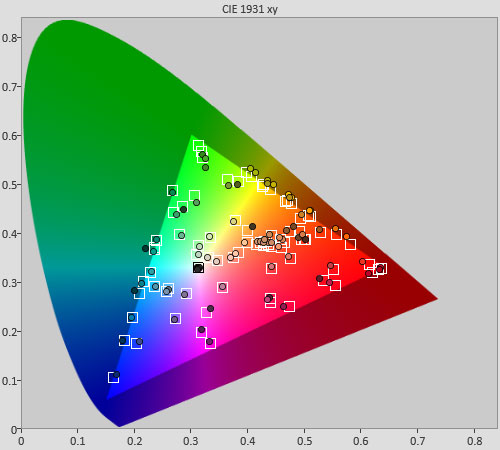 Post-calibration Colour Checker SG test
Post-calibration Colour Checker SG errors (<3 not appreciable to the eye)
…and the result was impressive. Only a few yellow-orange hues manifested delta errors (dEs) exceeding the humanly perceptible threshold of 3, and most viewers probably won't be able to pick up these inaccuracies in real-world material without a side-by-side comparison against a display with reference colours anyway.
Benchmark Test Results
| | |
| --- | --- |
| Dead pixels | None |
| Backlight/ screen uniformity | Very good |
| Overscanning on HDMI | Defeatable |
| Blacker than black | Passed |
| Calibrated black level (black screen) | LEDs shut off |
| Calibrated black level (4×4 ANSI) | 0.039 cd/m2 |
| Black level retention | Stable if [Smart LED] "Off" |
| Primary chromaticity | Very good |
| Scaling | Excellent |
| Video mode deinterlacing | Very effective jaggies reduction |
| Film mode deinterlacing | Passed 2:2 PAL & 3:2 NTSC tests in SD & HD |
| Viewing angle (cone) | 60° |
| Motion resolution | 1080 lines or higher with [Auto Motion Plus] enabled |
| Digital noise reduction | Optional; effective when engaged |
| Sharpness | Defeatable edge enhancement |
| Luma/Chroma bandwidth (2D Blu-ray) | Full Luma; Chroma vertically blurred |
| 1080p/24 capability | No judder |
| Measured panel refresh rate | 120Hz |
| Measured peak brightness | 1460 cd/m2 |
| Measured DCI-P3 coverage | 96% |
| Input lag (Leo Bodnar tester) | 21ms in [Game] mode |
| Full 4:4:4 reproduction (PC) | Yes for both 1920×1080 and 3840×2160@60Hz |
Power Consumption
Thanks to some clever engineering at both hardware and software level, the Samsung UE55KS9000 consumed 25% less energy than last year's UE55JS9000 once both were calibrated to 120 cd/m2 peak white. Due to the luminance output demanded by HDR (high dynamic range) content, going forward we'll be measuring power usage in HDR mode (using the easy-to-find Exodus: Gods and Kings demo clip) on all 4K televisions we review.
| | |
| --- | --- |
| Default [Standard] mode | 99 watts* |
| Calibrated [Movie] mode | 55 watts |
| HDR mode | 132 watts |
| Standby | <1 watt |
*Note: [Eco Sensor] and [Motion Lighting] were enabled by default in [Standard] mode.
Picture Quality
Black-Level Performance
The 55-inch Samsung KS9000 delivered the lowest native black level from a curved LED LCD to date, which is attributed to structural modification of the liquid crystal layers (hardware), as well as more efficient redistribution of near-black signal (software). With peak white pegged at our normal target of 120 cd/m2, blacks from the UE55KS9000's VA-type LCD panel measured 0.039 cd/m2 on a 4×4 ANSI chequerboard pattern, representing an improvement over last year's figures which generally surpassed 0.05 cd/m2.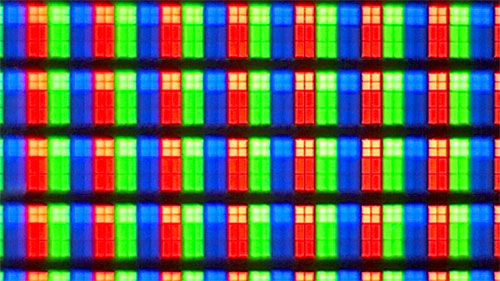 Macro photo of subpixel structure confirming VA-type LCD matrix
While the Samsung UE-55KS9000 is an edge-lit LED LCD television just like 2015's JS9000, there's been one significant change in where the LEDs are placed. A thermal scan revealed that the KS9000's LED strip lights are arranged along the bottom border of the screen, rather than along the left and right sides on the JS9000. One obvious consequence is that darkening of an entire horizontal stripe is no longer possible, which explains the absence of [Cinema Black] feature.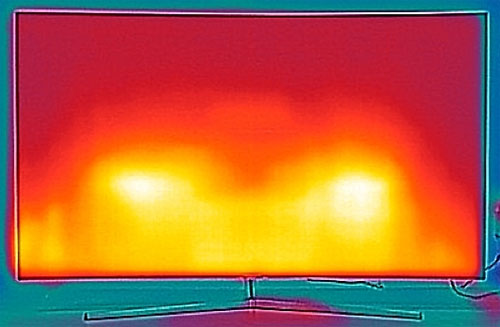 Thermal image indicating bottom edge LED placement (brighter yellow = hotter)
Having heavily criticised the bottom-mounted edge LED configuration on an LG 4K TV (albeit an IPS-based one), we were fearing the worst, but a combination of natively deep blacks and a specific [Smart LED] algorithm designed to reduce blooming on the UE55KS9000 saved the day. Whereas an OPPO logo floating against a dark backdrop (from our BDP-103 Blu-ray player's screensaver mode) would throw up large vertical stripes of blooming on the LG, such artefacts were truly minimal on the Samsung even in a pitch-black room, though of course a higher [Backlight] setting or watching off-axis would exaggerate the blooming effect.
The [Smart LED] pseudo-local dimming system on the Samsung 55KS9000 comes in two intensities besides "Off", namely "Low" and "High", with the former favouring less aggressive dimming to keep blooming at bay, relying instead on the panel's native black-level response to produce convincing blacks.
Running our custom-authored test pattern where a small white box crawls horizontally then vertically against a black background, we counted at least 8 columns of dimmable zones spanning the entire height of the screen on the UE55KS9000, possibly 10. The reason we couldn't be sure was because at least 4 simultaneous columns would be illuminated at any one time depending on the content APL (Average Picture Level). This shows that Samsung is prioritising blooming reduction over chasing incremental improvements in black level, a decision with which we wholly agree given the LED configuration of the set.
Backlight & Screen Uniformity
Despite being an edge LED television, grey uniformity was surprisingly good on our Samsung UE55KS9000TXXU review sample. We observed very little uneven bands and dirty screen effect (DSE) in grey slides and real-world material such as football, although on full-field test patterns, the sides appeared slightly darker than the centre, which is common on large-sized LCDs. In terms of black uniformity, there's some clouding that could be attenuated by lowering [Backlight] and enabling [Smart LED].
Motion
In line with Samsung's drive to simplify its TV menu for the average user, the manufacturer has cut down the number of options in the [Auto Motion Plus] submenu: gone are "Clear", "Standard" and "Smooth" to be replaced by a single "Auto" option which according to the company works better by applying different motion processing for low versus high frame rate content. In practice however, [Auto Motion Plus] "Auto" still introduced visible soap opera effect (SOE) to 24p movies.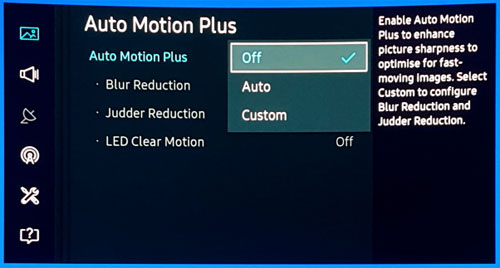 Fortunately Samsung hasn't got rid of [LED Clear Motion] – the Korean brand's interpretation of black frame insertion (BFI), our favourite motion enhancement technology – from the KS9000. And from what we could tell, Samsung has been working on reducing BFI-induced flicker to make the image more stable in bright scenes. With impulse-based displays like CRTs and plasmas no longer available to buy new on the market, the combination of [LED Clear Motion] and high brightness reserve on the UE-55KS9000 delivers undoubtedly the sharpest motion today without incurring interpolation artefacts and soap opera effect. This may be an important factor for prospective buyers with the summer of sports (Euro 2016 followed by Olympics) coming later this year.
Viewing Angle
One frequent criticism of Samsung's 2015 quantum-dot-based (then marketed as "Nano-Crystal technology") SUHD TVs was their restricted viewing angle, and the company has worked hard to widen the cone of viewing on new models by improving the quantum dot layout and outer capsule to reduce light leakage. Here's a video of the horizontal viewing angles on our Samsung UE55KS9000 review unit:
Measurement-wise, contrast dropped off by half at around 30° from the middle on either side, thus giving a 60° cone of viewing. As is usually the case on VA LCDs, colours also gradually took on a pink tint when viewed from the sides: on a 100% white pattern, delta errors (dEs) crept above the perceptible cutoff of 3 at roughly 20° off-axis.
Bright Room
Samsung has implemented an anti-reflective filter based on the characteristics of a moth's eye (the company calls this its "Ultra Black" technology) on the UE55KS9000, and to good effect – ambient light hitting the screen was visibly muted. Subjectively, the KS9000's moth-eye surface coating wasn't as effective as that on the now-unavailable Philips 9707 (the former features a semi-glossy screen whereas the latter's is matte), but was at least on par with the "Ultimate Black" light-rejecting filter on the Panasonic ZT65 plasma.
Together with the Samsung UE55KS9000T's high brightness capability, this makes for a lucid viewing experience not only during daytime, but also for viewers who don't watch in a pitch-black room at night.
4K HDR
Before ending our long wait to finally feast our eyes on 4K Ultra HD Blu-rays, we held back our excitement and measured certain UHD-related parameters on the 55″ Samsung KS9000.
First, we checked peak brightness by using a Murideo Fresco Six-G device to inject HDR metadata and trigger HDR mode on the TV. On a windowed pattern (sized similarly to the ones used by the UHD Alliance for Premium certification award), the 55KS9000 swiftly hit a peak of 1480 cd/m2, then stabilised at around 1460 cd/m2. After 15 seconds, the luminance plunged rapidly before settling at a sustained baseline of 520 cd/m2.
This behaviour is interesting, but makes perfect sense. Contrary to common misconception, HDR video doesn't mean that each and every scene will be super-bright; instead, HDR provides the capacity for select highlights to be inserted (hopefully judiciously by filmmakers) to mimic what we see in real life. Such highlights are generally fleeting: whilst bright, they don't increase the baseline APL (Average Picture Level) by much, and so viewers will be spared from an eye-scorching experience. In case you're interested, the UE55KS9000's maximum brightness in HDR mode on full-field white was 535 cd/m2.
That's UHD Premium-fulfilling peak brightness ticked off then. Again, using the parameter specified by the Ultra HD Alliance (UHDA), we determined that our UE55KS9000T sample (with [Colour Space] set to "Native" and greyscale calibrated to D65) reached 96% of the DCI-P3 gamut: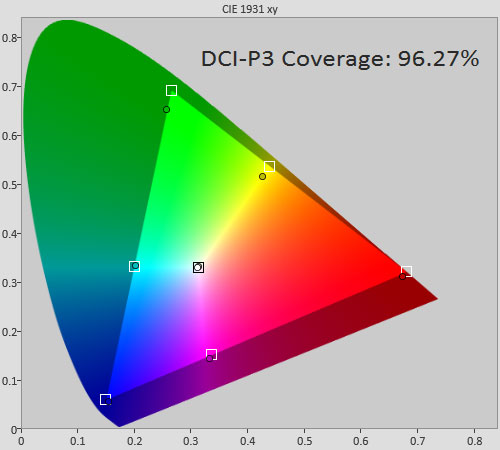 With measurements out of the way, it's time to watch some 4K Blu-ray movies piped from a Samsung UBD-K8500 player on the KS9000 HDR TV, starting with The Martian. As expected, contrast was strong and colours popped with a hitherto-unseen nuance and vibrancy, with one particular highlight (pun fully intended) being the glint of sunlight reflecting off the spacesuits and solar panels.
Slow panning shots were reasonably smooth but not buttery-smooth: 24p frame rate is inherently a tad juddery anyway. Of course, users can choose to nudge up the [Judder Reduction] value in the [Auto Motion Plus] "Custom" submenu for more fluid pans, but that'll introduce soap opera effect however slight.
Going back to our earlier point about how HDR material need not be blinding, we sat through these 4K HDR movies in a pitch-black room, and actually found the experience comfortable. The way we tried to rationalise it was that because this Samsung SUHD set expressed all the detail ranging from dark shadows to bright highlights in a more uncompressed and natural fashion (compared with standard Blu-ray, or a lesser 4K LED LCD with lower peak brightness), our eyes didn't have to work as hard to pick up the subtleties.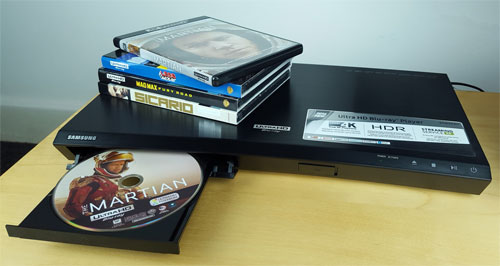 Nevertheless, there's one compelling reason to add bias lighting to the Samsung UE55KS9000 for watching high dynamic range content, and that's to mitigate the brighter letterbox bars caused by the demanding backlight requirements of HDR. The 55KS9000's bottom edge LED arrangement means that it's unable to independently darken an entire stripe horizontally, so the top and bottom letterbox bars in 2.35:1 movies won't look totally jet black in a dark environment.
For regular Blu-rays, this isn't a problem at all, since [Backlight] can be tamed down to single digits, which strikes a good balance between the film being bright enough for SDR viewing, and the black bars being dark enough to not offend. But for HDR, [Backlight] should be kept at its maximum value of "20" or not much lower, because the whole point of HDR is to allow for as much expression of dynamic range with as little remapping or clipping as possible. 4K Blu-rays are likely (we don't know for sure) mastered on 4000-nit displays, and the closer a TV can get to that level of brightness, the more faithful its reproduction of the artistic intent.
As you can imagine, a [Backlight] setting of "20" raised black level to around 0.16 cd/m2, and the letterbox bars started to look greyish in a dark room. Furthermore, each bar could exhibit an inconsistent shade of black from one end to the other, because the brightness of every segment is influenced by elements inside the active picture area directly above or below due to how the screen is illuminated. With [Backlight] maxed out, we witnessed some intermittent light bleed from the bottom of the screen, which was more noticeable off-axis.
To be fair though, we were paying particular attention to the black bars for the purpose of this review; once we focused on watching the movie without repeatedly directing our gaze to the letterbox bars in scrutiny, the dynamism and colours on show made the greyness and luminance fluctuations less obvious. Adding some ambient light especially behind the screen – technically known as bias lighting – can help darken perceived blacks too (maybe that's why Samsung developed its moth-eye anti-reflection coating), but beware of introducing too much ambient lighting as it can overpower shadow detail. PQ (perceptual quantizer) EOTF (electro-optical transfer function) is fundamentally different from traditional power curve or even BT.1886 gamma, so we're not sure if the [Gamma] control can be used in the same way to lift shadow detail.
Talking of which, the Samsung UE55KS9000 allows for independent settings in HDR mode under the same preset (for example, you can save different settings in [Movie] mode for SDR and HDR, just like how it used to be for 2D and 3D), paving the way for HDR calibration.
Update 31 March 2016: Even though several aspects of the correct methodology for HDR calibration remain uncertain, we tried our hand anyway on our Samsung UE55KS9000TXXU review sample, using a Murideo Six-G signal generator to send the necessary metadata to elicit HDR mode on the TV. Here are the results:
Greyscale
The white point standard for 4K Ultra HD content is still D65, but the 55KS9000's 10-point [White Balance] controls didn't work in HDR [Movie] mode probably due to misalignment. In spite of this, two-point [White Balance] controls were enough for us to reduce delta errors to below the perceptible threshold of 3: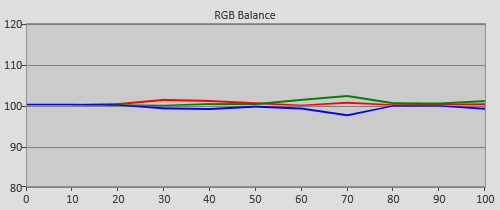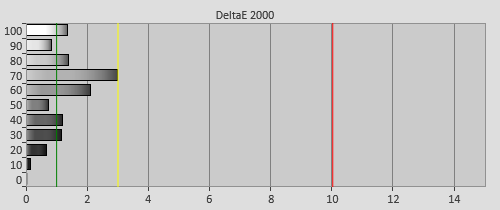 Post-calibration RGB tracking and dEs in HDR [Movie] mode
EOTF
Armed with high brightness reserve, the Samsung UE55KS9000 was able to tone-map PQ (perceptual quantizer) EOTF (electro-optical transfer function) correctly without significant clipping:
| | |
| --- | --- |
| | |
| Post-cal EOTF in HDR mode | Post-cal PQ chart |
Colour
In HDR mode, [Colour Space] "Custom" unfortunately drew its base colour from "Auto" which targeted Rec.709, so the only viable choice was [Colour Space] "Native":
[Colour Space] "Native" saturation tracking against DCI-P3 standard
Gaming
Samsung TVs ruled the gaming responsiveness roost in 2015, and the company's dominance in this area looks set to continue in 2016. In [Game] mode, the 55in KS9000 posted a super-low input lag number of 21ms (measured using a Leo Bodnar tester).

[Smart LED] could still be enabled in [Game] mode to deepen blacks, but [Auto Motion Plus] was greyed out so there's no way to engage black frame insertion for higher motion clarity. Input lag figures in [Movie] and [PC] modes came in at 113ms and 37ms respectively.
Conclusion
The Samsung UE55KS9000 offered a number of tangible benefits over its JS9000 predecessor: deeper blacks, larger colour gamut, higher peak brightness, wider viewing angles, less flickery black frame insertion, more effective anti-reflective filter and lower power consumption. While individually most of these improvements were evolutionary rather than revolutionary, when you stack them all up the upgrade in image quality wasn't trivial at all, making the KS9000 a tremendously attractive proposition. In fact, we can think of no other 2015 or 2016 4K TV with sharper motion or faster gaming response.
Where the 55KS9000 stumbled somewhat was during HDR playback. The high light output required by HDR led to contamination of the letterbox black bars in cinemascope 4K HDR films, owing to where the LEDs are located and how light is distributed. We're informed that this sort of LED configuration was absolutely necessary to coax 1000 nits from an edge-lit system, so the blooming artefact was unavoidable if viewers wanted to scale the HDR heights without clipping or remapping.
From our objective tests and subjective viewing, we firmly expect the Samsung KS9000 to be among the top echelons of edge LED TVs that deliver richer, truer HDR expression, if you can look past the letterbox bar issue (which didn't surface in regular SDR viewing once the display was calibrated). Obviously a full-array local dimming (FALD) LED LCD or an OLED television will manifest less blooming/ haloing, but they are also at least 25% more expensive. At the end of the day, we're still in the wild west era of HDR, and we certainly won't hold it against the UE55KS9000 which is better-specified yet somehow lower-priced than last year's UE55JS9000 at launch.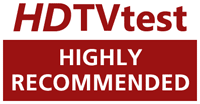 Note: If you're interested in buying this TV, please support us by considering making your purchase from our advertising partner Simply Electricals – call 01204 201124 for competitive prices and first-rate service.