While here on HDTVTest we primarily focus on reviewing high-end televisions costing thousands of pounds, £1000 seems to be the magic threshold below which the vast majority of consumers are willing to spend on a new TV. And following gradual price drops over recent months, Samsung's UE55MU7000 arguably gives you the best picture quality you can expect from a 2017 television in the 55-inch size class, thanks to a few factors.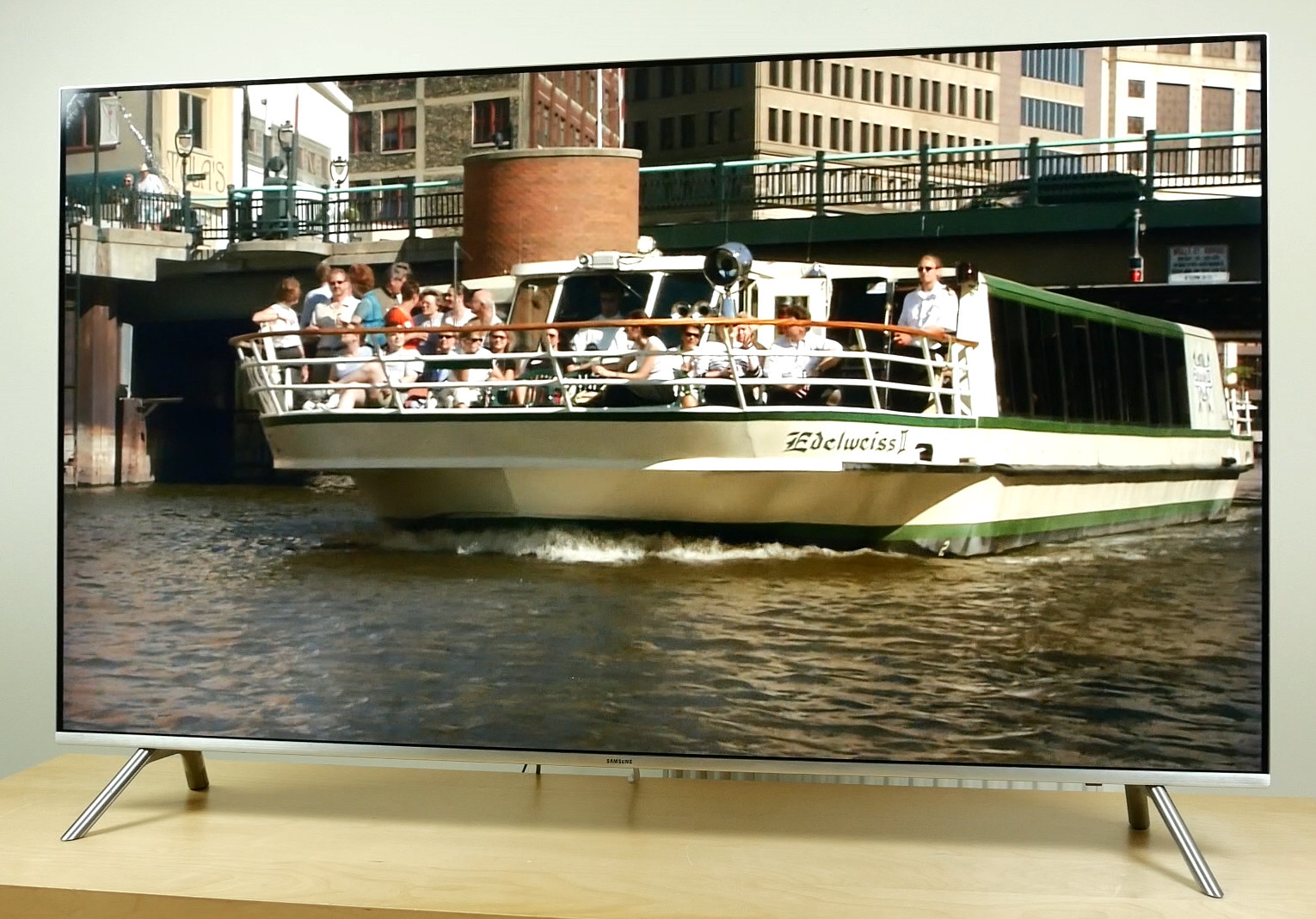 First is the use of a native 120Hz LCD panel which – among other benefits – allows for 5:5 pulldown so slow panning shots in 24fps (frames per second) movies can be displayed smoothly without telecinic judder. Also, effective motion interpolation and black frame insertion (BFI) can be deployed to improve motion clarity.
With [Auto Motion Plus] disabled, the baseline motion resolution on our Samsung 55in MU7000 review sample was 300 lines, which is typical of a sample-and-hold display. Engaging [Auto Motion Plus] would increase motion resolution to 1080 lines, the maximum measurable in Chapter 31 of the FPD Benchmark Software test disc. However, unless you go into the [Auto Motion Plus] "Custom" submenu to adjust the [Blur Reduction] and [Judder Reduction] values appropriately, the South Korean manufacturer's motion-compensated frame interpolation (MCFI) system is prone to introducing soap opera effect (SOE) to 24p films, as well as interpolation artefacts.
The 55MU7000 also offers BFI technology to boost motion clarity without incurring SOE or interpolation artefacts – this can be activated by switching on [LED Clear Motion] in the [Auto Motion Plus] "Custom" submenu. Normally such an approach would lead to deal-breaking increase in flicker or drop in luminance, but Samsung's BFI implementation exhibits less flicker than rival brands across different frame rates, and so may be more tolerable for viewers. The UE55MU7000 has sufficient light reserve to compensate for the BFI-induced dimness in all but the brightest rooms.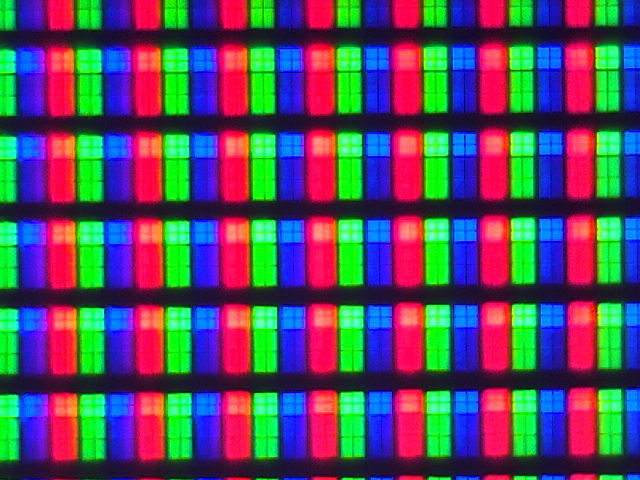 Macro shot of subpixel structure confirming RGB VA-type LCD matrix
The LCD panel found on the Samsung MU7000 is VA-type with true RGB subpixel arrangement, which delivers decent blacks by LED LCD standards, coming in at 0.05 cd/m22 on a 4×4 ANSI chequerboard pattern once peak white was aligned to our usual dark-room target of 120 cd/m2. Being an edge-lit LED LCD, the screen is illuminated by one single stripe of LED module along the bottom border of the panel, as you can see from the following thermal scan.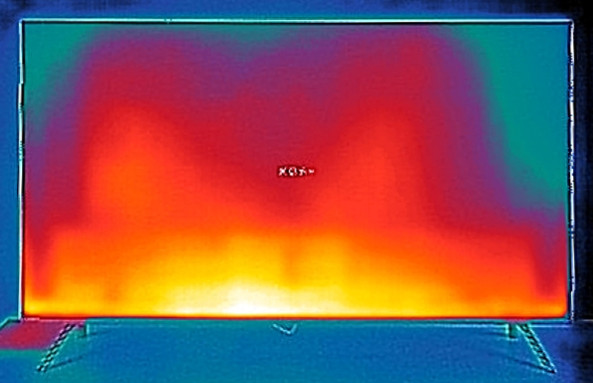 Thermal scan showing bottom-lit LED configuration
Understandably, any pseudo-local dimming is going to be limited in its effectiveness given such an edge-lit configuration. Using our own custom-authored test pattern consisting a small white box crawling horizontally and then vertically against the borders of a black background, we counted between eight and ten vertical columns of independently dimmable zones, each spanning the entire height of the screen. As we've witnessed since last year, Samsung's pseudo-local dimming algorithm on such bottom-lit sets favours keeping zones gently illuminated rather than switching them off totally to minimise blooming or haloing artefacts when bright elements exist on a black background.
Colorimetric performance for SDR (standard dynamic range) content on our Samsung UE55MU7000TXXU was very good after calibration, and the fact that the TV's compatible with CalMAN's QLED-designated direct display control (DDC) and AutoCal functionalities came as a pleasant surprise. After calibrating its greyscale and chromaticities, the MU7000's colour palette appeared natural and believable.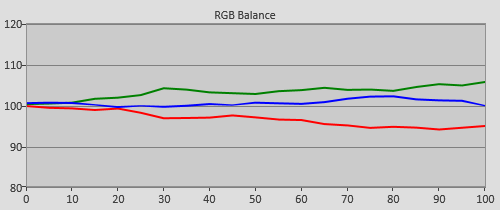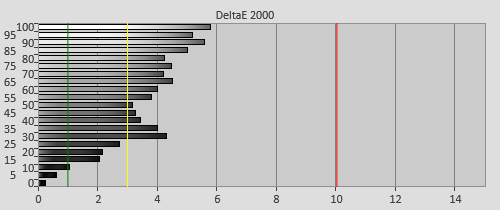 Pre-calibration RGB tracking and delta errors (dEs)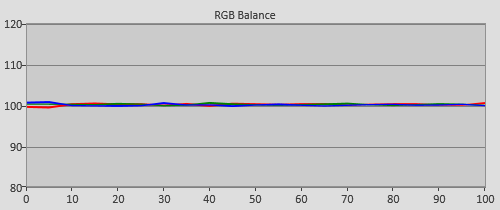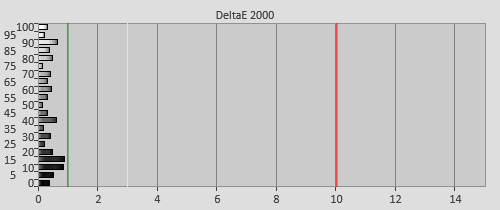 Calibrated RGB tracking and dEs after [White Balance] adjustments
| | |
| --- | --- |
| | |
| Pre-calibration gamma tracking (2.37) | Post-calibration gamma tracking (2.34) |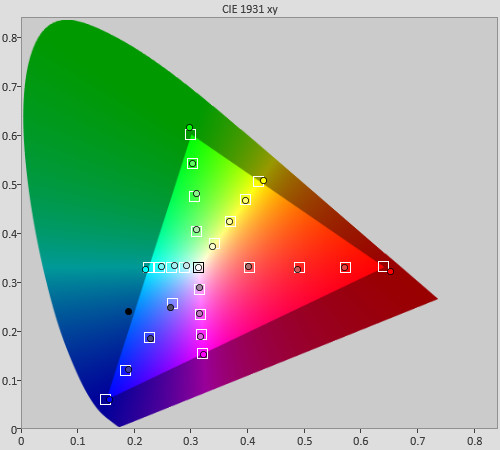 Post-calibration colour saturation tracking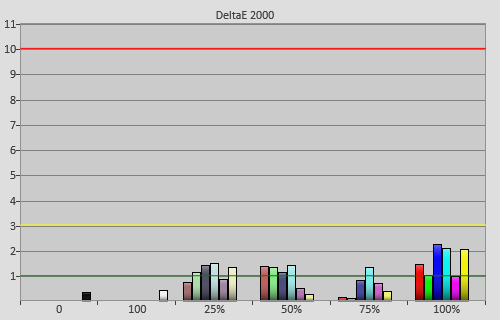 Post-calibration colour errors (<3 not appreciable to the eye)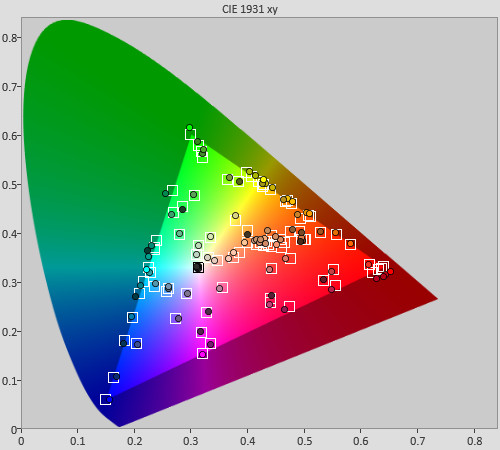 Post-calibration Colour Checker SG test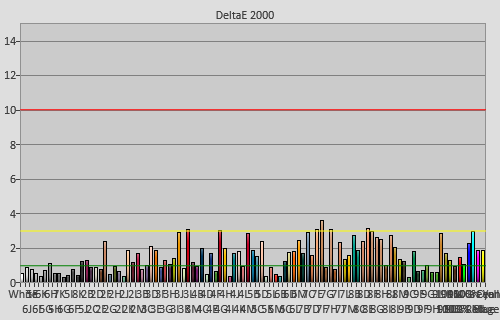 Post-calibration Colour Checker SG errors (<3 not visible to the eye)
Where the Samsung UE55MU7000 fell short compared with higher-end full array local dimming (FALD) LED LCD and OLED TVs was in HDR, but then again it's not as expensive so we can't be too nitpicky. Due to the 55MU7000's single-strip LED placement and lack of effective local dimming, HDR images (particularly darker sequences) have a tendency to be washed out by the high backlight demands of HDR. Also, similar to last year's Samsung KS series, certain HDR scenes can throw up more posterisation and contouring artefacts than rival TVs.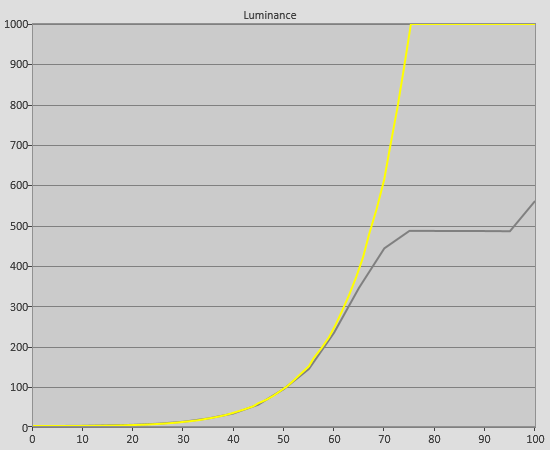 Tracking against ST.2084 PQ EOTF up to 1000 nits
On the plus side, peak brightness on our 55″ Samsung MU7000 review unit measured 560 nits on a 10% window and 450 nits full-field, comfortably among the top in this screen size and at this price point. Samsung sets generally follow the PQ (perceptual quantisation) EOTF (electro-optical transfer function) standard accurately before rolling off to retain specular highlight detail even up to 4000 nits, and that's certainly the case with the UE55MU7000, resulting in a very watchable HDR picture. DCI-P3 coverage was 90%, so some of the more saturated colours in Ultra HD Blu-rays would look more subdued: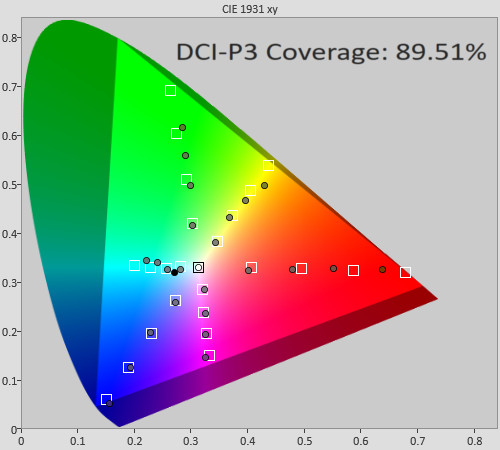 UHD HDR colour saturation tracking against DCI-P3 gamut inside Rec.2020 container
Samsung TVs over the past few years have been some of the most responsive for playing reflex-based games, and the MU7000 was no exception. In [Game] mode, input lag (measured using a Leo Bodnar tester) was 24ms for SDR, and 19ms for HDR. Note that there's only one [Game] mode whose settings are occasionally shared between SDR and HDR, so users may have to manually adjust certain parameters such as [Backlight] and [Smart LED] to get the best experience when playing HDR games.
| | |
| --- | --- |
| | |
| Input lag in 1080p SDR | Lag time in 2160p HDR |
Design-wise, the Samsung UE55MU7000 punches above its weight, giving a premium feel with its thin black bezel and brushed metallic silver trim. The supporting feet are located at both ends of the display, but the company has kindly provided to alternative inner slots to put the feet so owners can place the television on a narrower AV rack. Like 2016's KS7000 series, the back cover could pop out after some use.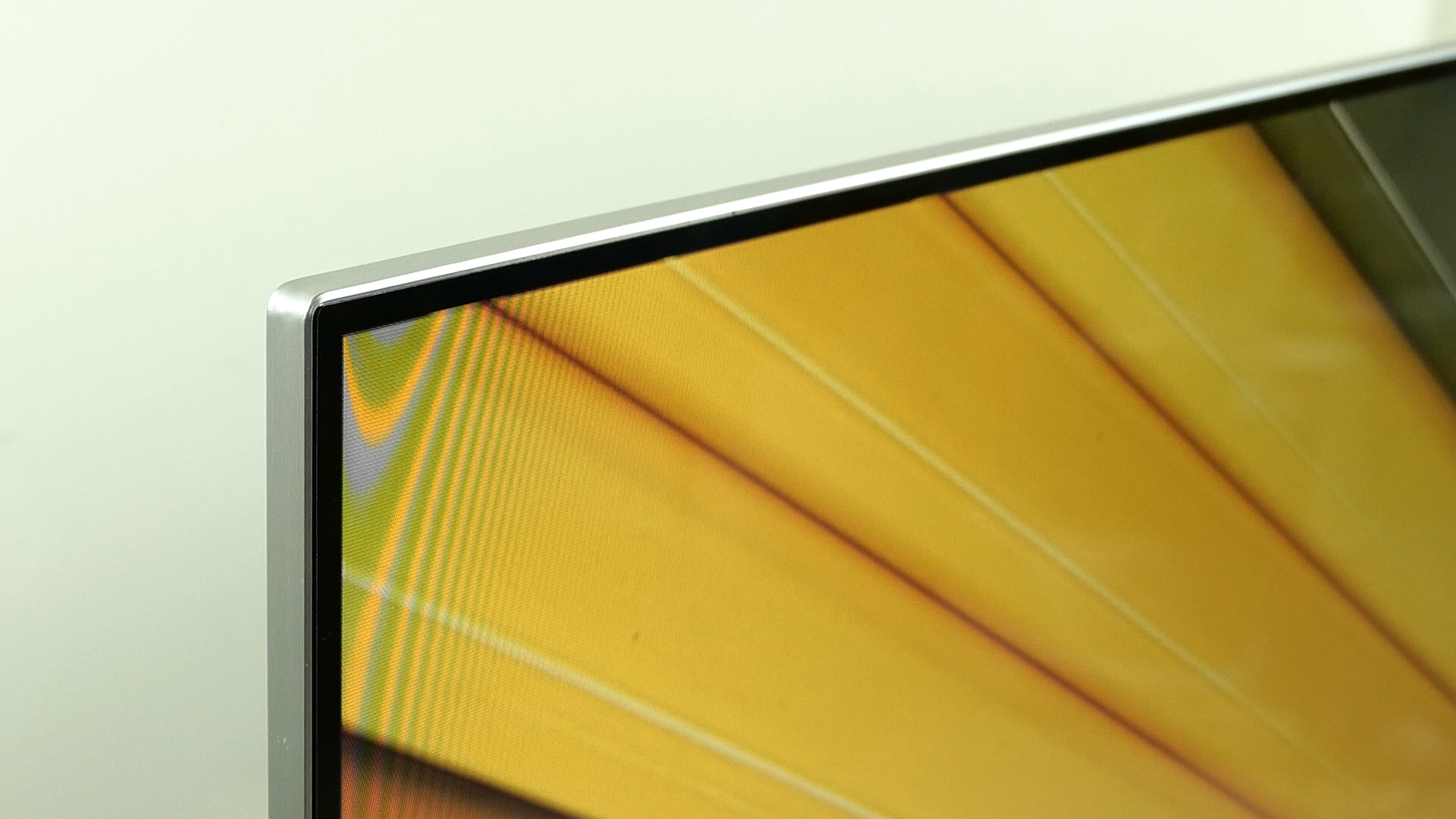 Benchmark Test Results
| | |
| --- | --- |
| Dead pixels | None |
| Backlight/ screen uniformity | Very good |
| Overscanning on HDMI | Defeatable |
| Blacker than black | Passed |
| Calibrated black level (black screen) | LEDs shut off |
| Calibrated black level (4×4 ANSI) | 0.05 cd/m2 |
| Black level retention | Local dimming/ [Smart LED] always on |
| Primary chromaticity | Good |
| Scaling | Very good |
| Video mode deinterlacing | Effective jaggies reduction |
| Film mode deinterlacing | Passed 2:2 & 3:2 tests in SD, though HD loses lock |
| Viewing angle (cone) | 60° |
| Motion resolution | 1080 lines or higher with [Auto Motion Plus] engaged |
| Digital noise reduction | Optional; effective when enabled |
| Sharpness | Defeatable edge enhancement |
| Luma/Chroma bandwidth (2D Blu-ray) | Full Luma; Chroma vertically blurred |
| 1080p/24 capability | No judder |
| 2160p/24 capability | No judder |
| Measured panel refresh rate | 120Hz |
| Measured peak brightness | 560 cd/m2 |
| Measured DCI-P3 coverage | 90% |
| Input lag (Leo Bodnar tester) | 24ms in [Game] mode; 19ms in HDR [Game] mode |
| Full 4:4:4 reproduction (PC) | Yes for both 1920×1080 and 3840×2160@60Hz |
Power Consumption
| | |
| --- | --- |
| Default [Standard] mode | 68 watts* |
| Calibrated [Movie] mode | 40 watts |
| HDR mode | 137 watts |
| Standby | <1 watt |
*Note: Out of the box, [Ambient Light Detection] was engaged by default in [Standard] mode.
Video Review
Verdict
Although the Samsung MU7000 didn't match last year's KS7000 in several aspects (lack of quantum dot filter leading to smaller colour gamut; lower peak brightness), it must be pointed out that the MU series is meant to succeed 2016's KU series, whereas QLED is the evolution from the KS series. Regardless, among 55-inch 4K HDR televisions under £1000, no other model (including the Sony XE70/ XE80, Panasonic EX700 or LG SJ series) uses a 120Hz VA-type LCD panel, leaving the door open for the UE55MU7000 to rule the roost with its deep blacks, accurate colours, high motion clarity, and ultra-low input lag.