When we reviewed the Samsung UE55HU8500 curved ultra high-definition (UHD) TV many months ago, we were suitably impressed by its image quality, but there were a few niggles that we wished could be eradicated. So when we were offered the opportunity to test the bigger 65-inch version, we gladly obliged, eager to check out if the latest software update brought about any improvement in picture performance.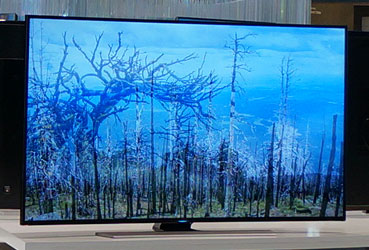 Note: The design, user menu, connection inputs and remote controls on the 65in Samsung UE65HU8500 is the same as those found on the smaller 55in model, so please refer to our April review if you need more information or a refresher.
Calibration
We calibrated our Samsung UE65HU8500TXXU review unit in [Movie] mode (the most accurate picture preset out of the box) using a profiled Klein K10-A meter, DVDO's AVLab TPG 4K signal generator, and SpectraCal's CalMAN video calibration software. The TV's well-implemented controls allowed us to achieve D65 greyscale, 2.4 gamma and Rec.709 colours in a cinch.
Greyscale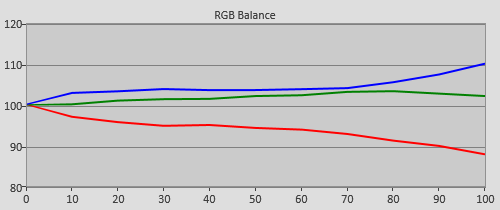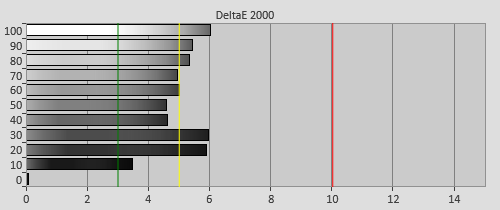 Pre-calibration RGB tracking and delta errors (dEs)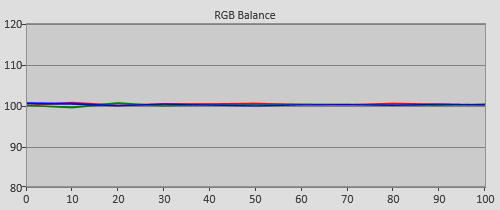 Post-calibration RGB tracking and dEs in [Movie] mode
Gamma
| | |
| --- | --- |
| | |
| Pre-calibration gamma tracking (2.13) | Post-calibration gamma tracking (2.38) |
Colour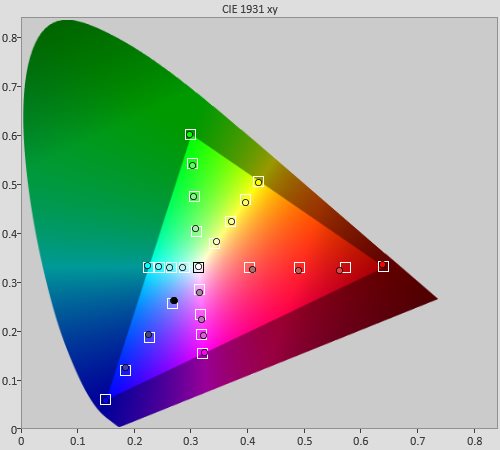 Post-calibration colour saturation tracking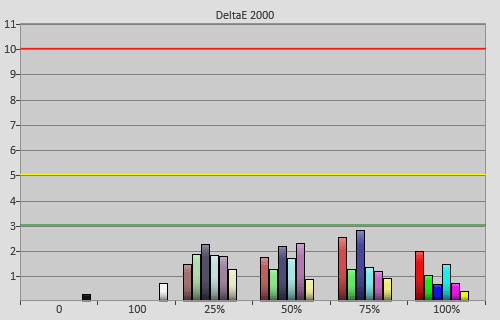 Post-calibration colour errors (<3 not appreciable to the eye)
Benchmark Test Results
| | |
| --- | --- |
| Dead pixels | None |
| Screen uniformity | Very good for an edge-lit & curved LED LCD |
| Overscanning on HDMI | Defeatable with 1080p and 2160p (UHD) content |
| Blacker than black | Passed |
| Calibrated black level (black screen) | 0.079 cd/m2 with [Smart LED] "Off" |
| Calibrated black level (4×4 ANSI) | 0.079 cd/m2 |
| Black level retention | Stable |
| Primary chromaticity | Excellent |
| Scaling | Excellent |
| Video mode deinterlacing | Very effective jaggies reduction |
| Film mode deinterlacing | Passed 2:2 PAL and 3:2 NTSC tests in SD and HD |
| Viewing angle | Decent – blacks & colours wash out beyond 40° off-axis |
| Motion resolution | 1080 lines (and likely higher) with [Motion Plus] engaged |
| Digital noise reduction | Optional; effective when engaged |
| Sharpness | Defeatable edge enhancement |
| Luma/Chroma bandwidth (2D Blu-ray) | Full Luma; Chroma vertically softened |
| 1080p/24 capability | No judder in 2D; mild judder in 3D |
| Input lag (high-speed camera) | 32ms in [PC] mode |
| Leo Bodnar input lag tester | 41ms in [PC] mode |
| Full 4:4:4 reproduction (from PC) | Yes, with [PC] input label |
Picture Quality
We updated our Samsung UE65HU8500 review sample with the latest firmware (at time of testing) of 1190, and were pleasantly surprised to find some positive effects. First was an improvement in the television's pseudo-local dimming system: there was a reduction in visible backlight fluctuation, which means that we could up the HU8500's [Smart LED] intensity to "Standard" to obtain deeper blacks while largely preserving luminance stability and shadow detail.
The motion hiccups which have afflicted high-end Samsungs over recent years appeared to have been effectively minimised by firmware version 1190 too. Yes, we still spotted the odd judder and/or tearing during scene cuts featuring a change of pace (for example as the camera switches from slow-motion replay to live sports action), but these instances were few and far between.
3D-wise, our software-updated Samsung UE-65HU8500 no longer applied forced motion interpolation to 50Hz content (e.g. from Sky 3D) in the third dimension, though this did mean that slow pans would display with some stutter unless [Game] mode was enabled. Crosstalk seemed to be reduced compared with when we tested the 55HU8500 back in April.

Perhaps the most measurable improvement came in the form of gaming responsiveness. Placing a Leo Bodnar tester on our UE65HU8500 sample returned an input lag figure of merely 41ms once we relabelled the HDMI input to [PC], down from the 76ms we recorded on the 55″ HU8500 eight months ago on an earlier firmware.
Verdict
Difficult as it is to believe, Samsung has improved the already outstanding picture quality on its HU8500 series of curved UHD television just by releasing a software update. With deep blacks, accurate colours and excellent upscaling, it's no wonder that the UE65HU8500 was voted as one of the best 4K Ultra HD TVs of 2014 in a recent side-by-side comparison event.