Hot on the heels of our review of Samsung's 2015 flagship JS9500 ultra high-definition (UHD) TV, today we're looking at the 65-inch version of the step-down JS9000 series. Carrying the South Korean manufacturer's "SUHD" designation, the UE65JS9000 features 3840×2160 screen resolution, Samsung's proprietary quantum dot technology (branded "Nano Crystal Colour"), native 10-bit LCD panel, octa-core processor, high dynamic range (HDR) support, four HDMI 2.0 inputs, HDCP 2.2 compatibility, a curved design, as well as the company's new Tizen-based Smart TV platform.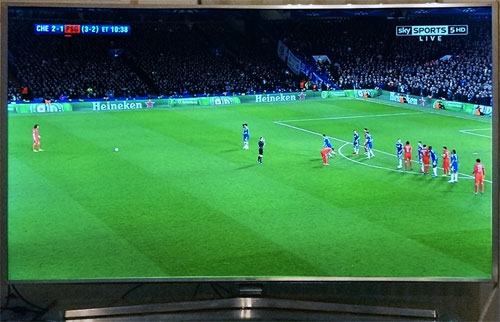 Compared with the top-end JS9500 series, the Samsung JS9000 loses the pop-up camera and, perhaps more importantly for video enthusiasts, direct LED backlighting with full-array local dimming (FALD); instead the 65JS9000 uses edge-lit LED with pseudo-local dimming. Three screen sizes are planned for the UK and other European countries, namely the 48in UE48JS9000, 55in UE55JS9000, and the 65-incher which is the subject of today's review.
Note: The styling of the Samsung UE65JS9000 is extremely similar to the UE65JS9500, what with its brushed metallic silver bezel (although sans chamfer detailing), curved screen and Y-shaped stand. Otherwise, the JS9000's user menu, One Connect box, remote controls and Smart TV features are identical to those found on its step-up sibling, so please refer to our 65JS9500 review if you need more details or a refresher.
Calibration
We calibrated our Samsung UE65JS9000TXXU review sample in [Movie] mode, the display's most accurate out-of-the-box picture preset. Equipments used consisted of a Klein K10-A meter profiled to a JETI Specbos 1211 spectroradiometer, and a DVDO AVLab TPG signal generator, all controlled via SpectraCal's CalMAN video calibration software.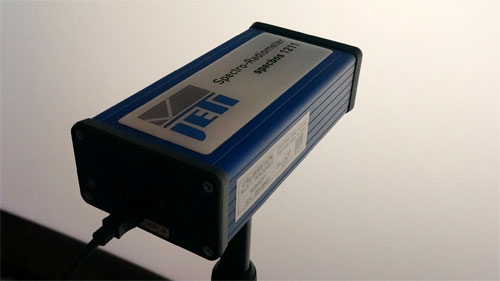 Achieving D65 greyscale, 2.4 gamma and Rec.709 colour was smooth sailing on the Samsung UE-65JS9000, thanks to well-implemented calibration controls that work as they should. As was the case on the UE65JS9500, red tended towards oversaturation, but a quick 24-point colour checker test revealed no glaring inaccuracy to the human eye in real-world viewing.
Greyscale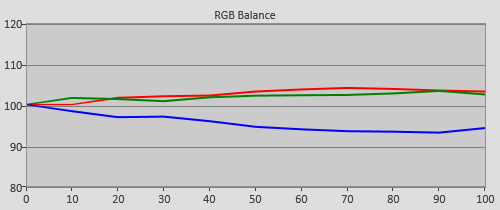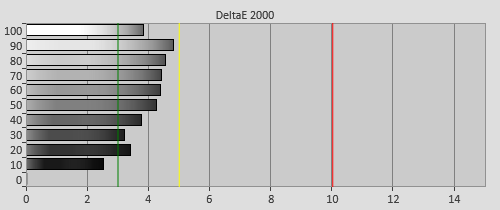 Pre-calibration RGB tracking and delta errors (dEs)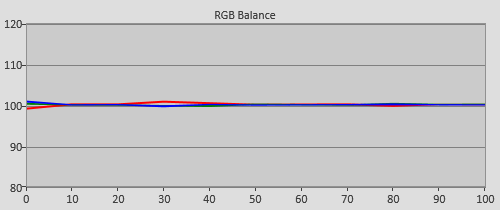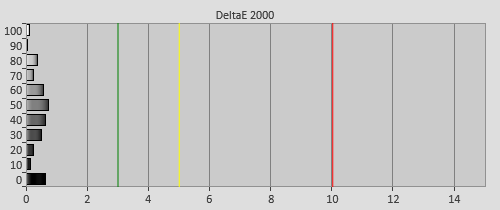 Post-calibration RGB tracking and dEs in [Movie] mode
Gamma
| | |
| --- | --- |
| | |
| Pre-calibration gamma tracking (2.22) | Post-calibration gamma tracking (2.41) |
Colour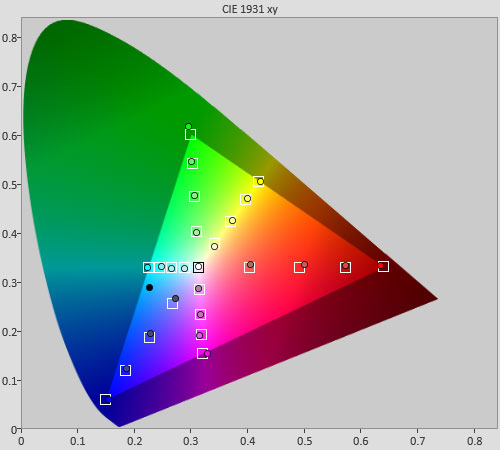 Post-calibration colour saturation tracking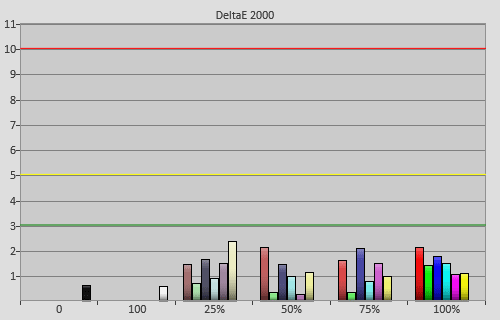 Post-calibration colour errors (<3 not appreciable to the eye)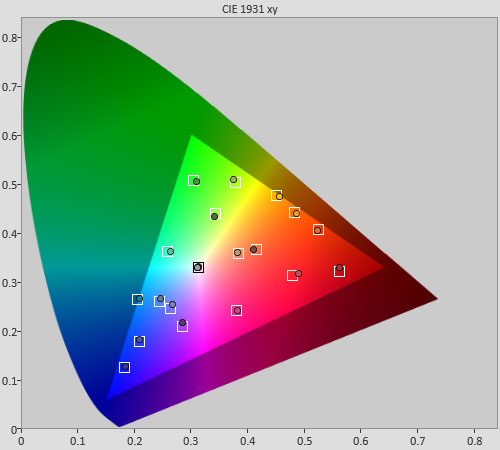 Post-calibration Colour Checker Classic test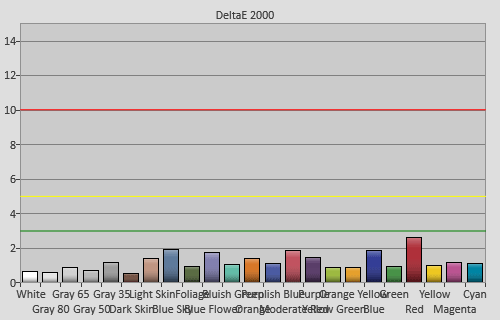 Post-calibration Colour Checker Classic errors (<3 not appreciable to the eye)
Benchmark Test Results
| | |
| --- | --- |
| Dead pixels | None |
| Backlight uniformity | Some clouding; attenuated by engaging [Smart LED] |
| Overscanning on HDMI | Defeatable with [Fit to screen] "On" |
| Blacker than black | Passed |
| Calibrated black level (black screen) | LEDs shut off |
| Calibrated black level (4×4 ANSI) | 0.043 cd/m2 with [Smart LED] engaged |
| Black level retention | Stable if [Smart LED] "Off" |
| Primary chromaticity | Very good |
| Scaling | Excellent |
| Video mode deinterlacing | Very effective jaggies reduction |
| Film mode deinterlacing | Passed 2:2 PAL & 3:2 NTSC tests in SD & HD |
| Viewing angle | Typical of VA-type LCD panel |
| Motion resolution | 1080 lines or higher with [Auto Motion Plus] engaged |
| Digital noise reduction | Optional; effective when engaged |
| Sharpness | Defeatable edge enhancement |
| Luma/Chroma bandwidth (2D Blu-ray) | Full Luma; Chroma horizontally blurred |
| 1080p/24 capability | No judder in 2D; forced interpolation in 3D |
| Measured panel refresh rate | 120Hz |
| Input lag (Leo Bodnar tester) | 22ms in [Game] mode |
| Full 4:4:4 reproduction (PC) | Yes for both 1920×1080 and 3840×2160@60Hz |
Power Consumption
| | |
| --- | --- |
| Default [Standard] mode | 86 watts* |
| Calibrated [Movie] mode | 83 watts |
| Standby | <1 watt |
*Note: [Eco Sensor] was enabled by default in [Standard] mode.
Picture Quality
Black Level & Contrast Performance
Judging from its subpixel structure, the Samsung UE65JS9000 uses the same PVA LCD panel as the flagship UE65JS9500. Unsurprisingly, native black level was eerily similar once peak white was aligned to our dark-room target of 120 cd/m2, coming in at 0.052 cd/m2 on both full-field video black (with auto-dimming defeated by displaying a pause icon from our OPPO Blu-ray player) and a 4×4 ANSI chequerboard pattern if [Smart LED] was disabled.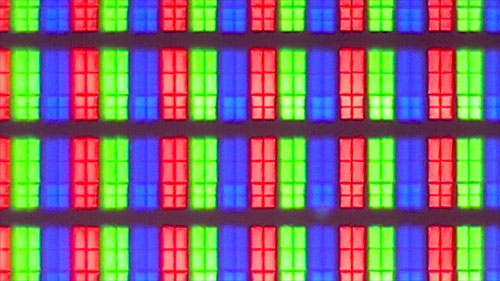 Engaging [Smart LED] activates the 65JS9000's pseudo-local dimming system, which not only improved black depth, but also attenuated the initially observed backlight inconsistencies (several patches of clouding near the corners) to negligible levels. Three [Smart LED] settings are available apart from "Off", namely "Low", "Standard" and "High". All three lowered measured black level to 0.002 cd/m2 on a full-black screen with auto-dimming defeated, and 0.043 cd/m2 on 4×4 ANSI.
In practice, we didn't detect a great deal of difference between these 3 [Smart LED] settings when we sampled a variety of real-life content (particularly low-light material): all deepened blacks to the same degree without introducing blatant fluctuation in luminance or crushing shadow detail. In the end, we went with [Smart LED] "Low", but would be equally happy with "Standard" or "High".
Like last year's Samsung HU8500, the JS9000 ships with a [Cinema Black] option in the picture menu to darken the top and bottom letterbox bars in cinemascope movies. It worked well in our testing, so we'd leave it on.
Motion
We've said it before and we'll say it again: we're absolutely smitten with Samsung's black frame insertion (BFI) mode – labelled [LED Clear Motion] in the [Auto Motion Plus] "Custom" submenu – which boosted motion sharpness to a level hitherto unseen on LCD-based displays, so much so that we incorporated it into our calibration workflow for the UE65JS9000. For the uninitiated, BFI inserts black frames between the original frames to reset your retinal persistence, drastically enhancing motion clarity without introducing interpolation artefacts or soap opera effect (SOE) in 24p films.
Black frame insertion is not without its flaws, usually causing increased flicker or decreased luminance due to how the technology works. Thankfully, such issues were largely absent on the Samsung UE-65JS9000: we barely saw any flicker in photorealistic content except on bright white backgrounds; and the SUHD panel's naturally high brightness potential (necessary for HDR compliance) allowed us to effortlessly reach 120 cd/m2 (only a [Backlight] value of "11" out of the maximum of "20" was needed) or even brighter. Football has never looked so fluid and clear on an LED LCD.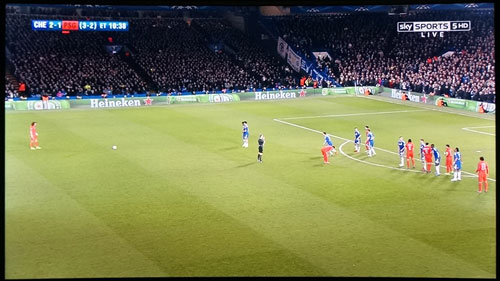 Previous Samsung high-end TVs suffered from intermittent motion hiccups following scene cuts. The JS9000 wasn't totally spared, but the frequency at which these stutters occurred was significantly less than that witnessed on its predecessors. We watched a ton of football (including the FA Cup and Champions League) and Great Britain's Davis Cup tennis win over the USA on the UE65JS9000, and the only programme which showed up the motion hiccups was the ill-tempered round-of-16 tie between Chelsea and PSG. While the stuttering cleared up a bit after we cycled the television's [Auto Motion Plus] setting to "Off" then back to "Custom", the only surefire way to completely eradicate the motion glitch is by enabling [Game] mode, but of course this entails other compromises. More on this later.
High Definition
The first aspect we wanted to examine was how the edge-lit LED configuration on the Samsung UE65JS9000T compared with the step-up JS9500's full-array local dimming (FALD) system. On most mid- to high-APL content, there's virtually no difference between the images produced by the two displays once greyscale, gamma and colour were dialled in and peak luminance was matched. Heck, as far as Samsung TVs go, even the H6400 (our favourite midrange 1080p set from 2014) which isn't blessed with any sort of local dimming would probably hold its own in this comparison.
Where the FALD-equipped UE65JS9500 earned its keep was in low-APL scenes, especially those containing smaller areas of brighter elements against a dark backdrop. For example, Chapter 7 of Kill Bill: Vol 2 opens with a shot of a full moon just off the centre of the screen against the night sky. On the JS9000, the entire bottom right quadrant would light up however mildly (bringing some clouding into view); whereas the JS9500 would keep the section dimmed therefore improving perceived black-level response.
As long as [Digital Clean View] and [MPEG Noise Filter] were both disabled, finely textured film grain was reproduced faithfully on the 65JS9000. Together with deep blacks, punchy contrast, accurate greyscale, lush colours and best-in-class upscaling, the result was a top-notch HD viewing experience that left us mesmerised. Just make sure you don't give up your sweet spot in the middle, since the viewing angle isn't the best as a consequence of the VA-type LCD panel used.
4K including HDR
Serving UHD video signals from a DVDO AVLab TPG 4K test pattern generator, we verified that the 65in JS9000 fully resolved all 3840 vertical and 2160 horizontal single-pixel lines at 24Hz, 30Hz, 50Hz and 60Hz. We also managed to successfully obtain 4:4:4 chroma reproduction at 3840×2160@60Hz resolution from a Chillblast gaming tower PC fitted with Geforce GTX 970 graphics card, but only if the HDMI port was labelled [PC], and [HDMI UHD Color] was switched on.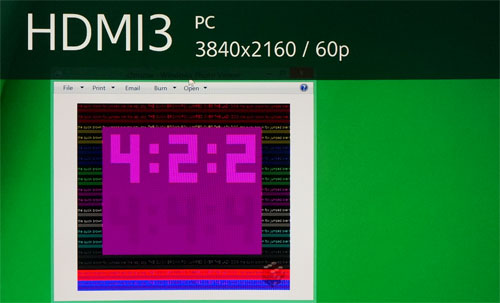 We reacquainted ourselves with several short HDR-remastered clips of Life of Pi and Exodus: Gods and Kings, and the impact still blew us away. We had originally feared that blacks would wash out severely on an edge-lit LED LCD to fulfil the extreme brightness demands of HDR (high dynamic range) material, but that proved not to be the case.
We ran the UE65JS9000 (playing the Life of Pi HDR snippet) side-by-side against a now-defunct-but-still-considered-reference Panasonic ZT plasma (displaying the Blu-ray version), taking care to calibrate both screens to 120 cd/m2 peak white. There's simply no contest even from fifteen feet away: the combination of super-high resolution, punchier whites, greater gradation and increased detail (not only in the highlights but also in shadowed areas) made the ZT look noticeably muted and softer by comparison. So powerful was this onslaught of resolution, contrast and detail to our visual senses that we weren't even aware of the UE-65JS9000's on-paper weaker blacks versus the plasma.
Of course, the elephant in the room is the total number of consumer HDR content available on the market at this time of writing – a big fat zero. But it's coming, starting with Netflix 4K HDR streaming later this year and Ultra HD Blu-ray by end-2015 (more likely early 2016). If you're buying a 4K TV today, it makes sense to invest in one that is capable of showcasing this tremendously exciting format.
3D
We didn't describe the tri-dimensional performance of the Samsung JS9500 in our review last month (although we did test it), so we thought we'd cover it here (it's identical between the two SUHD sets). We confirmed full HD 3D resolution from the JS9000's active-shutter glasses (ASG) system using our custom-authored test pattern. However, there's forced frame interpolation running at all times in 3D mode, causing movies to look like ultra-smooth video, though it can be defeated by engaging [Game] mode at the expense of introducing judder to 24Hz content.
There's some crosstalk, but it's faint and not distracting. Maximum light output measured through the shuttering lenses was 65 cd/m2, which was a great deal brighter than plasma and slightly more so than previous Samsung 3DTVs. Nevertheless, it's still slightly disappointing given the 65JS9000's high brightness potential – it appears active 3D does darken the image quite considerably.
All in all, there's been no major leap in extra-dimensional picture quality on Samsung's LED LCD televisions for a good few years. 3-D is now firmly an afterthought for all TV makers including Samsung (and who can blame them in light of 3D's lukewarm public reception), and we don't expect this to change for the better anytime soon.
Gaming
Our Leo Bodnar input lag tester returned a super-low figure of 22ms on the UE65JS9000 in [Game] mode, proving that the supreme gaming responsiveness seen on the top-end UE65JS9500 wasn't a once-off. We absolutely applaud Samsung's new-found acknowledgement of the importance of response time to television owners who play video games semi-competitively; the only question is how far down the company's 2015 TV lineup does this low input lag extend.

Out of curiosity, we reran our battery of benchmark tests on the UE-65JS9000 with [Game] mode on. Here are the picture quality tradeoffs that ensued:
More jaggies in video-based material;
No film cadence detection – [Film Mode] greyed out;
Telecine judder with 1080p/24 content;
No motion enhancement processing – [Auto Motion Plus] greyed out; and
No pseudo-local dimming – [Smart LED] greyed out.
The first three deficiencies are irrelevant when playing 720p/ 1080p/ 4K games from consoles or PCs. In any case, image quality comes a distant second to gaming responsiveness as far as twitch reflex games (for example first-person shooters) are concerned. On the other hand, if you're a gamer who regularly likes to take a breather from the frenetic action and enjoy the in-game scenery, input lag in [Movie] and [PC] modes measured 153ms and 65ms respectively.
Updated 6 September 2015: Following a firmware update, [Smart LED] can now be engaged in [Game] mode, allowing for improved blacks while playing games.
Conclusion
Positioned as the direct successor to 2014's then-flagship UE65HU8500 curved UHD model, the Samsung UE65JS9000 SUHD television doesn't disappoint. Delivering a similarly accurate and silky presentation, the JS9000 improves upon the outgoing HU8500 with its punchiness, gaming responsiveness, and of course HDR playback which is easily the most impressive of all next-gen Ultra HD parameters, providing greater boost in visible image quality than 2160p resolution or wider colour gamut.
Perhaps a more pertinent question for potential buyers of the UE65JS9000 is whether there's any significant drop-off in picture performance versus the highest-end 65JS9500. As expected, the FALD-toting JS9500 holds the upper hand in overall black rendition, backlight uniformity and HDR impact when viewed in a dimly-lit room, but these advantages diminish rapidly once the content or viewing environment gets brighter. The not inconsiderable £2,000 price premium slapped on the UE65JS9500 does the TV no favours at all: we suspect many consumers will opt for the still-excellent JS9000, and be perfectly happy with their choice.