Samsung Electronics has been the world's number one TV brand by market share for a good few years now, but its dominance is coming under threat from cross-town arch-rival LG's OLED offerings that are capable of delivering true blacks due to their self-emissive characteristic, as well as low-cost 4K TVs from China at the other end of the scale. In a bid to stave off stiff competition and retain its leadership position in the global television market, the South Korean manufacturer announced several key strategic initiatives at the Consumer Electronics Show (CES) 2015 in Las Vegas last month.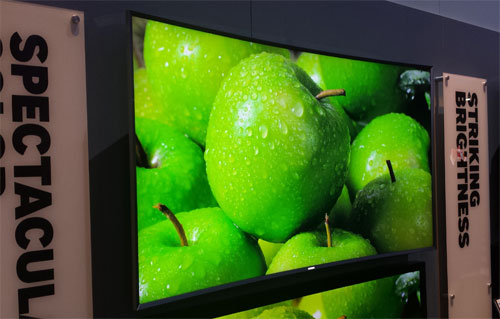 As a founding member of the newly formed Ultra High-Definition (UHD) Alliance which seeks to establish a standard beyond mere 3840×2160 pixel resolution to include the latest video innovations such as wide colour gamut (WCG) and high dynamic range (HDR), Samsung will make sure its high-end Ultra HD televisions comply with the final ratified specifications. Towards this end, the company has coined the moniker "SUHD" to describe its premium 4K sets equipped with Samsung's own proprietary quantum dot technology (branded "NanoCrystal Color") that allows for expanded colour gamut and higher light output from LED LCD panels.
What does "S" in "SUHD" stands for? No one really knows, and Samsung themselves have been deliberately vague, giving the media and consumers the opportunity to substitute in any superlative beginning with "S" they fancy, ranging from stunning and stylish to super (this is the one that's sticking among British press) and smart.
Of course, it's no coincidence that "S" happens to be the curviest character in the English alphabet, because Samsung is continuing to push curved displays heavily this year. However, those who prefer flat screens will be pleased to know that there will be a non-curved version under the SUHD umbrella in the shape of the JS8500 series. One rung above the JS8500 is the JS9000 UHD LED TV series which is curved and edge-lit.
Which brings us to the subject of today's review, Samsung's 2015 top-tier JS9500 series which features a curved screen, native 10-bit LCD panel, direct-lit LED with full-array local dimming (FALD), quantum dot technology, HDR support, and the company's new Tizen-based Smart TV platform. In the UK and Europe, three screen sizes are available: the 65-inch Samsung UE65JS9500, the 78-inch UE78JS9500, and the 88-inch UE88JS9500. We're testing the smallest model… let's see if Samsung's SUHD TV is indeed super.
Design
Finished in tasteful brushed metallic silver, the relatively slim bezel on the Samsung JS9500 chamfers elegantly inwards towards the screen such that the LCD panel sits recessed from the frame, thus heightening the sense of depth. A quick inspection reveals a pop-up camera on top of the television, an "SUHD" inscription at the top right corner, and a Samsung logo along the bottom border, whose bright glow can be switched off from the user menu.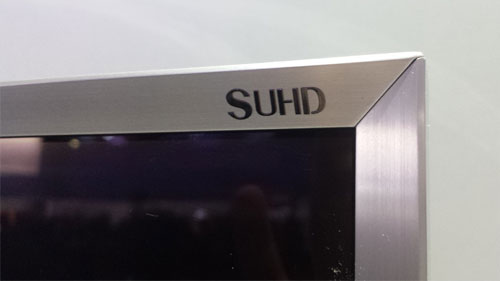 The chassis understandably runs thicker than your average edge-lit LED LCD due to the display's direct LED backlighting, but if this results in better screen uniformity and superior picture quality then we're not one to complain.
The panel is connected to a non-swivel arc stand – again styled in metallic silver – through a chunky counterweight pedestal that's thankfully nowhere near as heavy as the ballast included with last year's Panasonic AX800/ AX900 4K Ultra HD TVs. Build quality is solid to go with the clean lines, befitting a flagship display.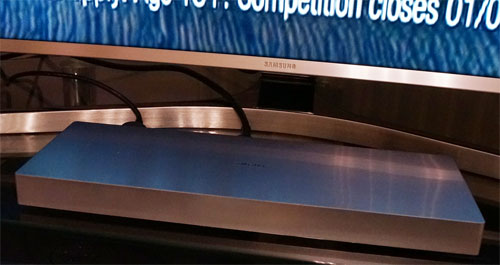 Like Samsung's previous range-topping UHD televisions, the 65JS9500 comes with the firm's external One Connect box that not only houses the video processor and connection ports (including four HDMI 2.0 inputs with HDCP 2.2 compliance) separately from the TV, but also provides some degree of future-proofing (owners can purchase next year's version which can be swapped in to upgrade certain features). From our time spent with the 65″ JS9500, this year's One Connect box ran cooler and emitted less fan noise than last year's.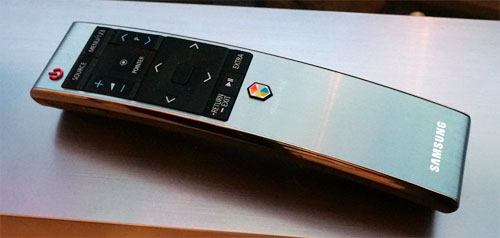 The UE65JS9500 ships with two remote controls: a traditional budget-style remote which would be familiar to any user of Samsung's 2013 and 2014 TVs; and a Smart remote that has received a sleek makeover. While we prefer using the former for calibration work, we can see the latter getting lots of day-to-day use thanks to its ergonomic form factor, intuitive button layout (pared down to 18 keys – the optimum according to Samsung's focus group research), and precise Wiimote-like pointer function which contributes greatly to a smooth and relaxing Smart TV experience.
Calibration
We calibrated our Samsung UE65JS9500 review sample in [Movie] mode, the most accurate out-of-the-box picture preset. Equipments used were a Klein K10-A meter profiled to a JETI Specbos 1211 reference-grade spectroradiometer, a DVDO AVLab TPG 4K signal generator, and SpectraCal's CalMAN 5.4 video calibration software.
Greyscale
The default [Colour Tone] of "Warm2" in [Movie] mode produced greys that were red-tinted especially towards the brighter end of the scale: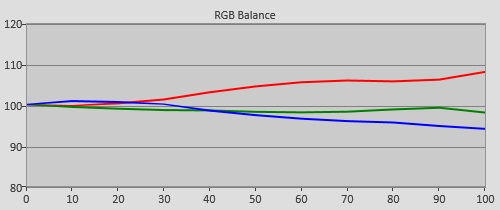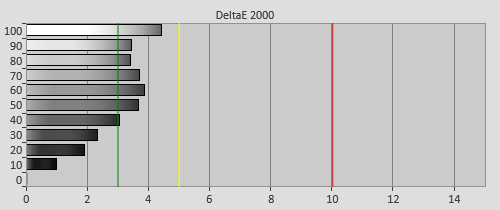 Pre-calibration RGB tracking and delta errors (dEs)
Not to worry though, for the well-implemented [White Balance] controls on the UE-65JS9500 allowed us to swiftly correct any greyscale errors. We first used the 2-point WB controls to bring RGB balance in the ballpark of D65 (the standard used in the video and broadcast industry), then engaged the more precise 10-point system to finetune at each 10% video interval: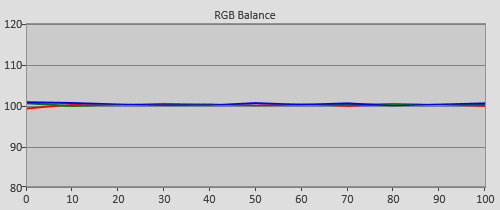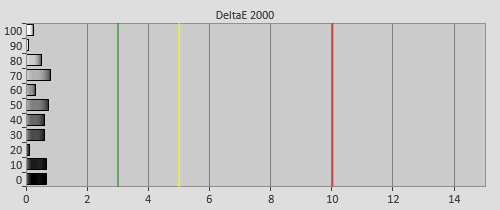 Post-calibration RGB tracking and dEs in [Movie] mode
The result was spectacular, with delta errors (dEs) reduced to less than 1 across the entire luminance range, which is way below the perceptible threshold of 3. We performed additional objective and subjective checks with 21-step greyscale measurements and a grey ramp pattern, and were delighted to see the 65-inch JS9500 holding onto its grey neutrality without introducing significant posterization (probably helped in no small part by the presence of a 10-bit panel).
Gamma
Out of the box, overall gamma on the UE65JS9500 tracked closer to 2.2 than our target of 2.4, although near-black point gamma was slightly higher owing to the dimming effects of the default [Smart LED] "Standard" setting, which may cause shadow detail to look indistinct.
| | |
| --- | --- |
| | |
| Pre-calibration gamma tracking (2.27) | Post-calibration gamma tracking (2.39) |
We shall explore the optimal [Smart LED] setting later in this article under the "Picture Quality" section, but dialling the [Gamma] value down got us close to 2.4 which is the reference EOTF (electro-optical transfer function) recommended by the International Telecommunications Union (ITU) for displays used in HDTV studio production, resulting in a contrasty yet realistic image.
Of course, it's highly likely that the yet-to-be-ratified extended dynamic range standard will use perceptual quantizer (PQ) EOTF instead of BT.1886, but until that day arrives we'll continue calibrating to 2.4 gamma for non-HDR content.
Colour
Samsung claims that its NanoCrystal technology allows the company's SUHD TVs to achieve 92% of DCI-P3 colour space, a coverage that would have been even higher had the South Korean electronics giant not insisted on going cadmium-free (cadmium is an environmentally toxic material that's regulated under the Restriction of Hazardous Substances Directive in the European Union). With [Colour Space] set to "Native" on the UE-65JS9500, we charted (using the latest version of CalMAN) a 91% coverage of DCI-P3 colour gamut: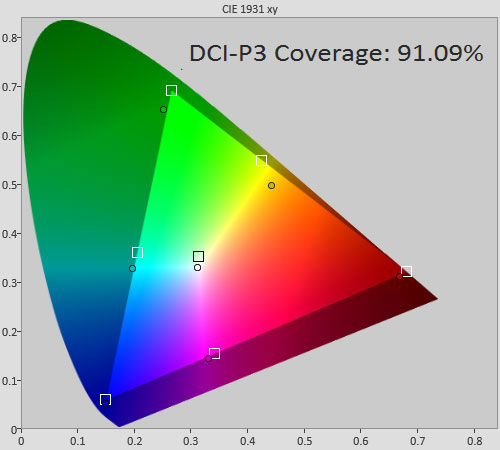 [Colour Space] "Native" with reference to DCI-P3 gamut
However, most high-definition material available to consumers in the home (including Blu-ray movies and HD broadcasts) are still mastered to the smaller Rec.709 colour space. [Colour Space] "Auto" approximates this standard, but being the tweakers that we are, we couldn't resist taking advantage of Samsung's excellent RGB-based colour management system (i.e. [Colour Space] "Custom") to calibrate the six primary (red, green, blue) and secondary (cyan, magenta, yellow) colours: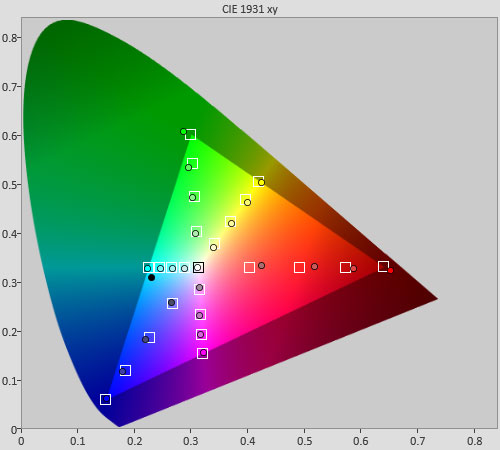 Post-calibration colour saturation tracking
As you can see from the CIE diagram above, we encountered some difficulties reining in the UE65JS9500's inherently wide gamut, with red primary in particular exhibiting minor oversaturation across our measured colour points.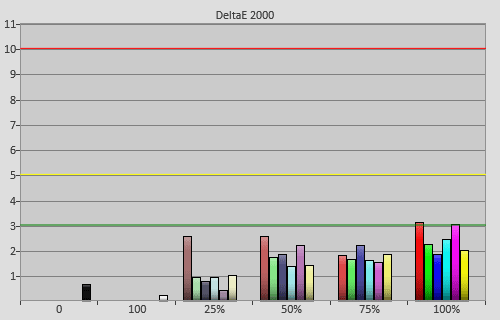 Post-calibration colour errors (<3 not appreciable to the eye)
Nevertheless, after balancing out the inaccuracies by making careful adjustments in the [Colour Space] "Custom" submenu,  delta errors (dEs) by and large dropped to below 3 (the commonly accepted perceptible cutoff for the human eye). Encouraged, we even ran a colour checker test which confirmed the JS9500's accurate post-calibration colour performance.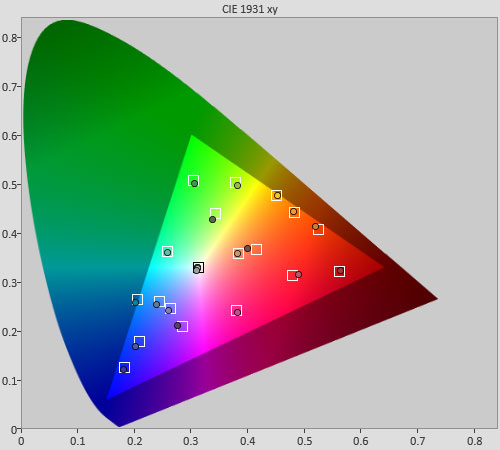 Post-calibration Colour Checker Classic test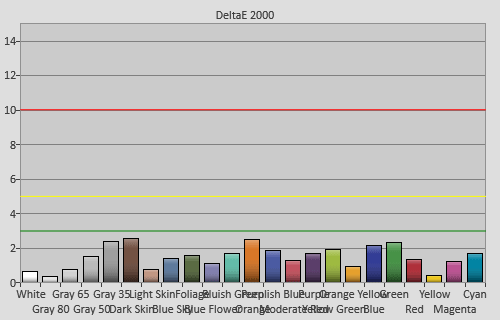 Post-calibration Colour Checker Classic errors (<3 not appreciable to the eye)
Benchmark Test Results
| | |
| --- | --- |
| Dead pixels | None |
| Screen uniformity | Very good for a curved LED LCD |
| Overscanning on HDMI | Defeatable with [Fit to screen] "On" |
| Blacker than black | Passed |
| Calibrated black level (black screen) | 0 cd/m2 (LEDs shut off) |
| Calibrated black level (4×4 ANSI) | 0.051 cd/m2 |
| Black level retention | Stable if [Smart LED] "Off" |
| Primary chromaticity | Very good |
| Scaling | Excellent |
| Video mode deinterlacing | Very effective jaggies reduction |
| Film mode deinterlacing | Passed 2:2 PAL & 3:2 NTSC tests in SD & HD |
| Viewing angle | Decent for VA-type LCD panel |
| Motion resolution | 1080 lines or higher with [Auto Motion Plus] engaged |
| Digital noise reduction | Optional; effective when engaged |
| Sharpness | Defeatable edge enhancement |
| Luma/Chroma bandwidth (2D Blu-ray) | Full Luma; Chroma horizontally softened |
| 1080p/24 capability | No judder in 2D; mild judder in 3D |
| Measured panel refresh rate | 120Hz |
| Input lag (Leo Bodnar tester) | 21ms in [Game] mode |
| Full 4:4:4 reproduction (PC) | Yes for 1080p with [PC] input label; 4K not tested* |
Power Consumption
| | |
| --- | --- |
| Default [Standard] mode | 242 watts |
| Calibrated [Movie] mode | 153 watts |
| Standby | <1 watt |
*Note: We didn't manage to test 4:4:4 chroma using a Chillblast gaming PC fitted with Geforce GTX 970 graphics card, but Samsung reassured us that all four HDMI 2.0 ports on the JS9500 support 3840×2160 4:4:4 resolution at 50/60fps together with HDCP 2.2.
Picture Quality
In most HDTVTest reviews, we usually start off by commenting on the display's black level and contrast performance (the most important element of image quality), but for the Samsung UE65JS9500 we felt it more appropriate to open with a few paragraphs on Nano Crystal/ quantum dot technology which has a direct effect on many PQ attributes that we will subsequently cover.
Quantum dots are extremely tiny particles (termed nanocrystals) that can be excited to generate specific wavelengths of light depending on their size. So far, their application in TVs involves placing these quantum dots on blue LEDs to produce very precise narrow spectrum bands of red, green and blue, which reduces light leakage and contamination compared with the traditional "White" LED method (i.e. blue LED + yellow phosphor).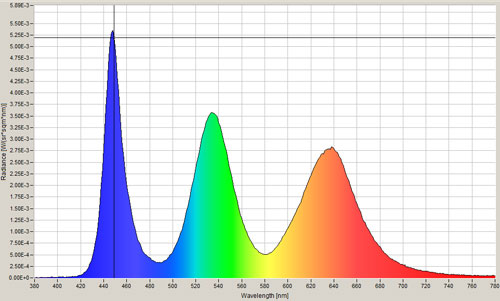 Spectral measurement from the Samsung UE65JS9500
Besides allowing for more saturated colours and hence a larger gamut, the greater efficiency of NanoCrystal tech also permits higher brightness (37% brighter transmittance from a redesigned cell structure according to Samsung) as less light is wasted, paving the way for HDR support with the JS9500's quoted maximum brightness of 1,000 nits. Other side benefits include lower power consumption and deeper blacks, since not as much backlight intensity is needed to hit a specific luminance.
Black Level & Contrast
Perhaps assisted by quantum dots, the native black level on the UE-65JS9500's SPVA LCD panel measured deeper than 2014's UE65HU8500, coming in at 0.051 cd/m2 on both a full-black screen (auto-dimming defeated by displaying a pause icon from an OPPO Blu-ray player) and a 4×4 ANSI chequerboard pattern. Peak white was pegged at our normal target of 120 cd/m2 for critical viewing in a dimly-lit environment.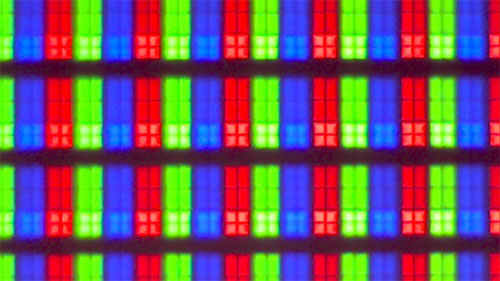 Subpixel layout indicating PVA LCD matrix
Of course, the Samsung JS9500 is blessed with a crucial piece of technology capable of improving black levels tremendously, and that's full-array local dimming (FALD). Its behaviour is governed by the [Smart LED] option in the user menu, which offers 3 settings other than "Off", namely "Low", "Standard" and "High".
Whilst Samsung told us that the 88in JS9500 holds 240 independently dimmable zones (20 horizontal and 12 vertical), they didn't disclose the information for the 65in version. Curious, we ran our custom-authored test video which contained a small white box crawling both vertically and horizontally against a black background, and counted the number of zones that lit up as the white box moved across the screen. Using this method, we determined that there were 15 columns and 10 rows, giving a total of 150 dimming zones on the UE65JS9500.
Among the three [Smart LED] intensities, we discarded "High" pretty much immediately after discovering that it dynamically boosted brighter portions of the image (full-field peak white measured 173 cd/m2 instead of the calibrated 120 cd/m2). Between the two remaining [Smart LED] options, "Low" manifested a touch more blooming, whereas "Standard" was more aggressive and rendered shadow detail marginally less visible. We couldn't choose between the two, and we suspect most users will be happy with either setting, given the noticeable improvement in blacks and contrast.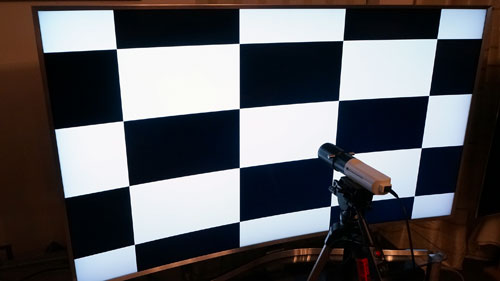 Updated 25 February 2015 with some hard numbers following enquiries from readers: Regardless of whether [Smart LED] was enabled or not, the centremost black patch on an ANSI chequerboard pattern yielded the set's native black level of 0.051 cd/m2. However, with [Smart LED] engaged even at its lowest setting, the centre of a full-field video black pattern from which our meter was taking measurements would return a reading of 0 cd/m2, since the corresponding dimming zone was switched off even when there's a pause icon (to defeat the auto-dimming) at the top left corner of the screen.
Backlight & Screen Uniformity
Samsung has been leading the pack in this department over the past couple of years, though the brand suffered a small blip in early 2014 when its first curved LED LCDs went on sale. We're pleased to report that the 65JS9500 marked a triumphant return to form if our review unit was anything to go by: it boasted the most uniform backlight we've seen from any curved display to date, helped largely by direct-lit LED configuration.
Yes, if we peered hard enough at a full-field video black scene (with auto-dimming defeated) in a dark room, we could make out a wisp of clouding at the bottom right corner, but that's easily eradicated by engaging full-array local dimming (obviously we recommend enabling this awesome feature, since it accounts for much of the price premium over the step-down JS9000 and JS8500 series).
Screen uniformity was very good. We displayed various tones of full-field grey on our Samsung UE65JS9500 sample, and didn't see any significant dirty screen effect (DSE) even at darker shades. We did witness some vertical banding in panning shots over a uniformly toned backdrop (for example during football broadcasts), but having tested so many TVs over the years, we think it's par for the course for LED LCD display technology. In any case, it didn't bother us in real-life viewing.
Motion
If anything, the UE-65JS9500's high brightness potential benefited motion the most. Confused? Allow us to explain.
Since 2013, Samsung started implementing black frame insertion (BFI) – labelled as [LED Clear Motion] under the [Motion Plus] "Custom" submenu – on their LED LCD models, making them one of only two major TV manufacturers (the other being Sony) to deploy this technology. How it works is in its name: black frames are inserted between the original video frames to reset our retinal persistence, therefore improving motion clarity. However, the intrinsic nature of BFI inevitably causes a drop in screen luminance and an increase in visible flicker.
Until now, the maximum light output we've managed to coax out of Samsung and Sony LED TVs with black frame insertion enabled has never exceeded 175 cd/m2 (usually running between 50 cd/m2 and 100 cd/m2 for Sonys; or 60 cd/m2 to 130 cd/m2 for Samsungs). The UE65JS9500, with [LED Clear Motion] set to "On" and [Backlight] plus [Contrast] cranked up to their maximum value of "20" and "100" respectively, produced a copious 240 cd/m2 on a full-field white screen!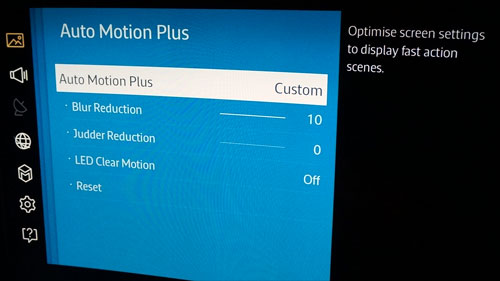 Of course we'll still calibrate to 120 cd/m2 for dark-room viewing, but the 65JS9500's plentiful brightness reserve makes BFI a viable option even in sun-filled environments. In fact, viewers who can tolerate the flicker (not that we saw much in photorealistic content, due to Samsung's skilful BFI implementation) should consider switching on [LED Clear Motion] at all times with [Backlight] upped appropriately to compensate, because not only does it reduce motion blur dramatically without incurring interpolation artefacts and soap opera effect, in our opinion it makes movies look more "alive" and cinematic, reminiscent of the best motion properties of CRT, plasma and 35mm film projection.
Otherwise, not much has changed in terms of Samsung's motion enhancement system, except for a slight renaming of the relevant submenu to [Auto Motion Plus], bringing it in line with North American nomenclature (previously it was just [Motion Plus] in the UK). Engaging [Auto Motion Plus] increased motion resolution to 1080 lines (and possibly higher, there's just no corresponding UHD test pattern available yet!) from the LCD baseline of 300, although "Standard" and "High" introduced soap opera effect (SOE) to 24p films.
If you're sensitive to flicker and cannot put up with [LED Clear Motion], our favourite compromise is adjusting [Blur Reduction] to "8" and [Judder Reduction] to "0" after setting [Auto Motion Plus] to "Custom", which improves motion definition without causing SOE.
High Definition
We played a bunch of our Blu-ray torture reference test scenes on the Samsung UE65JS9500, and were very happy with the results. The star fields in the opening clip of Pacific Rim and in most of Gravity looked suitably punchy without washing out the blacks or exhibiting distracting blooming/ haloing. The Uma Thurman buried alive sequence in Kill Bill: Vol. 2, which would send last year's high-end Samsung LED TVs into a frenzy with the backlight flashing on and off, held stable throughout on the 65JS9500 even with [Smart LED] engaged.
The swirling camera shot at the beginning of Chapter 12 in Harry Potter and The Deathly Hallow Part 2 appeared buttery smooth, confirming the TV's proper 1080p/24 handling. This low-APL scene is probably as difficult as they come for LCD displays to render without a hitch, but the Samsung JS9500 passed with flying colours. Shadow detail on Voldemort's army and the hilltop overlooking Hogwarts remained clearly visible, although [Smart LED] "Standard" darkened it a tad versus "Low". Blacks came across as prodigiously deep, and stayed so even when Lord Voldemort's followers started firing magic bolts leading to bright explosions on the shield protecting Hogwarts.
Throughout the sequence we didn't spot any noticeable fluctuation in luminance on the UE-65JS9500; nor did we when we sampled Chapter 8 of The Dark Knight Rises as Batman stepped out from the shadows to meet Catwoman in the tunnel. We noted Batman's and Catwoman's already pale faces looking even more desaturated with [Smart LED] set to "Standard"; reverting to "Low" restored some colour to this challenging low-light footage.
Moving onto brighter and more colourful material such as the opening zoo scene in Life of Pi, we found the UE65JS9500 acquitting itself well too. Various hues took on a vibrancy that's intense yet always believable, with greens looking particularly lush and realistic. As is the norm for a VA-type LCD panel, contrast and colours do take a hit off-axis, so make sure you watch the TV straight on for the best experience.
HDR
Incidentally, our HDR (high dynamic range) demo on the Samsung 65JS9500 involved serving a few brief clips of Life of Pi (specially remastered by 20th Century Fox) from a USB stick – there's just no consumer-friendly HDR content in the wild at this time of writing, even though the forthcoming Ultra HD Blu-ray format has embraced HDR into its standard.
Nonetheless, we're incredibly excited by what we saw on the UE65JS9500, and would go so far as to say that HDR offers the single most appreciable leap in picture quality among various UHD parameters, more so than 4K resolution or wider colour space. After all, didn't the Imaging Science Foundation (ISF) rank contrast ratio/ dynamic range as the most important factor of picture quality, before colour saturation, colour accuracy and resolution?
What HDR does is to expand the available scope from the darkest blacks to the brightest whites, so data that would have been lost (especially at the low and high ends) in a video system handicapped by lessened dynamic range are retained instead. In other words, the contrast difference is higher, yet shadow and highlight detail can co-exist simultaneously on screen without one or the other being clipped, contributing to a picture that's super-rich in depth and detail.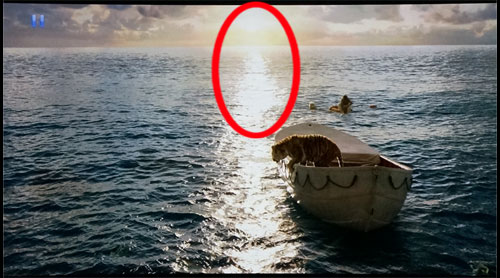 Scene from Life of Pi Blu-ray; the HDR version presented more detail in the circled area
In one HDR Life of Pi scene played on the Samsung JS9500, we could actually see the outline of the sun, as well as the individual waves inside the reflections on the ocean. Such detail was missing from the corresponding Blu-ray version when we checked it out, making the visual experience just that bit less immersive.
When 10-bit panel and wide gamut colours were added into the mix, the result was nothing short of dazzling. Higher gradation quality allowed for smoother and more nuanced detailing, delivering a positive knock-on effect on the colour palette which – in combination with the purer colours afforded by nano crystals – could now be painted with greater precision and finesse. What you get is a more convincing image that's bursting with dynamism and detail… just like in real life.
3D
Updated 14 May 2015: When we first reviewed this TV, it featured forced interpolation in 3D mode, though Samsung has rectified this since software update 1203. However, this does mean that slow pans in tri-dimensional material such as 3D Blu-ray films will exhibit mild telecine judder.
Gaming
While serviceable, Samsung's midrange and premium televisions have never been known for their gaming responsiveness, but that's about to change this year. In [Game] mode, the UE65JS9500 returned an astonishingly low input lag measurement of 21.4ms from a Leo Bodnar device.

There's some deterioration in picture quality (no local dimming or judder-free 24fps playback, among others), but that's how game mode works: it cuts off unnecessary video processing to boost controller-to-screen response time. We believe that responsiveness takes precedence over PQ for competitive gaming especially in reflex-based games (e.g. first-person shooters), but if you're a casual gamer who prefers eye candy, input lag figures in [Movie] and [PC] modes were at 78ms and 65ms respectively.
No other 4K Ultra HD TV measured by us (or anyone else for that matter) using the Leo Bodnar input lag tester has ever broken the sub-35ms barrier, leading gamers to postulate that more lag is introduced by HD-to-2160p scaling even with [Game] mode enabled. This makes Samsung's achievement all the more outstanding – the 65JS9500 goes straight near the top of our input lag leaderboard as the most responsive 4K TV for gaming.
Smart TV
Like all Samsung's 2015 Smart TVs, the UE-65JS9500 uses the company's revamped Tizen-based operating system that promises a more integrated and intuitive experience. New features include:
One-screen Smart Hub interface with user-pinnable apps within the taskbar;
Easier one-touch pairing with compatible Samsung Galaxy mobile phones through Bluetooth Low Energy (BLE);
One-step content sharing from TV to mobile (with dual-view functionality), and vice versa;
Octa-core processor for faster data and graphic processing;
Multi-screen viewing windows can now be resized; and
Automatic TV-on briefing in the morning, displaying time, weather and schedule.
Conclusion
The Samsung UE65JS9500 is easily the most impressive LED TV we've reviewed to date, which is hardly surprising given that it's kitted out with all the most desirable LCD-enhancing technologies known to videophiles. VA-type LCD screen for a natively deep shade of blacks? Check. 10-bit panel for smoother gradation and less posterization? Check. Direct-lit LED placement for better backlight/ screen uniformity? Check. Full-array local dimming to achieve inkier blacks and greater contrast? Check. Black frame insertion to boost motion sharpness? Check. Quantum dots for improved colour reproduction, higher efficiency and brighter transmittance? Check. HDR for richer detail, contrast and colours? Check. At this rate, we're actually shocked that it doesn't make coffee and put out the bin too.
As good as last year's HU8500 curved UHD television was, it's comprehensively outperformed by the JS9500 which features deeper blacks, punchier whites, better backlight consistency, superior future-proofing for Ultra HD Blu-ray with its wide colour gamut (WCG) and HDR support, and lower input lag. In fact, if you can afford it, the Samsung 65JS9500 is the most responsive 4K TV for playing video games on the market at time of publication.
Casting our eyes further afield, the UE65JS9500's strongest competition is likely to come from the upcoming 4K Ultra HD OLED TVs from LG and perhaps Panasonic. While OLED will hold the upper hand in outright black level, there are legitimate concerns about a) whether the self-illuminating display technology can hit the 1000-nit brightness threshold likely to be demanded by future HDR standards; and b) whether doing so will dramatically shorten its lifespan. We'll reserved judgement until we can get a 4K OLED into our test room, but unfortunately this TV is fast approaching vapourware status (at least in the UK) – the LG 65EC970V is still unavailable to buy on these shores despite a June 2014 launch.
To summarise, no 4K television is better-equipped than the Samsung JS9500 to traverse the uncharted waters of UHD whose next phase involves going beyond more pixels (4K resolution) to attaining better pixels (10-bit colour depth, WCG and HDR). Accordingly, we've downgraded the Panasonic AX802 and Sony X9005B, and made the Samsung UE65JS9500 the sole holder of our "Highly Recommended: Best in Class" award.