No TV manufacturer offers more Ultra HD Premium TVs than Samsung in 2016, and the UE65KS8000 is yet another outstanding SUHD model from the South Korean consumer electronics giant. It's the highest-specced flat-panel television from the company, featuring 65-inch screen size, 3840×2160 UHD (ultra high-definition) resolution, 10-bit panel, edge-lit LED backlighting, quantum dot colours, Ultra HD Premium-certified HDR support, and Tizen-based Smart TV platform. There's no 3D capability on board.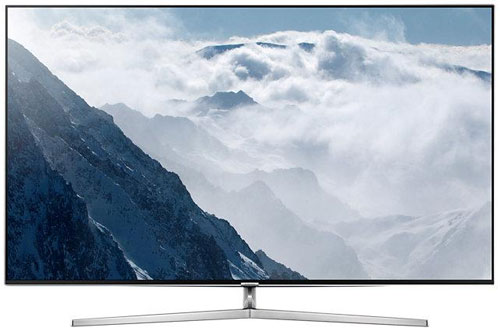 The 65KS8000 is also the first 65in TV we've seen from Samsung this year that doesn't use full-array local dimming (FALD) backlight technology. While the display still used the same bottom-mounted LED configuration to illuminate the entire screen, we're pleasantly surprised to find a small increase in the number of pseudo-local dimming zones compared with its 55in sibling which we reviewed a few months ago.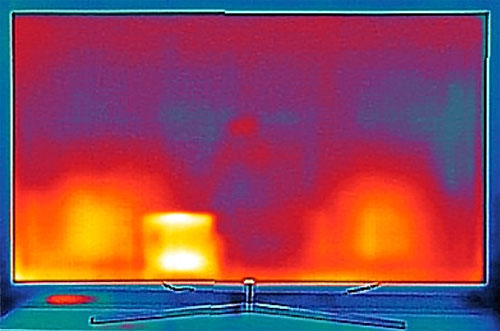 Thermal scan indicating bottom-mounted edge LED placement
Using our custom-authored test pattern consisting a small white box crawling horizontally then vertically along the borders of a black background, we counted 16 vertical columns of dimmable zones spanning the entire height of the screen, although depending on the content shown, at least 3 or 4 consecutive ones would be switched on simultaneously to keep blooming/ haloing artefacts to a minimum. The 55-inch UE55KS8000 has at most 12 vertical zones.
Otherwise, the 65″ KS8000 delivered all the strong points we've come to expect from a 2016 Samsung SUHD television. The VA-type LCD panel yielded blacks that were convincingly deep by LED LCD standards, measuring 0.038 cd/m2 on a 4×4 ANSI chequerboard pattern regardless of [Smart LED] setting once we pegged peak white to our normal dark-room target of 120 cd/m2.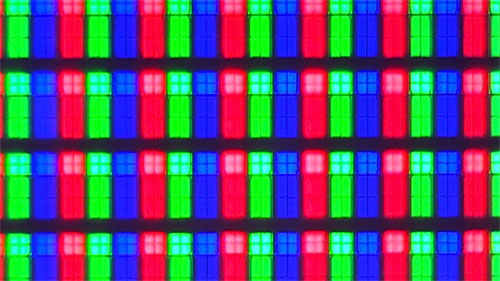 Macro photo of subpixel structure confirming full RGB VA-type LCD matrix
With black frame insertion (BFI) activated by enabling [LED Clear Motion], the Samsung UE65KS8000 – in fact the entire KS7000, KS7500, KS8000 and KS9000 series – provided the highest motion resolution available on the market at this time of writing without introducing soap opera effect or interpolation artefacts, fully resolving 1080 lines (or even higher) according to the horizontally scrolling lines in Chapter 31 of the FPD Benchmark Software test disc. Bizarrely, the 65KS8000's motion rendition was even clearer than the flagship 65KS9500 whose BFI was still broken on the latest firmware. Together with excellent screen uniformity (at least on our review sample) and flat form factor, this level of high motion clarity made watching sports a joy on the Samsung KS8000.
| | |
| --- | --- |
| | |
| [Auto Motion Plus] "Custom" | [LED Clear Motion] "On" |
Another area where Samsung TVs lead the chasing pack is gaming responsiveness, and indeed the UE65KS8000 didn't disappoint. Our Leo Bodnar input lag tester returned an input lag of merely 20ms, contributing to a snappy and gratifying gaming experience.
| | |
| --- | --- |
| | |
| Input lag in [Game] mode | Input lag in HDR [Game] mode |
Crucially, input lag was similar low in HDR [Game] mode too (22ms), which will appeal greatly to users who wish to play HDR games such as Forza Horizon 3, Gears of War 4 and Deus Ex: Mankind Divided on Microsoft Xbox One S or PS4 Pro consoles. Note that all the picture settings including [Backlight], [Smart LED] and [Dynamic Contrast] stayed the same in [Game] mode on the same HDMI input irrespective of whether it's in SDR (standard dynamic range) or HDR, so for playing HDR games, you may need to make the necessary adjustments to hit the high peak brightness demanded by HDR.
Talking of which, our Samsung UE65KS8000T review unit reached a peak brightness of 1440 nits on UHDA-specified window sizes for UHD Premium certification, though this could only be sustained for 20+ seconds before dropping gradually to 550 nits which incidentally was also the full-field white peak brightness. Specular highlights sparkled with brilliance, with highlight detail up to 4000 nits preserved through clever tone-mapping, although from time to time the HDR image would look more washed out compared with the step-up KS9500 which can control 150 local dimming zones independently.
For viewers who wish to watch movies in the manner intended by directors, the Samsung UE65KS8000 could be calibrated to highly accurate levels not only for SDR (D65 white point, 2.4 gamma, Rec.709 colours), but also to track ST.2084 PQ (perceptual quantisation) EOTF (electro-optical transfer function) standard for HDR10. Our calibration gear used included a profiled Klein K10-A meter, a Murideo Fresco Six-G signal generator, as well as SpectraCal's CalMAN 2016 software.
Greyscale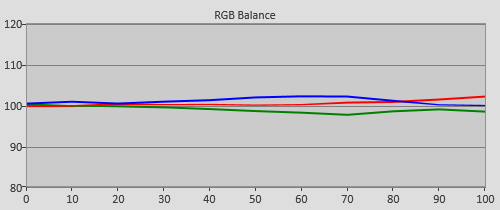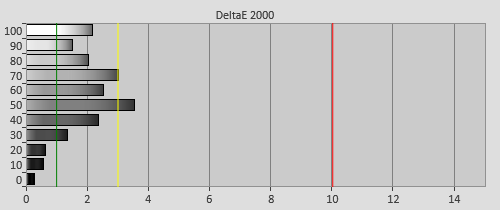 Pre-calibration [Movie] mode RGB tracking and delta errors (dEs)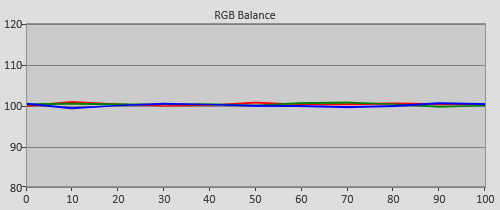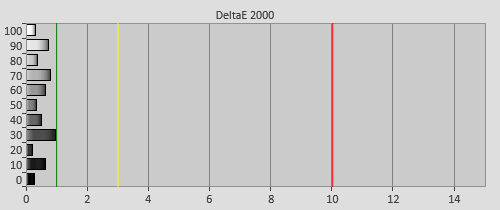 RGB tracking and dEs after 2- and 10-point [White Balance] calibration
Colour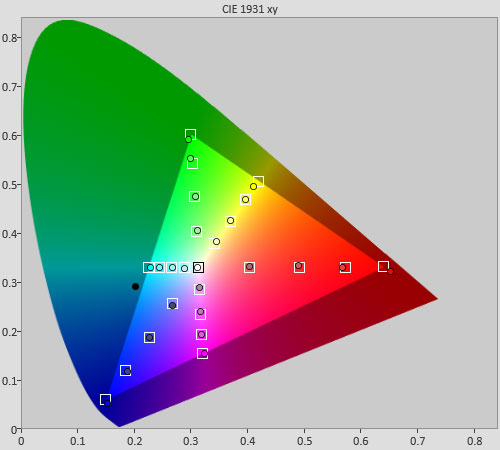 Post-cal colour saturation tracking against Rec.709 standard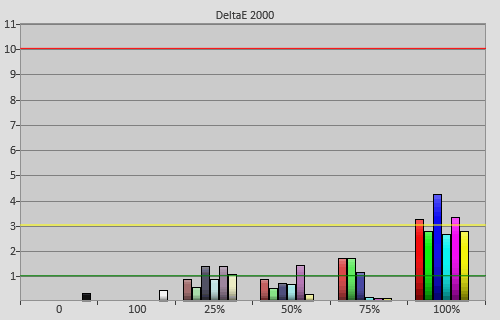 Post-calibration colour errors (<3 not appreciable to the eye)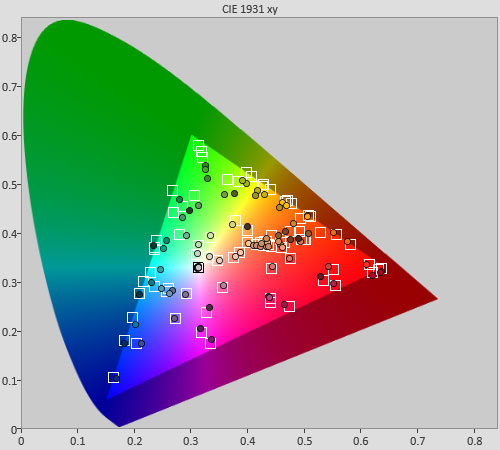 Post-calibration Colour Checker SG test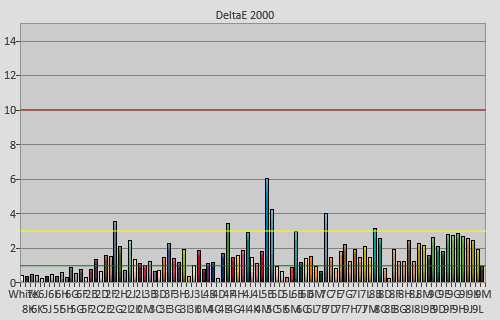 Post-calibration Colour Checker SG errors (<3 not appreciable to the eye)
HDR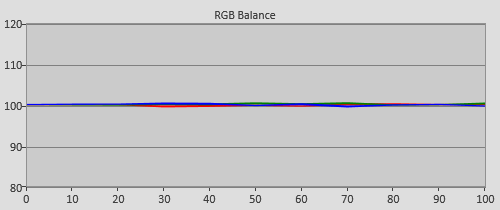 Post-calibration HDR [Movie] mode RGB tracking and delta errors (dEs)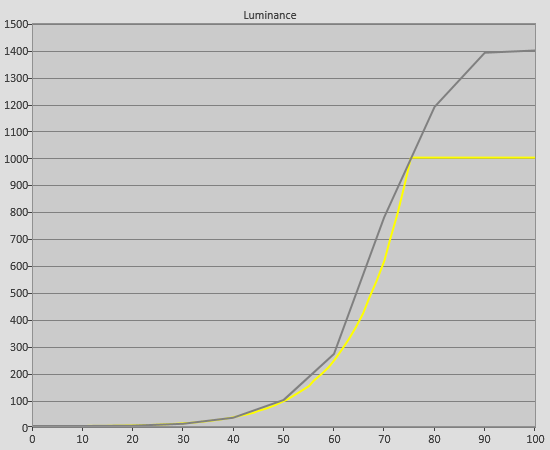 Post-cal PQ EOTF tracking against ST.2084 standard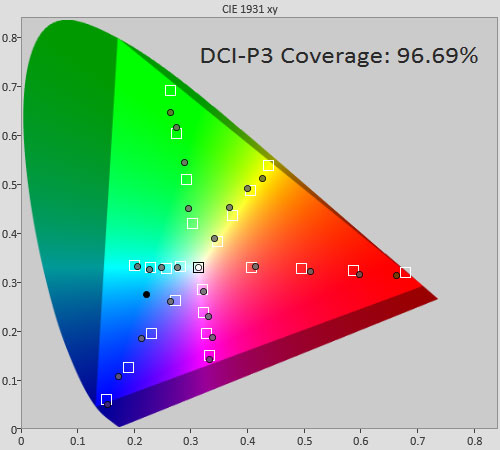 Post-cal HDR colour tracking against DCI-P3 standard within Rec.2020 container
Of course, the UE-65KS8000 was not flawless: its bottom-mounted edge LED configuration meant that the top-and-bottom letterbox bars in cinemascope films couldn't be blackened (some gentle bias lighting would help); the 4000-nit tone-mapping had a tendency to exhibit posterisation at certain luminance levels; and the TV wasn't completely free of motion hiccups (e.g. stuttering during the transition from slow-mo replay to live sports action) in interlaced broadcast material. None were dealbreakers.
Benchmark Test Results
| | |
| --- | --- |
| Dead pixels | None |
| Backlight/ screen uniformity | Very good; top 1cm border slightly brighter |
| Overscanning on HDMI | Defeatable |
| Blacker than black | Passed |
| Calibrated black level (black screen) | LEDs shut off |
| Calibrated black level (4×4 ANSI) | 0.038 cd/m2 |
| Black level retention | Stable if [Smart LED] "Off" |
| Primary chromaticity | Good |
| Scaling | Very good |
| Video mode deinterlacing | Effective jaggies reduction |
| Film mode deinterlacing | Passed 2:2 & 3:2 tests in SD, though HD loses lock |
| Viewing angle (cone) | 60° |
| Motion resolution | 1080 lines or higher with [Auto Motion Plus] enabled |
| Digital noise reduction | Optional; effective when enabled |
| Sharpness | Defeatable edge enhancement |
| Luma/Chroma bandwidth (2D Blu-ray) | Full Luma; Chroma vertically blurred |
| 1080p/24 capability | No judder |
| 2160p/24 capability | No judder |
| Measured panel refresh rate | 120Hz |
| Measured peak brightness | 1440 cd/m2 |
| Measured DCI-P3 coverage | 97% |
| Input lag (Leo Bodnar tester) | 20ms in [Game] mode |
| Lag in HDR mode | 22ms in HDR [Game] mode |
| Full 4:4:4 reproduction (PC) | Yes for both 1920×1080 and 3840×2160@60Hz |
Power Consumption
| | |
| --- | --- |
| Default [Standard] mode | 134 watts* |
| Calibrated [Movie] mode | 74 watts |
| HDR mode | 174 watts |
| Standby | <1 watt |
*Note: By default, [Eco Sensor] was engaged in out-of-the-box [Standard] mode.
Verdict
The Samsung UE65KS8000 is one of the best sub-£2000 65-incher you can buy new on the market at this time of publication (Dec 2016), particularly if motion sharpness and low-lag gaming responsiveness even in HDR mode are important to you.
Note: If you're considering buying this television, please support this website by making your purchase from our sponsor Crampton & Moore Leeds – call 0113 2446607 and ask for store manager David (who also organises our annual TV shootout event), quoting HDTVTest for advice, best price and first-rate service.