Samsung's 2016 lineup of SUHD TVs has been relatively late in arriving on the market this year, as evidenced by the company's flagship KS9500 series only turning up in June. Two screen sizes are available, namely the 65-inch UE65KS9500 and the 78-inch UE78KS9500 – we're reviewing the smaller model.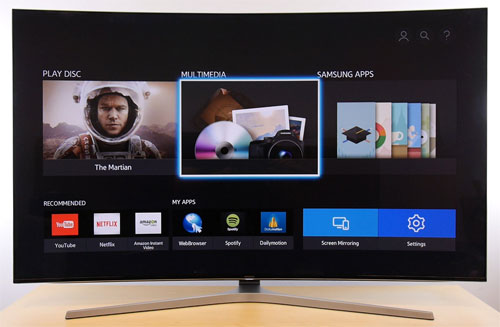 The Samsung 65KS9500 features 3840×2160 UHD (ultra high-definition) resolution, 10-bit LCD panel, full-array local dimming (FALD) direct-lit LED backlighting, quantum dot colours, Ultra HD Premium certification, four HDMI 2.0a ports, HDCP 2.2 compatibility, as well as a curved screen, but no 3D support. The equivalent model in the USA is the KS9800.
Design
The KS9500 shares similar stylistic cues to the step-down KS9000 which we tested 3 months ago, what with its super-slim bezel, rivetless and screw-less rear, and Y-shaped pedestal stand (though this is finished in matte silver rather than gleaming chrome). Of course, the presence of direct LED backlighting means that the chassis has to be deeper. Build quality is high, and the applied moth-eye filter is probably the most effective on the market currently in reducing reflections from ambient light.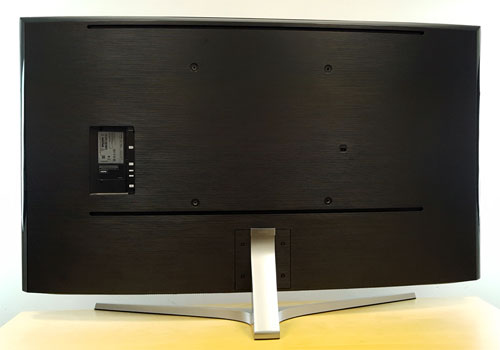 Using a Murideo Fresco Six-G tester, we verified that all four HDMI inputs on the fanless One Connect Mini connection box passed 3840×2160@60Hz resolution with HDCP 2.2 copy protection without any problem.
Calibration
Calibrating the UE65KS9500 was trickier than other Samsung sets we've worked on in the past. First, bringing up the adjustment slider would alter the greyscale, preventing us from making real-time adjustments. We had to exit the menu completely to obtain an accurate reading before wading through the picture settings to make adjustments using an educated guess. Rinsing and repeating this process more than a few dozen times was an absolute chore.
Second, the 10-point [White Balance] controls were contrast-aligned, so unless [Contrast] was set to a specific value, any adjustment made may be misplaced (for example, adjusting [50%] may affect 40% or even 35% video stimulus).
Despite these issues, we were able to obtain highly accurate greyscale and colours on our Samsung UE65KS9500TXXU review sample after calibration. Gear used included a profiled Klein K10-A meter, a Murideo 6-G 4K HDR signal generator, and SpectraCal's CalMAN Ultimate software.
Greyscale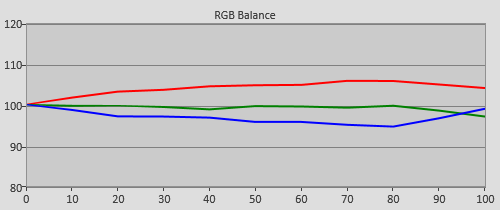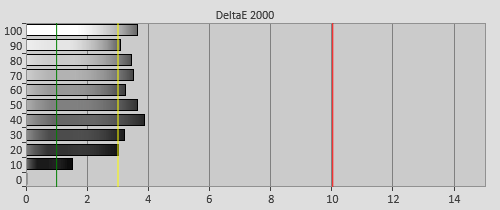 Pre-calibration RGB tracking and delta errors (dEs) in [Movie] mode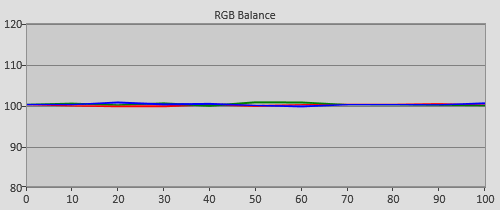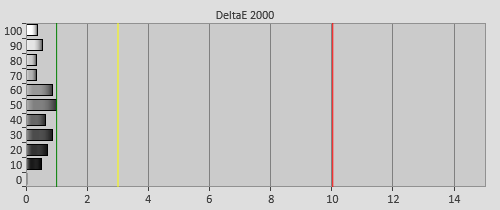 Calibrated RGB tracking and dEs after 2- & 10-point [White Balance] calibration
Gamma
| | |
| --- | --- |
| | |
| Pre-calibration gamma tracking (2.23) | Post-calibration gamma tracking (2.42) |
Colour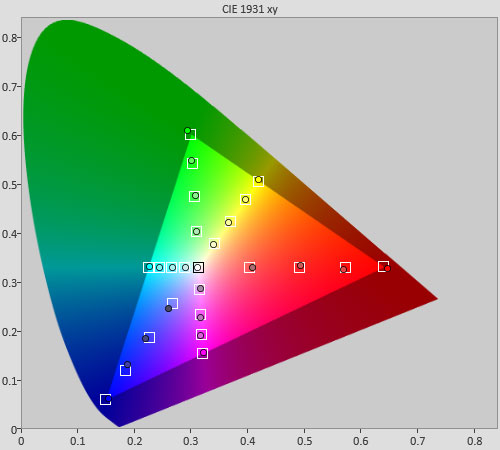 Post-calibration colour saturation tracking in [Movie] mode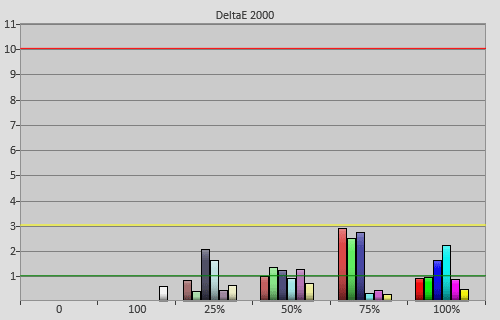 Post-calibration colour errors (<3 not appreciable to the eye)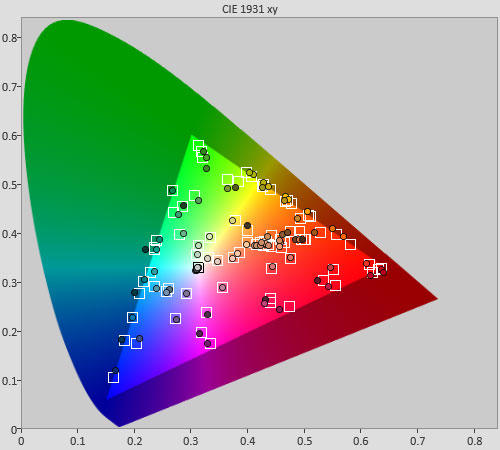 Post-calibration Colour Checker SG test in [Movie] mode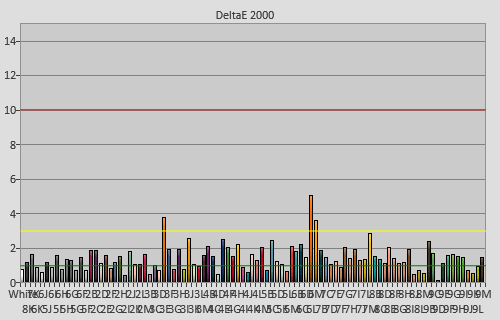 Post-calibration Colour Checker SG errors (<3 not visible to the eye)
Benchmark Test Results
| | |
| --- | --- |
| Dead pixels | None |
| Backlight/ screen uniformity | Very good; but faint vertical bands & dirty screen effect (DSE) at high backlight/ HDR mode |
| Overscanning on HDMI | Defeatable |
| Blacker than black | Passed |
| Calibrated black level (black screen) | LEDs shut off |
| Calibrated black level (4×4 ANSI) | 0.045 cd/m2 |
| Black level retention | Stable if [Smart LED] "Off" |
| Primary chromaticity | Good |
| Scaling | Very good |
| Video mode deinterlacing | Effective jaggies reduction |
| Film mode deinterlacing | Passed 2:2 & 3:2 tests in SD, though HD loses lock |
| Viewing angle (cone) | 60° |
| Motion resolution | 1080 lines or higher with [Auto Motion Plus] on |
| Digital noise reduction | Optional; effective when enabled |
| Sharpness | Defeatable edge enhancement except in [HDR+ Mode] |
| Luma/Chroma bandwidth (2D Blu-ray) | Full Luma; Chroma vertically blurred |
| 1080p/24 capability | No judder unless in [HDR+ Mode] |
| 2160p/24 capability | No judder unless in [HDR+ Mode] |
| Measured panel refresh rate | 120Hz |
| Measured peak brightness | 1455 cd/m2 |
| Measured DCI-P3 coverage | 96% |
| Input lag (Leo Bodnar tester) | 21ms in [Game] mode |
| Full 4:4:4 reproduction (PC) | Yes for both 1920×1080 and 3840×2160@60Hz |
Power Consumption
| | |
| --- | --- |
| Default [Standard] mode | 128 watts* |
| Calibrated [Movie] mode | 77 watts |
| HDR mode | 286 watts |
| Standby | <1 watt |
*Note: [Eco Sensor] was engaged by default in [Standard] mode.
Picture Quality
Black Level & Contrast
The Samsung UE-65KS9500 featured a VA-type LCD panel whose native black level was deep by LED LCD standards. With [Smart LED] disabled, blacks measured 0.045 cd/m2 on both a full-black screen (with auto-dimming defeated by displaying a pause icon from our Blu-ray player) and a 4×4 ANSI chequerboard pattern once peak white was pegged at our normal dark-room target of 120 cd/m2.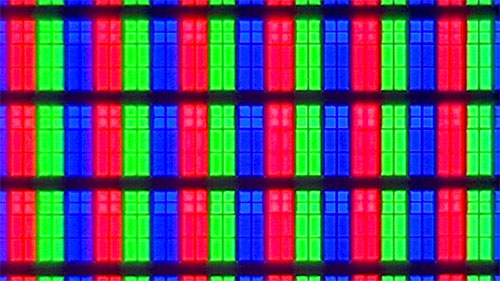 Macro photo of subpixel layout confirming VA-type LCD matrix
[Smart LED] activates local dimming on the television, which should be engaged to not only extract the deepest blacks from the KS9500, but also attenuate backlight uniformity issues. Using our own custom-authored test pattern containing a small white box crawling horizontally and then vertically along the borders of a black screen, we counted 15 vertical columns and 10 horizontal rows, giving a total of 150 independently dimmable zones, the same number as
its predecessor the UE65JS9500
.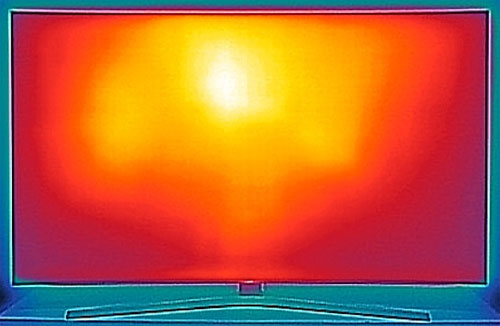 Thermal image indicating direct-lit LED backlight configuration
Two [Smart LED] settings are available in addition to "Off", namely "Low" and "High". For SDR (standard dynamic range) content, the latter also dimmed brighter elements on screen and caused gamma to be skewed, so we would advise going with "Low".
Motion
We have been big fans of Samsung's black frame insertion (BFI) system since we saw its effectiveness in enhancing motion clarity on the South Korean manufacturer's first (and last) consumer-grade OLED TV, but on the UE65KS9500 it was more miss than hit. While the horizontally scrolling lines in Chapter 31 of the FPD Benchmark Software Blu-ray disc (our go-to test for establishing motion resolution) were clearer with [LED Clear Motion] engaged, it also introduced severe double ghost images which paradoxically muddied motion clarity, resulting in no visible increase in motion resolution.
From our analysis, this may be caused by Samsung's decision to synchronise the backlight strobing to a higher [Backlight] value (maybe to accommodate the new [HDR+] mode). We discovered that if [Backlight] was bumped up to its maximum value of "20", the double ghost images became much fainter thus making overall motion clarity higher, but then again running [Backlight] at max would entail other compromises (backlight uniformity issues, overdrive artefacts, etc.).
| | |
| --- | --- |
| | |
| [LED Clear Motion] on | Optimised [Auto Motion Plus] "Custom" |
On balance, the better method to reduce motion blur on the Samsung UE-65KS9500 was by optimising the separate [Blur Reduction] and [Judder Reduction] options under the [Auto Motion Plus] "Custom" submenu, which yielded a motion resolution of 1080 lines without introducing soap opera effect (SOE) to 24p films or interpolation artefacts.
Viewing Angle
HDR
Samsung offers more Ultra HD Premium-certified displays than any other TV maker this year, and with the KS9500 being the company's flagship, it should come as no surprise that the SUHD television passed the UHD Premium accreditation criteria with flying colours. With white point calibrated to D65, peak luminance in HDR mode measured a blistering 1,455 cd/m2 on UHDA-specified window sizes for Ultra HD Premium certification, and a lower-but-still-impressive 605 cd/m2 on a full-field white raster. And unlike step-down edge-lit sets from Samsung (and other television brands), the UE65KS9500 could hold onto this level of brightness over a sustained period of time.
DCI-P3 gamut coverage came in at 96% as quoted by Samsung: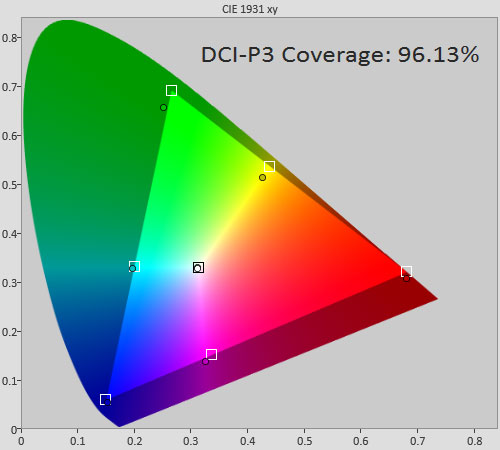 Samsung joins Panasonic as the only two manufacturers which permit adjustment of every picture-affecting control in HDR mode. And the Korean company actually outdoes its Japanese rival by offering separate white balance and CMS (colour management system) settings for SDR and HDR modes within the same picture preset. We therefore proceeded to carry out HDR calibration on the UE-65KS9500 to good effect, allowing us to achieve the most accurate colour rendition for 4K Blu-rays we've measured to date:
HDR Greyscale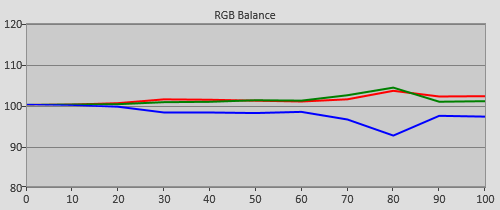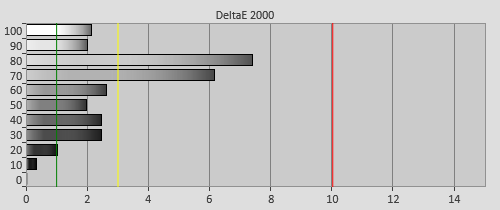 Pre-calibration RGB tracking and dEs in HDR [Movie] mode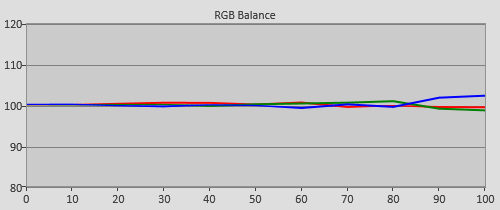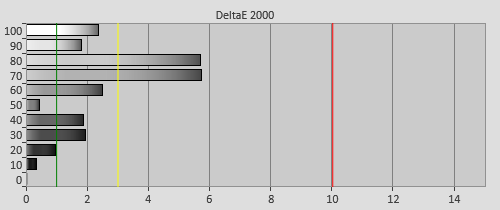 Calibrated RGB tracking and dEs in HDR [Movie] mode
HDR EOTF
Post-cal EOTF (electro-optical transfer function) & PQ curve
HDR Colours
Fed the correct signal and with [Colour Space] set to "Auto" or "Custom", the Samsung KS9500 tracked Rec.2020 colour space standard as accurately as its native gamut allowed: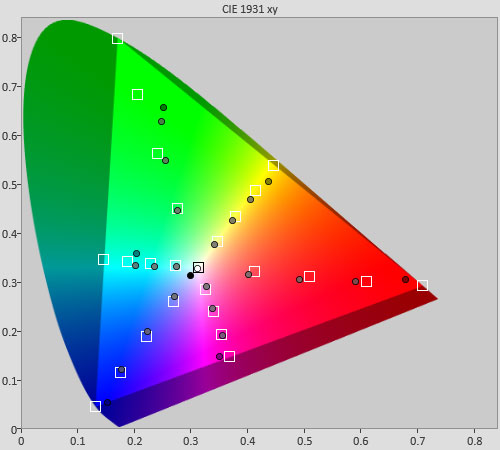 Post-calibration saturation tracking with reference to Rec.2020 colour space standard
However, because current Ultra HD Blu-ray titles are mastered to DCI-P3 gamut within a Rec.2020 container, it makes more sense for us to measure against this standard. As you can see from the charts below, the Samsung UE65KS9500 did very well in this respect after calibration: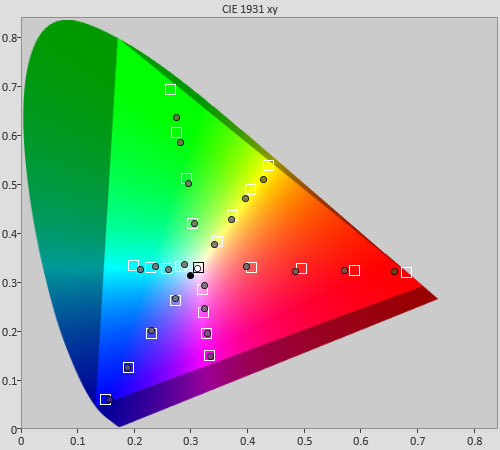 Post-calibration saturation tracking with reference to DCI-P3 inside Rec.2020 container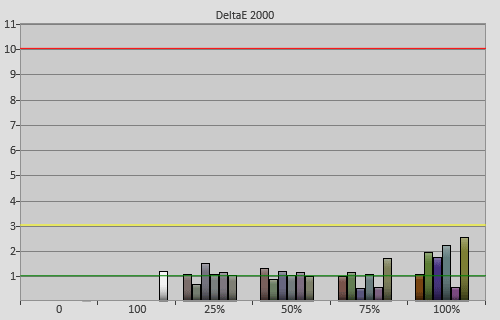 Post-calibration colour errors in HDR [Movie] mode (<3 not appreciable to the eye)
We were thoroughly impressed by 4K UHD Blu-ray playback on the Samsung 65KS9500 which did a lot of things right. Blessed with copious brightness reserve and appropriate tone-mapping, the SUHD TV presented HDR material with effortless panache, retaining bright highlights without blowing them out even in 4K HDR movies that were mastered to 4,000 nits. Colours were rich with subtlety and vibrancy yet never unrealistic. We didn't notice any significant judder during slow pans in 24fps Ultra HD Blu-rays.
Unfortunately in an effort to correctly track PQ (perceptual quantizer) EOTF (electro-optical transfer function) whilst resolving detail up to 4000+ nits, Samsung's tone-mapping algorithm introduced visible posterisation in what should be smooth gradients (e.g. the skies in The Revenant and The Martian). These banding artefacts could be reduced but not completely eradicated by switching to the [Standard] picture preset or engaging [HDR+ Mode], but once we measured and calibrated these modes to track PQ curve and Rec.2020 colours as close as possible (yes, we leave no stone unturned), the posterization reared its ugly head again. Of course, [HDR+ Mode] involved other compromises too (as we'll describe in the next section), making it a no go.
Note: Special thanks to prominent AV journalist John Archer who writes for Forbes for cross-checking this posterisation issue on his KS9500 review unit to make sure it's not isolated to our sample.
We witnessed more blooming/ haloing (light leakage from bright elements against a black background) than Sony's XD94; mild vertical bands (outline of the LED array grid?) and DSE in panning shots across a uniformly-toned backdrop; and some localised backlight fluctuation particularly during fade-in from black. Nevertheless, despite these blemishes, we'd rate the KS9500's HDR delivery one of the most accurate and captivating we've seen so far.
HDR+ Mode
All of Samsung's 2016 SUHD TVs will feature the company's new [HDR+ Mode] which converts your existing SDR content to produce a pseudo-HDR image (firmware update needed for certain models, but the UE65KS9500 will have it at launch). The technology first analyses the colours and luminance of the original video signal, then performs appropriate mapping of gamut (focusing on preserving hue) and tonal curve respectively, leading to a brighter, more colourful expression in line with possible studio intention.
Among the major TV brands, Samsung's [HDR+ Mode] SDR-to-HDR conversion technology was easily the most accomplished based on our testing of the 65KS9500. LG's [HDR Effect] would frequently blow out bright highlight detail and oversaturate the colours; Panasonic doesn't even offer one at this time of writing; while Sony's [HDR video] mode made no attempt at correct tone-mapping, resulting in washed-out blacks and contrast.
Of course, such video signal modification naturally throws the original creative intent out of the window, and for all its sophistication, [HDR+ Mode] can't magically add shadow and highlight detail that's originally not present in the 8-bit BT.709 SDR material. With [HDR+ Mode] enabled, we noted several shortcomings too:
24Hz Blu-rays would manifest mild judder in slow panning shots unless [Auto Motion Plus] was engaged which would in turn bring about soap opera effect;
undefeatable edge enhancement even with [Sharpness] dialled down to "0", causing film grain to look grittier than expected; and
if calibrated, the settings have to be copied manually to each input (the [Apply Picture Mode] "All Sources" option was greyed out).
In other words, although [HDR+ Mode] is relatively well-designed and should appeal to casual viewers, it will likely be shunned by video purists.
Gaming
Samsung continues to rule the responsiveness roost: the 65in KS9500 returned an input lag figure of merely 21ms from our Leo Bodnar tester in [Game] mode, making it one of the fastest televisions on the market for playing reflex-based video games.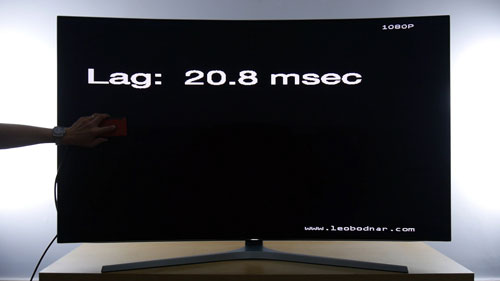 Lag times in [PC] and [Movie] modes were 38ms and 106ms respectively.
Conclusion
The Samsung UE65KS9500 full-array local dimming (FALD) LED LCD TV represented a clear improvement over the edge-lit KS9000 especially when it came to HDR performance. The presence of 150 dimming zones that could be switched on and off independently of each other ensured that dark areas (including the top and bottom letterbox bars) remained dark even when brighter elements co-existed on screen.
While the KS9500's higher peak brightness led to more blooming and backlight fluctuation than the Sony XD94, on the positive side this helped the Samsung SUHD television preserve more bright highlights than any other TVs we've reviewed to date even for HDR material that's mastered to 4000 nits. Add in accurate greyscale and colours after calibration in both SDR and HDR modes, and the 65KS9500 is one dazzling display that allows for true expression of the director's intent.
The only fly in the ointment which prevented the UE65KS9500 from scooping our "Best in Class" award was the presence of pesky posterisation during HDR viewing. As far as smoothness of continuous gradations in Ultra HD Blu-ray movies was concerned, it's outperformed by other high-end HDR TVs including the LG E6 OLED, Panasonic DX902 and Sony XD94, which is utterly bizarre considering the set's underlying 10-bit panel. Given Samsung's impressive track record at responding to constructive feedback, we certainly hope the company can issue a firmware update in the near future to address this issue.
Overall though, the KS9500 is still an outstanding TV owing to its accurate colour output, superb upscaling, high motion clarity, excellent anti-reflective filter and unrivalled gaming responsiveness.
Update 1 August 2016: In light of the results of our HDR TV shootout event, we have upgraded the Samsung UE65KS9500's rating to "Highly Recommended – Best in Class".
Note: If you're considering buying this television, please support this website by making your purchase from our sponsor Crampton & Moore Leeds – call 0113 2446607 and ask for store manager David (who also organises our annual TV shootout event), quoting HDTVTest for advice, best price and first-rate service.