After reviewing Sony's 75-inch X94C LED television and Epson's LS10000 laser projector, we're continuing the super-sized display theme with the Samsung UE78JS9500 that's sitting in our test room today. At 78 inches, amazingly this TV isn't even the largest model within the South Korean manufacturer's flagship JS9500 SUHD series – that honour belongs to the 88in UE88JS9500.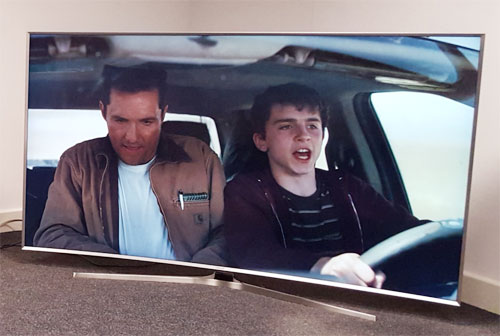 As with most top-end LED LCDs these days, the Samsung 78JS9500 employs direct LED backlighting with full-array local dimming (FALD) – note that this 78-incher has more dimmable zones than its 65-inch sibling. Other features include 3840×2160 UHD (ultra high-definition) resolution, NanoCrystal (quantum dot) colours, HDR (high dynamic range) support, and the company's Tizen-based Smart TV platform.
Styling-wise, the UE78JS9500 is a sculpture of beauty. Wearing a tastefully curved design, a silver bezel which chamfers inwards, and a clean back afforded by the breakout One Connect box, this magnificent beast of a TV will look right at home even in the most opulent of environments.
Out-of-the-box picture was decent, but proper calibration (we used a profiled Klein K10-A meter, a DVDO AVLab test pattern generator and CalMAN Ultimate software) brought the best out of the Samsung JS9500. The well-implemented 10-point white balance controls and colour management system (CMS) allowed us to obtain D65 greyscale, 2.4 gamma and Rec.709 colours on the set, which means that the image on screen will come very close to the director's creative intent.
Greyscale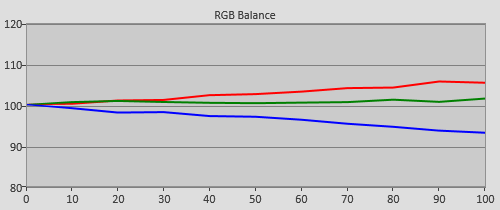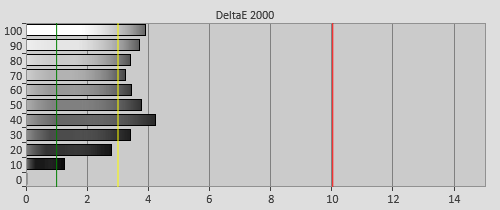 Pre-calibration RGB tracking and delta errors (dEs)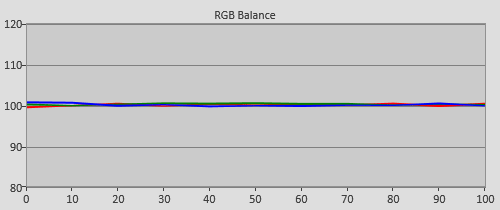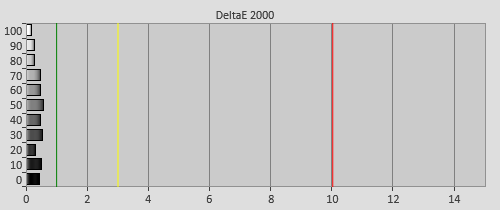 Post-calibration RGB tracking and dEs in [Movie] mode
Gamma
| | |
| --- | --- |
| | |
| Pre-calibration gamma tracking (2.19) | Post-calibration gamma tracking (2.38) |
Colour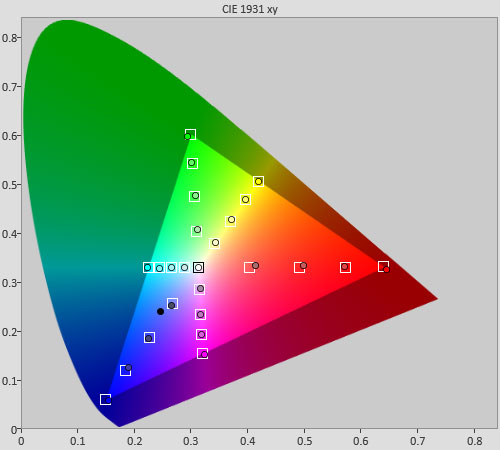 Post-calibration colour saturation tracking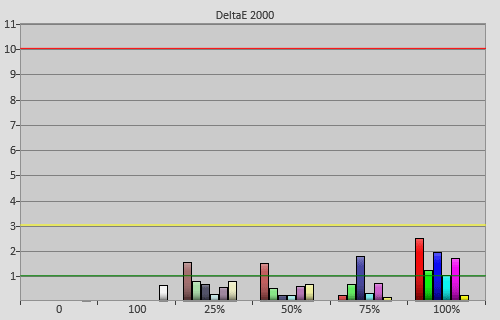 Post-calibration colour errors (<3 not appreciable to the eye)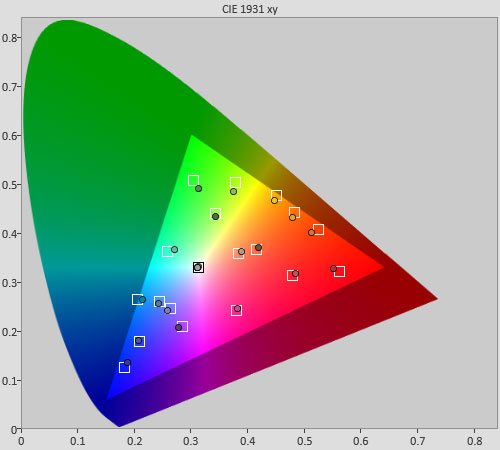 Post-calibration Colour Checker Classic test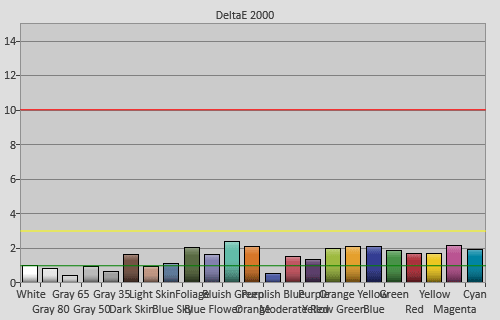 Post-calibration Colour Checker Classic errors (<3 not appreciable to the eye)
Benchmark Test Results
| | |
| --- | --- |
| Dead pixels | None |
| Backlight uniformity | Improved after engaging [Smart LED] |
| Overscanning on HDMI | Defeatable with [Fit to screen] "On" |
| Blacker than black | Passed |
| Calibrated black level (black screen) | LEDs shut off |
| Calibrated black level (4×4 ANSI) | 0.057 cd/m2 |
| Black level retention | Stable if [Smart LED] "Off" |
| Primary chromaticity | Very good |
| Scaling | Excellent |
| Video mode deinterlacing | Very effective jaggies reduction |
| Film mode deinterlacing | Passed 2:2 PAL & 3:2 NTSC tests in SD & HD |
| Viewing angle | Typical of VA-type LCD panel |
| Motion resolution | 1080 lines or higher with [Auto Motion Plus] enabled |
| Digital noise reduction | Optional; effective when enabled |
| Sharpness | Defeatable edge enhancement |
| Luma/Chroma bandwidth (2D Blu-ray) | Full Luma; Chroma horizontally blurred |
| 1080p/24 capability | No judder in 2D |
| Measured panel refresh rate | 120Hz |
| Input lag (Leo Bodnar tester) | 25ms in [Game] mode |
| Full 4:4:4 reproduction (PC) | Yes for both 1920×1080 and 3840×2160@60Hz |
Power Consumption
| | |
| --- | --- |
| Default [Standard] mode | 205 watts |
| Calibrated [Movie] mode | 146 watts |
| Standby | <1 watt |
Picture Quality
Using our custom-authored test sequence of a small white box crawling horizontally and then vertically against a black background, we counted 20 columns and 12 rows of separately dimmable segments, giving a total of 240 dimming zones on the Samsung UE78JS9500 – the highest available among LED TVs available to buy new on the UK market at this time of writing. As expected, activating local dimming via the [Smart LED] control significantly deepened black-level response: 4×4 ANSI blacks remained at 0.057 cd/m2, but blacks on an individual zone could measure as low as 0 cd/m2 depending on the average APL (Average Picture Level) and where the zone was relative to the brighter area of illumination.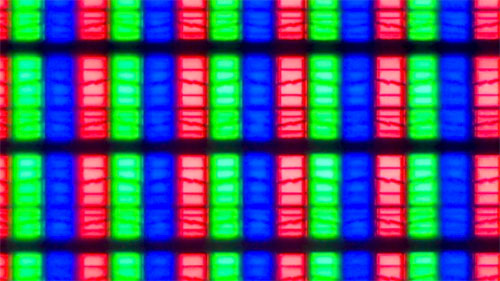 Macro photo of subpixels confirming true RGB layout on VA-type matrix
Furthermore, engaging [Smart LED] attenuated backlight inconsistencies on the UE-78JS9500 to negligible levels, and weirdly also improved the screen uniformity – it's as if Samsung has programmed some compensatory algorithm into its local dimming system. Blooming, a phenomenon where bright objects (smaller in size than each locally-dimmed zone) overlaying a dark backdrop exhibit circumferential halos around them, was more obvious than what's seen on the Sony Bravia KD-75X9405C, but as long as we used the appropriate [Smart LED] setting, and sat straight-on to the TV, we didn't find the blooming to be bothersome in photorealistic content.
In our opinion, Samsung's upconversion has been of the highest quality among television brands over the past few years, retrieving crisp detail without introducing excessive ringing or noisy artefacts. The 78in JS9500 certainly did not disappoint, making even standard-definition material (provided it's not too grubby or overcompressed) palatable on such a large screen. Well-mastered Blu-ray movies appeared breathtakingly impressive owing to the TV's clean processing, realistic colour palette and judder-free 1080p/24 handling.
We had the opportunity to check out the now-familiar HDR-mastered short clips of Life of Pi and Exodus on the UE78JS9500 side-by-side against the step-down JS9000, and not surprisingly found the former to deliver a much better HDR experience thanks to true full-array local dimming (FALD), with highlights looking brighter without washing out the blacks. The amount of contrast and detail on display was so addictive (especially on a 78″ screen) that returning to regular Blu-rays straight after watching the HDR version was almost unbearable.
With the HDMI input label set to [PC], and [HDMI UHD Color] engaged, the Samsung 78JS9500 successfully reproduced 4:4:4 chroma at 3840×2160@60p across all four of its HDMI 2.0 ports:

And the SUHD television's colour gamut measured 91% of DCI-P3 standard with [Colour Space] set to "Native":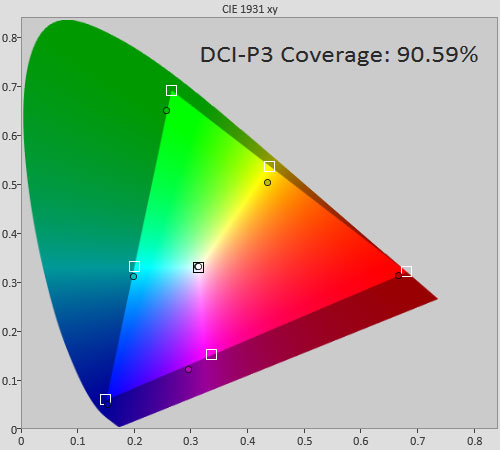 Things took a slight turn for the worse in 3D (don't they almost always). The 78-inch JS9500 resolved full HD 3D resolution, but applied forced interpolation to 24Hz and 50Hz tri-dimensional content even with [Auto Motion Plus] disabled. We discovered certain combination of settings that could defeat the interpolation, but then the ensuing judder would become very noticeable (not helped by the screen size), which is probably why the company decided to force interpolation in the first place. We experimented with various settings, and settled on a good compromise that interpolated gently to smooth the judder while keeping the dreaded soap opera effect (SOE) to a minimum. Crosstalk was faint and non-intrusive on the 3D Blu-rays we sampled.

This year is all about Samsung when it comes to super-responsive TVs for playing video games, and the UE-78JS9500 carried on this fine trend. With [Game Mode] enabled, our Leo Bodnar lag tester returned a figure of 25ms, and as of the latest firmware, [Smart LED] and [Game Mode] are not mutually exclusive, allowing for deep blacks and fast gaming responsiveness simultaneously. Lag times in [PC] and [Movie] mode were 55ms and 137ms respectively.
Verdict
The Samsung UE78JS9500 delivers big-screen thrills in spades with its FALD-enriched blacks, realistic-looking colours, best-in-industry upscaling, high motion clarity and uber-low input lag. Although many prospective buyers will be tempted by the Sony KD75X9405C which represents better value for money especially after a recent price cut to a bargainous £5999, only the Samsung can read and process HDR metadata correctly at this time of publication, and of course the JS9500 offers a degree of future-proofing with its hot-swappable One Connect Box.