4K UHD TV is set to become mainstream, with over 200 channels worldwide expected to be broadcasting in Ultra HD by the end of this decade, according to a new report from IHS Electronics and Media. The consultancy firm states that by 2020, more than 200 channels will be broadcasting ultra high-definition content to more than 140 million homes, with the number of channels set to rise to more than 1,000 by 2025.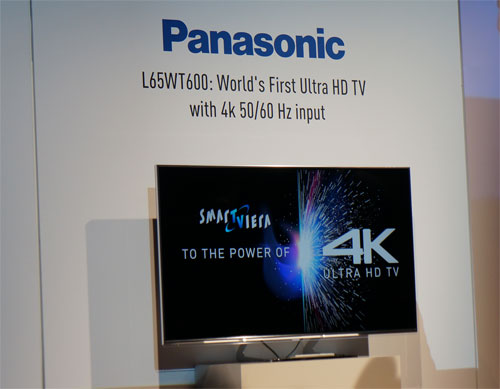 If IHS' view is correct, this means that UHD will be adopted at a much faster rate than standard High-Definition TV was, with the latter only becoming mainstream around 2005-06, a full sixteen years after it was first confirmed as a technology standard in 1990.
IHS claims that adoption will be driven by the widespread availability of both 4K Ultra HD TVs and the rollout of new UHD channels offered by pay TV companies, with content delivered through advanced set-top boxes. Over time, as Ultra HD grows, pay TV operators will begin switching off their standard MPED-2 transmissions in order to accommodate greater numbers of UHD and HD channels, further driving adoption.
IHS cites the efforts of major television brands as one reason for this rapid rate of adoption, with 4K displays of 70 inches and above being made available at attractive prices for consumers. It states that the provision of native 4K content will become commercially viable when around 3% of homes possess a UHD TV, which is set to happen in the USA by 2017, and elsewhere from 2018.
UHD has one key advantage over standard HDTV, which should help it to hit the mainstream far faster than its predecessor – namely, technology. With the new HEVC codec (h.265) having already been adopted as the successor to MPEG-4/AVC/h.264 compression, it's already possible to stream 4K content directly to consumers' homes. The missing piece of the puzzle is HEVC compatible set-top boxes, which are set to be shipped by pay TV operators within the next couple of years. When this happens, UHD will see rapid adoption, giving operators the opportunity to switch off older MPEG-2 set-top boxes and dedicate more bandwidth to UHD transmissions.
We've already seen signs of this happening with the likes of Netflix, which recently announced that it will introduce 4K streaming next year. By 2018, IHS expects that many of the world's largest pay TV operators will find it cost-effective to broadcast UHD content, with one likely strategy being to use HD TV as a basic content package, and UHD content for premium packages.