The United Kingdom has emerged as one of the nations whose consumers have been most active in replacing their TV sets over the past three years, according to a recent report published by California-based market research and consulting firm DisplaySearch. The study also found that owners of flat-screen televisions are likelier to have more TVs in their households, a trend that probably reflects their higher socio-economic standings.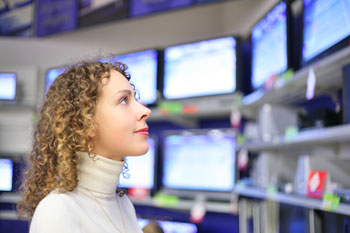 The DisplaySearch Global TV Replacement Study contains the results of a well-designed consumer survey carried out among 14,000 television owners in fourteen markets including developed nations like the USA, Japan, the UK, France and Germany, as well as emerging countries like Brazil, Russia, China and India. Among the countries analysed in the study, the UK and Japan are the top two nations that have been most active in replacing their TVs over the last three years. The ongoing digital switchover in preparation for the imminent end of analogue TV broadcasting certainly forced British consumers to upgrade to HDTV displays equipped with digital tuners, which may explain why many European residents have been busy replacing their television sets too.
Delving into TV ownership on a per-household basis, the research group discovered that in developed countries, those who have at least one flat-panel TV in their homes typically own 30% more television sets per household compared to those who do not own any flat-screen television. In emerging markets, the difference is even bigger: flat-panel TV owners have 37% more sets than non-flat-screen TV owners, suggesting a greater class divide in terms of purchasing power between the high earners and the rest.
Not surprisingly, households in developed markets are found to own on average 28% more TVs than those in emerging countries. As one might expect, the United States of America boasts the highest number of TV sets per household, whereas India has the lowest. According to DisplaySearch, a fairly linear relationship can be drawn between socio-economic status and the number of televisions per person.