Are you dreaming of the day that you finally get your hands on your own shiny new Ultra HD 4K TV? The notion might seem pretty far-fetched at the moment given their astronomical cost, but this perception is likely to change within the next few years as 4K television prices tumble and native content becomes more widely accessible.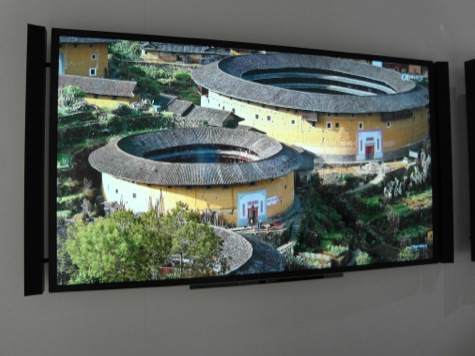 Ultra HD 4K TV sales to grow from 500k this year to 7m in 2016
This prediction of a bright future for ultra high-definition (UHD) TV comes from industry research specialists NPD DisplaySearch, whose latest Quarterly TV Design and Features Report forecasts as many as 7 million worldwide shipments by 2016, rising from an expected 500,000 units this year.
4K TV first hit the headlines at last year's IFA 2012 in Berlin, coming under the spotlight once again at this month's CES as leading manufacturers unveiled high-end TVs sporting the new display technology. Now, as consumer interest begins to heat up, brands like Sony, LG, Samsung, Sharp and others are racing to get their products out into the shops to meet expected demand.
Key to UHDTV's success will be the availability of native 4K content, which is currently very limited. To meet this demand, various organisations are making serious investments in test broadcasting and standardisation – something that is evident with Japan's announcement that it plans to begin broadcasting in 4K by 2016, and the ITU's recent approval of the HEVC H.265 codec that paves the way for 4K content delivery on a more widespread scale.
NPD DisplaySearch's director of electronics research Paul Gray revealed that TV makers are working hard behind the scenes to ensure the availability of ultra HD content for consumers.
"We've seen several announcements about streaming services, download services, as well as methods of converting HD content to 4K," explained Gray.
"Content availability will be key to 4K's widespread adoption, and manufacturers are pushing along with this. However it's likely to be a few years before we see established satellite and cable broadcasters can deliver."
According to Gray, China is likely to lead the demand for 4K TVs, with shipments to that country expected to top 2.6 million by 2016, up from an expected 333,000 this year. North America will also see high demand, with 2 million 4K televisions expected to ship by 2016.
"We're expecting to see Chinese, Japanese and Western European consumers become the first to widely embrace 4K TV, as people in these regions generally prefer the latest products and technologies. Adoption in North America is likely to be slower, as consumers generally like to wait for prices to come down before purchasing new technology," added Gray.
Source: NPD DisplaySearch