Samsung might be trailing behind cross-town rival LG Electronics when it comes to OLED TV, but in the world of bendable 4K TVs it's going to take some beating, according to news sources from Korea.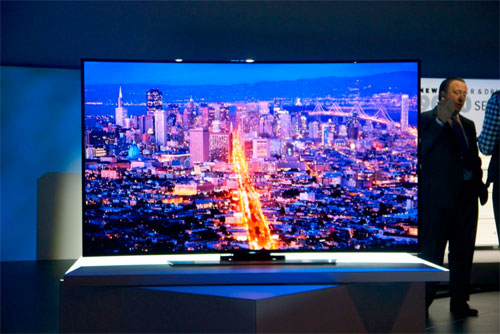 The South Korean firm has long adhered to the principle of "the bigger, the better", as evident with its mobile phone lineup. Now it's decided to apply the same philosophy to its televisions as well, with the launch of the world's largest bendable ultra high-definition (UHD) TV to date – a humongous 105-inch flexible display that the company is set to unveil at the IFA show in Berlin next month.
Samsung's monster 105in bendable Ultra HD telly (provisional model number UN105S9B) has been in the works for a while. The manufacturer actually showcased an 85-inch flexible UHDTV at last January's CES show in Las Vegas, and has since begun selling a 'bite-sized' 78-inch version. Samsung hasn't revealed too much about its latest bendable model apart from its measurements, but we'd imagine it's not too different to its smaller siblings. That means we can expect features including UHD Dimming Technology and a Black Crystal Panel that combine to improve contrast and diffusion.
It also means that the 105S9B's underlying display technology is not OLED. While LG has made some progress with flexible OLED displays, Samsung hasn't even able to commercialise regular non-flexible OLED televisions yet, and so bendable OLEDs from this particular brand are probably some way off.
As far as the bendable qualities of the TV go, that's a matter of debate. Proponents argue that viewers can manipulate the curved angle of the display to optimise their viewing experience, though they can choose to leave it as a flat screen if they desire. In any case, all of this "bendiness" comes at the touch of a remote button.
Regardless of the merits of bendable displays, it's clear that Samsung is hoping to be a leader in this particular market niche, even if it's likely to remain just a "niche" for some time to come. That's because UHD televisions remain more expensive than 1080p HDTVs, and the lack of native 4K content makes it hard to justify buying a regular Ultra HD TV, let alone a flexible one. Recent research from The Diffusion Group (TDG) says that 4K TVs won't start selling like hot cakes until 2019 at the earliest.
The IFA 2014 Show in Berlin kicks off next week, and Samsung is expected to exhibit more than 120 televisions in total, including a bunch of curved UHD TVs, plus some smaller bendable ones.