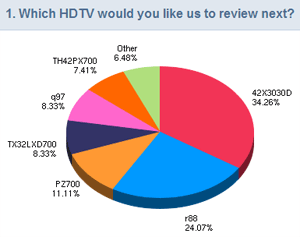 What you're seeing above is a pie chart representing the breakdown of the HDTVs for which our VIP subscribers have voted in the most recent survey. Toshiba 42X3030D LCD TV topped the poll with 34.26% of votes, hardly surprising given that it's Toshiba's latest foray into the 1080p arena, although to be honest the one that gets every enthusiast's mouth salivating is the Z series equipped with three HDMI 1.3 and M100 motion processing (expected in September).
Phoned around a few dealers, most promising stock next week. Comet claimed to have some due in tomorrow, but the earliest delivery date (should we choose the free delivery) would be Friday next week… even then the price is not the cheapest.
The Samsung R88 Series came second, garnering 24.07% of votes. Dixons ran out of stock of the LE32R88BD, so we had to source a Samsung LE32R87BD (same panel, different cosmetics) elsewhere for review purposes.
The Panasonic PZ700, as tempting as a full 1080p plasma is, will only be available in May (hopefully) so it's put on the back burner. Otherwise we'll get around to the Panasonic TX32LXD700, the Samsung Q97 and the Panasonic TH42PX700 if we have the time and resources, though I can't see the Panasonic 700 variants being very different from their 70 siblings picture-quality-wise.
To have your say in our next poll, simply join our VIP Notification List… you'll receive an email detailing the survey URL when it goes live.
P.S. I've managed to get my hands on a Sharp LC46XD1E too, so am going to do a "short" write-up mainly focusing on the differences (if any) between this and the smaller LC42XD1E. It's truly a case of three buses coming along at once…