Barack Obama isn't the only one to come out of the US presidential election 2012 on top – the BBC is too, with its news coverage of the event bringing almost unprecedented levels of traffic to the UK public service broadcaster's BBC News Online and mobile services.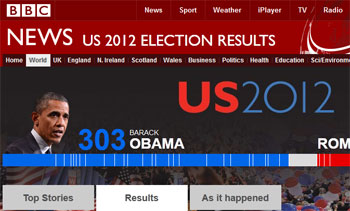 US election sends BBC News online & mobile traffic to new high
Steve Herrmann, editor of the BBC's news site, wrote in his blog about how the organisation's extensive election night coverage attracted more than 16.4 million unique visitors desperate to find out if the incumbent Obama would hold onto his job, or if upstart Romney had done enough to wrest it from him. Of these visitors, almost half of them – 8.1 million – came from the UK. This level of traffic puts the US election on a par with the BBC's coverage of the March 2011 tsunami in Japan, and just behind the August 2011 riots, which brought in 18.2 million unique visitors to its site.
It's not difficult to see why so many tuned in to the Beeb's coverage. For UK viewers especially, the broadcaster offered some of the most comprehensive coverage around, tracking the votes in real-time as results came flooding in. Coverage included live reports from dozens of crucial swing states, expert analysis, and regular updates from Twitter and other sources. The effort saw BBC team up with American network ABC News, projecting results the moment voting closed in a particular state via exit polls, to bring viewers a complete picture of the race as the night unfolded.
Traffic to the BBC peaked between 7am and 8am on the 7th of November, which Herrmann put down to viewers checking the results as they woke up. Altogether, total traffic in the United Kingdom was about 50% higher than the BBC's daily average for this year, he said.
One particularly encouraging sign for the BBC was the number of mobile users following its election night coverage away from their HDTVs. According to Herrmann, almost 5 million people accessed BBC News Online via mobile devices, accounting for 30% of all traffic – a new record for the broadcasting corporation.
Source: BBC's The Editor blog