TV prices in the USA have soared to their highest point in two-and-a-half years, thanks chiefly to surging demand for advanced HDTV sets such as 3D, LED and Smart TVs.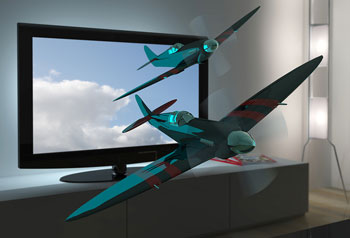 3D, LED & Smart TVs help USA TV prices hit 30-month high
A second-quarter report released by IHS iSuppli showed that the average price of a flat-panel television in the US has climbed by almost 9% to $1,224, compared to just $1,124 in the second quarter of last year. The market research firm said that its definition of flat-panel TV took into account all display technologies, including LCD and plasma screens.
IHS iSuppli's senior analyst Edward Border said that the demand for larger screen sizes and advanced technologies was the chief factor behind the rising cost of flat panel TVs in the United States:
"We can attribute this climb to increased sales of advanced technology TV sets, such as LEDs and 3D capabilities. In addition, more consumers are swapping their old sets for Smart TVs with web 2.0 features, while we also noticed an increase in sales of larger-screen sets in both plasma and LCD segments."
Demand for 3D TVs Rises
3D televisions now make up 30.9% of all US TV sales, rising from 7.8% in the previous quarter. Smart TV sets also saw similar growth, and now account for 44.3% of the market, up from 40.9% previously. LCD TVs sporting LED-backlit technology also improved to 63.5%, from its previous share of 59.2%.
One of the more interesting observations made by IHS iSuppli is that larger screen sizes are now the "in thing" among American consumers. 46-inch LCD TV sales jumped by 0.4% and now contribute to 12.2% of all sales, while 60-inch LCD TVs rose by a full percentage point, now accounting for 5.2% of all sales. In the plasma screen segment, larger TV sets saw even more growth, with 50-inch TVs now rising by 2.6% to take 23.8% of the market share; 60-inch TVs increasing by 5% to take 23.6% of the share; and 65-inch sets rising by 0.8%, to 6.9% of the market. In addition, sub-42-inch displays in the LCD TV segment also saw prices rise, as features like LED backlight, internet connectivity and Full HD resolution become more commonplace in newer models.
With this surge in demand for large screen sizes, 32-inch TVs (which continue to be one of the most popular sectors) saw prices go against the trend and actually decline over the last quarter. By the end of June, the average price of a 32-inch set was only $435, lower than its $495 price in the first quarter.